The return of Roberto Firmino could have positive consequences over the use and form of compatriot Philippe Coutinho.

Roberto Firmino turned in a performance matching of expectations on his first start under Jurgen Klopp against Bournemouth.
It was a display of real class from the summer signing as the Reds progressed to the League Cup quarter-finals, and having the Brazilian finding his feet on return from injury provides a welcome option of genuine quality to the new boss.
While unquestionably a boost for Klopp, Firmino's comeback could have positive implications for someone else too, in struggling countryman, Philippe Coutinho.
Attacking Midfield Utilisation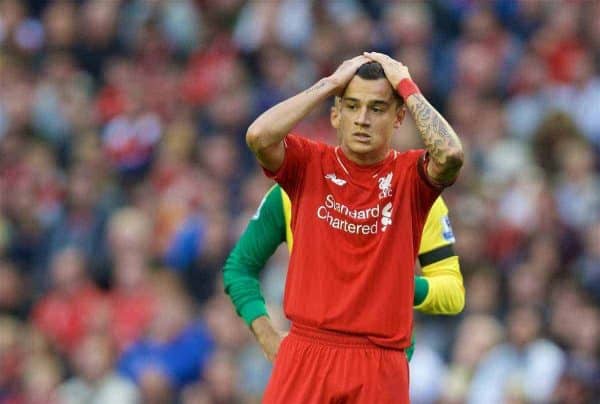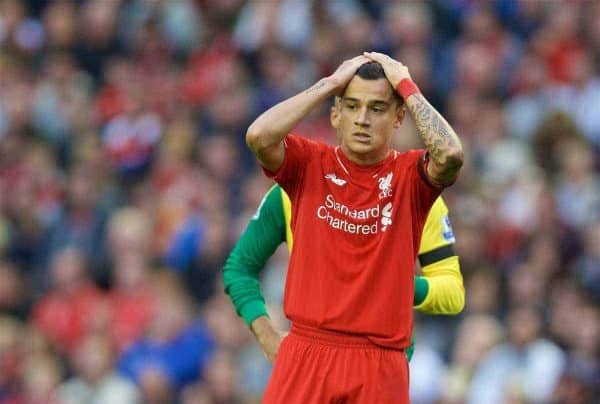 So far this season, Coutinho has been deployed in attacking midfield, either operating from the left or centrally.
Being tasked as the Reds' chief-creator has seen the Brazilian struggle from the beginning of the campaign – despite his opening day screamer at Stoke – and not for the first time.
Coutinho has found it difficult to impose himself amongst the hurly-burly of the final third.
He's played on average just one key pass per-game in the Premier League so far – the lowest return of his Anfield career to date, including his debut half-season which saw him produce 1.6 per-game in 12 appearances.
He's reliant on the ball finding him which can frustrate when it doesn't, leading him to drop deeper in search of possession and making for a disjointed attacking set-up.
The magician is also easier for opposition to snuff out when higher up, with more bodies condensing central areas, closing down the space that he craves to work his magic – shown with him being dispossessed more times per-match (2.4) than ever before on Merseyside.
Having Coutinho in the attacking sector also leaves Liverpool void of the playmaker and dictator needed from deep, with his X-ray-like vision and deadly execution when deeper sorely missed.
His best work has rarely come from final third deployment and with Firmino now ready to take on that key role, a return to his most dangerous position should materialise.
Dropping Deeper

Manipulating the ball in time and space with his head up and injecting the game with movement ahead – this is when Coutinho has proven most lethal.
It's from being withdrawn where he has dictated games best, provided a defence unlocking pass or clever ball after a slaloming run, with runners ahead to pick out instead of being one of the reliant forward movers himself.
The 2013/14 season arguably saw him demonstrate this best, when he operated from the side positions of Liverpool's diamond midfield.
With the game and movement all in front, he tormented Everton, ripped Arsenal's defence apart, and notched some important goals when arriving into space with and without the ball, like against Tottenham and Man City.
This is the Coutinho that Liverpool have been missing due to his attacking deployment which has stifled him, and the Reds' attacking play as a result.
But with Firmino – a brilliant forward mover – coming in to play his natural role, Coutinho can revert to his more suited position where he can certainly have more joy with the qualities his teammate brings.
The alteration with his countryman could not only prove the reviving of the £8 million bargain, but also the creation in Liverpool's play.
I want to see Coutinho as an 8 and Firmino as a 10. Bobby's movement would be a breath of fresh air for the frustrated Phil.

— Sam McGuire (@SamMcGuire90) October 28, 2015
Who Makes Way?

It's not just as simple as moving Coutinho back however.
Klopp has taken to the 4-3-2-1 shape since arriving – a formation clearly picked to allow players to function in natural positions rather than shoehorning into unsuited ones.
Coutinho and Adam Lallana have acted as the attacking midfield duo, ahead of the hard-working midfield unit of Lucas Leiva, Emre Can and James Milner.
The five have picked themselves with injuries dictating, but Firmino's return and quality which makes him a first choice contender, and allows Coutinho to drop.
But which of the trusted midfielders should Coutinho replace?
Lucas' natural defensive midfield instincts make him a vital pick, leaving a scrap between Can and Milner for the remaining midfield shirt.

Can's developing importance means he should certainly feature, leaving Milner – who has struggled to impress in his role under Klopp – as the man to sacrifice when required.
It's a bold call and a tougher one than appears – despite the fact the vice-captain is not in top form or a prolific contributor – due to the vital defensive work he offers in a role that requires stamina to not only provide support, but to work tirelessly to track back and hunt possession.
Rotation will naturally be required with the hectic schedule the Reds face, but with the damage Coutinho can individually provide and the way he could make Klopp's side tick outweighing what the industrious summer arrival offers, on current form Milner should make way.
There are certain games that the 29-year-old's balancing act will be of use but even then, the unpredictable genius that could win a game that Coutinho offers could still see him favoured.
One thing that can't be debated is that Klopp certainly has options.
As the German looks to move his Reds forward he needs his best players in top form.
Firmino has shown instant signs of producing that and the new Brazilian doing so could spark his teammate into life.
What a welcome boost that would provide.
[interaction id="5632426741d4754d14be4206″]
Stats via Whoscored.com