The return of Daniel Sturridge and the rise of Roberto Firmino has given Jurgen Klopp a plethora of attacking options at Liverpool.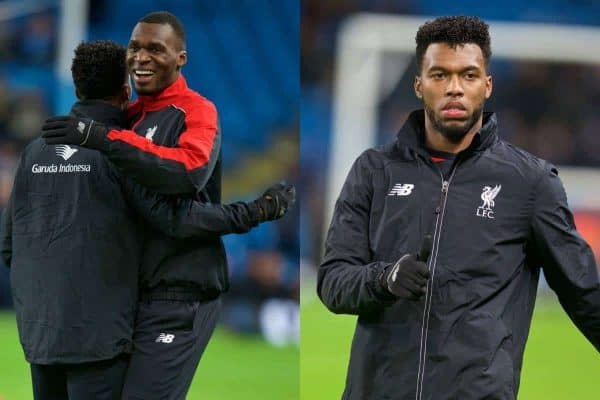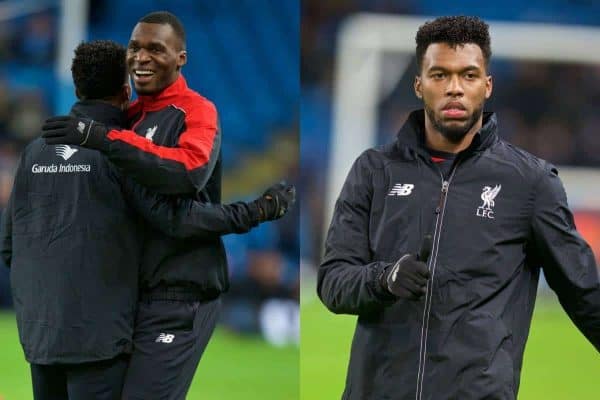 The presence of both Sturridge and Christian Benteke on the substitutes' bench in Saturday's 4-1 win against Man City was an intriguing one, with Klopp putting his faith in Firmino as his No. 9 at the Etihad Stadium.
Having two strikers worth a combined £44.5 million in reserve gave the German a useful backup — though Firmino's excellence ensured that they weren't required.
Sturridge remained on the bench throughout, while Benteke came on for just 13 minutes as Firmino, Philippe Coutinho and Adam Lallana dazzled the travelling Kop.
As Klopp continues to build his side for a top-four challenge, having the likes of Sturridge and Benteke, along with Jordon Ibe and a soon-to-be returning Jordan Henderson, to call upon will be invaluable.
This emergence of attacking options will give the Liverpool manager the variety required to succeed.
Firmino, Coutinho and Lallana vs. Manchester City

After spending the international break analysing the strengths and weaknesses of Manuel Pellegrini's City side, and monitoring the positive performances of Firmino and Coutinho at Melwood, Klopp settled on fielding the former as his main attacker on Saturday.
Regularly deployed in this central attacking role for the Brazil national team, Firmino is fully capable of excelling as a central striker.
But his performance alongside Coutinho and Lallana, who returned fresh after less than 90 minutes of action over two games with England, underlined an ability that can be nurtured further.
Firmino's movement, tenacity and finesse on and off the ball on Saturday provided Liverpool with their attacking lynchpin, with Eliaquim Mangala and Martin Demichelis struggling throughout.
This provided Coutinho with a moving target as he dictated play floating inside from a left-sided role, as well as a kindred spirit in prompting one-touch moves between the lines and into the City penalty area.

Lallana performed with a typical off-ball intelligence, pressing City high and forcing errors, and while his indecision in position will be an area of concern for Klopp, he played a key role.
Coutinho and Firmino both scored once, as well as adding another assist each, as Liverpool ran riot.
The pace and guile of this fluid, three-man attacking line proved too much for a disoriented and injury-hit City defence, vindicating Klopp's decision not to start either Sturridge or Benteke.
Firmino, Coutinho and Lallana have all been key to Liverpool's success so far with Klopp, with the summer's £29 million signing celebrating victory in all four of his starts under the German, after none in his four starts under Brendan Rodgers.
But, as Klopp attested after the game, this particular attacking line came as a result of tactical analysis, exploiting City's weaknesses, and the 48-year-old will no doubt continue to vary his selection.
This will be aided by the return of Sturridge.
Sturridge

Sturridge is a phenomenal centre-forward and has proven – since his £12 million move from Chelsea in 2012 – to be one of the Premier League's finest attacking options.
But hampered by injury throughout 2015/16, Klopp is yet to reap the benefits of this quality.
He will, however, have recognised the striker's class in the handful of training sessions he has taken part in since recovering from a knee injury this month—and this can be seen as he takes a patient approach to his rehabilitation.
"You don't have to bring him on in a situation like this, because four days training with the team is nothing," he said after the game.
"It was more 'come on, feel like you are with us' and now he can make the next step."
Klopp has made sure to emphasise that Sturridge is a vital part of his attacking setup, and when the 26-year-old is deemed fit to return — perhaps in Thursday night's clash with Bordeaux, or at home to Swansea City on Sunday — he provides his manager with a welcome selection headache.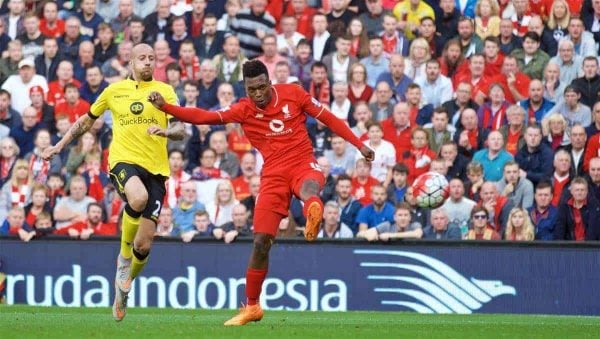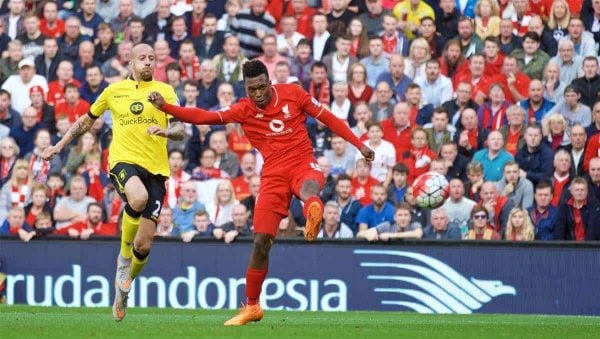 Sturridge is best deployed as an off-the-shoulder striker, using his pace, movement and finishing ability to penetrate defences.
His two-goal display in September's 3-2 win over Aston Villa perfectly showcased this quality.
Klopp will likely have analysed this as he looks to bring Sturridge back into the fold, and will have noted his relationship with Coutinho; the striker is well placed to benefit from the No. 10's creativity drifting in from the left flank.
This could see him take Firmino's place at the tip of the attacking line in the future, with the Brazilian moving into a more natural attacking midfield role.
But where does this leave Lallana, and where does Benteke fit in? What about Ibe, and what will Henderson's role be?
Fortunately, these are positive problems for Klopp, who finds himself with a host of top-level attacking options.
Attacking Options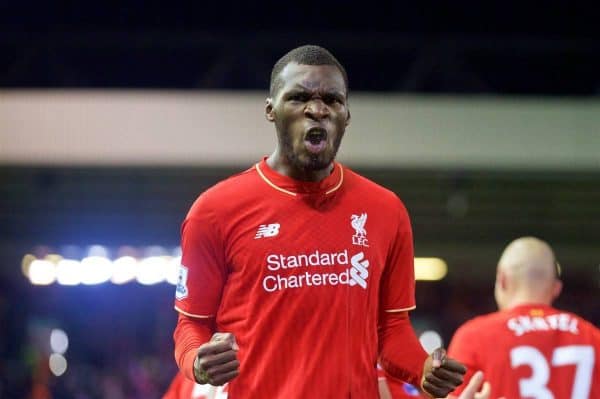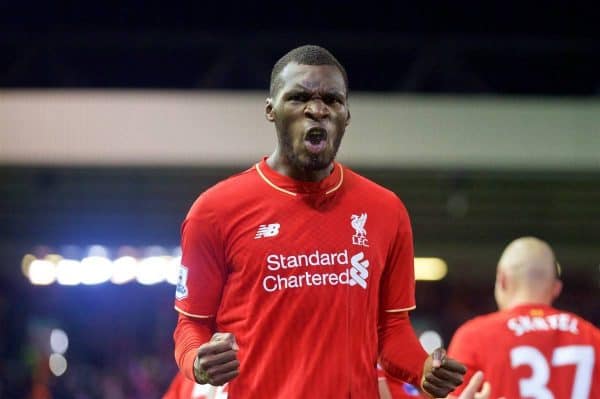 When Benteke replaced Firmino 77 minutes into Saturday's victory at the Etihad, Klopp could be seen given him last-minute instructions on the touchline, gesturing to run the channels and use his pace to stretch the City defence.
This is no doubt in keeping with the German's game-plan, as he looked for the Belgian to emulate Firmino's quality in the closing stages of victory.
To an extent, Benteke did well.
But his primary attributes are his strength and power, and this can be utilised in other situations—such as when defending deeper in Europe, or going more direct against physical defences.
Elsewhere, Ibe provided a welcome injection of pace as a 68th-minute replacement for Coutinho, and his blossoming quality on the flanks gives Klopp a useful alternative to the Brazilian, or Lallana.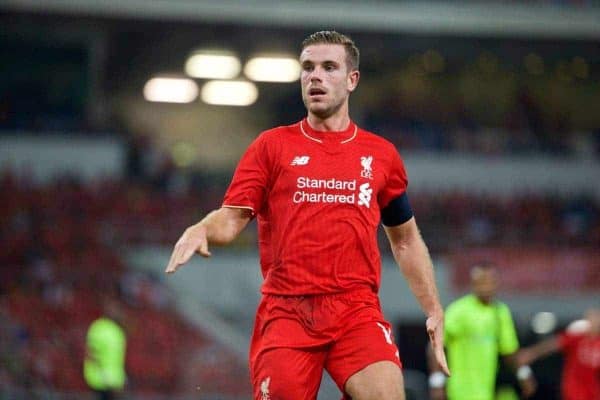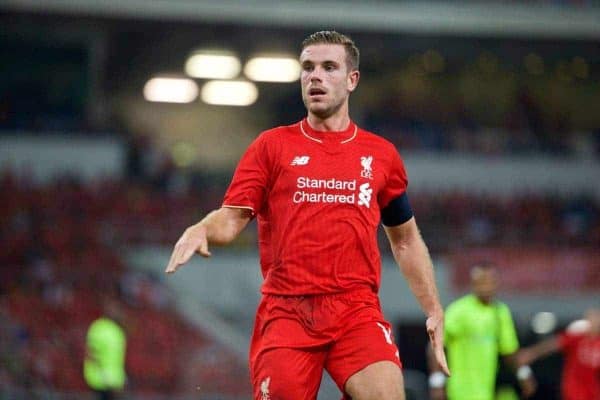 When Henderson recovers from his foot injury in the near future, he could well compete with Lallana for the right-sided attacking role.
Henderson presses efficiently like Lallana, but provides more in terms of end product, and could add an determined, attacking sheen if he is deployed further forward on his return.
Firmino, Coutinho, Lallana, Ibe, Henderson, Sturridge and Benteke all represent different options for Klopp, with a variety of qualities to suit the demands of specific clashes.
As the German has showcased a willingness to change his system — from a 4-3-2-1, to a 4-2-3-1, to Saturday's 4-3-3 — he is clearly capable of adapting his selection to suit a tactical outlook.
Each of these systems requires different personnel, and with the likes of Sturridge and Benteke in reserve, Klopp is now able to deliver this.
It's unlikely we'll ever see Sturridge, Benteke, Coutinho and Firmino all start in a game – which means the Reds will always have at least one of them to call upon from the bench. A huge positive.