Manchester City may be the Premier League leaders but Liverpool manager Jurgen Klopp is not interested in who is the best in the league – unless it is his own side.

The Reds head to the Etihad Stadium on Saturday evening where they have not won in the league in seven years.
City have scored 19 goals in six matches at home, claiming 15 points, and are one of the most consistent teams in the last four years, winning two titles and finishing runner-up on the other occasions.
But Klopp has no time for assessing the merits of this weekend's opposition with the other teams at the top of the table.
"I don't care about this. I am not interested in who is the best team in the league for as long as we are not the best team in the league," he said.
"They are pretty good. They are top. A good team with good players.
"They are very experienced but the difference between Man City and Liverpool is that at this moment we know nothing about Man City.
"We don't know about (the fitness of) Sergio Aguero, David Silva, Wilfried Bony and so on.
"But we are prepared. We have watched games with all of these players and without these players."
Klopp's own personal record against City is much better, with a win and a draw – attained by a Mario Balotelli last-minute penalty at the Etihad – in two Champions League encounters as Borussia Dortmund manager.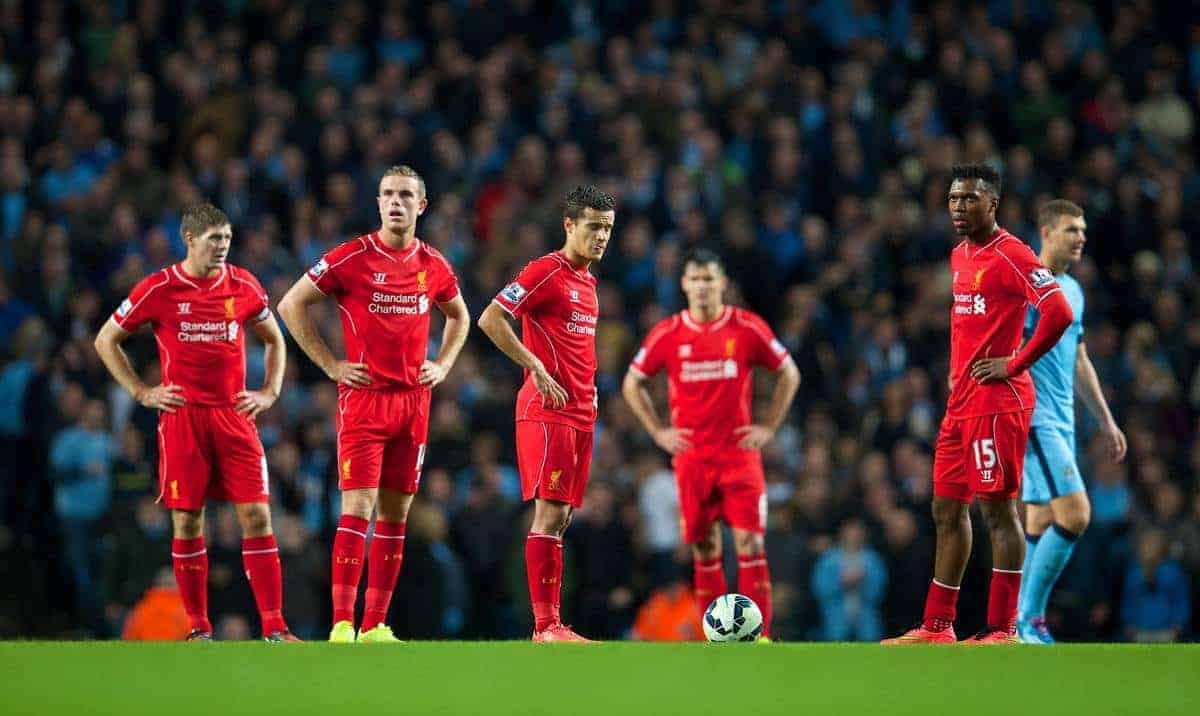 "I played with Dortmund two times – never lost!" he added. "I think eight players of this team are still there.
"They are high quality but the best news is it is football so we have a chance – I don't need more at this moment.
"I am looking forward to this game – two weeks is long enough after Crystal Palace (the 2-1 defeat immediately before the international break)."
Raheem Sterling will come up against the club he left somewhat acrimoniously in the summer after rejecting a new and lucrative contract at Anfield.
The England winger's agent Aidy Ward has subsequently claimed Sterling playing under Klopp – his own relationship with Brendan Rodgers was not good – could have been "a dream come true".
But the German played down the significance of facing a renewed and refreshed Sterling.

"It's normal in football that former players play against their old club and nothing special," said Klopp.
"I don't know how many friends Raheem has here but he's a good player. He played here, had a good time here, I've heard no bad word about him. He's a good lad.
"It will be friendly, shake hands, then it's football."
Klopp's reputation and record working with attacking players in particular is what made Ward say what he did about Sterling and a missed opportunity with the German.
He was asked to compare the crop of midfielders he had at Dortmund with the ones he inherited at Liverpool and whether Philippe Coutinho was up there alongside some of the world-class talent he had managed.
Unsurprisingly, he declined – in the nicest possible way. "I am not sure if I should make a list," Klopp said.
"Who are our attacking midfielders at this moment: (Jordon) Ibe, (Roberto) Firmino, Coutinho, (Adam) Lallana – they are all in a row with the other guys (at Dortmund).
"If you don't see them too often you only see the good things. I was the coach of these guys and I saw the rest too, their bad exercises or not-so-good games.
"I worked with some good players and these players are very good too. I am really satisfied with these players."
Klopp will make a late decision on whether to include striker Daniel Sturridge for the first time in his reign after the England international returned to full training after five weeks out with a knee injury.