The return of long-term absentees Daniel Sturridge and Jordan Henderson has come at a crucial period, as Liverpool defeated Swansea City at Anfield.

The duo, considerable losses for former manager Brendan Rodgers this season, made their first appearances under Jurgen Klopp as the Reds despatched Swansea for their third victory in eight days.
Though Klopp's side had to make do with a single James Milner penalty to vanquish Garry Monk's side at home, their dominant all-round display will be extremely encouraging.
Now able to add Sturridge and Henderson to his lineup for the festive period and beyond, Klopp can look to build momentum.
With a place in the Premier League's top four not out of the question after securing another three points, this victory could prove pivotal—as a wave of positivity washes over Merseyside.
A Hit-and-Miss 4-3-3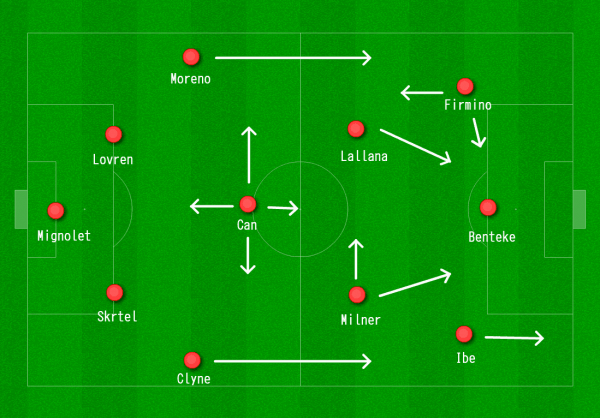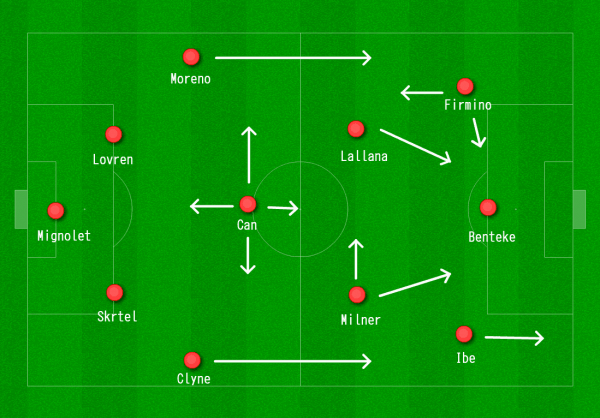 With Lucas Leiva suspended and Philippe Coutinho not risked after recovering from a hamstring injury, Klopp fielded an augmented 4-3-3 formation on Sunday, with Emre Can operating at the base of a three-man midfield behind James Milner and Adam Lallana.
The English tandem's pressing and support in the attacking third aided forward trio Roberto Firmino, Jordon Ibe and Christian Benteke to dominate in the final third.
But, for all of Liverpool's overwhelming attacking play, there was something crucially lacking: end product.
Fuelled by a disjointed partnership between Firmino and Benteke and exacerbated by the blustery winter conditions at Anfield, Liverpool's work in front of Lukasz Fabianski's goal was stunted by mis-hit passes and poorly timed runs.
Benteke, tasked with an off-shoulder centre-forward's remit behind former Arsenal centre-back Kyle Bartley, frequently struggled to keep up with the pace of Lallana and Ibe.
The 24-year-old touched the ball just three times in the Swansea penalty area, and one of these was an awkward, heavy-handed attempt to control an inspired pass by Firmino.

This move in particularly contrasted strikingly with Benteke's winner in the Reds' Europa League clash against Bordeaux in midweek, with the Belgian shunting the ball out wide rather than heading towards goal.
While against the Ligue 1 battlers Benteke was able to counter his jarring attributes with a decisive finish, on Sunday evening he was largely anonymous.
This had disappointing repercussions for Firmino, who seems at odds with Benteke's skill-set; whether the pair can operate successfully together in the future is up for debate.
But with Milner having put Liverpool ahead just after the hour mark, Klopp was able to experiment and correct his hit-and-miss 4-3-3.
Daniel Sturridge and Jordan Henderson

First came Henderson, who took Firmino's place two minutes after Milner's goal, and then Sturridge came on for Benteke on 71 minutes, with Klopp no doubt positive about the makeup of his increasingly strong Liverpool squad.
Henderson and Sturridge are two of the club's highest earners—and rightly so, given their overriding quality—and though their contribution against the Swans was not to the high standard that they have become renowned for during their respective spells on Merseyside, their influence was telling.
Lallana shifted into a wider, left-sided role on Henderson's introduction, with the captain pushing forward from the right of Klopp's three-man midfield.
Henderson's quality could be seen clearly, as the 25-year-old pressed efficiently, spread play intelligently on the edge of the box and made several key, overlapping runs in attack.
Similarly, Sturridge made a considerable improvement on Benteke's display, with his pace and intelligent movement opening up space on several occasions in his 29 minutes on the field, while his nuanced off-ball work added an industry in the final third as the contest became fraught.

To make a bold contrast to Benteke's contribution, Sturridge touched the ball in the box twice despite Swansea's increasing pressure in the latter stages.
After the game, Klopp praised Sturridge and Henderson as "two very important players," who "did well for their situation," after recovering from long-term injuries.
The German is right to not get carried away following their returns, but the clear impact they had in the final half-hour against Swansea was extremely encouraging.
With Coutinho set to return for Wednesday night's League Cup clash with Southampton, Klopp may soon be able to field his strongest attacking lineup for the first time since his arrival at the beginning of October.
Onwards and Upwards

Securing victory over Monk's side on Sunday was essential as Liverpool look to compose themselves ahead of a gruelling winter schedule.
Though it was by the slightest of margins, this win was hugely significant, as Klopp's Reds confronted their weekly Europa League hangover with a steady performance akin to a well-timed Berocca.
This was the first time Liverpool have won a match directly following a European fixture this season, and marks a solid progression following Klopp's arrival.
The result is the most important factor here, with the momentum taken from another victory no doubt swelling the confidence at Melwood.
Adding the returns of Sturridge and Henderson to equation will multiply this optimism tenfold.
Liverpool now head to St. Mary's on Wednesday evening as they look to book a place in the League Cup semi-finals.
With a festive fixture list that includes trips to take on struggling Newcastle United, Watford, Sunderland and West Ham United to follow, Klopp has every right to be positive.
During his post-match gambit the German played down the notions of confidence and momentum after this win, but he will be quietly buoyed by this result.
Both Sturridge and Henderson will be hoping to feature against the Saints as they battle their way back to full fitness.
The returning duo provided a unexpected but welcome boost to the Liverpool support, and this is just another in a long line of positives for the Reds following Klopp's arrival.
Long may it continue.
Liverpool 1-0 Swansea City