With Cologne goalkeeper Timo Horn linked with a move to Liverpool this January, current No. 1 Simon Mignolet's position may be under threat.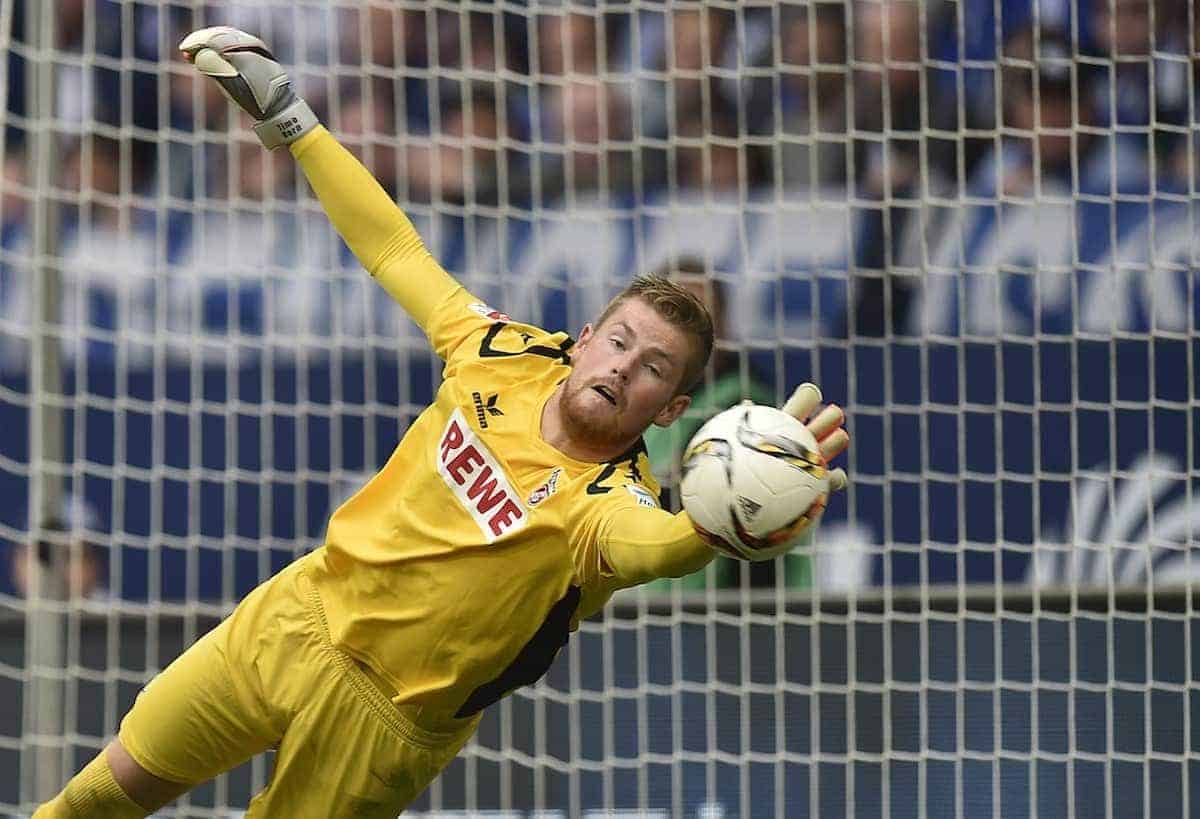 Horn is reported to have attracted interest from the Reds ahead of the winter transfer window, with Jurgen Klopp seemingly an admirer of the goalkeeper's talents.
The 22-year-old has a release clause of around £6 million in his current contract with Cologne, making him a perfect cut-price addition to Klopp's new squad.
But could the German take over from Mignolet as Liverpool's first-choice goalkeeper?
Based on his performances in the Bundesliga, he has the talent required to thrive in a Liverpool shirt.
Timo Horn
After spending the first three years of his youth career with SC Rondorf, Cologne-born Horn joined his local club in 2002—shortly before his 10th birthday.
Eight seasons of academy football prepared him for an early rise into the first-team ranks at the RheinEnergieStadion in 2012, when he was promoted by then-manager Stale Solbakken.
Serving as third choice behind Michael Rensing and Miro Varvodic, Horn had to bide his time as Cologne battled relegation from the Bundesliga.
[quote_box_right]Cologne's Defensive Record With Horn
2012/13 – 33 played,
33 conceded, 11 clean sheets
2013/14 – 32 played,
18 conceded, 16 clean sheets
2014/15 – 33 played,
38 conceded, 13 clean sheets
2015/16 – 12 played,
18 conceded, 3 clean sheets[/quote_box_right]
But with Solbakken fired in April and his interim replacement, Frank Schaefer, unable to inspire a revival, Cologne succumbed to defeat in 2011/12, and Horn's fortune soared.
With Holger Stanislawski installed as Schaefer's successor in the summer of 2012, and both Rensing and Varvodic departing the club for Bayer Leverkusen and Qarabag respectively, Horn became Cologne's new No. 1—at the age of 19.
Stanislawski's faith was repaid handsomely, as Horn was instrumental in Cologne's promotion at the second time of asking, with his side boasting the best defence in the 2. Bundesliga.
Horn kept 16 clean sheets in 32 league games in 2013/14, conceding just 18 goals in the process.
After a season in which Horn and his Cologne team-mates "exceeded our own expectations" in 2014/15, finishing 12th, the 22-year-old has continued to contribute strong performances for Peter Stoger's side this season—only let down by six conceded away to Eintracht Frankfurt in September—with his strengths in goal making him a truly influential player.
Strengths, Weaknesses and Style of Play
Boasting a strong, solid frame at 6'4″ and 90kg, Horn is a dominant goalkeeper who has gone from strength to strength due to Stoger's support.
With Germany placing added emphasis on the development of goalkeepers at a young age, Horn was able to spot his flaws and iron them out quickly, aided by his early introduction to the first-team circuit.
"I'm too quiet on the pitch. I want to be louder and I want more to come out of me," he said in 2012, addressing his timid nature in the penalty area.
Three years later, and a 22-year-old Horn is a strong communicator, orchestrating his defence with confidence, after practicing "loud screaming or roaring" in his downtime.
This aggression allows the Cologne defence to operate efficiently, safe in the knowledge that they are supported by a continually focussed custodian between the sticks.
Furthermore, with a lot of Bundesliga sides adopting a direct style of play, Horn is required to remain on his toes throughout the game, as he attested in October: "You should already get the balls that are played over the chain. Otherwise it is very easy for your opponent to score goals."
When the opposition manages to break through the Cologne defensive line, however, Stoger can rely on Horn's top-level shot-stopping ability. His agility and reflexes have helped him to make an average of 3.17 saves per 90 minutes in the Bundesliga, the third most of any goalkeeper, while he is typically quick to collect any rebounds in the area, too.
However, while he is an extremely reliable goalkeeper, Horn still has work to do in order to emulate his childhood idol, Edwin van der Sar.
Horn's key weakness is his distribution, with an average passing accuracy of just 59.9 percent, suggesting that while the 22-year-old may look to spring attacks quickly like the former Manchester United and Fulham goalkeeper, his choice of pass could be improved.
However, with Bundesliga a predominantly direct, aggressive league, this is not uncommon, and it can be argued that Horn is yet to test his ability in a possession-based system like Liverpool's.
Furthermore, with Mignolet posting an average passing accuracy of 63.5 percent so far this season, the difference is minimal.
Can Horn Take Over From Simon Mignolet?

Mignolet cuts an interesting figure within Klopp's Liverpool squad; on occasion, the Belgian can be excellent, but he also has the propensity to fold dismally under pressure.
So far this season, Mignolet has given Liverpool a solid but unspectacular base to build from, producing strong performances against the likes of Tottenham Hotspur and Everton, as well as less-than-impressive displays against Manchester United and Chelsea.
The 27-year-old is a mid-level goalkeeper, and a loyal and level-headed option for Klopp to call upon.
But whether he has a long-term future as No. 1 in a side with ambitions of top-four challenges and European glory is another matter entirely.
It may be that Klopp chooses to twist in the upcoming transfer window and move to sign a replacement for the former Sunderland man—and Horn would be an intriguing prospect with that in mind.
[quote_box_right]Mignolet vs. Horn:
The Stats (2015/16)
Age 27 / 22
Appearances – 12 / 12
Clean Sheets – 4 / 3
Goals Conceded – 14 / 18
Saves per Goal – 1.36 / 2.11
Passing Accuracy – 63.5% / 59.9%
Errors – 2 / 2[/quote_box_right]
Having cut his teeth with Cologne in the Bundesliga, Horn is a proven talent with an aura of confidence, similar to that of David De Gea during his time at Atletico Madrid.
Replacing Van Der Sar with a 20-year-old De Gea was a bold move by then-United manager Sir Alex Ferguson, but the Spaniard has quickly become one of the leading goalkeepers in world football—and the best in the Premier League.
De Gea, and Stoke City's Jack Butland (23) this season, have proven that age is no longer a deciding factor when it comes to appointing a first-choice goalkeeper—merely ability and confidence.
Horn is a prime candidate in this respect, and at around £6 million, would be a bargain signing for Liverpool.
If he can be torn away from his childhood club, that is.
[interaction id="5648c8ab3eaa7f14341cdf2d"]