Taking his seat in the Kop for Liverpool's 2-1 win over Bordeaux, Jeff Goulding hailed the spirit of Anfield during a vital home victory.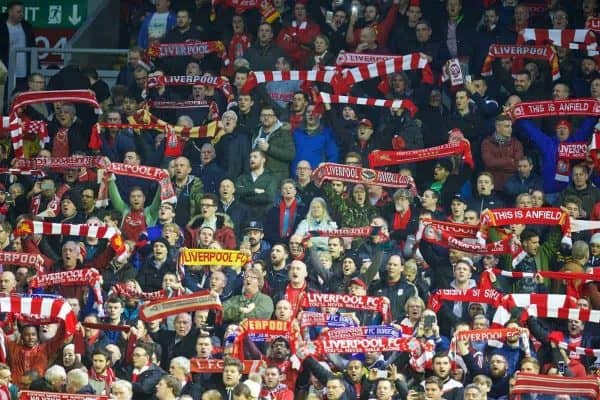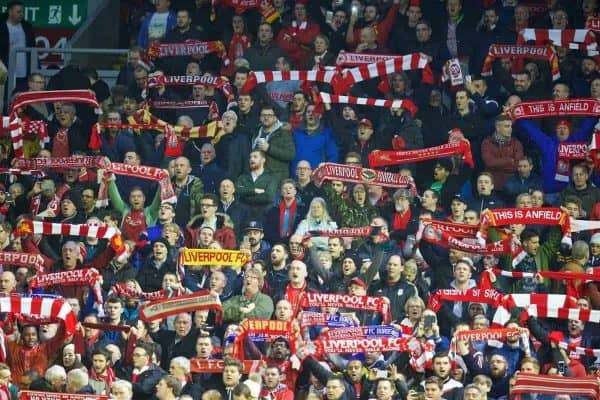 It was a game Liverpool just needed to win. By any means necessary.
Still, after the sumptuous display dished out at the Etihad, expectation had once again been raised. When it comes to soaring optimism and crashing downers; I am as guilty as anyone else. Such is the life of the football supporter.
While it would have been great to dish out another thrashing to confirm our revival, as the sun set on another Liverpool European night I confess I am more than happy with our progress.
In the last couple of years Liverpool have never looked like they belonged when it came to these continental contests. Even if we forgive the capitulation against Real Madrid in last season's Champions League, the evidence of our also-ran status was also there against lesser opposition.
I found this particularly painful as I have always seen Europe as the pinnacle. The Reds built their reputation on the European stage and in my lifetime we have been the most feared team on the continent. Of course all that is past.
Now we must once again build that reputation. As Klopp says, "it's time to restart."
So be it.
The game against Bordeaux was the first step on that journey. Who knows if it will lead all the way to Basel, but if it does there will inevitably be many more nights like last night.
You can't always banquet on cordon bleu cuisine, sometimes you have to make do with scraps.

The game started in the shadow of the horrendous Paris attacks. With a French side visiting Anfield, the talk in the city was of a major security operation around the ground and probable delays at the turnstiles.
In the end this didn't materialise, and policing appeared relatively low key given the circumstances. Fans mingled freely, posed for photos and joked with friends like they always do.
The atmosphere outside the Kop was buoyant and The Park and The Albert looked packed. It seems Kopites are undaunted by recent events.
Still it's a sad reflection of the world we live in that my 11-year-old hugged me before I left the house; warning me to "run for my life" if anything happened.
What actually happened was a terrific show of solidarity from Anfield, which was gratefully accepted by the French supporters. A Bordeaux delegation paraded a banner, thanking the British for their support, to huge applause from all corners of the ground.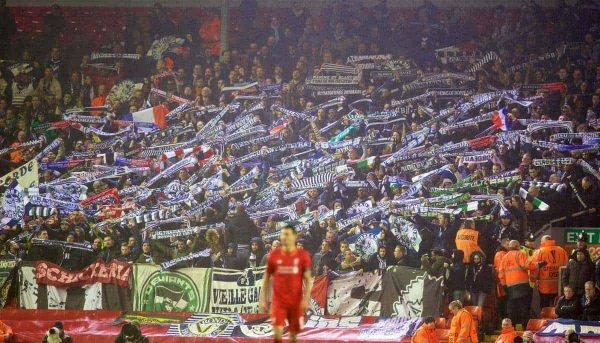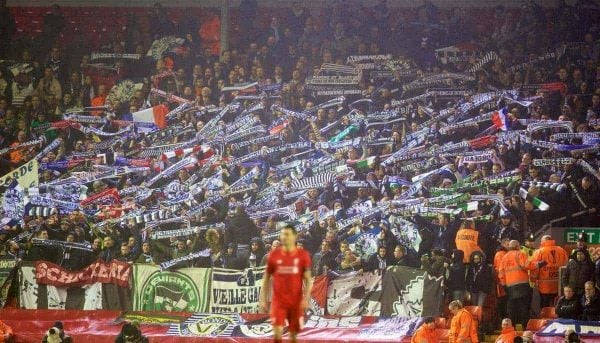 The You'll Never Walk Alone felt like it was sung directly at the French contingent. It was repeated a cappella as Bordeaux entered the pitch. Their fans held their scarves aloft and joined in, applauding enthusiastically when it finished.
Ordinary people united in a common passion and a belief in liberty, egality and fraternity.
Liverpool have improved a lot under Klopp. It's far from perfect, but it's there for all to see. From the kick-off we attacked with pace and chased and harried every ball.
The Reds had been criticised under Rodgers for not being nasty enough. This certainly wasn't the case against Bordeaux, with tackles flying in and relentless pressing from the off.
Yes the referee was fussy and, from the admittedly totally biased perspective of a Kop seat, got many decisions wrong. To quote a mate at the game, he was shocking. Nevertheless Klopp's Liverpool are thoroughly committed and teams will no longer get an easy ride playing the Reds.

Well that's not entirely true is it? High on his to-do list will be the eradication of unforced errors in defence. A point graphically illustrated on the half-hour mark, when Mignolet inexplicably decided to slow the game down by holding the ball a full 22 seconds.
To us it felt like 22 minutes.
Admittedly goalkeepers are rarely punished for this, but it was a sign of indecision that needs to be sorted out if our progress is to continue.
Just before this transgression he had come out of his box to deal with a Bordeaux attack and, seemingly caught in two minds, almost let the French in for an opener with a poor headed clearance.
His blushes were spared then, but his next mistake was punished ruthlessly. As the keeper lined up the wall and prepared himself to deal with the indirect free-kick he had conceded, there was little doubt around me that this would go straight into the net.
It did and that new home game phenomena, frustration and despair, briefly threatened to flicker into life. Thankfully it didn't gain momentum.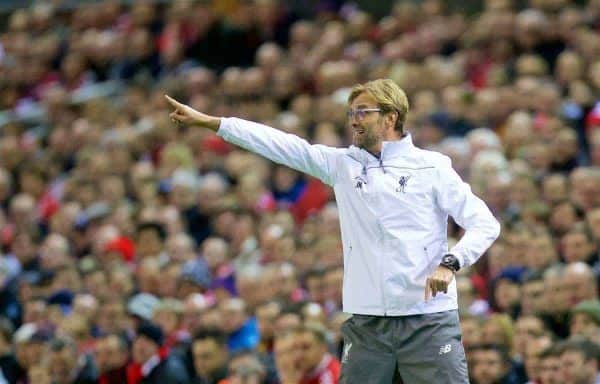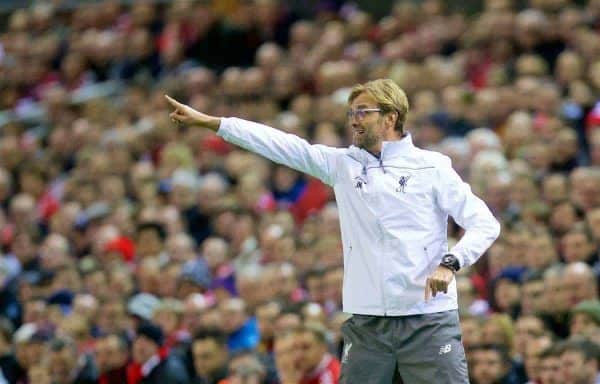 In fact the atmosphere throughout the game was decent. Sure it was far from the halcyon days of the past, but the Kop, like the team, are climbing that hill too. It's an ascent that would be made easier if the club bowed to supporter concerns over pricing.
The absence of flags on the Kop is a self-inflicted wound by FSG and they have to find a solution.
Fortunately, we didn't wait too long for the leveller. Benteke seemed to get hauled down in the box just five minutes later. I've seen it since and have to say the decision was generous. Who cares.
There were howls of protest from the Anfield Road end and the referee duly obliged, awarding a penalty. Up stepped the captain, James Milner, to calmly slot the ball into the bottom right hand corner.
This is another facet of the Klopp era. Liverpool still get knocked down from time to time, but crucially they get back up again.
We saw it at Stamford Bridge. After going a goal down, they stuck rigidly to the game plan, kept their belief and finished worthy 1-3 winners.
To a lesser extent we saw it against City. When Aguero punished that weak clearance by Skrtel just before half-time, an earlier incarnation of The Reds may have crumbled. Not so Jurgen's Liverpool.
Again last night we saw this grit and determination. It bodes well for the future and it's made more impressive when weighed against current injury problems, which have left us light in many departments.

As the half drew to a close we'd have all been content to go in 'honours even', but Benteke had other ideas. The referee had awarded just one minute of injury time at the end of the half.
Given the time wasted by Mignolet and the resultant free-kick that seemed strange. However, Liverpool only needed 30 seconds of it to go in front.
It was a superb finish by the Belgian following a great assist from Nathaniel Clyne. With Sturridge continuing his tour de force of every sporting injury known to man, Benteke is going to prove vital between now and January.
Let's hope Klopp has something up his sleeve as an injury to another striker could prove disastrous.
Last night he could have had four. With two goals disallowed (one unfairly in my view) and another shot ballooned into the Kop, the hitman could be the 20-goal-a-season man we desperately need. If he does fulfil this potential, then he may well justify his fee.
The soaring optimism was back and I was really looking forward to the second half. We were attacking the Kop and I genuinely expected a comfortable win. Instead there was frustration and angst as Liverpool seemed to back off.

Jordan Ibe looked lively throughout the game, but he took one touch too many instead of shooting and allowed the keeper to save easily on 54 minutes. Liverpool continued to be dogged, a fact illustrated by Lucas picking up his obligatory yellow card. However, the longer the half went on the more the angst grew.
Having said that I actually enjoyed the game overall. There was a needle to it that has been so lacking in recent times.
The referee actually helped. Each baffling decision only served to rev up the fans and generated a bit of a siege mentality.
The Reds saw it through in the end and the Kop wound down the game with another rendition of our anthem.
It didn't look likely at one point, but qualification is now secured, and with a game to spare.
That's actually a great turnaround in itself. Let's hope the treatment room empties and the club can add a striker in the next window, so that we can go again when the competition resumes.
A fourth Europa League trophy wouldn't be a bad start to Jurgen's reign after all.
However, for me this is about continuing the development. After fantastic wins away to Chelsea and City, the only question remaining was could Liverpool do it on a cold night at Anfield?
Against Bordeaux they have answered that question. More of the same against Swansea please and this will start to look like a real recovery.