We continue our overview of Liverpool's high-profile loanees with a glance over Danny Ward's first months in Scotland with Aberdeen.
At a time when Liverpool's goalkeeping situation is far from ideal, it might be good to take a look at the other senior stopper on the club's books in Ward.
The Welshman is currently on loan at Scottish Premiership side Aberdeen, who lie second in the table, one point behind leaders Celtic.
The Dons also boast the second best defensive record in the league with just 20 goals conceded in 20 games.
This is an achievement which is partly down to Ward's performances between the posts.
Ward at Aberdeen
— Danny Ward (@dan_ward52) September 18, 2015
The 22-year-old has impressed during his 27 appearances to date, which include outings in the Europa League qualifiers and Scottish League Cup, as well as appearances in all 20 of Aberdeen's league games.
This isn't the type of loan where a player simply wastes away in the reserves of another club. Ward is very much a key part of the team up at Pittodrie and has played every minute of every game.
He's also kept clean sheets in 11 of these 27 appearances, and his displays must be attracting glances from Jurgen Klopp and the first-team staff back in Liverpool.
The Wrexham-born 'keeper has spoken of a meeting with Klopp earlier in December, when he returned to Melwood for a short time during an international break.
"I had a conversation with him [Klopp]," said Ward.
"He just told me to carry on what I'm doing. There's no guarantee of anything for any player and my aim is just to keep doing well.
"Hopefully that will impress the manager. I'm contracted to Liverpool so obviously I want to go back in and challenge for the number one shirt at some point in the future."
But what do the fans up on the east coast of Scotland think of their new goalie?
Supporters' View
I spoke with Aberdeen fan Grant Fisken who is part of the Aberdeen podcast ByTheMin Aberdeen, and he talked of the player in glowing terms:
"The immediate thing to notice about Ward is his assurance and composure for a keeper of such a young age.

"This seems to transmit to the defence who all seem to have total confidence in him.

"In only his third game for the club, the chants of 'Danny, Danny Ward' (to the tune of Boney M's Daddy Cool) were in full force from the Dons fans and have been a common feature of our matches this season."
The words "composure" and "confidence" will be music to the ears of Liverpool fans, who have had to put up with plenty of nervousness and uncertainty between goalkeeper and defence in recent years.
Grant spoke of Ward's football abilities aside from shot-stopping, and he appears to tick boxes which Simon Mignolet and Adam Bogdan don't:
"His distribution and handling have been excellent, and he has bailed us out on numerous occasions with his saves.

"Shot-stopping is a given for any keeper, but what has been noticeable has the number of times this campaign he has not had much to do in a match, but has been ready when called upon to produce a match-defining save.

"Those concentration levels will serve him well when he plays at a higher level. That is a definite 'when' he plays at a higher level, as I have no doubt (unfortunately) he is destined for much bigger things than Aberdeen."
Finally, Grant says that Ward could be the surprise solution to Liverpool's problems in this area of the pitch:
"I'm sure many Liverpool fans would scoff at the standard of Scottish football or our opinions, but in my view, if I had the choice between Simon Mignolet, Adam Bogdan or Ward, I would choose the Welshman without hesitation.

"If Jurgen Klopp shows the same faith in Ward that (dare I say) David De Gea received at Manchester United, he could be your No. 1 for many years to come.

"One thing is for certain, if he is not wanted at Anfield then every single Aberdeen fan would snap your hand off to keep him at Pittodrie."
Quotes from Aberdeen
Aberdeen manager Derek McInnes has also spoken highly of his loan signing, and echoed Grant's view that Ward will go on to be a quality player.
"It's important when you sign a loan player that they buy into what you are doing and Danny has done that," said McInnes.
"He works well with [goalkeeping coach] Gordon Marshall and [fellow 'keeper] Scott Brown, who is pushing him every week. Danny's a good kid and he has brought a lot to the dressing room.
"I can only speak from the experience I've had with him but what I've seen is a very good goalkeeper with a very good temperament for someone relatively young in the game.
"He has got a big future in the game and, hopefully, we can help him along the way at Aberdeen."
Dons midfielder Willo Flood also had good things to say about his team-mate:
"For me, he's the best I've played with. When I was at Manchester City there was David James and Nicky Weaver, who were top goalkeepers.

"But Wardy, for his age, his stature, everything about him –  he's up there with the best.

"He has all the makings of a Premier League player in England."
Liverpool also showed belief in the player when they handed him a five-year contract back in June.
All parties seem happy with Ward's current situation so, barring an injury crisis in the goalkeeping department at Anfield, it's likely that the player will remain north of the border until the end of the season.
"I have loved it up here at Aberdeen," said Ward, "and the aim was always to play in as many first-team games as possible at what is a very good level.
"A lot of people down south didn't know who I was, never mind up here, so the exposure I've had in the Scottish Premiership has been fantastic.
"Hopefully that can continue for the rest of the season and it spurs me on to keep doing well."
Ward's Future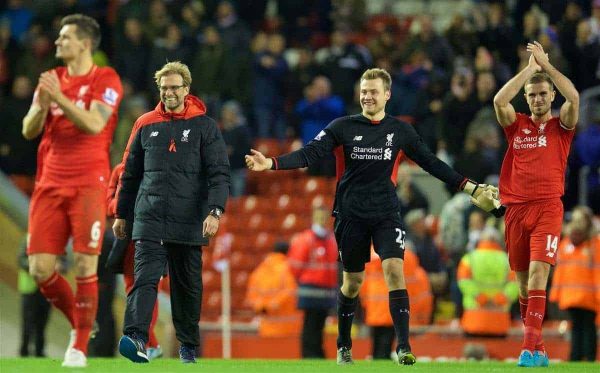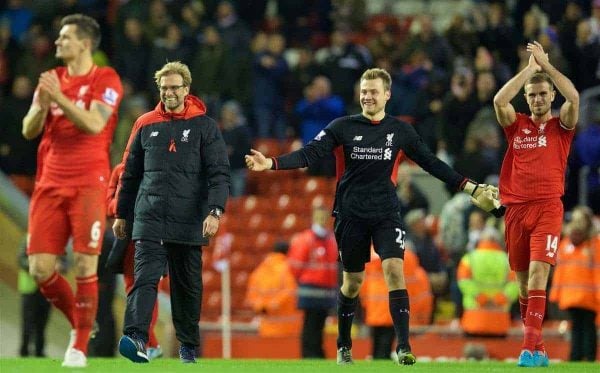 Ward's strengths seem to fit right in with what Liverpool currently lack.
He's a confident goalkeeper who communicates well with his back line and, as we've already heard, has good distribution skills.
The Liverpool website has Ward's height down as 180cm, whereas Aberdeen's measures him at 191cm.
This may be an oversight on Liverpool's part, but acts as a metaphor for his progression during his time playing for one of Scotland's biggest clubs.
If these impressive performances in Scotland continue for the rest of the season, Ward would have every right see himself as part of the first-team picture at Liverpool on his return.
Whether this is as backup to Mignolet or as part of a complete overhaul in the goalkeeping department, remains to be seen.
Our loan watch progress reports will continue as we reach the new year, with updates on Sergi Canos, Ryan Kent, Sheyi Ojo, Lazar Markovic and Andre Wisdom.