Criticising the conditions in Sion after Liverpool's final Europa League group clash, Jurgen Klopp may have rued his approach to team selection.

There will be few performances of less interest in 2015/16 than this latest Liverpool outing, a goalless draw with FC Sion, but Klopp will be buoyed by his side's progress to the Europa League's round of 32 no less.
It was a clash with little in terms of action in the final third, and a stalemate was a fair result for two sides who will be content as they look towards Monday's draw.
The Reds will perhaps be more optimistic than their Swiss opposition, having avoided a tricky outing against those seeded from the Champions League dropouts; no Porto, Olympiakos, Manchester United or Bayer Leverkusen.
But as he assesses this most muted of performances from his side, Klopp will find little merit beyond the result and the absence of injuries.
He may even find this was an opportunity missed, despite an evening dogged by poor conditions in the Sion frost.
Football, in the Loosest Sense of the Word

"I am satisfied no-one is injured," came Klopp's post-match testimony, before turning his attention to the frostbitten turf.
"It was not our best football and although it is an outdoor sport frozen ground is for other sports."
For a manager who is accustomed to a well-timed winter break, having spent the majority of his career with Mainz and Borussia Dortmund in Germany, the conditions in Sion will have come as a shock.
Having led his side's final training session before the clash on Wednesday afternoon on Merseyside, flying to Switzerland in the evening, Klopp's first glimpse of the half-frozen pitch will have been on Thursday night.
By this point, the German's team selection and tactical preparation will have been set in stone; adapting to this unexpected outcome will have proven disastrous.
Therefore Klopp was forced to watch his strong side, featuring a number of first-team regulars, tentatively walk their way to a drab 0-0 draw.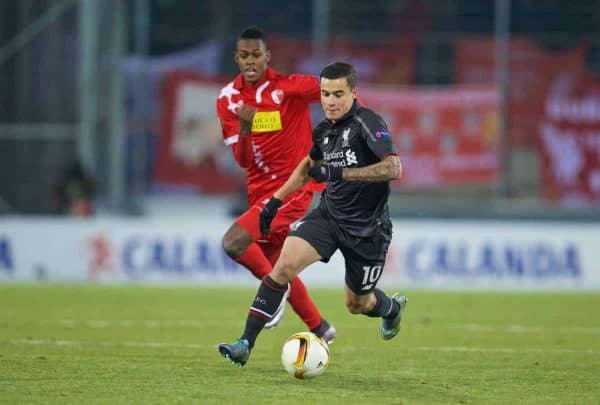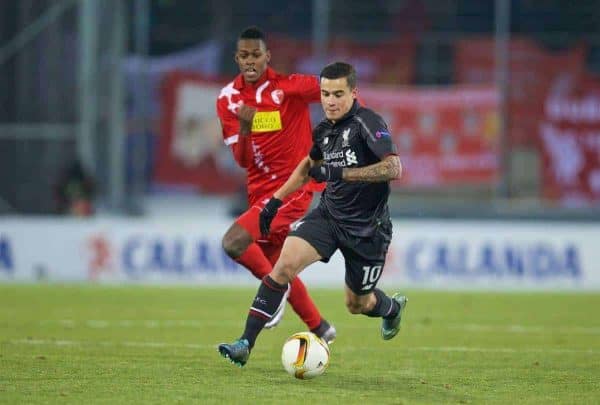 His key takeaway being that "no-one is injured" is a salient one: both Jordan Henderson and Philippe Coutinho made the next step in their return from foot and hamstring injuries respectively, and the tough conditions in Sion could have exacerbated their issues.
But a starting lineup including Henderson, Nathaniel Clyne, James Milner, Emre Can, Roberto Firmino and Adam Lallana—all key players under Klopp—should not be content with a 0-0 draw.
Unfortunately, this was an unavoidable eventuality.
Against a Sion side looking for a point, on a pitch that was far from conducive to any level of attacking football, this final Group B clash was never going to be a 10-goal thriller.
Klopp cut a relieved figure after the final whistle, but his 90-minute anguish could have been thwarted with a more measured selection process.
Lack of Rotation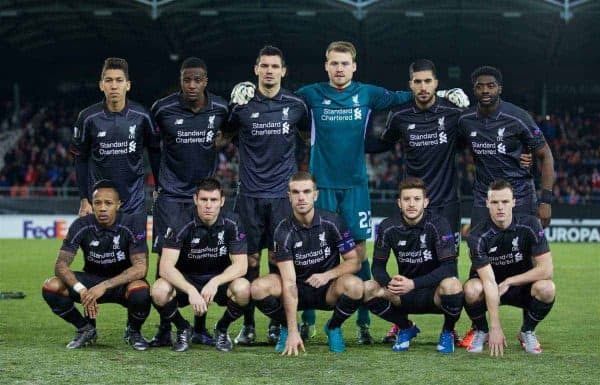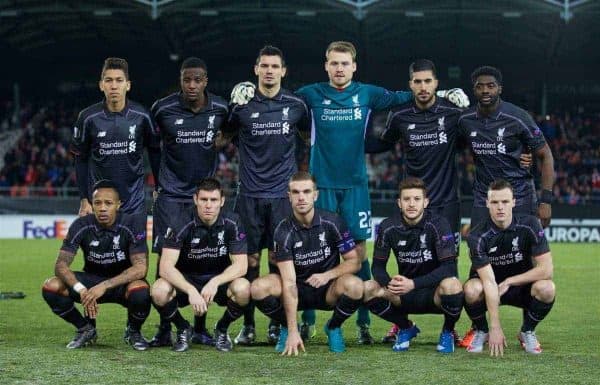 Eight of the players to start in Sion will harbour realistic expectations of keeping their place in Klopp's lineup for Sunday's clash with West Bromwich Albion.
This meant that Klopp was risking eight of his first-team regulars ahead of a significantly more important outing in the Premier League.
Did they need to play? This was, after all, effectively a dead rubber for both Liverpool and Sion, with Didier Tholot's side showing no intention of pushing for a victory.
Of course, Klopp did not anticipate one half of the pitch being frozen solid when he put together his starting lineup.
But this strong team selection, though underlining Klopp's ambitions, represented something of an unnecessary gamble.
This is particularly noteworthy given that a number of peripheral figures could have benefited from the game time against this lowly Swiss outfit.

For example, academy stars such as Cameron Brannagan, Pedro Chirivella, Connor Randall, Ryan Fulton, Harry Wilson and Jordan Rossiter, among others, could all have held their own as starters against Sion.
This would have allowed Klopp to rest some of his important first-team players ahead of Sunday's face-off with Tony Pulis' Baggies, and provided more experience for his hopeful youthful.
His intention would, no doubt, have been to continue to knit together a cohesive side capable of sustaining a challenge for a top-four finish and some much-needed silverware.
But it proved an exercise in futility, barring one key positive.
Brad Smith

Building on his impressive cameo in the 6-1 win away to Southampton in the League Cup, Brad Smith repaid Klopp's faith with a solid display in what was his first ever start for the first team.
The Australian left-back has battled back from contract purgatory to establish himself as a useful squad option for Klopp, no doubt benefiting from a timely change in manager in October.
Without Klopp, Smith would likely have left for pastures new by this stage.
But at the Stade Tourbillon on Thursday night, he looked every bit the worthy Liverpool player.
Given license to attack in Klopp's 4-1-4-1 formation, with Sion posing little threat to the deep-lying Can and centre-backs Dejan Lovren and Kolo Toure, Smith combined excellently with James Milner to produce a number of empathic forays down the left flank.
Once again showcasing his strong delivery from wide areas, Smith came closest to crafting a winner for the Reds, with Divock Origi almost turning home well-placed crosses on two occasions.
Furthermore, Smith combined this with a defensive vigour that will underscore his credentials as an able deputy to first-choice left-back Alberto Moreno, making four successful tackles.
It was a performance that will give Klopp much food for thought as he plans for the rest of the season, with the search for cover at left-back no longer a priority in January.
As a result, however, he may wish he had experimented more in Sion.