Though Jurgen Klopp will look to learn from Saturday's 2-0 defeat away to West Ham United, Liverpool showed the same deficiencies at the Boleyn Ground.

Goals from Michail Antonio and Andy Carroll served up what was something of a foregone conclusion for the Reds on Saturday afternoon, with Klopp's side falling to defeat in their first game of 2016.
Speaking to BT Sport after the game, the German expressed his frustration at Liverpool's performance, saying "it's no day for being disappointed, it's a day for being angry."
The reason for this is that, despite only being at the club for three months, Klopp has seen this performance many times before.
For long-serving Liverpool supporters, these problems are even more familiar.
Forget '5 things learned', heres 10 things we already knew before West Ham 2-0 Liverpool.
Moreno and Clyne Are Overworked

Both Alberto Moreno and Nathaniel Clyne are solid, first-choice options at left and right-back respectively for Liverpool, and at just 23 and 24 years old, they can hold down these roles for the long term.
But the pair, who have missed just three games between them since Klopp's arrival, are showing clear signs of fatigue.
Klopp acknowledged this by withdrawing Moreno midway through the second half, and Brad Smith's positive performance in his stead provides something of a solution.
Crosses Are a Key Weakness

"If you know in the other team it's Andy Carroll, how can you allow crosses?" Klopp lamented in his post-match press conference, alluding to West Ham's focal point in attack.
After a dismal 2-2 draw with West Brom in December, this should have been fresh in Liverpool's minds.
But as the Hammers continually ploughed the wide areas to send cross after cross into the box for Carroll and Co. to exploit, Klopp was visibly exasperated.
Lucas Can't Operate in a Midfield Two

Liverpool's successive 1-0 wins over Leicester and Sunderland were built on the strong balance in midfield provided by Jordan Henderson and Emre Can, with the duo developing an important understanding.
But with Henderson missing on Saturday, Lucas Leiva was fielded in his place, and the Brazilian's poor performance alongside Can highlighted his deficiencies.
Lucas enjoyed a resurgence at the base of a midfield three in Klopp's 4-3-3 earlier this season but, unable to keep up with the pace in a more demanding role in a 4-2-3-1, Can was forced to do the work of two men.
Coutinho Must Stop Shooting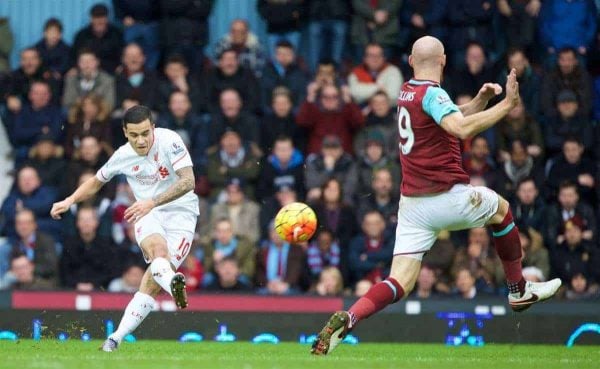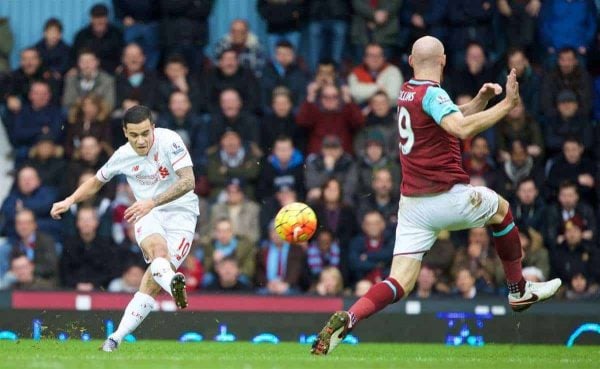 With 4.9 attempts on goal per 90 league this season, Philippe Coutinho is comfortably Liverpool's most prolific shooter—but, while this could be seen as a positive, it has become a considerable drawback as the Reds look to build in attack.
The sight of Coutinho cutting inside on his right foot and unleashing a shot on goal may conjure memories of long-range stunners against the likes of Man City, Southampton and Stoke City, but these are few and far between.
Instead of troubling goalkeepers with his undoubted ability from range, Coutinho is now hampering Liverpool's attacking play with his single-minded approach.
Goals Should Be Sourced From Elsewhere

If Coutinho isn't scoring, however, and the likes of Daniel Sturridge, Divock Origi and Danny Ings are injured, Liverpool need to find goals from elsewhere.
Unfortunately, two of Klopp's most trusted attacking players, Roberto Firmino and Adam Lallana, have scored just three goals between them in all competitions so far this season.
"To be more dangerous from all positions is a big target for us," Klopp said in December, but it will take a lot of coaxing to find goals from Liverpool's midfield at this stage.
Liverpool Can't Cope With Direct Footballing Sides

Watford striker Troy Deeney served up a damning indictment on Liverpool's defensive capabilities after his side's 3-0 win at the end of 2015, saying that the Hornets "bullied" their opposition.
While Deeney singled out Martin Skrtel as the key culprit within this criticism, both Dejan Lovren and Mamadou Sakho struggled in a similar vein up against Carroll.
Carroll's physical presence is no secret, but Liverpool once again failed to deal with a side taking the direct route on Saturday.
Benteke Isn't Suited

Fears surrounding Christian Benteke's £32.5 million move from Aston Villa to Liverpool in the summer have become increasingly relevant in 2015/16.
Though Benteke scored the winners against both Leicester and Sunderland in recent weeks, his inability to make intelligent runs, close down defenders and dominate in the final third is worrying.
Scoring against his former club on Saturday, Carroll underlined just how a striker of this calibre can be effective in the Premier League—but, as his failed spell on Merseyside proved, it can't work at Liverpool.
Liverpool Lack a Winning Mentality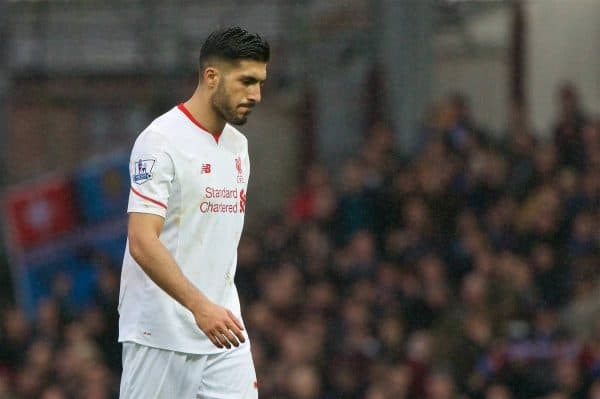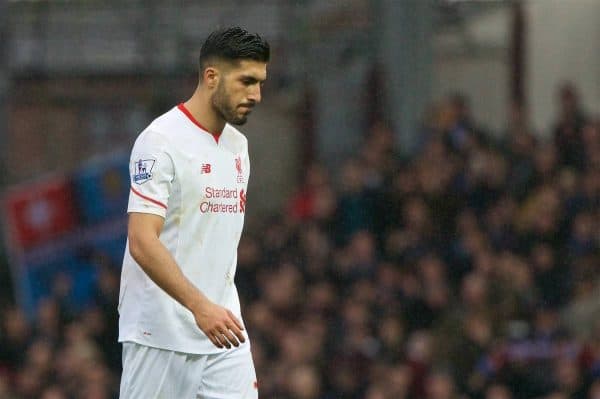 As soon as Antonio's header hit the back of Simon Mignolet's net, a Liverpool victory was off the cards.
Beyond the imperious Can, shoulders dropped at an alarming rate, as the Reds accepted defeat in the first half, and this is something that Lovren alluded to after the game.
"We definitely need to change our mentality and we need to keep a better run of games and to fight more," he told LFCTV.
But while this is an important point to make, how many times has this been mentioned after a Liverpool defeat?
The Current Squad Lacks Depth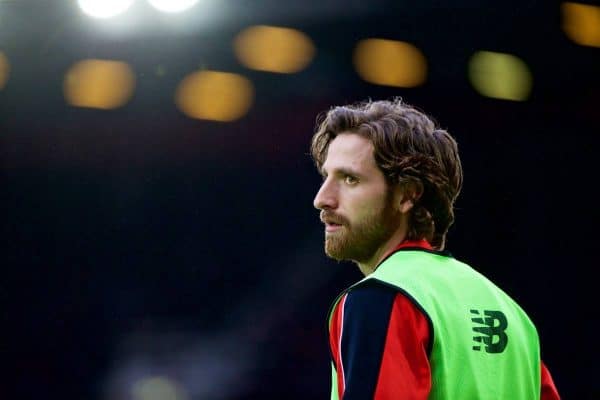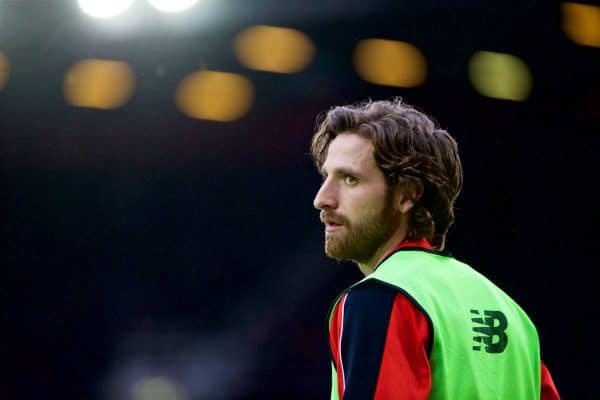 Stricken with injuries to Henderson, Sturridge, Origi, Skrtel, Ings, Joe Gomez, James Milner, Jordan Rossiter and Jon Flanagan, Klopp was forced to name a significantly inexperienced substitutes' bench once again on Saturday.
This included Smith, Connor Randall and U21s captain Cameron Brannagan—players with little to no experience of Premier League football—as well as Lallana, Joe Allen and Kolo Toure.
Perhaps while such substantial losses to injury cannot be anticipated, a lack of genuine depth in the Liverpool squad was underlined as Klopp turned to Lallana and Allen to no avail against the Hammers.
Klopp Needs Time to Build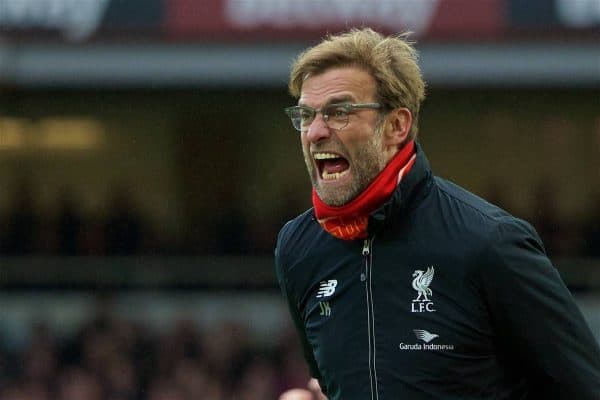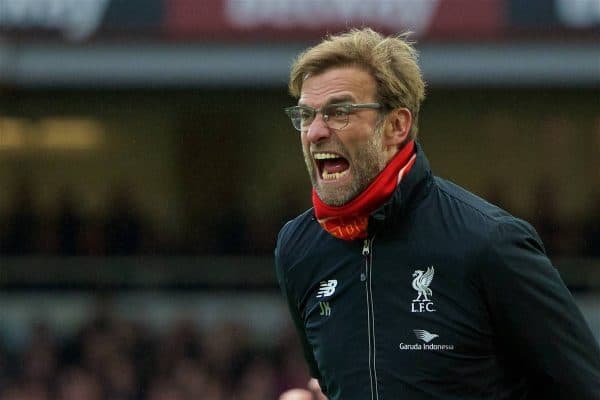 As he sighed his way through his post-match briefing, Klopp's frustration was clear to see, and while the German's lack of preparation ahead of a congested winter schedule can be partially blamed for Liverpool's failings, it must be recognised that this is not his Liverpool squad.
Without the luxury of a summer of development and measured recruitment, Klopp is forced to work with what is available, and as the likes of Benteke prove, this is not in line with his vision.
Supporters should be aware that this is a long-term project for Klopp, and defeat such as this will continue until he is able to build his own Liverpool.
Mid-Season, Mid-Table: Liverpool FC and why we are where we are