Over half way into the season, PJ Vaughan provides an overview of the Liverpool under-18 players and who has impressed him so far in 2015/16.
Adam Phillips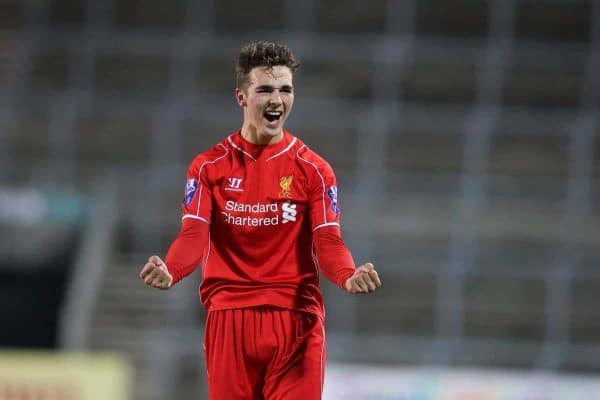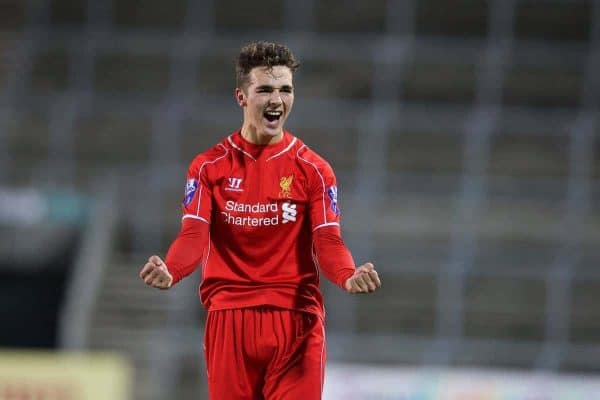 Phillips has been an outstanding performer for the U18 side this season. He may have expected to have progressed to the U21s by now but he hasn't let this affect his performances. Phillips plays like a captain despite not wearing the captain's armband.
He is not only consistent, he also always shines in the big games. He has scored in both games against Everton this season and has being outstanding against Manchester United. He scored two against Manchester City in his first U21 game last season. He has already travelled with the first team in the Europa League and he will soon be one of the key players for the U21s.
One of the first things a first-team coach looks for in a young player is consistency. A first-team coach wants to know he can depend on a young player like he can with a first-team player and Phillips seems to be able to maintain a consistent performance each week. I have no doubts that Phillips will be a Premier League player one day and hopefully that will be at Liverpool.

Alexander-Arnold started the season by playing right-back for the first team's friendly at Swindon Town. He was named U18 captain this season by his fellow players and initially he probably tried too hard. However, as the season progressed he became one of the star performers.
He is a player with huge potential. Where Phillips often lets the ball do the talking, Alexander-Arnold is all about power, pace and movement.
In recent times he has also played right-back for the U18s and has been excellent in that position too. I still think his future lies in a more advanced or central position. However, right-back this may be his route to the first team like it was for Steven Gerrard initially. He is a huge talent, however he will need to fill out a little bit first to progress to the first-team. He will surely make the step up to the U21 in the near future.
Conor Masterson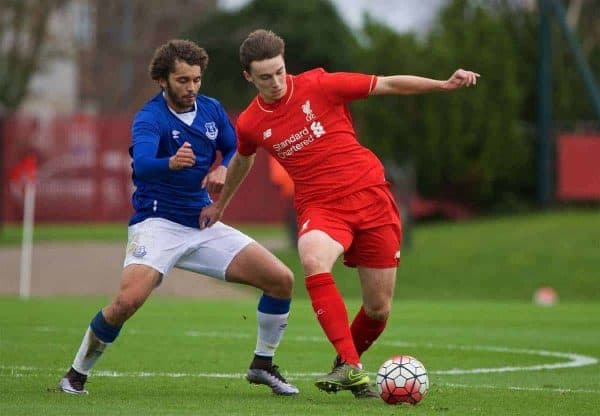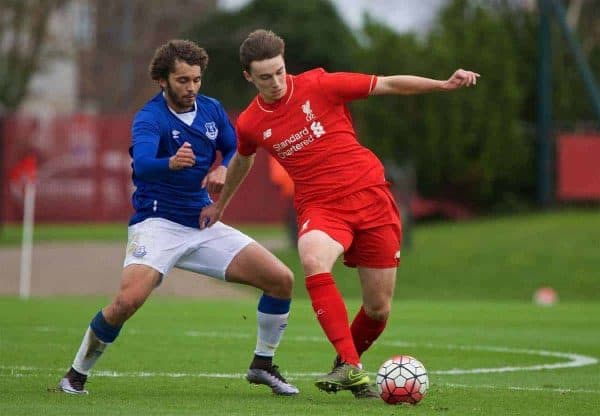 Masterson has been excellent for the U18s this season. His season low point came against Everton at Finch Farm when he was sent off. However had he did not made the challenge it was likely the young Reds would have been 2-0 down and Liverpool would have had no opportunity to get a point from the game as they did.
He is good is possession and an excellent passer, he is quick despite his languid running style and he is very good at being in the right place at the right time to make an interception or a block.
Masterson is the best centre back Liverpool have had at academy in a number of years.
His season high point came when he made the bench for the first-team in the third round of the FA Cup at Exeter. I'd expect to see him progress to the U21 by the start of next season.
Liam Coyle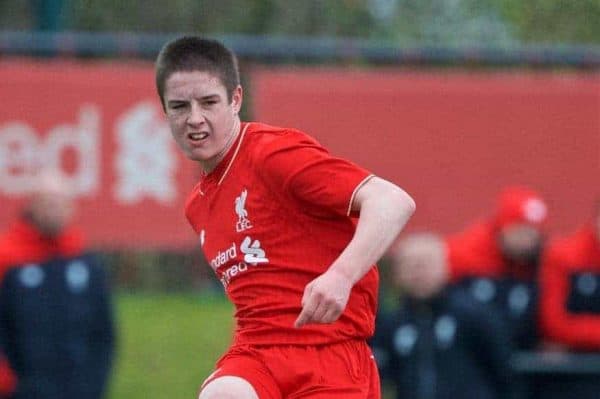 Before the first mini-mini-derby, many observers commented on how Everton recruited the best local talent. However after the match many held a more balanced view with Alexander-Arnold, Coyle and Ben Woodburn shining brightly.
Coyle was promoted to the U18s due to injuries and international call ups. Many expected his stay with the U18s to be brief but Coyle he has been so impressive he has became a regular in the side before his 16th birthday.
Coyle has a strong will to win. He is a fearless player he is not afraid of making a hard tackle nor getting on the ball when the team is under pressure. He has all the qualities to be a future leader. He is a huge talent and will most likely be the U18 captain in the coming year(s) if he hasn't already progressed to the U21s.

Woodburn is a 16-year-old winger who has had to fill in as a centre-forward for the U18s, mainly due to injuries. Like Coyle he was only 15 when he moved up to U18 level he has been so impressive he has stayed with the U18s even after all the injured and youth internationals returned.
He is skilful and strong for his age. His first touch is excellent and he is smart; he usually out foxes his opponents with either his skill or movement. He is an excellent dribbler and makes intelligent off the ball runs. He is also an excellent finisher.
Woodburn is also a very consistent performer something that you don't always get in very young players.
Liverpool have had a number of exciting wingers in recent years (Harry Wilson, Ryan Kent, Sheyi Ojo and Sergi Canos and even going further back Jordon Ibe and Raheem Sterling). Sterling was the best 15 year old I ever saw but Woodburn is the best one I have seen since him. He is a huge talent who literally has the world at his feet.
The rest:
There are many other U18s I could mention; Shamal George has been excellent in goal all season. Corey Whelan has been very good too. Yan Dhanda has shown glimpse of his qualities but has been a little inconsistent. He missed two penalties in one game and then scored the winner in the next. He has also missed a lot of games with injuries. Toni Gomes has also been excellent – he is an out and out goal scorer but again he has missed a lot of games through injury.

We have not seen enough of Bobby Adekayne yet as he has had registration issues and is now injured. Brooks Lennon has only recently received international clearance and has also had a couple of injuries. Jake Brimmer has also missed a number of games through injury.
Herbie Kane has played a lot but has not been as impressive as Alexander-Arnold, Philips or Coyle in midfield – he was excellent for the U16s last season. Paulo Alves has shown glimpses of his ability but he is still adjusting to the more physically style of play in England.
Ovie Ejaria has also been disappointing as he was outstanding last season for both the U18 and U21s. Young players develop at different rates sometimes there are dips in form I have no doubt that they will show their real potential soon.
Keep an eye out for:
Rhain Brewster is the latest schoolboy to make an impression for the U18s. Brewster was with Chelsea's academy before joining the reds. He is a strong, quick, and skilful forward and is always looking to score. He has only had a couple of appearances to date but he has the ability to be a very exciting talent.
Adam Lewis is another youngster that is very highly rated. We are yet to see him this season but it is only a matter of time before he also makes a huge impression. He is an excellent passer and skilful and is capable of scoring from distance.