Liverpool scored five in a dramatic victory over Norwich City on Saturday afternoon, in one of the most enthralling games of the season.
Though Liverpool's trips to Carrow Road have produced some stunning results in recent years, few would have expected Saturday's nine-goal thriller.
A late goal from Adam Lallana sealed the victory for the Reds, adding to strikes from Roberto Firmino, Jordan Henderson and James Milner.
Jurgen Klopp was ecstatic as his side secured a priceless three points in unlikely circumstances, and the German's post-match analysis is set to be a rigorous one.
Here are five talking points from Liverpool's 5-4 win at Norwich.
Set-Piece Improvement a Priority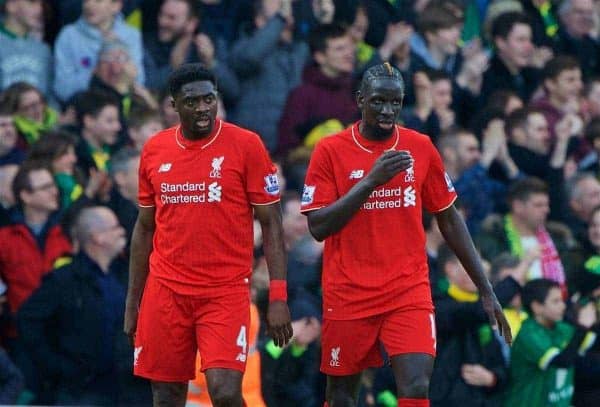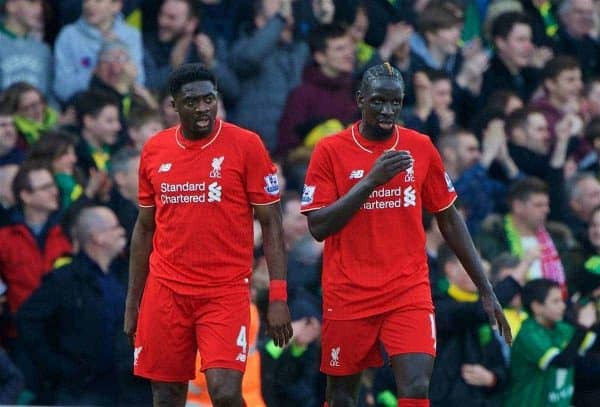 While there is plenty to be positive about after this incredible Liverpool win, Klopp will no doubt focus on his side's lacklustre defending in discussions with his backroom staff this week.
"It's easy to play against us, you only have to throw the ball over the line off a set play. If they don't do it, we will do it [for you]," the 48-year-old said after the game.
"It's rubbish what we are doing."
Klopp has clearly earmarked this as a pressing issue as he looks to coax an all-round improvement from his side, with four goals conceded following Norwich set-pieces—these are basic mistakes made time and time again.
Whether this is an issue with mentality or the standard of coaching, Klopp must address his side's set-piece deficiency as soon as possible.
Toure and Henderson Provide Welcome Leadership
If Liverpool are going to enjoy success in the second half of the season, they must embrace the importance of winning ugly.
They certainly did that at Carrow Road, and this comeback was in part inspired by the strong leadership of both Henderson and Kolo Toure.
Toure is a hugely experienced centre-back with two Premier League winner's medals to his name, and while his quality as a defender is diminishing, his strong mentality was crucial on Saturday afternoon.
Picking the ball up out of the Liverpool net at 3-1 down before surging back towards the centre circle may seem an insignificant contribution, but it is this determination that will have helped spur his side on.
While not wholly efficient in his midfield role at Carrow Road, Henderson's authority was similarly important, leading by example with his vocal presence and earnest commitment.
Liverpool Show Signs of Clinical Finishing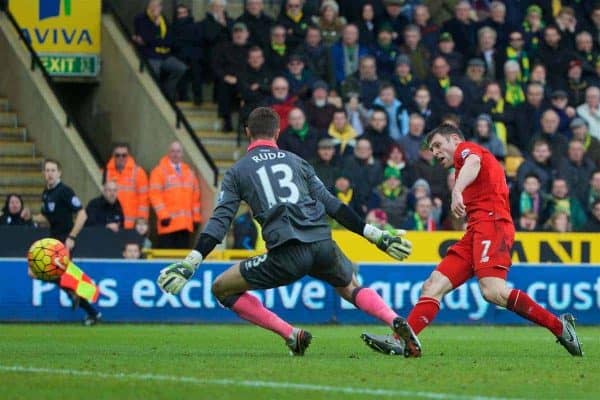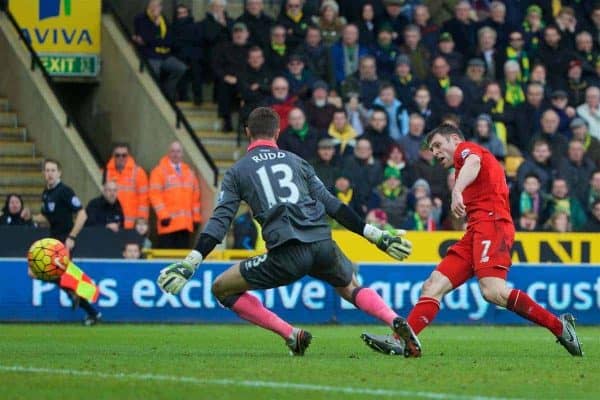 Klopp has long bemoaned his side's lack of confidence in front of goal, particularly with poor contributions from his midfield players, but against Norwich this apprehension dissolved.
Henderson's strike—an opportunistic, first-time volley—was the perfect example of this, with the No. 14 emphatic in his delivery.
Similarly, when Milner was through one-on-one with Declan Rudd after Russell Martin's shocking backpass, supporters may have been fearing a woeful attempt, but the former Aston Villa midfielder showed composure and finesse as he rounded the goalkeeper and side-footed it in.
Lallana's late, late volley enjoyed more than a hint of luck, but this is what success must be built on.
So often this season Liverpool have been handed opportunities and failed to take them—against Norwich, this was far from the truth, and long may it continue.
Firmino Growing as Liverpool's No. 9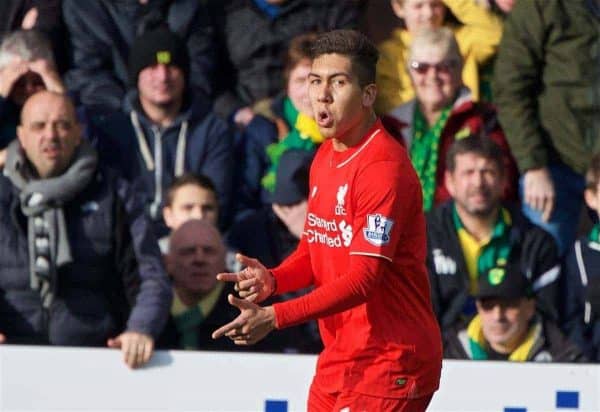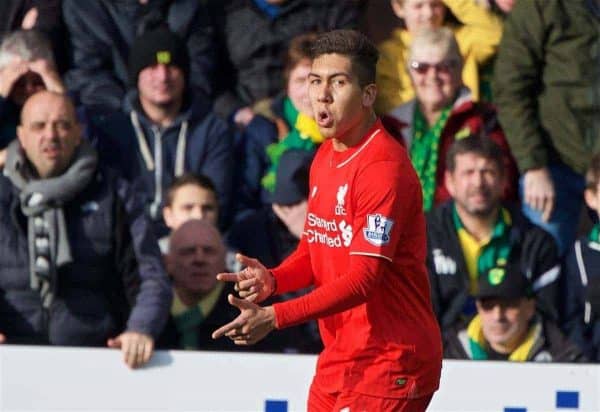 When Klopp inherited this Liverpool squad, he is unlikely to have pinpointed Firmino as his first-choice centre-forward, but a mixture of form and fitness issues have made this a necessity.
Fortunately, having shown glimpses of potential in this role for Hoffenheim, Firmino is thriving as Liverpool's No. 9.
Far removed from the lethargic likes of Benteke and Mario Balotelli, Firmino is the closest Liverpool have come to replacing the sensational, tenacious Luis Suarez.
Adopting a role on the shoulder of Norwich's centre-backs, Firmino terrorised the Canaries throughout Saturday's victory, showing a strong understanding of when to drop, when to press and, crucially, where to move.
In seven appearances as a striker for Liverpool, Firmino has scored five goals and registered three assists, with his two-goal haul at Carrow Road showing a true predatory instinct.
Do the Reds still need to sign another striker this January or should resources be better spent elsewhere?
Late Win Provides Valuable Momentum
One of the overriding factors behind FSG's decision to replace Brendan Rodgers with Klopp will have been the former Borussia Dortmund manager's passion, and his understanding of the club's ideals.
When Klopp led his side over to the Kop after December 2-2 draw against West Bromwich Albion for example, this was a concerted effort to foster a belief within his side and the club's supporters.
His goal celebrations have been the subject of much debate since taking over on Merseyside, with opposition managers taking exception to his passionate reactions.
But Klopp is purely focussed on restoring a winning mentality at Liverpool, and his energy can provide momentum.
The elation that spread through his squad on Lallana's winner was emblematic of the Klopp effect; these are players that are responding to his passion, and thriving under his management.
Liverpool now head into an important week on the domestic cup stage, with a second-leg League Cup semi-final tie with Stoke City on Tuesday night followed by an FA Cup clash at home to West Ham United on Saturday.
They need to harness this positivity, after what was a truly remarkable victory, and continue to build momentum at this crucial juncture.