It is the morning after Liverpool's dramatic 3-3 draw against Arsenal, so we bring you the best newspaper reaction from the Anfield showdown.

An unforgettable encounter on Merseyside saw the Reds and the Gunners take home a share of the spoils, in a classic Premier League clash.
Joe Allen's last-gasp strike robbed Arsene Wenger's side of victory, but in truth, a draw was probably a fair outcome.
The excellent Roberto Firmino had earlier scored twice, while Olivier Giroud's double and an Aaron Ramsey strike had helped the turn the game on its head for the visitors.
Here is how the morning newspapers reacted to the game.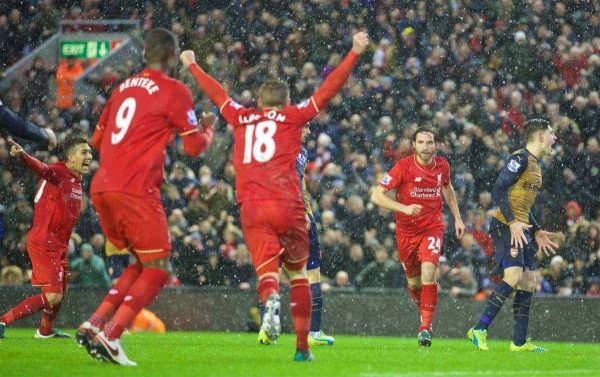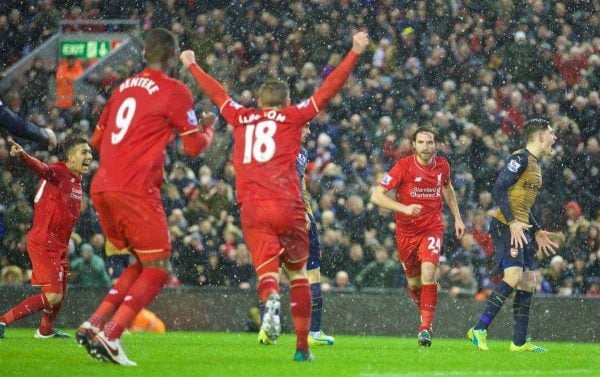 James Pearce of the Liverpool Echo lauded Liverpool's fighting spirit, and the gradually improving atmosphere inside Anfield:
"While Liverpool still aren't quite thrashing out the right tune, both they and their supporters are at least beginning to rediscover their voice at Anfield.

"Klopp will be left nursing a banging head attempting to fathom a raucous, crazy night that ended with his players once again saluting the Kop after a dramatic last-minute equaliser.

"If the unified response to Divock Origi's late strike against West Bromwich Albion had the air of a well-intended stunt, the manner in which the Reds boss leapt into the snowy night air to celebrate substitute Joe Allen's leveller was purely instinctive.

"Delight, yes. But relief also, given the manner in which the Reds had seemingly thrown away the opportunity to halt Arsenal's growing title momentum.

[…]

"The home fans, to their credit, never gave up. Nor did the players, despite the sight of loan centre-back signing Steven Caulker being thrown on up front late on for his debut highlighting how Liverpool had struggled in the closing stages to fashion genuine chances."
The Telegraph's Jim White believes the madness of the game was summed up by Jurgen Klopp sticking new loan signing Steven Caulker up front late on:
"Klopp himself looked at once both astonished and infuriated by the anarchy unleashed in front of him. At one point, after he was spoken to by the referee about his flailing fury on the touchline, Arsene Wenger jokingly suggested that he calm down. Though it was hard to know from a distance whether the Arsenal manager did so in a faux Scouse accent.

"Certainly no one can have expected a game managed by a continental sophisticate of a manager to conclude like this one did, with a centre back freshly signed from a Championship club being sent on up front. Klopp had said he recruited Steven Caulker from Queens Park Rangers to head away long balls played by opposition teams when they are pressed by his Liverpool side.

"Instead here was the new man trying to get his head on to long balls pumped forward by his own team. Desperate times, it seems, call for desperate measures.

"Though somehow in keeping with the mayhem, it worked. Arsenal's backline looked as astonished as everyone in the stands. And in the very last minute, with Caulker causing bother in the box, a long ball swung in by Jordan Henderson was met by another substitute, Christian Benteke, who headed down into the path of the third Joe Allen to scoot home."

Martin Samuel of the Daily Mail was another to focus on the brilliant carnage that the two sides created:
"Appropriately, Anfield appeared to be leaking through every crack and cranny by the end of this game.

"The main stand, now one giant building site, was letting in water, perhaps in solidarity with the two defences. There were hurried evacuations, electrical shutdowns, torrents cascading from the sky. As a physical metaphor for the 90 minutes that preceded the downpour, it was close to perfect.

"This being a league that nobody wants to win, here was a match played in similar spirit. Liverpool led, twice, in the first-half and surrendered both times. Arsenal finally got in front after 55 minutes and held on until the final attack of the match, when they too, failed to maintain supremacy. It was a brilliant, thrilling game, but strewn with errors and defensive lapses.

"In the end, Liverpool earned a point with a bit of Jurgen Klopp's heavy metal. A big old wallop into the box, a big old walloper of a centre-forward on the end of it and a loose ball leathered into the net to conclude. It wasn't total football, but Klopp and his Kop adored it anyway. By then, snow was falling, which soon turned to rain and the roof fell in. Arsene Wenger will know that feeling, too."
Fergus Mackay of the Mirror was impressed by Man of the Match Firmino:
"The Brazilian's second goal – a superb long-range effort – will be the one featuring in future TV montages but it was his first that really impressed.

"A poacher's effort, Firmino's positioning was spot on – as were his reflexes and his finish. His long-term future isn't playing up front, or even playing in the teenage blogger's favourite 'false nine', but Liverpool's summer signing is showing he can deputise until Daniel Sturridge returns.

"He could even have had a hat-trick before half time, but his turn and shot bounced off the crossbar."

In his post-match player ratings for ESPN, Steven Kelly rued yet another shaky display from Simon Mignolet, but was full of praise for Jordan Henderson and Firmino:
Mignolet (5/10) – Though there was little for the Belgian to do he was still beaten three times. Goalkeepers should not be beaten on their near post and Arsenal's opener came too early for the Reds to dig in and protect what they had. More weakness at corners was evident, though Mignolet can claim the corner for the second goal should have been dealt with better before he became involved.

Henderson (8/10) – A very good return from the captain, who found players with good passes and worked hard to stem the Arsenal tide which threatened to engulf Liverpool at times. In a team performance that swung from the sublime to the ridiculous, his display was the one true constant and vital in keeping his side in the game. A real leader's performance.

Firmino (8/10) – As good as his performance against Manchester City last November, but this time he found two excellent finishes to complete all his good work. Seemed to become downhearted when his defensive colleagues squandered the leads he'd provided but rallied late on to help put pressure on Arsenal.
[interaction id="569767398089e8dd05d1535f"]