Having proved his ability to achieve in cup competitions during his time at Borussia Dortmund, Jurgen Klopp can hope for silverware at Liverpool.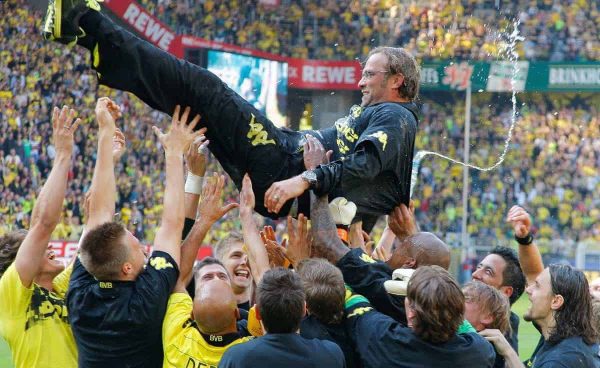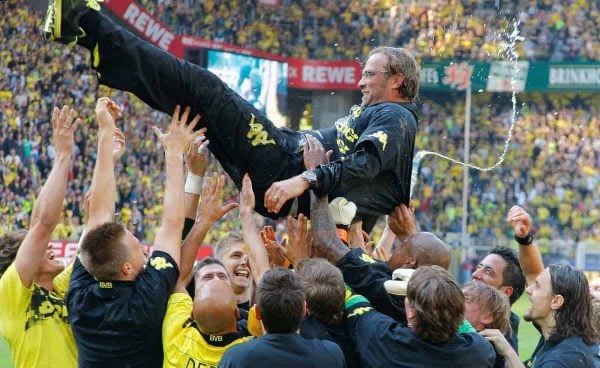 New year, new transfer targets, new aims for Liverpool. This time around it's with a (still reasonably) new manager, too. Jurgen Klopp by now knows very well what he is working with and will be beginning to make judgements on which of his players will continue to be a part of his ongoing project, and which are lacking in either the technical ability or the mental fortitude to contribute beyond this month, or the end of the season.
With regard to the latter, the resilience and determination and aggression required to be a success under Klopp, the next few days and weeks will tell the manager much of what he needs to know, as Liverpool embark not only on more Premier League games but also on dual cup assaults.
Stoke City in the League Cup semi-finals, Exeter City in the FA Cup. Two very different levels of team to face, but both requiring similar traits beyond mere good ball control, creativity and end product.
The cups, in their own way, can tell more about the genetics of a squad than the lengthy league campaign can do.
To be successful in either requires an attacking outlook while not being cavalier at the other end, demands absolute attention and concentration while also being flexible enough to overcome in-game set-backs, and can test the resolve and self-belief in any squad by way of the knock-out format, especially when trailing late on in a game.
Klopp has an extremely good record in cup competitions from his time at Dortmund, in terms of reaching the latter stages.
Klopp, BVB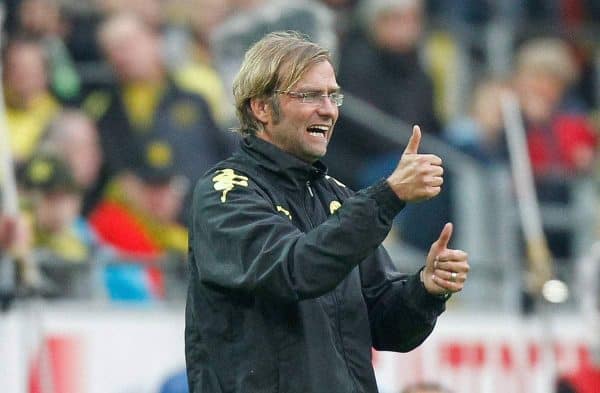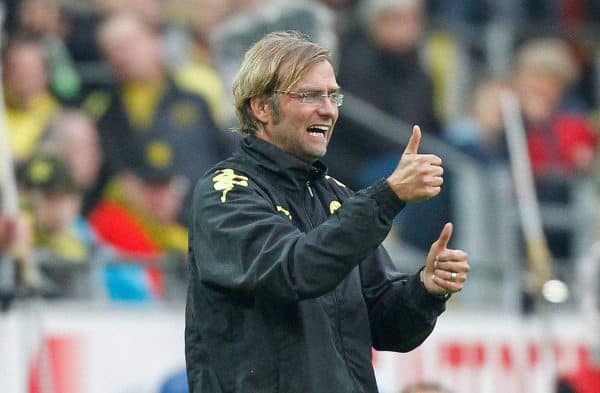 Winning silverware is what it's all about, but when it comes to cups only one team a year can actually do it in most nations; two in England thanks to the League Cup's continued existence.
Therefore, when attributing reasonable success and determining what constitutes an impressive cup run, it's reasonable to suggest that anything approaching the semis is "good"—as the Reds found out last year, anything can happen or go wrong in a one-off last four cup tie.
Poor form on the day, refereeing errors, injuries or just plain bad luck can end a cup run at any stage, but if a team is consistently reaching the latter stages it suggests an ability of the coach to impart on his players the importance of the tournament, and a mentality throughout the squad to be able to consistently win telling games.
At Dortmund, Klopp first led his side to the last four in his fourth season, when BVB went all the way and won the DFB-Pokal.
In the following three campaigns he remained at the Westfalenstadion, Dortmund reached the quarters, final and final again—losing both times in the last two years.
They didn't lift the cup itself on these occasions, but the consistency and ability of the team to always be in the running is impressive itself.
Add in Champions League final and quarter-final appearances and winning the DFL-Supercup twice out of the four occasions his side contested it, and it's clear that Klopp consistently went into seasons with the intention of putting cup competitions high on the list of important results.
First One the Hardest

Early January for the League Cup, (presumably, and hopefully) late January and into February for the FA Cup and late February for the Europa League: Cup competitions are going to dominate Liverpool's schedule for some time in 2016.
How far they go in each will go some way to determining how much of an immediately successful impact on the team Klopp has had.
The boss has already spoken about how important it is to try and win one and, with just one team stood between the Reds and another Wembley appearance in the final, of course the League Cup is the "easiest" frontier to cross.
Easiest in terms of games left, but certainly not by opposition.
Stoke City have played certain teams off the park in recent weeks, thoroughly deserving their wins over Manchester United and Everton, while being less impressive in defeats to Crystal Palace and West Bromwich Albion.
Somewhat like Liverpool, they have struggled with inconsistencies and in raising their game for the perceived smaller matches, perhaps. Chelsea, Everton, United—no problem.

The aggression in midfield, pace in transition play and willingness to get into the box is very much evident. It's hugely likely, for opposition and for occasion, that this will be the variation of Stoke which turns up against Liverpool.
Attacking midfielders and forwards who are in-form and technically adept will give the Reds plenty to think about defensively, while Stoke have also given Liverpool (and other big sides) problems in scoring against at times in the past.
Gerard Houllier once remarked that the first cup success was the hardest, but once it arrived, self-belief in the squad ensured the second could follow in short order if the talent was there.
It happened for Houllier, of course, with the League Cup.
It's a big chance for Liverpool and an angry Klopp will no doubt demand a reaction from his side after the generously apportioned "90 or 95%" display at the weekend. His cup record, as much as Liverpool's, demands it.
No Priorities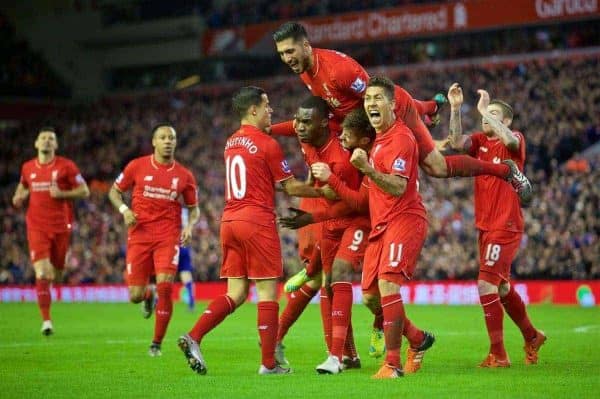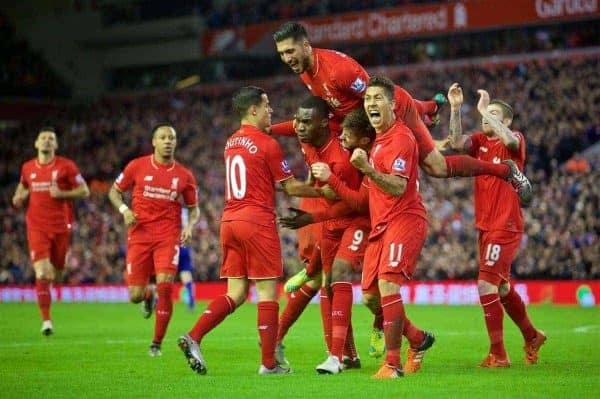 At times in past seasons, reaching the latter stages of cup competitions has been partly by luck rather than design or intent; weakened sides put out in earlier rounds can lead to annoying knock-outs by lesser sides, but with an emphasis on league position, certain players are inevitably rested.
So far, there hasn't been too much evidence of that from the manager, who has tended to play the vast majority of his regular team in both domestic and European cup adventures.
Sure, there were alterations against Bournemouth and a few faces have of course changed along the way—Kolo Toure playing in Europe or Adam Bogdan in the League Cup, for example—but by and large, Klopp has retained a first-choice team.
There is, seemingly, very little variation in what he wants on a game-to-game basis: win this, then move onto the next.
It's exciting and should be something which helps focus and build the attentions of the squad as time goes on and he rebuilds the side, but at present merely offers an argument for how much Liverpool need strengthening.
There's not too much point looking ahead when two games against Stoke have to be navigated first, but the other semi sees Everton take on Manchester City.
A derby, or the title favourites. Either way will be huge if Liverpool reach the final.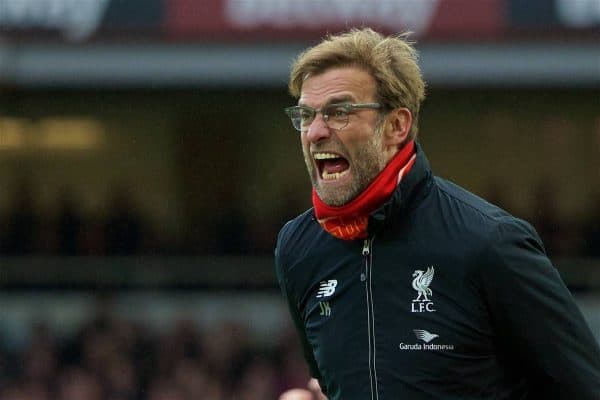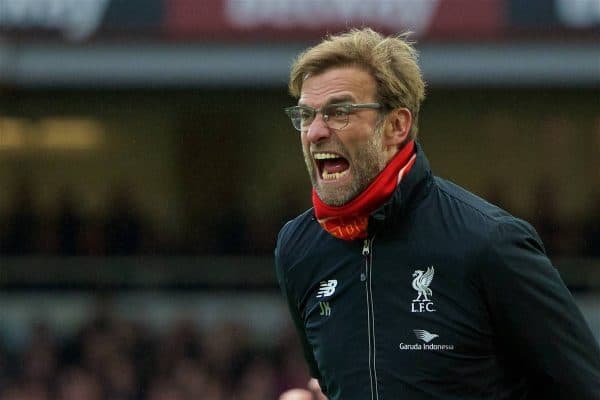 But first it's Stoke, one of the teams which shaped Brendan Rodgers' tenure. There was the last-minute Simon Mignolet penalty save on the opening day of 2013-14, the crazy 5-2 later that year, the 6-1 drubbing on the final day of 14-15 and the stodgy, reserved, barely deserved 1-0 at the beginning of this campaign.
Klopp has already had a taster, one he hasn't had great outcomes from, against some of the more bruising types in the Premier League.
Stoke are somewhere in between; still combative, aggressive and organised, but merging that with great pace and technique on the counter-attack and goalscorers from the second line rather than battering-ram forwards.
How the manager copes, in preparation and in ensuring his side are physically and mentally ready for this two-bout fight, will dictate if Liverpool reach Wembley.
The first one is the hardest, but Klopp himself has known and shown the importance of cup success. Now, his new players have to learn that route to success, and it starts by going a step further than last year's double semis appearance.