Neil Poole ponders the question: To what extent does Liverpool's first eleven need changing in the summer?

'Transition.'
'Rebuilding.'
'Project'
'Three year plan.'
'Five year plan.'
The mere mention of these phrases uttered in connection to Liverpool FC's medium-term future evokes sheer dread. My inner-child's large, blue, melancholic eyes flood with tears. He stares up at me and begs, "Please Big Neil, no…not again."
Yeah, well do one Little Neil! I'm ready to throw out the baby out with the bathwater. I'll pay the price of time and the excruciating prospect of rebuilding a team in a new manager's image. Only because it's Klopp though. I'll also pay for the mattress too so the baby has a soft landing.
As you see later on, I'm going to be really nice about binning loads of our players off.
Divisive Players
The aftermath of Liverpool's 3-3 draw on Wednesday night was a strange one and was a microcosm of the effect of the majority of Liverpool's players on fans. Indeed, it also demonstrates why a substantial number of these players need to be replaced, not in their entirety but certainly as regular starters.
I've spoken to about ten people now (in person) who went to the game, and assessments of nearly all players' performances have varied wildly. So much so that only two players received a unanimous verdict:
Firmino was universally lauded as excellent and delivered his best performance of the season. Unfortunately, little did he know as he pulled off shirt to celebrate the first of his two goals that Simon Mignolet was digging his fingers into the Anfield turf at the other end ready to pull the carpet from under his performance.

To be fair, everyone I know thought Mignolet was amazeballs…, no sorry, drop the 'amaze' bit.
Bloody hell Simon, there's me telling everyone you're nowhere near as bad as people make out and you do that to me. Klopp may be defending him and fair play. But if Jurgen was an Italian, 19th century puppet-boy inflicted with awkward, guilt-induced, face-erections when telling porky pies, he could currently poke your eye out from Melwood.
That's where the consensus stops though. Can, Moreno, Sakho, Lallana, Ibe…you name them and I've heard diametrically opposed views about every other player who started against Arsenal in our midweek fixture.
Football players will always split opinions. That's normal. And you'll always get the odd dissenter who'll revel in telling you Messi's not all that. However, like a working class Tory, disguised as turkey voting for Christmas you'll always have people who wallow in choosing to be wrong. But, on the whole, when players are clearly very good people tend not to argue.
Non-Divisive Players
The Liverpool side of the 2008/09 season is a case in point. Arguably, the best Liverpool 'team' of the last twenty five years, they were not subject to mass debate – schoolboy joke alert! No one argued vociferously over the credentials of Fernando Torres, Steven Gerrard, Xabi Alonso, Javier Mascherano, Jamie Carragher, Sami Hyypia and Pepe Reina.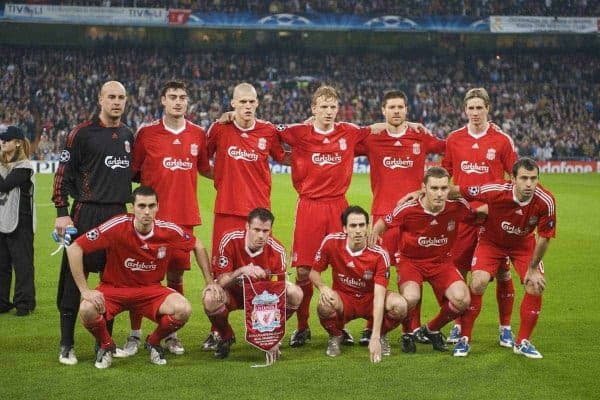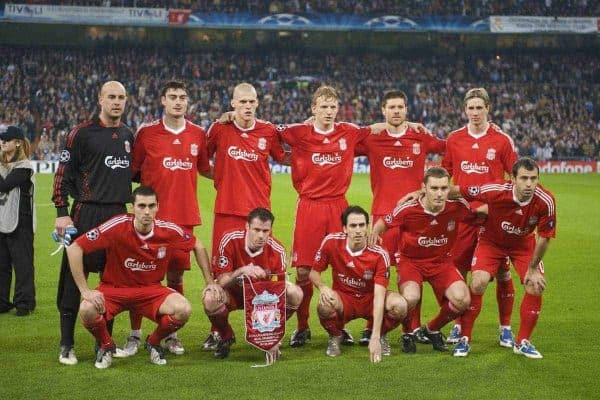 Why? It's simple: When a player is very good, they are quite blatantly very good. I don't mean potentially very good. I don't mean show flashes of being very good. I don't mean very good before they came to Liverpool when they played for another team. I don't mean very good if everyone else plays to his strengths. I don't mean very good for three games and then very bad for the next three. I mean…just…very good.
It brings a tear to my eye to think what that team could do in this league right now. The footballing Gods conspired to chauffeur them to the party seven years too early.
Even bad players can unite the supporters. Never have I felt so part of the Liverpool family as when I attended a candle-lit vigil of one hundred thousand Reds on the banks of the Mersey back in the Hodgson months and we embarked on a marathon pinching session to ensure that it was true: Paul Konchesky was actually a Liverpool player. Those were the days.
Supporting Roles
The very fact this team drives chasms through the spectrum of opinions indicates exactly what most of them are right now; not terrible; not great. In short, a cast of supporting players you could rationally argue have a place in the squad or could 'do a job' in the first eleven.
If you choose to listen, you'll find plenty of supporters who could a put coherent and rational counter argument to your own on almost any current Liverpool player. You still might not agree with them but you can at least understand their argument.

Sakho, Moreno, Can, Milner, Lallana, Benteke, Firmino and Skrtel seem to bear the brunt of these arguments. But increasingly, and in my own experience Ibe, Clyne and Henderson are being entered into these discussions too.
Now listen, stop staring at your Emre Can tattoo and shaking with anger for a minute because you think I'm saying he'll never be a great Liverpool player. I'm not. So move away from the caps lock. Move away from the caps lock. The likelihood is I'm not disparaging your favourite Liverpool player at all. There's mitigating circumstances why the majority of players wouldn't command a starting place if we had a crop of very good or great players around them.
The Current Players
Can, Moreno and Ibe have youth on their side and bags of potential you can't simply discard. But we shouldn't be relying on these players week-in, week out and they need space to develop. They need to be allowed to be inconsistent without the glare of such an intensive spotlight. It would benefit them if we relied on them less at this stage in their careers.

I'm a big fan of Sakho, but Sturridge's injury record has somewhat overshadowed the Frenchman's and there should questions over whether he can be relied on as a first choice centre-back. Again, there is a place for him, but should we build the defence around him?
Firmino is new to the league and although underwhelming for much of the season, it would be criminal to not allow him time to bed in. His induction into the league would be eased if there were other fit and proven strikers who fit into our style of play, and we weren't so desperately in need of him to hit the ground running this season.
Benteke isn't a bad player. He could potentially be a useful, and very expensive impact player off the bench; the fulcrum of the elusive plan B. But it's difficult to see how he can establish himself in the team next season except in bespoke matches that play to his strengths.
Milner, Lallana and even Henderson are the runners and the meat and potatoes in the team with the occasional flourish of creativity, with an eye for a pass or cross, but should ultimately be the sixth, seventh or eighth names on the team sheet. Throw Clyne into the mix too, minus the sparks of creativity, for another 'solid' and useful performer.

And then we have Skrtel and Lucas. Our longest serving players, simultaneously capable of man-of-the-match displays and flurries of good runs of form that render them good options to have in the squad in the minds of many. But on the other hand, they're inextricably linked with a sustained period of little success and with a list of errors burnt into the brains of those who don't rate them.
It's a Liverpool team of never-ending pros and cons.
Expectations
These players are not bad. They're decent. But there has slowly been a lowering of expectations at our football club for years now and it's time to stand back and ask the question: when did it become acceptable for the height of Liverpool's ambitions to be a 'decent' team?
Pick your best current Liverpool player. Does he get in that 2008/09 team's first eleven? Yes? Fair enough.
Pick your second best current Liverpool player. Does he get in? Keep going. I'll be gobsmacked if you make it past a third name.
Then bear in mind, that 08/09 team, as great as it was, didn't win a thing. You'd struggle to get more than three players in a team that for all its merits won nothing. It brings the current readiness of this crop of players into sharp focus. I'm setting the benchmark as a team who didn't win anything, and this current one still isn't fit to tie their shoelaces. Harsh I know. But I want Liverpool Football Club to be better than decent.

It's important to point out many of these players could easily do a job and play a part in title-chasing side, even a title-winning side. But crucially, only if they made up less than half of the team. It's a team made up of too many individuals who currently need to be carried in some way with not enough players left to do the carrying.
This team does not need to be overhauled in its entirety but Klopp needs to make significant changes in the summer. Four or five could have a place in the starting eleven. A handful more would make able squad players. The rest can be binned off.
I'll let you decide who falls into which category and what the right mix is…
[interaction id="5698c8a76f21c9dc057b48d7″]
You can download Neil's LFC ebook for free until Sunday at Amazon.