While Roberto Firmino is roundly considered to be performing out of position as Liverpool's No. 9, Jurgen Klopp has expressed his faith in the Brazilian.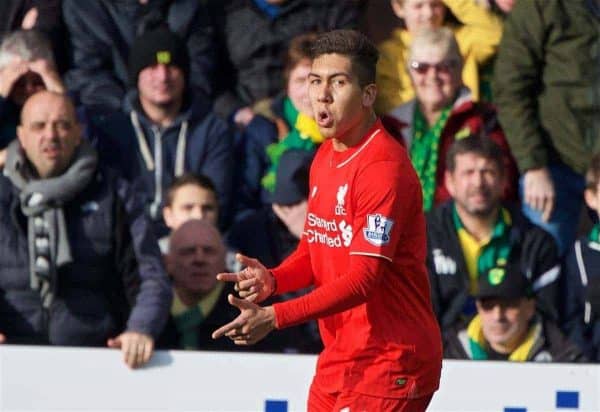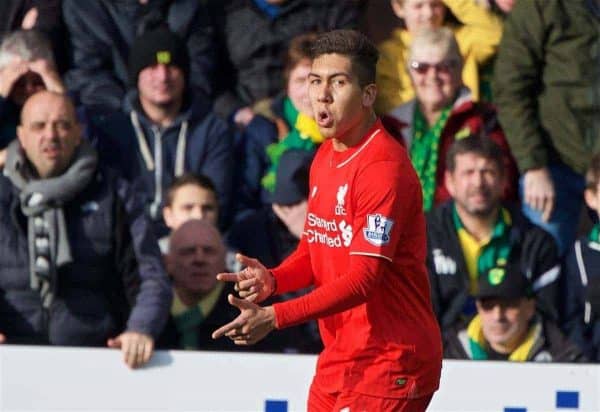 Firmino was ostensibly signed as an attacking midfielder, having made his name in the role at Hoffenheim, but with a two-goal display in Saturday's 5-4 win over Norwich City as proof, he is now at home as Liverpool's centre-forward.
Klopp has opted for Firmino ahead of Christian Benteke in recent weeks, and the 24-year-old has responded with a clutch of shining performances.
With Daniel Sturridge, Danny Ings and Divock Origi still on the sidelines, Firmino now represents Klopp's best option in attack.
In seven games up front for the Reds, Firmino has scored five goals and made four assists, and speaking after Saturday's win at Carrow Road, Klopp praised the Brazil international.
"After Manchester United, everybody asked me: 'What about Firmino, you need a real target striker?" Klopp said, referencing Liverpool's inability to convert chances in January's 1-0 loss at Anfield.
"But he scored two against Arsenal and he scored two here"
Firmino makes a stark contrast to Benteke in terms of playing style, but Klopp believes this provides him with invaluable options.
"I think it's a wide spectrum. Roberto is a striker. He's a very offensive player.
"A lot of strikers are [5'2″] or [5'6"]-something. Leo Messi, what is he? Let's discuss about this.
"Firmino can play and score goals and he is for us a good option to play with. He is flexible and in brilliant shape.
"Having the option with Christian, that's good.
"We have too many games where I can say: 'This or this is No. 1'. We have always to make decisions."
While Benteke has struggled to adapt to the demands of Klopp's attacking system, Liverpool's best performances this season have come with Firmino leading the line.
His brand of hardworking, intelligent forward play is faintly reminiscent of former Reds star Luis Suarez, and while Firmino has a long way to go in terms of replicating the Uruguayan's all-round contribution, he is certainly better suited than Benteke.
Having endured a tough start to life on Merseyside, Firmino is now finding his feet in the Liverpool attack.
Enjoying his football, and reaping the benefits of his hard work, Firmino could be Klopp's solution at No. 9.
[interaction id="56a5f5b98b03d1a94795fe38″]