Man City delivered a gut-wrenching finale to Liverpool's League Cup run, devastating Reds supporters with a 3-1 penalty-shootout victory.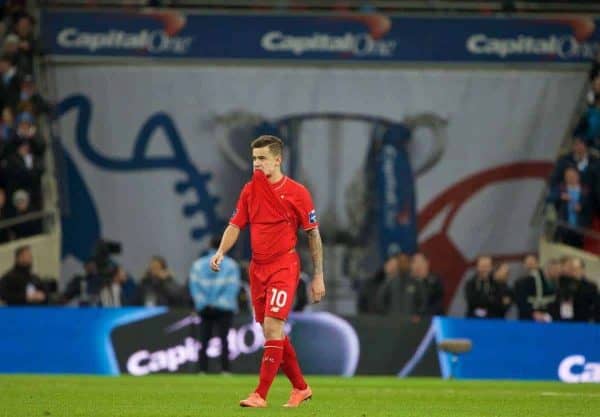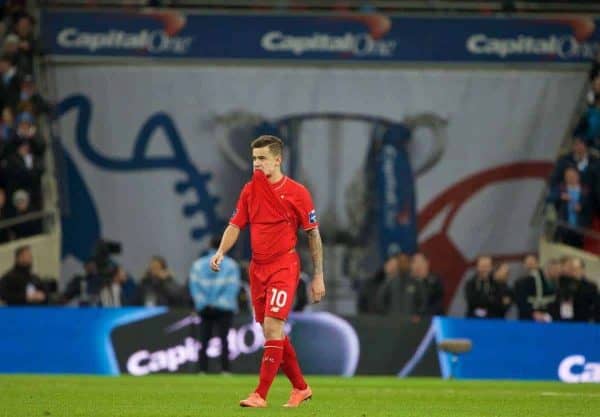 Yaya Toure fired the decisive spot-kick beyond Simon Mignolet to secure City's second League Cup triumph in three seasons, with Mignolet's counterpart, Willy Cabellero, making three key saves to deny Lucas, Philippe Coutinho and Adam Lallana in the shootout.
This served as a miserable end to what was a hard-fought contest for the Reds, and a real killing blow to their hopes under Jurgen Klopp.
Here is how supporters saw Liverpool's 3-1 penalty-shootout loss to City in the League Cup final.
Most were, understandably, devastated following this bitter defeat…
I'm in absolute bits here, we really needed that. We can't get it wrong this summer, we can't keep getting it wrong. Heartbroken

— Rory Greenfield (@RoryGreenfield) February 28, 2016
Guess City deserved that anyways..devastating but it's football

— Dinesh Kumar (@DHardayal) February 28, 2016
Unlucky @lfc Boys did their best. Best wasn't good enough today.

— Taintless Red (@TaintlessRed) February 28, 2016
Gutted. No shame to lose on pens but still horrible.

— Jim Boardman (@JimBoardman) February 28, 2016
"Properly gutted by this, was so desperate for the first silverware of Klopp's reign."
– Zinedine Biscan on the forums.
Absolutely devastated.

— Jack Lusby (@jacklusby_) February 28, 2016
What an embarrassing set of pens; like watching England #LFC

— Jack Williams (@JLWi11iams) February 28, 2016

https://twitter.com/MaguireJoe/status/704026306846048256

?

— Jack Dunn ??? (@Jack_Dunn8) February 28, 2016
Absolutely gutted to have lost. Any nonsense over who did & didn't take a penalty is just that – nonsense. #LFC

— Sam Drury (@SamDrury11) February 28, 2016

https://twitter.com/TheKopMagazine/status/704023746043101184
Some questioned Liverpool's choice of penalty takers…
If you fluff 3 penalties in a row after having a 1-0 lead, you don't deserve to win cups. Fair play to City, back to drawing board for us.

— Leroy | LFC Impulse (@LFCImpulse) February 28, 2016
Have to question where Milner, Sturridge and Henderson were come penalties.

— Aaron Cutler (@aaron_cutler) February 28, 2016
Sturridge, Henderson and Milner pens??

— John Arne Riise (@JARiiseOfficial) February 28, 2016
No penalty for Henderson? The #LFC captain and one of the main penalty takers last season. Must be the foot injury again.

— James Nalton (@JDNalton) February 28, 2016
Grim penalties them.. No conviction bar Can

— Chris Williams (@Chris78Williams) February 28, 2016
Origi was his old club's main penalty taker. Milner is ours. And Studge our best goal scorer. All didn't take penalties. But…

— Taintless Red (@TaintlessRed) February 28, 2016
Many applauded the Reds' endeavour, in what was a testing 120 minutes of football…
Brave fight lads, they are better than us #YNWA

— SimonBrundish (@SimonBrundish) February 28, 2016
Liverpool were bound to lose a final shoot-out eventually. Disappointing, but positives to take

— John O'Sullivan (@NotoriousJOS) February 28, 2016
Obviously we're devastated but it was an entertaining final, and there will be more finals to come with Klopp. Mark my words. #LFC #YNWA

— Angry Bosnian Fan (@AngryBosnianFan) February 28, 2016
"What I loved was our spirit. We didn't cave in. We went on and maybe it was that desire from inside that in a strange way kept the score even till the end of extra time. We always had a chance. A good one."
– Mad about Red on the forums.
Needed two shootouts to get here, the luck ran out. Good effort though, Reds.

— Andrew Beasley (@BassTunedToRed) February 28, 2016
Always hurts to lose like that. We have Klopp..brighter days ahead. More finals to come.

— Klopp (@BundesligaLFC) February 28, 2016
Well done showed desire and commitment hold your heads up boys and go again

— Jason Mcateer (@MCATEER4) February 28, 2016
While some commended a top-level display from City…
Can't deny the fact that City were the better side overall.

— Sai (@TheEngancheRole) February 28, 2016
"City was by far the better team and deservedly won. What makes it frustrating is we were given hope in the shootout, only for it to be snatched away at the last moment.
"Any win from our side would have been a humongous smash and grab job though – we were thoroughly outclassed and could easily have lost 4-0."
– MikeOscar on the forums.
Fair play to Man City though. Our own stupid fault for bottling the penalties.

— Luke (@LFCLuke95) February 28, 2016
Congrats @MCFC , great game enjoyed by all … #Gutted #LFCvMCFC #YNWA

— Rob Jones (@RobjonesLFC2) February 28, 2016
Others turned their attention to Liverpool's next hope: the Europa League…
Don't worry, irrational fan logic means that Liverpool will win the Europa league because Rafa lost a League Cup final in his debut season

— John O'Sullivan (@NotoriousJOS) February 28, 2016
We'll just have to win the bleedin' Europa League then

— ?? ?????? (@elscouse) February 28, 2016
"Got to stuff the hideous Mancs now in the Europa."
– AnfieldCat on the forums.
https://twitter.com/jxckhy/status/704023541323337729