James Milner has always been a player who divides opinion, but as Liverpool's 6-0 win over Aston Villa showed, he is at his best in a supporting role.

Dani Alves is one of the finest right-backs of his generation, and someone who has come up against world-class footballers on a regular basis over the last decade.
When the Brazilian described Milner as his "most annoying" opponent ever last week, there was much bemusement across the footballing globe.
While Alves' quotes have clearly been misconstrued by some – he doesn't mean Milner is the best wide man he has come up against – the fact that Milner lives so long in Alves' memory is testament to the Yorkshireman.
Milner is a player respected by both team-mates and opponents down the years, but he will always be someone supporters struggle to agree on.
To some, he is underrated, while to others he has stolen a living at some of the country's biggest clubs.
Liverpool supporters have seen firsthand what Milner can both offer and lack this season, and it is clear that he thrives most in a supporting capacity.
Effective

Milner has never looked comfortable being the main man in a side throughout his impressive, and often unfairly ridiculed, 14-year career.
He became something of a talisman as a teenager at Leeds United, during their Premier League demise, but that was only because such incredible mediocrity surrounded him.
From that point on, he has always been the man who relishes going under the radar and being the perfect team player.
He was hugely popular at Man City during his five years there – many of their supporters were very sad to see him join Liverpool last summer – and they have lacked his team spirit, efficiency and consistency this season.
In fact, City boss Manuel Pellegrini once said he was "Milner's No. 1 fan":
"Find me a more complete English player.

"There are players who're better technically, yes. Quicker players, yes. Players who head better, yes.

"But show me one who does all the things Milner does well. There isn't one."
High praise indeed.
The term "water-carrier" was used disparagingly by Eric Cantona to describe Didier Deschamps in the 1990s, but those understated, subtle footballers can often be the most important.
Milner is more attack-minded than players of Deschamps' ilk, but the term still applies to him in many ways. He does the gritty, unnoticed work to perfection.
Deficiencies

Milner's time in a Liverpool shirt has been lukewarm to date, with the England international often looking a limited player with a lack of guile.
Opinion was predictably split when he arrived at Anfield in the summer, and because of his performances, those who rate Milner have had to accept fair criticism from his detractors in 2015/16.
A big reason for his struggles is that he has been required to be the leading man too often, with key attacking players consistently out injured.
Milner will rarely win a game with a moment of inspiration, though he has registered four goals and six Premier League assists so far this season.
His passing has too often left a lot to be desired, with his 78 percent accuracy in the league nothing to write home about for someone who doesn't take many risks on the ball.
He has also lacked discipline on occasions, both in a positional sense and in terms of tackling, which has been disappointing.
The Best of Milner to Come?

Few Liverpool players will benefit more from having the likes of Daniel Sturridge and Philippe Coutinho back in the side than Milner, and the mauling of Aston Villa on Sunday was proof of that.
It is worth stressing that Villa are a lowly, relegation-threatened side, but Milner's performance was exactly the type we have seen throughout his career.
He was industrious in his right-sided role, using the ball intelligently, working endlessly and allowing the likes of Sturridge, Coutinho and Roberto Firmino to wreak havoc with their attacking brilliance.
The ex-Villa man even found the back of the net with a free-kick that drifted all the way in, on what was one of Milner's most accomplished displays for the Reds.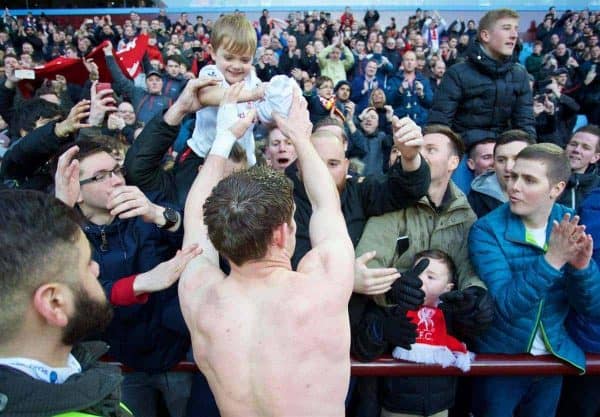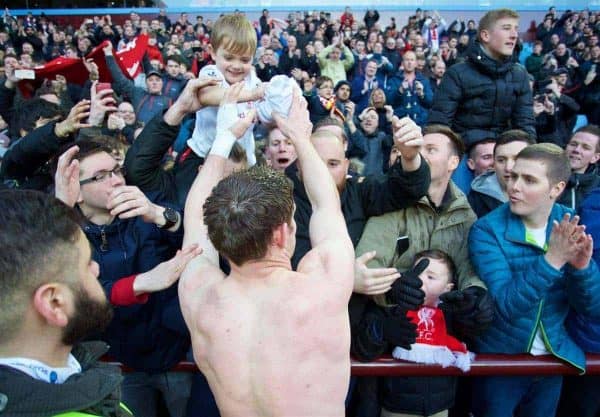 His performance and role in the team resembled that of Jakub Blaszczykowski during Jurgen Klopp's Borussia Dortmund days.
The Pole was always the less-heralded of an attacking unit also containing Marco Reus, Mario Gotze and Robert Lewandowski, but he was extremely effective.
Whether Milner still has the legs and all-round quality to occupy this position in the long-term is questionable, but he showed on Sunday exactly what he can bring to the team.
There is a balance that an in-form Milner guarantees, while his versatility can be priceless during matches.
Looking Ahead

If Liverpool's attacking trident of Coutinho, Sturridge and Firmino can stay fit between now and the end of the season, Klopp's side will finish 2015/16 in a very strong fashion.
The team looks a completely different animal with all three in it, and other players around them raise their level in the process.
Milner is the player who will likely transform the most in the coming months, with his limited but effective style the perfect foil for the more talented figures around him.
It cannot be a coincidence that Milner has been so popular everywhere he has played down the years, winning 57 caps for England at the same time, but his Liverpool career has been something of a non-event to date.
While the midfielder deserves criticism for some of his shortcomings, and general level of performance, injuries to key players have affected him more than anyone else.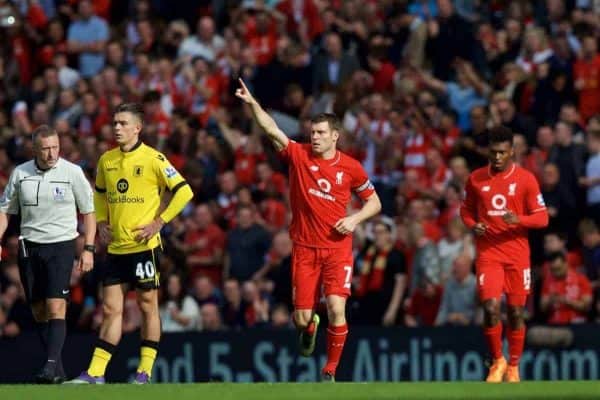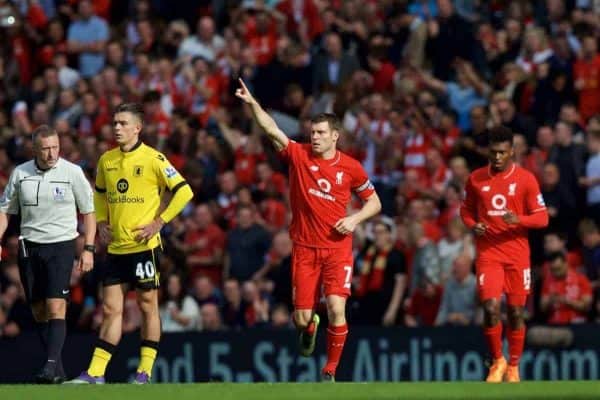 Asking Milner to be the creative hub of a side is like asking Cristiano Ronaldo to be a world-class defensive midfielder; he can do the job adequately, but ultimately looks uncomfortable in the role.
Some will forever ridicule Milner simply because he is unfashionable and the football hipster's nightmare, but you have to look closely to fully appreciate him.
When there are truly top-class players around him, his intelligence, unselfishness and industry make him an important cog in the wheel.
Liverpool may have signed Milner at a time when his best days are not ahead of him, but he can still offer plenty in his role as a supporting star.
It would be a shock if Klopp disposed of him this summer.
[interaction id="56c1a85b17a1f6c05099b118″]
ASTON VILLA 0-6 LIVERPOOL