Jeff Goulding explains why he'll be walking out on 77 minutes on Saturday, and the importance of the ticket price protest and why it matters.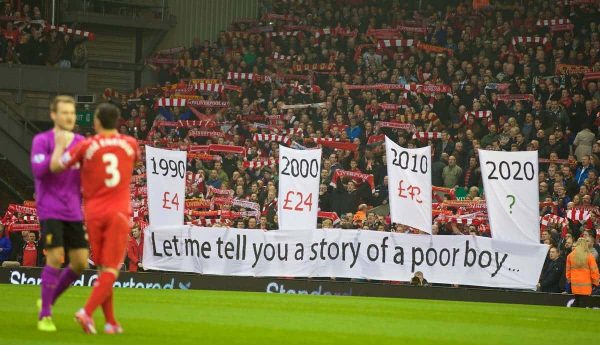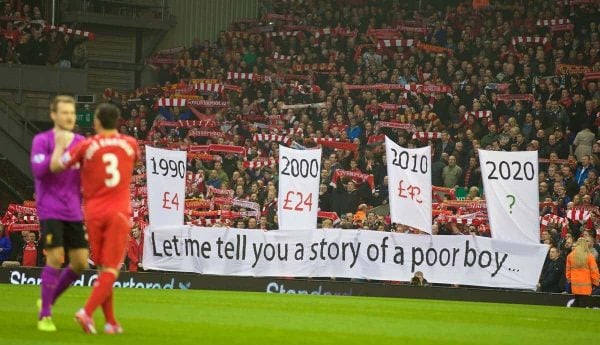 Liverpool Football Club has been a part of my life for as long as I can remember. Sometimes my passion for The Reds borders on an unhealthy obsession. Like many of you, the way the team performs, their results and who we are signing (or not signing) affects my mood and even my relationships.
I'm not good company when Liverpool lose. I can even be difficult to be around when we draw. However, after a win all is well with the world and I am happy. Is this normal? No of course it isn't. It's ridiculous, but I'll wager everyone reading this knows exactly what I am talking about.
We live and breathe our club. Through good times and bad we keep coming back, because at it's heart it's a love affair; just one that lasts a lifetime.
It's nothing like religion. Faith requires you to wait until the afterlife for salvation or damnation. In football you only have to wait ninety minutes.
The problem is that our club know this only too well. They literally bank on it. For years now our club and all the others have been testing the limits of our devotion. Prices have been increasing steadily and we have just absorbed them.
Some of us have rationalised it. We've reasoned that the club needs to maximise it's revenue in order to compete at the top. Look at the riches our rivals possess. How can we go toe-to-toe with them unless we allow them to 'milk the brand'? Trouble is, what that means in practice, is 'milking the fans'.
So here we are. We have reached a point where the object of our devotion feels confident enough in our unquestioning adoration, that they can propose a season ticket that costs more than £1000 and a match-day ticket priced at £77. The numbers beggar belief and are clearly out of reach for many ordinary working class supporters.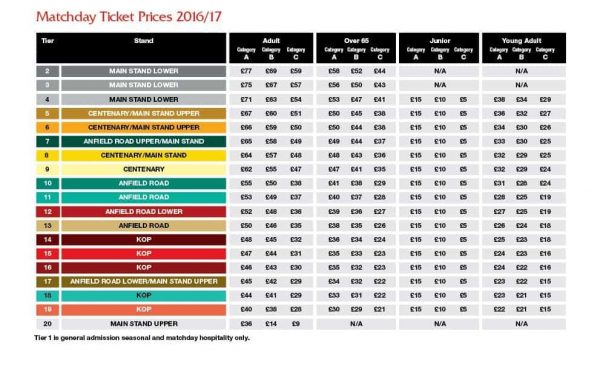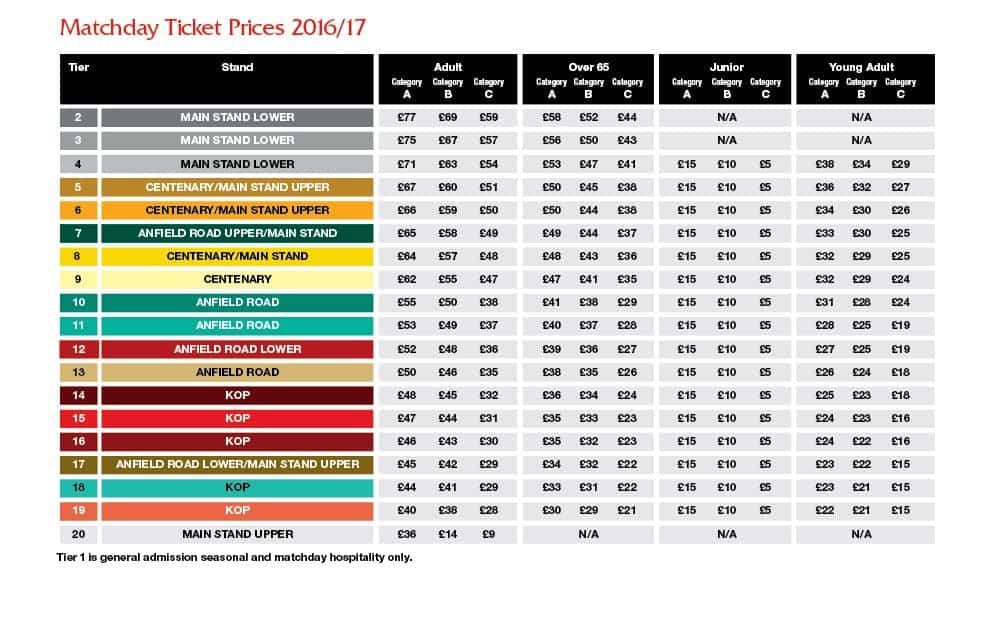 Surely this is a watershed moment. Clearly enough is finally enough and supporters will rise up as one to resist this blatant exploitation. Especially when every supporter knows that the club are raking in unprecedented revenues from TV deals, sponsorships and merchandising. Isn't it now obvious that the need to exploit the match going fan is no longer necessary?
The club's marketing strategy has been based on the suggestion that we are all on happy family. However, it's now plain as day that, actually the 'family' is just another revenue stream.
We are customers not supporters.
To them our role is simply to turn up in our droves and hand over our hard earned cash. Then on full-time traipse into the club shop and spend some more. If you can't get to the game, never fear they've found other ways to liberate you of your money.
Maybe this is the new order. Perhaps this is now how modern football works and we should just move with the times. That's certainly the view of some of our fellow supporters. It's been an eye opener to me, to read comments like "if you don't like it go support someone else" or "if the price is too high don't moan just stay at home and watch it on TV".
I actually don't know where to start in dealing with such comments. This is exactly the kind of response the club expects and it plays right into their hands. Imagine if we did all respond this way. What if we all just rolled over and accepted it. Where would it end? What would the prices be next season, or the season after?
You may be comfortable with these prices. Maybe you're one of the lucky few, whose ticket price has dropped. Maybe you will benefit from the 0.5% of games where a kids ticket will be £9.
If they get away with this today, who'll be left to protest on your behalf when they price you out the game tomorrow?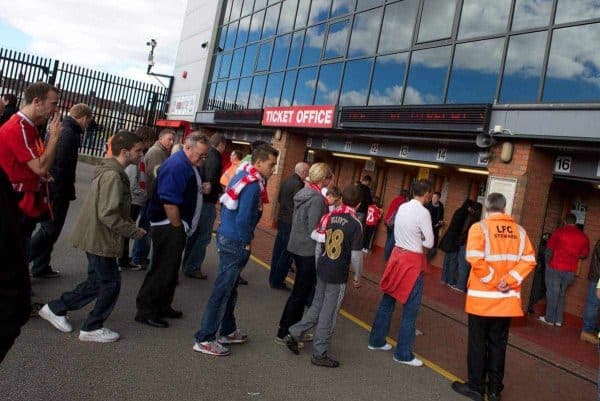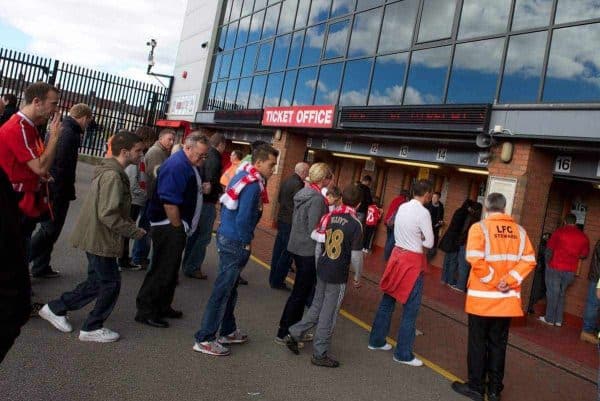 As an excellent new banner proclaims, "If you tolerate this then your children will be next."
It is in all our interests, whether directly affected or not, to resist the new pricing plan. Why? Because it simply doesn't have to be this way. There are models that don't rely on bleeding supporters dry.
Look at other European Leagues. Full stadiums with fantastic atmospheres and prices that are well within the reach of ordinary supporters. These same clubs are able to compete at the highest level while maintaining excellent relationships with their supporters.
If you cannot see this, if you are unable to understand that this has to be a line in the sand, this far and no further and if you would condemn those whose eyes are wide open, then frankly you are no more than one of the money men's 'useful idiots'.
If you think me harsh. If you are outraged by my language, then ask yourself this, who benefits from your stance? Is it the supporters? Or is it the financiers who run our club? I'll just leave that with you.
Anfield without an atmosphere is just another soulless generic stadium, devoid of culture and robbed of its uniqueness. For those of us who go to the game regularly, this is all too often the experience. Allow these price rises to go ahead unchallenged and it will become the new normal. Is this what you want?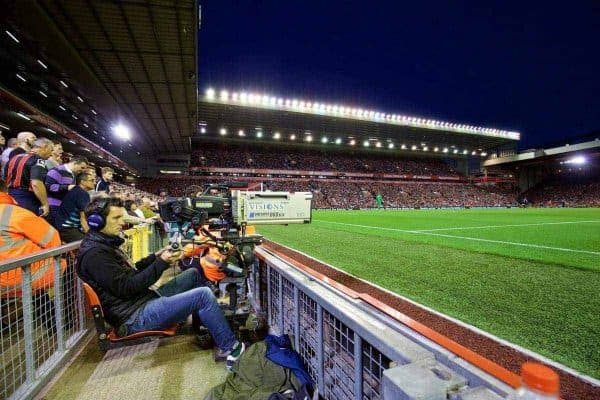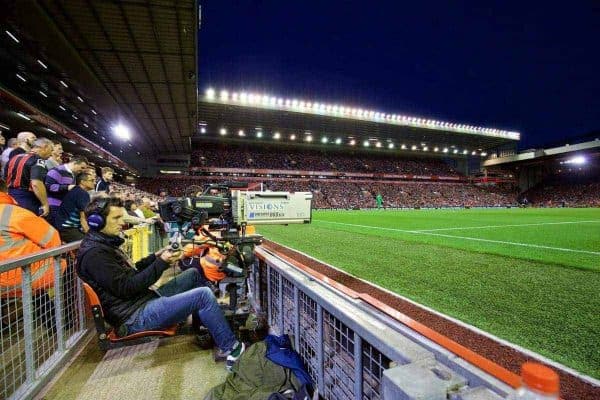 Supporters groups, Spirit of Shankly and Spion Kop 1906 have decided that action is needed urgently to at least attempt to force the club to reconsider. They are calling on supporters at Anfield, against Sunderland on Saturday, to walk out on 77 minutes (a reference to the new £77 ticket pricing band).
Leaving early has always been an anathema to me. I have never even countenanced leaving five minutes early, let alone thirteen. What if the team is behind and needs the crowd behind them? Sadly there are now bigger issues at stake than one game.
The future direction of the club is up for grabs. Do we want to surrender it completely to overseas owners, to do with as they please? Do we want to be treated as fodder by owners who smile while they pick our pockets? I don't and I won't.
I was here before Hicks and Gillett, and FSG. I will be here after they've gone. This is our club and they need to understand that. They hold it in trust for all of us.
That's why I will be walking on 77 minutes this Saturday. To make them understand that. I urge anyone else at the match to follow suit.
I know it will be difficult, but what else do we have? We need to show the world that football without supporters is nothing. Walk on 77 and reclaim your club.