Chris Williams was invited to Dortmund to watch BVB host Bayern Munich at the Westfalenstadion last weekend. Here's his account of the weekend.

Every once in while something in life takes you aback, gives you a moment of awe. Such an instance occurred for me last Saturday at Dortmund, home of the "Schwarzgelben".
Back in December I was lucky enough to go and watch a couple of Bundesliga games, the differences for your average fan in comparison to the Premier League was magnitudinal. I was asked to capture my thoughts for TIA and so gave a very honest opinion.
What I didn't expect was for it to be read by so many and for that 'so many' to include the press office at Borussia Dortmund. I received notification on Twitter that I'd been followed by the BVB, which was followed by a direct message exchange on views of football and fan culture that led to an offer to attend Bundesliga's, and one of Europe's, most prestigious fixture – Borussia Dortmund vs. Bayern Munich.
Me, a scruff bag from Mossley Hill, and my son (not a scruff bag) had been invited on a hosted visit by a Champions League and multi-league winning football club, one of Europe's elite. My head nearly fell off.
A couple of Euros later, thanks to some internet cheap flights, my son Mark and I were booked on the early flight out of Stansted Airport on Saturday 5th March direct to Dortmund.
Stepping out of Dortmund's airport and onto the city bus we were greeted with a massive banner "Wir sind guter fußball" – We are good at Football; I'm sure Spurs fans will back this statement up after last Thursday.
German football is different than its English counterpart, it's a way of life ingrained in their culture as a full day and night out. We arrived at the Westfalenstadion three hours before kick off by train, the roads around the stadium were blocked already, the bars outside the ground were packed, they were showing the Liverpool v City highlights on the TV, good start.
It soon got around the bar that we were visiting from Liverpool and I kid you not we were treated like royalty; "Welcome, we love LFC" was all we heard, they couldn't believe we'd come to see Borussia Dortmund – I had to remind them they now dined at the top table of European football and the honour was ours.
During conversations I suggested the Yellow Wall was superior to the modern Kop in terms of atmosphere – I was nearly lynched, "No way" I was told very loudly by one BVB fan.
Next appointment was with Sebastian from the New Media Team at BVB, the man that had very kindly invited us both over to sample the very best that Dortmund had to offer and boy he didn't disappoint.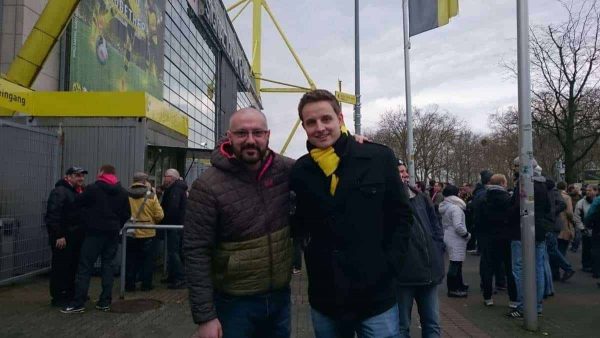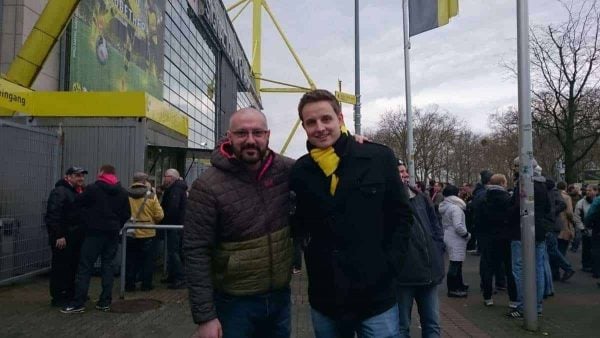 We were led through the gates into their old "Stadion Rote Erde" – they have kept their old stadium attached to the new Westfalenstadion, you can feel the history within this especially when you see it dwarfed by its 81'000 sibling.
We then trod the path to the underneath of the stadium, the path the players take to the changing rooms. It's a wonderful setup; multiple press booths for pre and post match interviews greeted us before we had the honour of sitting in Thomas Tuchel's seat to pose for the mandatory tourist pictures.
Pitchside the Westfalenstadion, or Signal Idunda Park to give it its current name, is awe-inspiring as it raises to the heavens above with the famous south tribune a colossus sight on your left as you walk out.
Our host took us back through the press office, through the museum and into the VIP boxes. Their commercial setup is excellent and seamlessly brings together the corporate guests and local regulars who make their weekly pilgrimage to watch their team play. Unlike England there is no barrier between the directors and the paying public, no requirement for suits and ties it's all very relaxed.
Our tour was over, tickets were in hand and we said goodbye to Sebastian – with it being a matchday his day was about to get exceptionally busy.
A glance over to the south tribune, two hours before kick off, and it was filling up. The culture in Germany is to get in early, get the atmosphere going; helped massively by the safe standing and sale/drinking of alcohol on the terraces. Oh England how we can only wish.
Our seats were just left of the famous Yellow Wall, rail seating-like and thankfully we never sat for 90 minutes of play. The atmosphere was electric, the rendition of "You'll Never Walk Alone" was up there with the one I experienced at Anfield on those famous Champions League nights of 2005 and 2007 and almost equal to that of the old 1980s Kop that my memory clings to; thankfully we knew the words and fuelled by more than a few pints of Pilsner I gave a good account of myself as a Liverpool fan.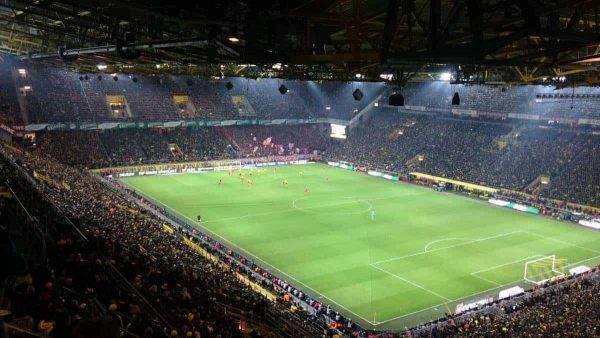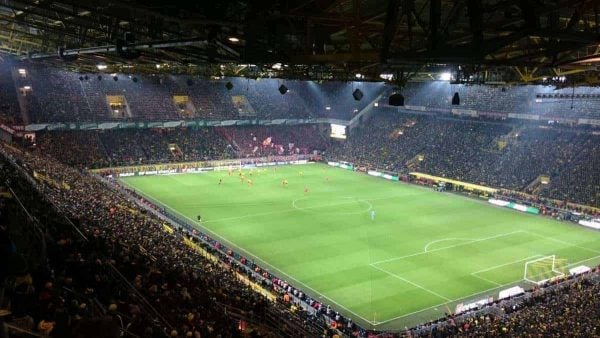 English is almost a second language for the Germans and again the lads and girls around us were astonished that we'd come from Liverpool to see their Borussia play, each one of them has Anfield on a bucket list, do not underestimate their love for LFC. The Jurgen Klopp connection just furthers it. We were deep inside the territory of 1909 Schwarzgleb, one of the many supporters groups found at Dortmund, whose area of the south west tribune we occupied for the match; to say they looked after us would be an understatement.
What was played out was a very tactical and attention capturing 'Klassiker' in a cauldron of noise, to which the Bayern fans in the away end played their part. We witnessed the first 0-0 between the two rivals for eight years, so I can only imagine the noise should BVB have scored.
German football fans are every inch as passionate as their English counterparts but the fact there seems to be no barrier between them and the club they love only serves to further the relationship. The result is something we as Premier League-goers can, at the moment, only dream of.
Spirit of Shankly and Spion Kop 1906 have worked together with other club groups to try and instil this culture in the Premier League. The cap of away tickets at £30 may go some way to bringing the German culture and model to England; football for all not just the rich.
If you've a spare tenner then throw it the way of SoS and become a member of a force for good. If you've a bit more floating around then also think about a discount flight to Germany and an atmosphere you can only dream of awaits.
The DFB and Bundesliga clubs know that football is nothing without fans.
Wir sind guter fußball – You better believe it.