After Liverpool secured a vital first leg lead with a dominant team performance, we round up the best of the media reaction from Anfield.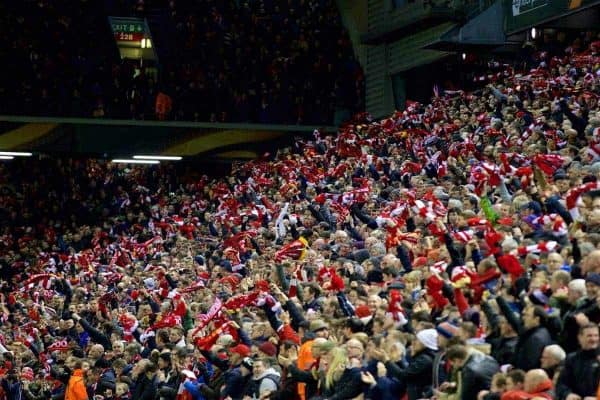 The Reds ended their poor run of results against Man United with a 2-0 victory that ensures they travel to Old Trafford with a commanding two-goal lead.
Jurgen Klopp's side produced a fantastic display from the first whistle, with Daniel Sturridge's first half penalty and Roberto Firmino's cool finish in the second period handing Liverpool the victory their play thoroughly deserved.
The Reds out-played and out-battled Louis van Gaal's poor United to make it another memorable European night under the lights at Anfield, where the players matched the electric atmosphere with a brilliant display.
It was as close to the perfect first leg as you will find, and here is how the media reacted to the victory.
ADVERTISING
It was a night that reporters felt Klopp's Reds rose to the occasion at Anfield to put themselves in a dominant position:
The Express' Paul Joyce said Liverpool "came of age":
Klopp will regard this as the night his side came of age.

Occasions such as these, when the tumult is such that it is difficult to hear a team-mate's call let alone take a second to put a foot on the ball, have become about learning how to win for Liverpool.
Martin Samuel for the Mail wrote:
Liverpool are far from a finished article, but they have both of those qualities, and certainly know what is at stake now against these opponents. Put simply: they got it. They rose to the occasion.
The BBC's Phil McNulty felt Liverpool showed signs of the future under Klopp:
In contrast, Jurgen Klopp's Liverpool showed signs of becoming exactly what he wants them to be at Anfield.

ADVERTISING

They gave United no time on the ball, constantly robbing them in possession and forcing mistakes by being simply too quick and too mobile for Van Gaal's side.
Much post-match coverage centred on Klopp winning the tactical battle against van Gaal at Anfield:
Jim White for the Telegraph labelled it a "triumph" for Klopp.
What a triumph this was for the German. What vivid reward for boldness and panache. What a shrewd tactical masterclass he had delivered in how to make the most of limited resources. The opposite, in short, of Van Gaal's suffocating risk aversion.

[…]

The truth is, everything he did was better, including his substitutions.

ADVERTISING
The Daily Mail's Ian Ladyman wrote:
Key to Liverpool's dominance was their intensity and their energy. Despite Klopp emerging from the dug out to encourage Alberto Moreno to up his levels midway through the first half, Liverpool were largely faultless in this regard while United seemed able only to chase the ball and hope they suffered no further damage.
Tom Bell for ESPN echoed:
This two-legged tie was partly a matter of who could adjust quickest to their status, reveal a new identity and set about returning to the continent's top table on merit.

Liverpool won that contest and the identity was one in the image of Klopp as they pressed, pressed and pressed again, combining it with more precision than usual in possession
Alex Burrow and Ben Richards for the Mirror said:
ADVERTISING
Louis van Gaal prides himself on his tactical acumen – but Jurgen Klopp got the better of him tonight, of that there's no question.

[…]

Klopp could barely have drawn it up better – and Firmino's second goal gave them the advantage their comprehensive dominance warranted on the night.
The electric atmosphere at Anfield, which shell-shocked United and drove the Reds on for a vital victory, rightly received the plaudits it it deserved: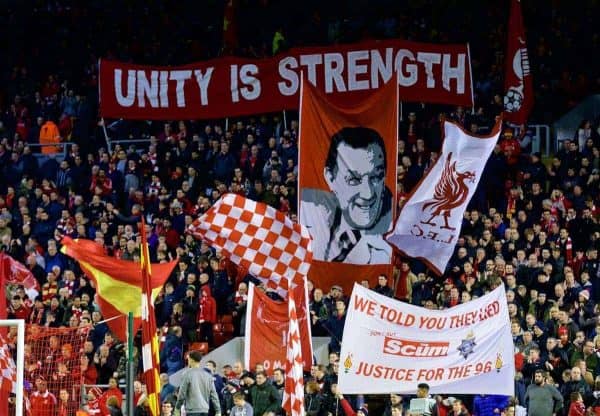 Dominic King for the Mail assessed:
The intensity for this, though, was on another level from the moment the teams emerged and the noise remained constant throughout. Jurgen Klopp wants Anfield to become an ordeal for visiting teams and this was a glimpse of how it can be. United – like Arsenal and Chelsea, who were blown away here in the Champions League in years gone by – simply couldn't cope.

ADVERTISING
"Now Klopp knows Anfield's power" Chris Bascombe's post-match comment read for the Telegraph:
The Kop was packed 30 minutes before kick-off, louder before a ball was kicked than for most of the games of his tenure to date. The pre-match rendition of 'You'll Never Walk Alone' was probably the longest the stadium has heard.

[…]

There was certainly an extra yard in the step of the Liverpool players in the early stages, players from both sides evidently affected by the atmosphere.
The Liverpool Echo's James Pearce described Anfield as an "unstoppable force":
This was the finest Anfield night of Klopp's blossoming tenure. Fans and players united together as one unstoppable force.

[…[

The spine-tingling rendition of You'll Never Walk Alone was laced with emotion and Klopp's men fed off that electric atmosphere.
The Express' Paul Joyce assessed:
On an evening when the Kop displayed all of its finery, roaring itself hoarse, their team did likewise. The visitors were reduced to a rabble by the end.
Daniel Taylor for the Guardian wrote:
It has certainly been a long time since You'll Never Walk Alone has been sung here with more heartfelt volume.

[…]

These are the moments when Anfield feels like a special place and the players rose to the occasion. Nobody could ever accuse Klopp's men of failing the traditions of this match.
Meanwhile, Daniel Story for Football365, discussed one of the many disgraceful chants from the travelling United fans:
The Sun was right, you're murderers," was the chant sung by a number of United fans, enough in number to be heard.

What f**king possesses somebody to do that? What sort of ignoramus do you have to be to mock the death of football fans? Where is the scrap of awareness to realise that any of those 96 supporters could have been your mother, your brother, your father or your friend?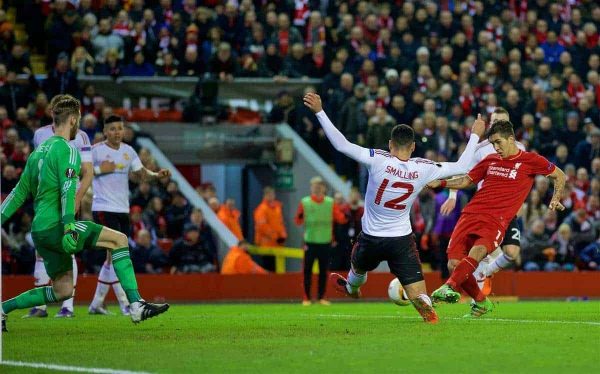 Though an excellent team display, Roberto Firmino was the centre of much praise following a fantastic, goal-scoring performance:
Bascombe named the Brazilian his man-of-the-match:
The highest compliment you can give the Brazilian is this was a performance that truly carried echoes of Luis Suarez at his finest. Firmino is still some way from meeting those heights on a consistent basis, but he deserved his goal and thrived in the atmosphere.
The Guardian's Barney Ronay said Firmino epitomised Klopp's approach on a brilliant night for the Reds:
And so it proved to be, on a slightly wild evening that saw Liverpool take a 2-0 lead in the first leg against Manchester United and Roberto Firmino emerge as the dominant figure, a player who already looks the itinerant tattooed Brazilian embodiment of early Kloppball.

[…]

It is an energy that comes through in his tactical approach, and which was carried on to the pitch here by a player who is fast emerging as a chief lieutenant of the forward press.
More from This Is Anfield
Fan Comments