After Liverpool booked their place in the quarter-final stage of the Europa League, we round-up the best of the media reaction from Old Trafford.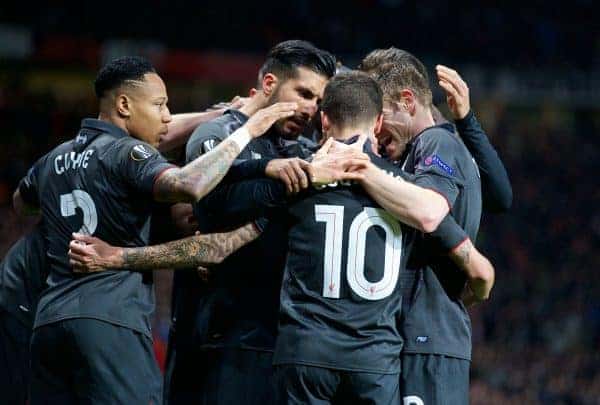 Jurgen Klopp's Reds rose to the occasion to complete the elimination of arch rivals Man United in their own backyard with a 1-1 draw.
Philippe Coutinho's moment of magic on the stroke of half time cancelled out Anthony Martial's opener from the penalty spot to ensure United's fight-back was killed off once and for all and Liverpool progressed from the mammoth encounter.
A mature overall performance in Manchester complemented the outstanding first leg showing on Merseyside from Klopp's team, who did an excellent job in overcoming Louis van Gaal's men so comfortably over 180 minutes of intense action.
It was the perfect end to a memorable first European contest between the clubs, and here is how the media reacted to the game.

After securing their advancement to the last-eight, reporters were unanimous in their assessment that the better team won.
Daniel Taylor, in the Guardian, wrote:
There was no doubt the better side had made it through and Liverpool, having overwhelmed their rivals at Anfield a week earlier, had a relatively stress-free night once Philippe Coutinho had delivered the away goal that struck United with the force of a sledgehammer.

The bottom line, however, was that Liverpool were the more rounded side by some distance.
The Daily Mail's Martin Samuel felt the Reds had "too much" for their rivals:
Liverpool simply had too much for them: too much energy, too much intensity, and in Coutinho too much quality in front of goal. Left one on one with De Gea, he beat him with a Lionel Messi-like chip.
Guardian colleague Andy Hunter praised Liverpool's resilience – the catalyst behind the Old Trafford success:
It was "a genius moment", according to Klopp, although Liverpool's progress was built on commanding displays at both ends of the pitch, with Dejan Lovren and Mamadou Sakho instrumental in repelling attacks and ultimately deflating their hopes of a remarkable recovery.
However, Taylor also felt Liverpool should have their superiority by winning with a much more comfortable margin:
The only possible regret for Jürgen Klopp is that David de Gea kept the score down over the two legs when Liverpool could conceivably have scored several more both times.
There was praise for Klopp himself, who got his tactics spot and reaped the rewards of a bold approach at Old Trafford.
The Telegraph's Chris Bascombe felt Klopp was vindicated for "sticking to his principles":
Jurgen Klopp's philosophy is to attack, but he must also have been tempted to play a more cagey game awaiting the counter-attacks.

[…]

Klopp opted for another attacking line-up, but the opportunities on the break were plentiful, too often the final pass letting Liverpool down until Philippe Coutinho's wonderful solo goal on the stroke of half-time.
ESPN's Richard Jolly echoed:
It was a reward for Klopp, too. The German's positive selection showed he had prioritised scoring an away goal. Coutinho, who rivaled De Gea for the unofficial man-of-the-tie award, delivered it. It means Liverpool can advance with confidence.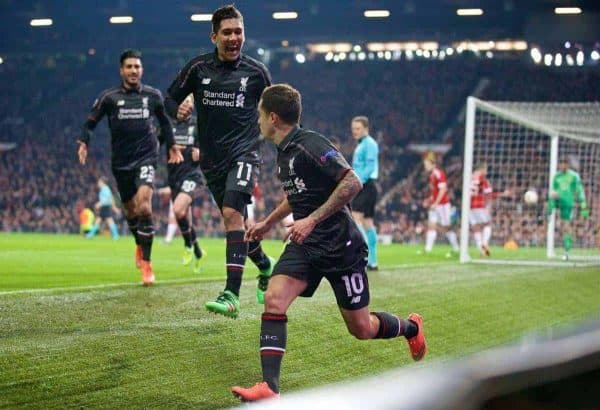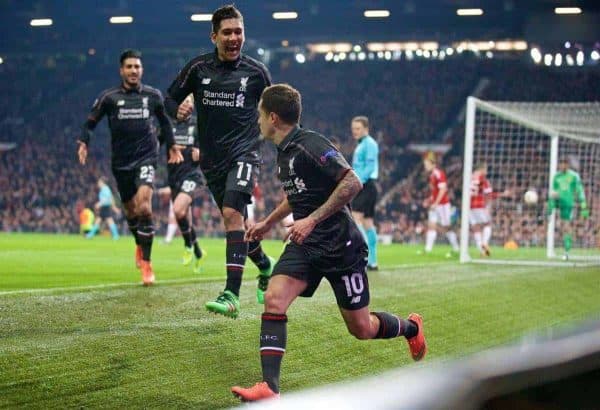 Reporters unanimously agreed that this was a two-legged victory that showed Liverpool's progression under the German manager.
The Mail's Ian Ladyman noted Liverpool's development under the German's influence:
The truth, however, is that Liverpool are a team looking and moving forwards rather than backwards.

[…]

Under Jurgen Klopp, Liverpool have a sense of purpose. There seems to be a plan and a structure. There are players to build a team around and a coach to glue the pieces together.
Samuel felt the Reds made the first "big statement" of Klopp's reign:
Credit to Liverpool, though, for their application over two legs and a useful draw here. This was an opportunity to make the first big statement of the Klopp regime against their bitterest rivals, and they took it.

[..]

Instead, Klopp (right) is in the ascendancy. His side outplayed United at Anfield, and outfoxed them here through the marvellous Coutinho. It was a big result for Liverpool, a big defeat for Van Gaal.
The Mirror's Dave Kidd echoed:
But these three hours of football between bitter rivals were definitive proof that Klopp's hard-pressing philosophy and magnetic personality are having a genuine effect.

[…]

Klopp is leading a two-pronged assault on Champions League qualification, in this competition and as Liverpool try to hunt down the Manchester clubs in the Premier League. The force is most definitely with him.

The Telegraph's Jason Burt assessed:
"Jurgen Klopp, Jurgen Klopp na-na, na-na, na-na," continually chanted the 3,000 Liverpool supporters as the second-half kicked off. And this was Klopp's take-off. His lift-off. This marked the first big triumph of the Klopp era. This was Klopp's Klaxon call.

[…]

Once again, as with the first-leg, and despite United's improved performance it was a contest that re-inforced the belief that Liverpool are on their way up under Klopp. They know the direction of travel.
BBC's Phil McNulty joined in:
Liverpool, while not at their best at Old Trafford, have demonstrated an intensity and work-rate that reflects their manager's personality and what he regards as the trademark of his teams – namely a mixture of attacking intent and the "Gegenpressing" style.

[…]

In other words, you can see Klopp's imprint on how Liverpool go about their work, even though he has only been at Anfield since early October. Liverpool's graph is on an upward curve.
For Goal.com, Melissa Reddy wrote:
Liverpool's performance over the two legs will live long in the memory.

The Reds boss has stated he feels his team can win the tournament and ties such as these cement that kind of thinking among the players and supporters. The past week has felt like Liverpool pressed rewind and replicated their glorious European nights from the past.
A solid team effort over two legs from Liverpool, there was also praise for individual performances at Old Trafford.
The Independent's Mark Ogden highlighted Coutinho's display:
It was a killer goal in every sense, but it was also one of the highest quality. Guillermo Varela, United's Uruguayan right-back, has done well in recent weeks after being promoted to the team by Louis van Gaal owing to a defensive injury crisis, but he was outdone by Coutinho on numerous occasions before the Liverpol playmaker scored.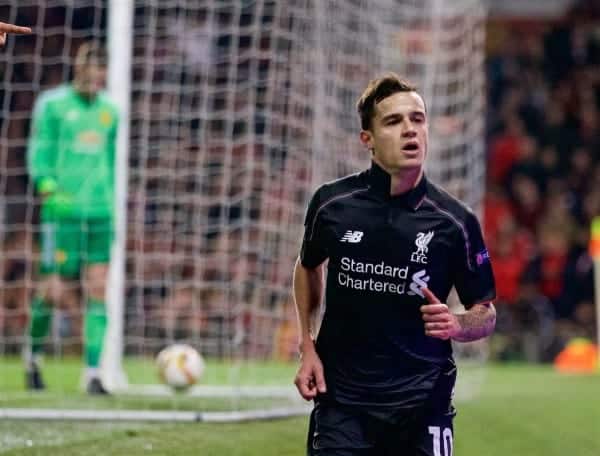 Taylor also felt Coutinho was Liverpool's "outstanding player":
The outstanding player was Coutinho, not only for his goal but a run in the second half that took him past three United players and a shot with 12 minutes later that David De Gea turned over the bar.
Bascombe focussed on Lovren, who he felt proved he is worth the £20million paid for his services:
He had too much quality for United's limited attack.

[…]

He reads the game well and looks like the leader he was described when signed. Liverpool have already signed a centre-half for next season in the form of Joel Matip, but on current form it would be surprising if Lovren is not part of Klopp's longer-term plans. He marshalled defence expertly over both games.
Meanwhile, Jolly picked out Milner for praise:
And so Milner, a man accustomed to covering more ground than anyone else was part left-back, part left-winger, ploughing a furrow along the touchline with typical diligence. He became a genuine attacking outlet, picking out Sturridge with one penetrative pass and surging past Mata on a long break from deep.

[…]

After the uncharacteristic rush of blood that meant his previous outing, at Crystal Palace, was curtailed by a red card, he went back to being a manager's dream, an uncomplaining, efficient jack-of-all-trades who can pass as a master of several.
In his player ratings for ESPN, David Usher awarded Sakho a perfect 10/10 for a colossal display:
Since player ratings were introduced on ESPN FC, no Liverpool player has ever been awarded a perfect 10, but Sakho earned it on Thursday with an absolutely colossal performance. The Frenchman threw himself into challenges when necessary and stayed on his feet and nicked the ball away when the situation demanded that. His use of the ball and early passes into his attackers also caught the eye, and you'd do well to see a better central defensive performance anywhere this season.
Man United 1-1 Liverpool (1-3 on aggregate)