Knowing the huge significance of an away goal, it would be remiss of Liverpool to approach this game with anything other than a positive mindset and game plan, writes Alex Malone.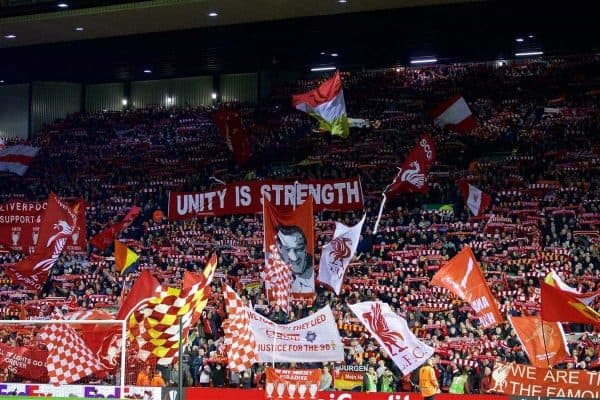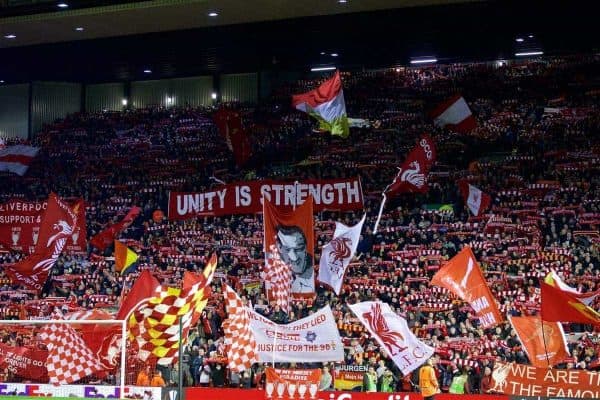 Anyone who downplays this competition as second rate or unimportant just needs to take a look at the exhilaration of the crowd at Anfield last Thursday night, and how much that 2-0 defeat meant to Liverpool fans everywhere. This is a European trophy, and the greatest football genius and legend of all time said it all with one of his most famous quotes:
"Liverpool Football Club exists to win trophies."
Of course, it goes without saying that we all want to be competing in the Champions League, but in the meantime, until Jurgen Klopp achieves qualification for it (which he will, soon) eliminating Man United from the Europa League on their own patch is a decent enough alternative.
Nobody in their right mind would be foolish enough to believe the tie is already done and dusted. It most certainly is not. Both teams have been average all season, but, the fact is, they remain just above us in the league and have defeated us twice this season… once by two clear goals. They've also scored three goals or more seven times at home this season – against us, Brugge, Ipswich, Sunderland, Stoke, Midtjylland and Arsenal. The three most recent of these have been in their last five home games.
Away from home, Liverpool have lost two-nil, or worse, against United, Newcastle, Watford, West Ham and Leicester. But only Watford have beaten us by a scoreline which would see us eliminated after 90 minutes on Thursday night.
At the same time only the current top three have a better away record than we do, and only Arsenal (8) and Leicester (9) have more away wins in the Premier League than our seven.

United, for all those 'three-goal' performances at home have achieved it only four times against Premier league opposition, and only twice (Sunderland & Stoke) with a scoreline which would be enough after 90 minutes on Thursday night.
A startling statistic though, is that in United's other 10 Premier League home games, they have scored an astonishing seven times. In five of their home games they haven't scored at all. They have scored the same number of home goals as Norwich, and two less than Newcastle.
Our home goal scoring record is equally poor, but away from home, we have the best goal scoring record (24) of any team outside the top three. In fact, we have scored five more goals away from home than United have at home. The one caveat to this, is that United have by far the best defensive record in the Premier League, conceded only seven times.
All of this, of course, means nothing when the game kicks off on Thursday, but it does at least show each team's relative strengths and weaknesses. United know they must score at least two goals, rising to four if they concede… something they've failed to achieve against any Premier League team all season.
The last time they scored four goals at home in a league game was 11 months ago against Man City… but City also scored twice.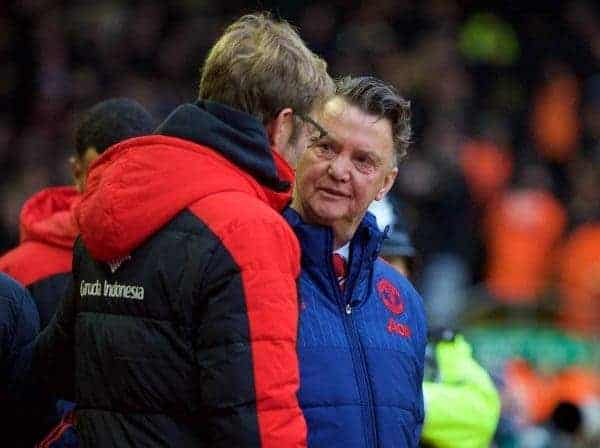 Attack
Knowing the huge significance of an away goal, it would be remiss of Liverpool to approach this game with anything other than a positive mindset and game plan. One single strike more or less seals the tie. If we are to believe the latest sound bites from Klopp, Emre Can and Jordan Henderson, we don't have to worry; they fully intend to go for the throat against this mentally fragile United team.
United's defence can be got at. 20 goals conceded away from home proves it. And it's overwhelmingly accepted that without David De Gea, the 27 league goals they've conceded would be considerably more. Also, in games where they have been forced to attack – and for this game they really have no option – they've routinely leaked goals.
All season, they've been incapable of finding the right balance. When they attack, their defence is shambolic and when they defend, their attack is anonymous.
Meanwhile, as Klopp's influence continues to take hold, the Liverpool high press is becoming more and more effective – with the team mixing high tempo, good old fashioned British and European passion with invigorating Brazilian flair. It will be fascinating to see just how Van Gaal – who has routinely failed in both tactics and substitutions all season – tries to nullify this.
The central midfield battle might well be the key to us successfully negotiating this tie. Whomever United choose – any two from Schweinsteiger, Schneiderlin, Carrick and Fellaini – they each lack pace and the ability to press. Any other options they have, such as Herrera, sacrifices protection to the back four against Liverpool's dynamic front line.
Given United cannot afford to concede even a single goal, the ultra-conservative Van Gaal is highly unlikely to sacrifice the defensive minded approach he prefers, at least until he's forced to.
With this in mind, I'd be surprised to see Klopp do anything other than retain the energetic, commanding midfield axis of Can and Henderson, supplemented by 'LFC' (Lallana, Firmino, Coutinho) just behind the bold, powerful, speedy presence of Divock Origi or the trickery and goal scoring instinct of Daniel Sturridge.
Either option assures both Smalling and Blind are tied up, because they won't dare to leave either of them one-on-one. Our advanced midfield trio will assure United go with two defensive midfielders or be out-manoeuvred with pace and trickery. They will anyway!
Their first choice central midfielders all have one thing in common… if they stray too far forward, they lack the pace to get back. Hence, they rarely try.
Stopping Firmino especially has been a futile task of late. With the added flair of Coutinho and Lallana flanking him, the United back 6 will be on tenterhooks all game, knowing they're one breach from almost certain elimination. I fully expect us to score at least one goal in this game.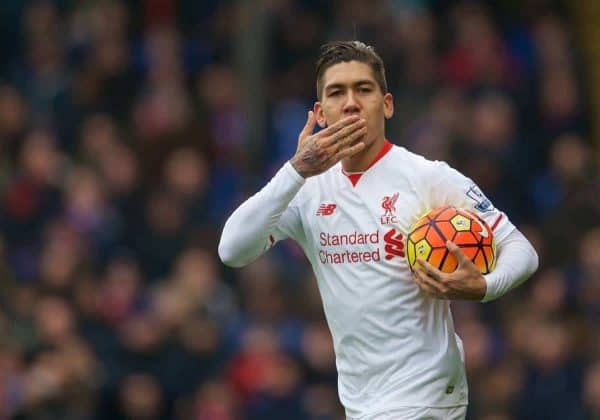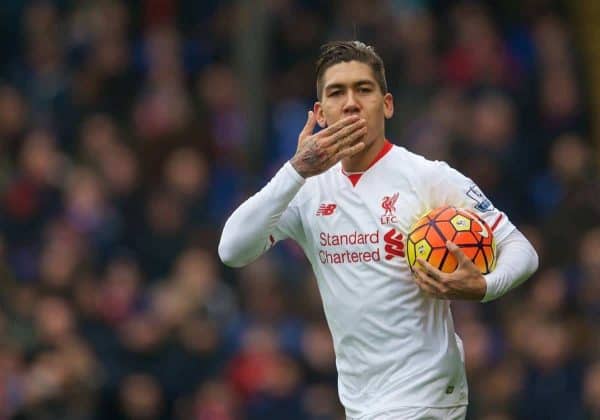 Defence and Bench
The back five of Liverpool versus the United attack is probably the most unpredictable battle in this tie, and the one area which leaves me uneasy.
As much as our defence has been excellent of late (5 clean sheets in 7 games and only 2 goals conceded) it still has its vulnerabilities.
Moreno's positional indiscipline can be exploited and his tackling can be rash. Mignolet's decision making is too often suspect, and he offers none of the security of his opposite number. Sakho has also been somewhat erratic since returning from injury, although his partnership with Lovren is showing great promise.
Clyne is just, well, Clyne and an absolute rock. Martial versus Clyne and I'm comfortable; Martial versus Moreno and I'm anxious.
It will be the job of the whole defensive unit to keep Martial and Rashford quiet, as well as preventing Mata from finding pockets of space and pulling strings. While this trio is not what you would call a top quality strike force, each of them is proven capable of finding the back of the net; and if they find it before we do, the tie is well and truly on.
Depay and Lingard are also erratic at best, but while these youngsters lack experience, they do possess the unpredictability and audacity of youth. Our back five must concentrate from the first whistle and not allow the pressure of the occasion, nor the partisan crowd, to intimidate them. They must also accept that many refereeing decisions will likely be questionable. They MUST NOT lose their heads.
Given our back five consists of a quintet of seasoned internationals, they're fully equipped to do so… but the risk remains and their concentration must be unerring.
Another indisputable advantage we have is viable player options and potential game changers on the bench. If things aren't going to plan for either team, or if there's an injury, our squad is far better equipped to deal with it. Up front, we have Benteke and Origi to supplement Firmino and Sturridge. They have James Weir.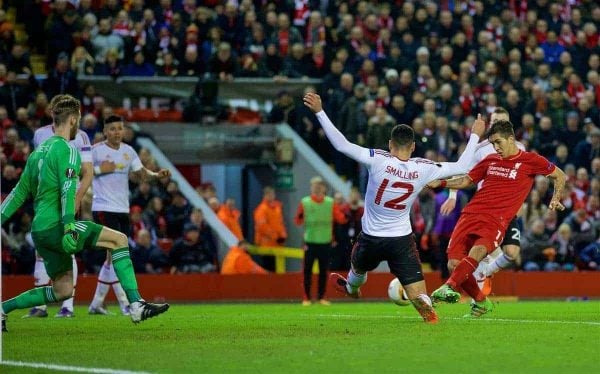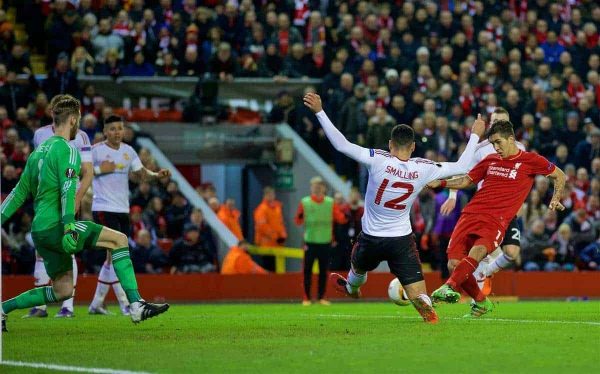 If their central midfield is being overrun or gets injured, their bench offers only players of similar ilk. On the other hand, if we were to suffer an injury, we have Joe Allen and possibly James Milner, each quicker and more dynamic than their counterparts. This could also be a decisive advantage as the game reaches a critical phase and fresh legs and impetus are required.
In defence, we have Toure and Smith who can come in. United have Darmian and, erm, Mr. and Mrs. Riley's son, Joe!
So, I'm hoping Klopp's approach is to treat this more like a home game, with the tactic of an immediate high press snuffing out the United supply line and creating uncertainty in their final third. We could also drop deeper when required, drawing their midfielders further forward, and hitting them with the pace and creativity of the front four.
Their ponderous midfielders will need jet-packs to catch us. United, and especially Van Gaal, will be well aware that away from home we hit both Southampton & Villa for 6, and City & Chelsea for 4 and 3 respectively with this approach.
No-one can predict football matches, especially games of this magnitude, with perennial bragging rights forever attached to this first ever European encounter. But this is a chance of a lifetime for these Liverpool players to write their own piece of history.
Momentum, current scoreline, morale, managerial excellence and recent form are all in our favour. We are up against a team currently drowning under the weight of past glories and unable to live up to expectations.
Defeat means another door to the Champions League slams shut, with their final chance, via league position, by no means guaranteed.
It's 100% in our own hands, and we could barely be better placed to see this through.
It's England's most successful club versus England's second most successful club. Let's make sure they are once again reminded of their place in the hierarchy come Thursday night.