Christian Benteke looks increasingly likely to leave Liverpool this summer, with West Ham United confirming their interest in the striker.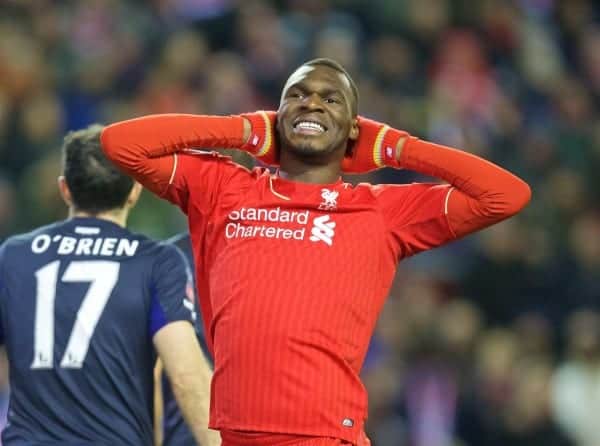 Benteke has struggled to make his mark at Liverpool after a £32.5 million move from Aston Villa last summer and this has been magnified following the arrival of Jurgen Klopp as manager.
The Belgian has scored six goals and registered five assists in 29 games under Klopp, largely limited to substitutes' appearances.
His latest outing came as a second-half substitute in the Reds' 3-2 loss away to Southampton, missing a golden opportunity to put Liverpool 3-1 up.
This saw Klopp engage in an on-field exchange with Benteke after the game, fuelling speculation of a move away from Merseyside at the end of the season, with West Ham a likely destination.
Speaking on Tuesday, Hammers co-chairman David Sullivan confirmed his interest in Benteke, but expressed fears that a deal would prove too expensive.
"He's a player we admire but the problem is that he is on huge wages that no club can afford," he explained, before continuing to outline West Ham's need for a "top, top consistent goalscorer."
"What we don't have is 20-25 goal a season striker. If we did we'd be even higher up the table.
"Andy [Carroll] has scored some big goals this season.
"Four doesn't sound much but they have been huge goals and he has made a huge impact coming off the bench. He is a 'chaos' player.
"Our team doesn't need major surgery but maybe a real top, top consistent goalscorer."
With West Ham playing out a public bargaining for the 25-year-old, who would likely leave at a loss if Liverpool do decide to sell this summer, Benteke has bemoaned his lack of game time under Klopp.
Speaking to Belgian publication Sport/Voetbalmagazine while away on international duty, Benteke reportedly says it is "hard to understand" why he is out of favour at Anfield.

"Some team-mates have said that I was lucky with the arrival of Klopp, because I certainly would play," he is quoted as saying.
"When your coach says he wanted to take you to Dortmund and a little later you sit at the same club and he ignores you, it is hard to understand."
Initial hopes and subsequent disappointment largely stem from a early, perceived notion that Benteke could replicate the target-man play of Robert Lewandowski under Klopp at Borussia Dortmund.
But Benteke has so far failed to adapt to Klopp's high-intensity attacking system—though the striker insists this is not the case.
"I do not understand why people say that," he continued.
"I can play pressing and moving a lot. It is not that we play in the Barcelona style."
Frustratingly, whenever Benteke is called upon by Klopp it becomes abundantly clear that the striker is unable to operate in his forward line.
A move to West Ham, and a return to a more fundamental style of football, would suit Benteke; though a deal seems far from sealed.