We take a look at the talking points as Liverpool lost 1-0 to Villarreal on Thursday evening in their Europa League semi-final clash.
The Reds produced a very professional performance at El Madrigal, but one slight lapse defensively proved to be their downfall in stoppage time.
Adrian's last-gasp effort was a really tough moment to take for Jurgen Klopp and his side, just minutes after Alberto Moreno had raced clear at the other end and missed for the visitors.
It leaves Liverpool with plenty to do at Anfield next week, and the home fans will have to create an atmosphere fit for the occasion.
Here are five talking points from during Thursday's first-leg.
Kolo shines in Sakho's absence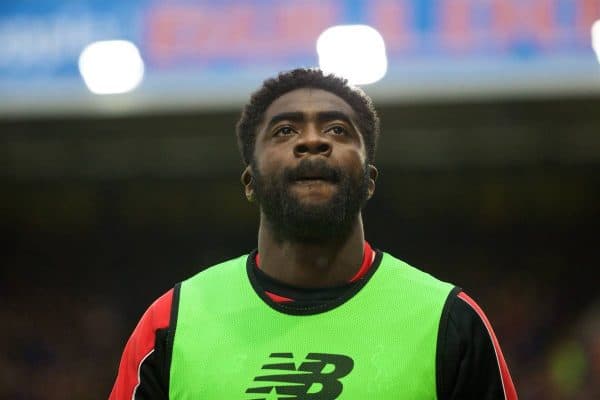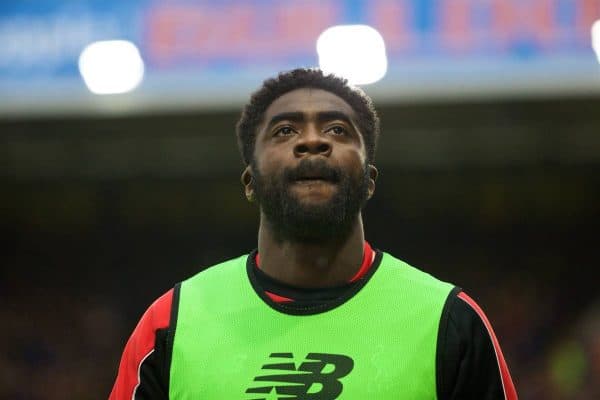 Mamadou Sakho's much-publicised suspension for failing a drugs test was seen as a huge blow going into the game, with Kolo Toure alongside Dejan Lovren instead.
The veteran centre-back produced a colossal performance at the heart of the defence, however, and proved that there is still very much life in him yet.
Toure was almost faultless, winning countless aerial battles, reading the game magnificently and making more clearances than any other player (6).
He showed Klopp exactly why he was right to select him ahead of Martin Skrtel, and his vast experience proved invaluable in a cauldron of an arena.
While the late goal undoubtedly hurt, Toure was not the player at fault for it.
Allen continues good form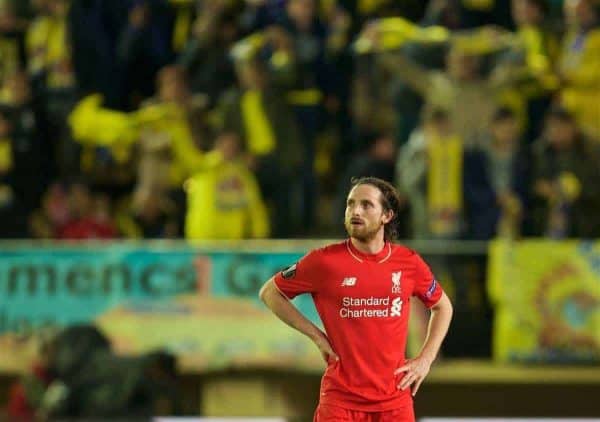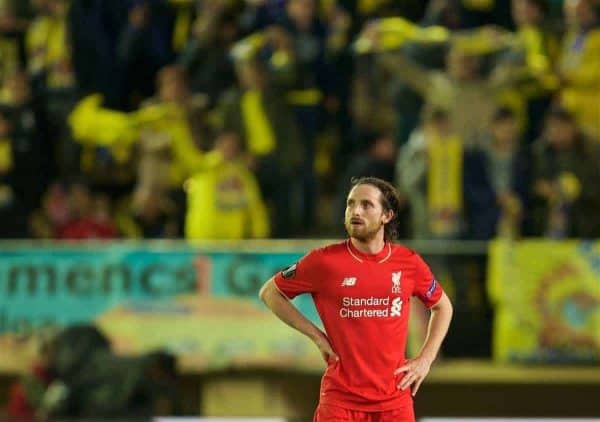 It would be easy to over-hype Joe Allen's recent performances in a Liverpool shirt, but he is genuinely worthy of the praised he has received.
With both Emre Can and Jordan Henderson missing against Villarreal, the Welshman started one of his biggest games for the club, and passed with flying colours.
Not only does Allen now look a completely different person – the long hair and beard combo was a shrewd decision – but he is now also a completely different player.
He is a class act in possession, an extremely intelligent reader of play and his defensive work, most notably his pressing, is one of the best in the squad.
The 26-year-old was fantastic in all aspects of his play on Thursday evening, barring a chance he should have buried, and he once again showed why a new contract must come his way in the summer.
On this form, he is worthy of a regular starting berth for the Reds, and there were times when he looked one of the most influential players on the pitch.
He kept the ball well, far better than either of the other two centre-midfielders.
Klopp gets substitutions wrong

Since arriving as manager in October last year, it has been almost impossible to pick faults in anything Klopp has done.
This is partly because he is a fantastic manager, and also because new managers are given plenty of leeway during their first few months in charge.
Here, however, the boss got things horribly wrong with his substitutions, and it has potentially damaged his side's hopes of reaching the Europa League Final. The criticism is fair.
The unwell Philippe Coutinho was removed at half-time, but instead of introducing Daniel Sturridge, Klopp opted for Jordon Ibe instead.
It felt a poor move at the time, and by the time Ibe's dreadful half had come to an end, it looked like one of the German's worst decisions to date at Anfield.
Sturridge not starting the game was understandable in terms of Klopp's tactics, but to not use him at all in a European semi-final was another thing altogether – especially with Villarreal not looking that threatening for long stages.
An away goal was always going to be important on the night, so to not give the best goalscorer at the club some playing time is hard to fathom.
Reds miss key men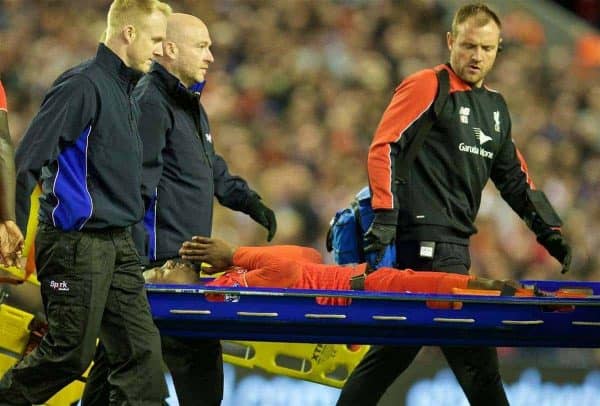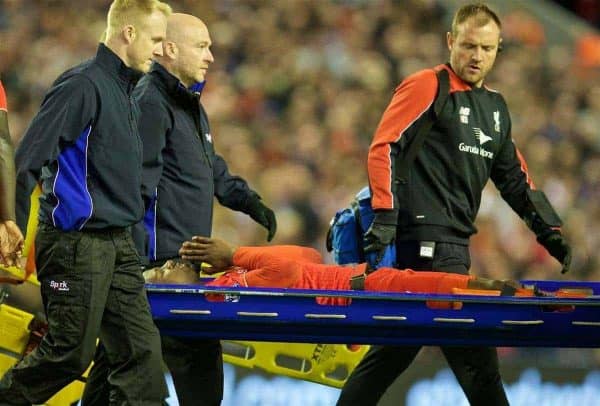 While Liverpool were gritty and efficient for much of the night, it was still hard to deny that certain key players' absences were felt.
Toure filled in superbly for Sakho – the Frenchman would have played no better than his teammate – but it was further up the pitch where something felt lacking.
Both Can and Henderson are made for nights such as these, and with the ageing legs of Lucas Leiva and James Milner playing instead of them, things felt too one-paced in the middle of the park at times.
Can, in particular, was a huge loss, given his superb form prior to injury, but Henderson offers so much that others cannot. Lucas, it must be stressed, was still very good despite his flaws.
Up front, the absence of Divock Origi was really felt, with the Belgian's pace, power and work-rate all perfect against a team of Villarreal's ilk.
Roberto Firmino did well in general, but he never had the ability to stretch the hosts' defence – continually coming short for the ball in order to get involved.
To be missing such important players for a game of such magnitude is unfortunate, and Liverpool would have been a very different attacking force with everyone fit.
Big test of Liverpool's mettle at Anfield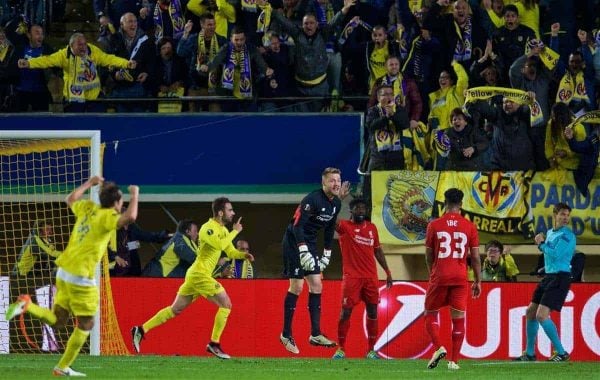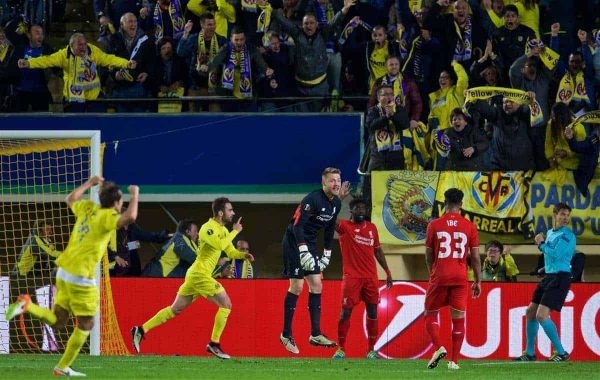 Everything was going fairly swimmingly until Adrian decided to pop up and break Liverpool hearts, and it makes the second-leg at Anfield horrible nervy.
One Villarreal goal will leave the Reds needing three to progress, and it is of huge importance that Klopp's men get off to a fast start.
The Yellow Submarine are not dissimilar in style to Leicester in many ways, with a resolute defensive mentality and an ability to hit sides on the counter-attack with pace and ruthlessness.
It will be a very different contest to the epic encounter we witnessed against Borussia Dortmund in the last round, with a different approach required for the Reds.
This is still a fairly young Liverpool side, and it will be fascinating to see how they respond, given the magnitude of the occasion.
They were underdogs against Dortmund, but the majority will still expect them to go through on Thursday. Will they have the belief to do it?