With German goalkeeper Loris Karius poised to make the move to Liverpool this summer, the Reds will be signing a big talent.
Karius was initially said to have jumped ahead of Cologne's Timo Horn in Jurgen Klopp's list of summer targets, and is now believed to have agreed terms with the club ahead of a move.
The 22-year-old has a release clause of around £8 million in his current contract, though reports have even suggested Liverpool are set to seal a £4.7 million deal with Mainz.
Klopp has strong relations with the Bundesliga side, having spent 18 years with the club as a player and a manager.
With Adam Bogdan set to leave the club this summer and Danny Ward likely to head out on another loan spell, Klopp's need for a new goalkeeper is pressing.
But who is Karius, and what can he bring to Liverpool ahead of the 2016/17 campaign?
Loris Karius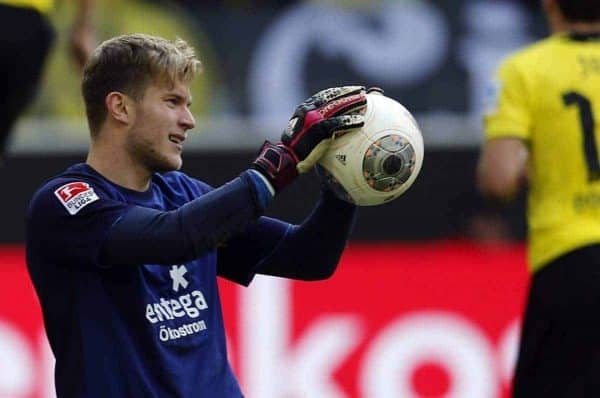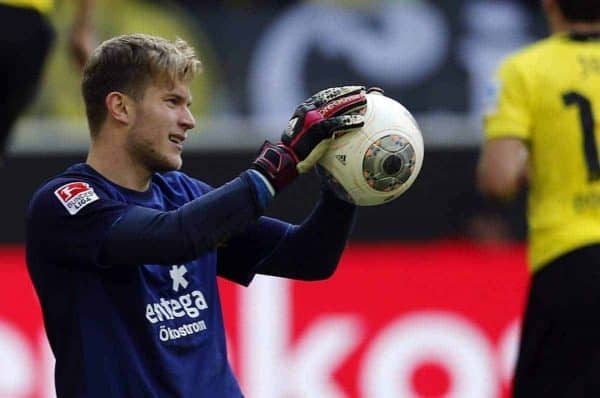 If Karius does make the move to Merseyside this summer, it wouldn't be his first time with an English club, having joined Man City from Stuttgart as a 16-year-old in 2009.
City's offer was "exorbitant," according to Thomas Albeck, Stuttgart's youth director, signalling the new-money side's intentions in the long term, signing the best young talent as they pushed for success.
But after two years in City's academy ranks, Karius was on the move again, this time joining Mainz, initially on loan, with the deal made permanent in 2012.
"It was the best thing for my development and a unique opportunity," he recalled last year.
"I have never regretted the step. It was a great experience to train with the pros. I have grown as a person."
After watching Karius shine for their reserve ranks in 2011/12, the goalkeeper was promoted to the first team for the following campaign, though he made just one Bundesliga appearance that term, coming on as a second-half substitute in a 2-1 win over Hannover 96.
This refined, mature approach has since seen Karius establish himself as Mainz's No. 1 goalkeeper, and at 22 he has already made 96 senior appearances for the club.
But having long set his heart on a return to the Premier League, Karius is set to bring his many talents back to English shores.
Strengths, Weaknesses & Style of Play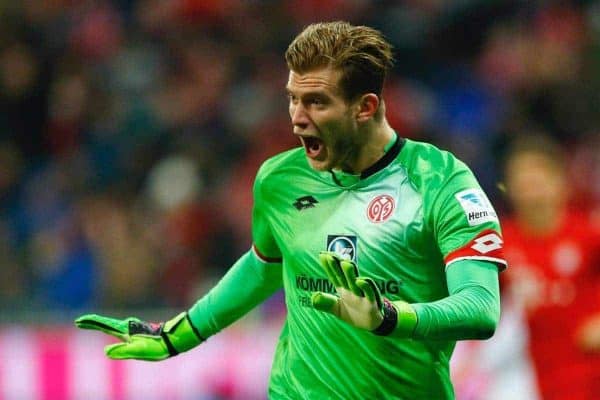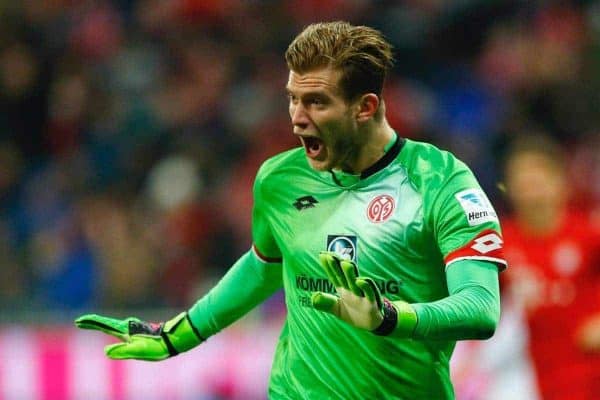 After problems for Mainz goalkeepers Christian Wetklo and Heinz Muller in 2013, Karius was handed his first real chance of first-team football by then-manager Thomas Tuchel, seizing his opportunity and securing the role of No. 1 at the Coface Arena.
At first glance, it would be easy to suggest it was Karius' physicality that allowed him to make a comfortable transition into the role of No. 1 under Tuchel.
The youngster stands tall at 6'2″, and his stature has grown considerably since he left Manchester, now built for life at the top level of European football.
This allows Karius to dominate the penalty area, and the German possesses an authority over his defensive line at Mainz, along with a booming vocal presence that allows him to command the 18-yard box.
Karius made 81 successful claims in the Bundesliga in 2015/16, completing 99 percent of his attempted catches, compared to Simon Mignolet's 74 claims, or 82 percent of his attempts, highlighting his quality.
Similar to Mignolet, Karius is also blessed with a strong shot-stopping ability, with incredible reflexes in the six-yard box, belying his lofty frame.
This season, Karius averaged 2.1 saves per goal, compared to Mignolet's 1.27 saves per goal, once again suggesting the German would be an upgrade on Liverpool's current No. 1.
Furthermore, Karius' distribution, both long and short, has improved throughout 2015/16, though it remains a way off the calm, composed approach that Klopp will likely demand.
Karius' main weakness is that he can be rash in his judgment, which has led him into dangerous situations at times, and while his reflexes have often allowed him to recover, this is an area that needs to be ironed out.
In many ways, as an increasingly dominant young goalkeeper poised to arrive at a top Premier League side as a bold choice for new No. 1, Karius bears many similarities to David de Gea when joining Man United in 2011.
So is Karius likely to follow in De Gea's footsteps and jump into the role of first choice?
Where Would Karius Fit in at Liverpool?

Klopp finds himself at something of a crossroads when it comes to his current first choice this summer, as despite rewarding Mignolet with a new long-term contract in February, the Belgian has continued his shaky form between the sticks.
At times, Mignolet has kept Liverpool in games with his shot-stopping ability, but his lack of authority, poor distribution and shrinking mentality have cost Klopp's side points, too.
Mignolet is a positive presence in the dressing room, and an intelligent Premier League goalkeeper, but for a side looking to challenge at the top level on both the domestic and European stages, his quality is questionable.
With Klopp moving to shake up his Liverpool ranks this summer, ahead of his first full season in charge, many of the Reds' problem positions are to be addressed.
Signing Karius could see Klopp demote Mignolet to the role of backup goalkeeper in the long term, though whether he would make the transition immediately remains to be seen.
But Karius has proved his quality as a No. 1 goalkeeper during his time with Mainz, and with the similarities between the Premier League and the Bundesliga, as well as his experience of life in England, he should settle in quickly on Merseyside.
With the potential to develop into a top-level stopper, a £4.7 million move for Karius should be a no-brainer for Liverpool, and the former Germany U21 international can certainly look to dislodge Mignolet between the sticks at Anfield.
Given half a season to adjust to Klopp's demands, and his new team-mates, Karius could take up the role of Liverpool's new No. 1 for at least the next decade.