Work continues around the clock at Anfield in order to have the new Main Stand ready for the end of August.
It's a fortnight since the Reds' last home game, against Chelsea, and work has seen the old seats and roofing removed, with the stand almost unrecognisable.
With the old roofing panels removed, the view from the new upper tier of the pitch below can be seen for the first time.

Seats have been installed in that upper tier, which will house 7,900 spectators once complete. The overall stand capacity is around 20,000, taking Anfield's overall capacity to around 53,800.



Work is also going on to remove sections of the roof of the Kop and Anfield Road End in order to provide the best view from the upper tier.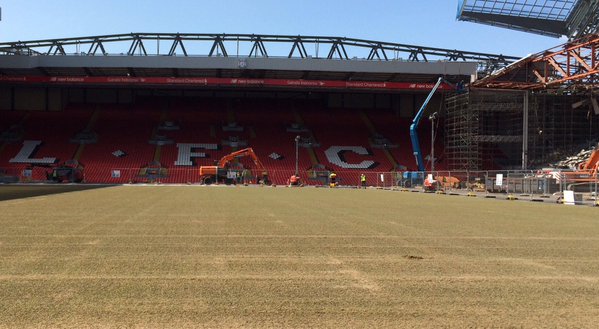 Liverpool have recently confirmed that the stand itself will be complete by the end of August, with work on internal areas such as changing rooms continuing to January next year.