Neil Poole reflects on defeat at Burnley, attempting to find the positives and negatives from what was an entirely disappointing but also predictable performance.
The Good
The original idea for the 'good' section of today's overview of the game against Burnley was to simply write: "It's over."
Some forced schandenfreude you see, just to lighten the mood.
However, now we're clearly back on Liverpool Football Club's never-ending déjà vu merry-go-round I suspect there will be more games to come this season where that particular get out clause is needed more urgently. I'll therefore refrain. I have, though, found some good!
The good is all admittedly rather abstract, based on potential and dare I say possibly clutching at straws.
The reality is that there's still 36 games to go. It's early days, and although dropping three points against newly promoted Burnley has been compounded by everybody else that you'd want to lose, going on to win their games, If you're currently locked in your panic room there's plenty of time for Liverpool to "turn this around." Hopefully, we're not all so freaked out that this feels like something that's needs turning around.
In the wake of a bad defeat, the natural instinct is to look to the absentees for solutions. There were plenty of absences today and therefore it follows, in theory, plenty of solutions.
Whether it be the very 'threeness' of the midfield or the identity of the those three (Henderson, Wijnandum and Lallana) which is the problem, the return of Emre Can can't come soon enough. By no means Mr Consistent, Can's form in the second half of last season and the fact he's the most capable of plugging the chasm, means his re-introduction to the team should provide more protection for the back three. Based on Saturday's game it's a toss of a coin who reverts to the bench between Henderson and Wijnaldum, who were respectively borderline abject and entirely anonymous.
The hope is too that Sadio Mane will be back for Spurs next week. I don't know whether to be depressed that we're relying so soon on a brand new player based on the back of so few games or to be thankful that we look like we've actually bought a different and very good addition. His power, directness and willingness to run at a man was sorely missed. This is the good section, however, so I'm opting for being thankful.
The next league game is at Spurs. As nailed on that we wouldn't turn up at Burnley after the big game against Arsenal, we can be just as certain, that we will at least be in the right frame of mind for this game. Importantly, it will be much more open and we will have plenty of opportunity to put our counter-attack to good use.
I am obviously ignoring the fact that Spurs are a very good team, and will challenge for the league again.
Also, no win means no Instagram pictures of Liverpool players in dressing rooms / team bus overly celebrating a win. Oh, and the referee gave us every decision. Yay!
The Bad
After ten minutes into this game Coutinho was cutting in at the edge of the box to find a yard of space and attempting to curl it in the top right hand corner. About five minutes later he did it again. Then again. All to no avail. This is never a good sign!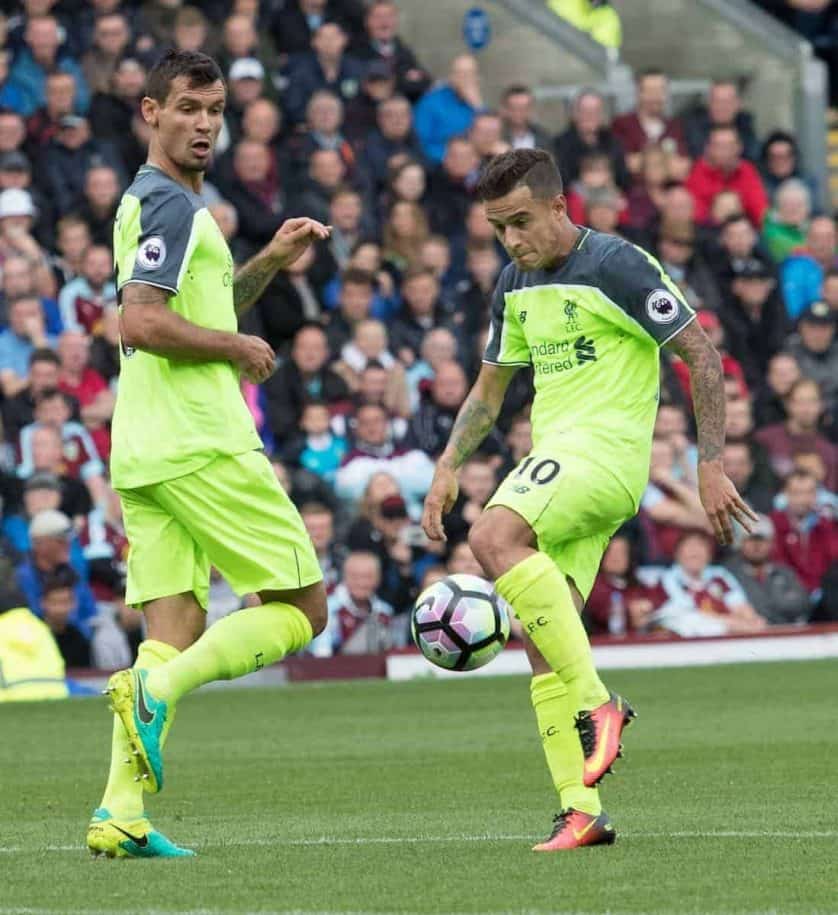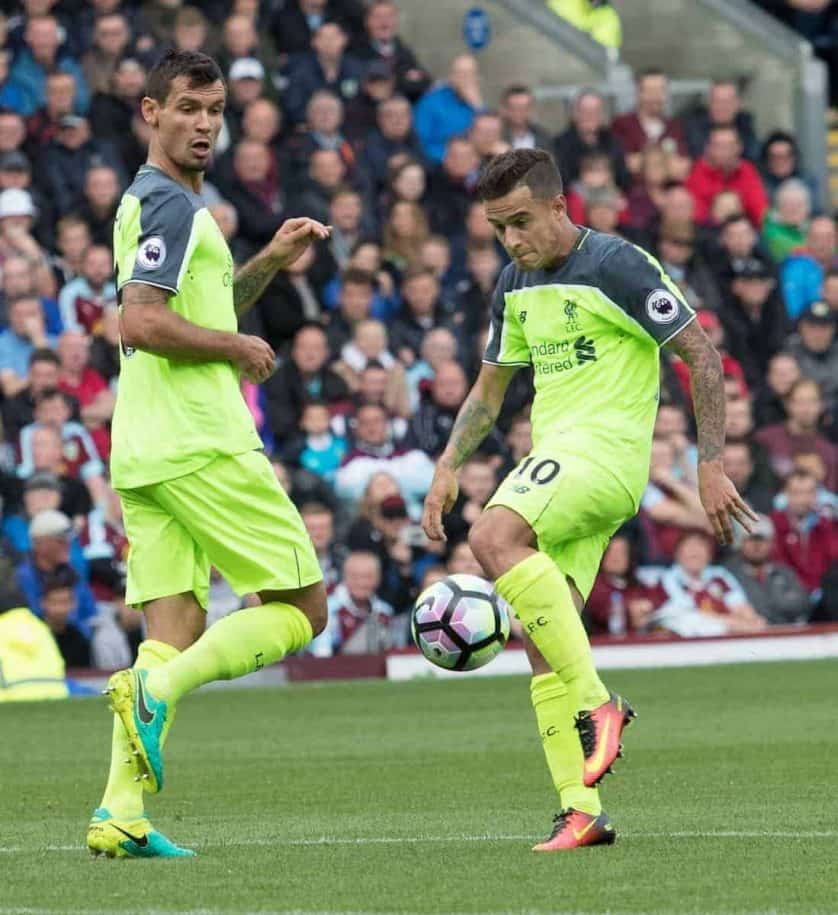 It's also the veritable double-edged sword of being arguably the team's best player. There were no complaints last week when it came off, and countless other games when he has made the difference. But it was an early and sure-fire sign of desperation and a lack of ideas. One player shooting when shooting is not the best option.
It blows your mind that the team that could destroy Arsenal in 20 minutes could labour for 90 against Burnley. But then again it was a totally different type of game against a dogged defence. One we seemingly still can't cope with.
Such was the quality of Liverpool's shooting from distance today, in an age when Chelsea hand out plastic flags and Leicester give out plastic clappy things, carry on like this and clubs may start giving out helmets for those supporters behind the goal when Liverpool come to town.
James Milner's left foot is quite clearly bad too. So bad that he's just completely ignoring it. Safe to say that James Milner is no one's ideal back up at left back. Saturday showed why. Infinitely cutting in to use his right foot it was like running on concrete into quicksand on every attack.
The Predictable
Before this, Burney had never scored a Premier League goal against Liverpool and hadn't beaten us since 1973. Cue Burnley scoring a goal after just 98 seconds.
You've all seen this game before. It normally takes place at Anfield, but for a sprinkle of variety it happened at Turf Moor. Liverpool go a goal down against a team they're supposed to beat, change the whole dynamic of the game giving the opposition something to hang on to and enables then to put men behind the ball with no pressure to attack. They then, wait to hit us on the counter or take advantage of mistake.
Muscle memory means you can actually sense when this is how a Liverpool game will pan out. Watching Liverpool take pot shots from distance, try and thread the ball through the eye of a needle or bury poor crosses into a mass of Burnley players meant you knew we simply weren't going to score.
The coverage I was watching even had the audacity to leave the field of play and pan the camera over towards the cricket pitch next to Burnley's ground on the 20th and 80th minute. "Nothing's happening here, let's see what's going on with the cricket." I wouldn't bloody mind but there was no cricket even being played first time round!
As for 'that' defence, well dear reader, please interpret the 'that' as the most contemptuous 'that' you have ever read. It's the "Don't even look at me" of an apocalyptically angry mother to her child, said to stop her belting them. If Moreno had passed as sloppily as Clyne to give away possession he'd be given down the banks. It was awful from Clyne and the cross to him from Klavan wasn't much better.
The defence looked terrified when ran at. And as much as I understand the argument that goals may come about because we make the wrong decision or a mistake at the wrong time, surely we need to be able to deal with these situations better? In 90 minutes mistakes will happen. For years now we've apparently been unable to function unless perfect. Liverpool's default settings seems to be blitz teams or switch off completely. Hopefully Klopp will be working on contingencies.
Liverpool fans are often criticised for living in the past. It's difficult not to when we relive the same mistakes week in week out.
Depressing end hey? It's the nature of the format! For a happier ending please re-read the good part.