Liverpool manager Jurgen Klopp has every faith Daniel Sturridge will regain his speed and sharpness once he is fully fit.
The England international made his first appearance of the season in the 2-0 defeat at Burnley on Saturday after a hip problem kept him out of their opening win against Arsenal.
He was deployed on the right-hand side of a front three but spent more time dropping deep than bursting forward with his characteristic pace and had only one shot of note which flew past goalkeeper Tom Heaton's post.
Because of the 26-year-old's lengthy injury history there will always be questions asked about his ability to reproduce his best but Klopp sees no cause for concern at this point.
"Daniel is still a very quick player but he's had a lot of injuries in the last few years and a few muscle issues – I have no idea how this exactly changes the mind of a player," said the Reds boss.
"He is still on the way back but he is still an outstanding player and even an outstanding player needs rhythm.
"Saturday was not the best game of football Daniel has ever played but even in a game like this he could have scored.
"I don't compare him with the younger Daniel Sturridge. He is a really good player with all you need when he is fit.
"Obviously there is a bit I can do to help him (psychologically) but you have to accept as a manager that it is really rare you can say 100 per cent what a player wants to hear.
"What I can say to any player is that what always happens is those who stay in the race and work really hard will get the benefit. That is how it is.
"Sometimes it is a little bit harder, sometimes easier, but that is for all of us the same."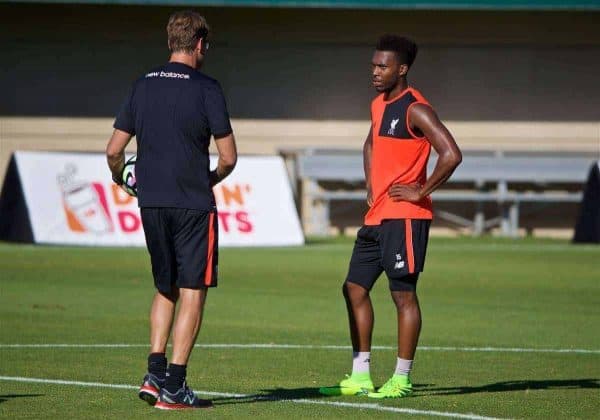 With no European football this season Klopp will not have to worry too much about balancing out all competitions.
Liverpool played 63 matches in the previous campaign on their way to the League Cup and Europa League finals and he was forced to use a number of youngsters and fringe players during the busy December/January period just to give some of his squad a much-needed break.
That will not be the case this time but he rejected suggestions that with no Europa League to worry about he could put more emphasis into winning a trophy.
"It is not about not being in Europe and so one cup is important. This is important. How can we be more than 100 per cent ambitious?" Klopp said ahead of the EFL Cup trip to SkyBet Championship side Burton.
"I know we have never shown a lack of respect to any competition and in this moment I am really optimistic we will find a really good line up and then we have to perform.
"But there is always this kind of pressure whether we are in Europe or not."