Liverpool romped to a 5-1 victory over Hull City on Saturday afternoon, as Jurgen Klopp's men again blew their opponents away.
Liverpool 5-1 Hull City
Premier League, Anfield
September 24, 2016
Goals: Lallana 17′, Milner 30′, Mane 36′, Meyler 51′, Coutinho 52′, Milner 71′
The Reds were outstanding at Anfield, as they continue to look arguably the Premier League's most entertaining side, and moving up to third in the table.
Adam Lallana got the ball rolling with an early strike, and James Milner's penalty and Sadio Mane's inch-perfect finish saw Liverpool 3-0 up at half-time.
Although David Meyler got a goal back, Philippe Coutinho's stunner and another Milner spot-kick completed the rout on Merseyside.
It was a great day to be a Reds supporter, and fans voiced their pleasure at the display on social media and our forums.
That was a remarkable performance from Liverpool. Title talk won't be going away, it seems…

— Jack Lusby (@jacklusby_) September 24, 2016
Klopp the last man to leave the pitch, clapping every corner of the stadium, what a win, Liverpool are frightening – in a good way!

— Jim Boardman (@JimBoardman) September 24, 2016
Was never in doubt. We are a joy to watch at the moment.

— the unbearables (@UTFR92) September 24, 2016
Another victory at Anfield for #LFC! Beautiful match, 3 points, and a strong push up for our goal differential. https://t.co/VyzpxPTD1i

— Linda Pizzuti Henry (@Linda_Pizzuti) September 24, 2016
Okay, revised possible score: Liverpool 17 Hull 1. Annoying goal to concede but the control of the match, movement & goals a joy to behold

— Paul Tomkins (@paul_tomkins) September 24, 2016
As it was during the game & how it should be after… We want more! ?? well played Reds

— ML (@FootyML) September 24, 2016
Limiescouse on the forum:
This football has been become fun to watch again. You can see it in the ovations Hendo and Coutinho got when they came off.
AnfieldCat on the forum:
After all the focus on how we crumble against smaller teams this is a significant and emphatic win. This season is gonna be great, I can feel it.
https://twitter.com/5timesco/status/779710022062342145
https://twitter.com/LFCMostar/status/779705492754997249
Just the 5 goals today then. Winning games with nonchalant ease. Teams can't simply come to Anfield and park the bus these days. #lfc

— Joel Rabinowitz (@joel_archie) September 24, 2016
If Liverpool carry on scoring at this rate for the entirety of the season they're on course to score 95 league goals.

— Sam McGuire (@SamMcGuire90) September 24, 2016
Liverpool now third in the league, a point behind Spurs and 5 behind Man City. Ahead of Everton on goal difference.

— The Shankly Way (@theshanklyway18) September 24, 2016
The most significant performance in 26 years

— wonitfrombrock (@wonitfrombrock) September 24, 2016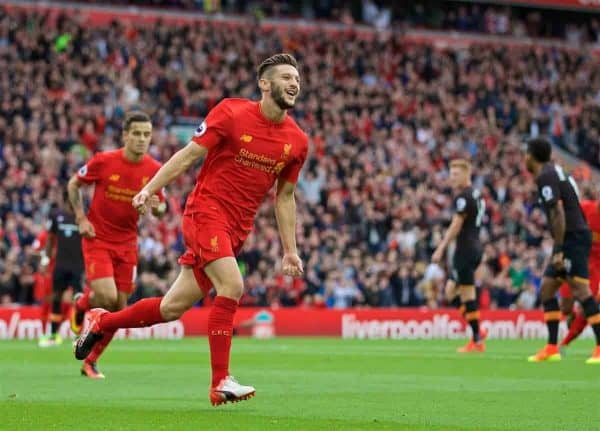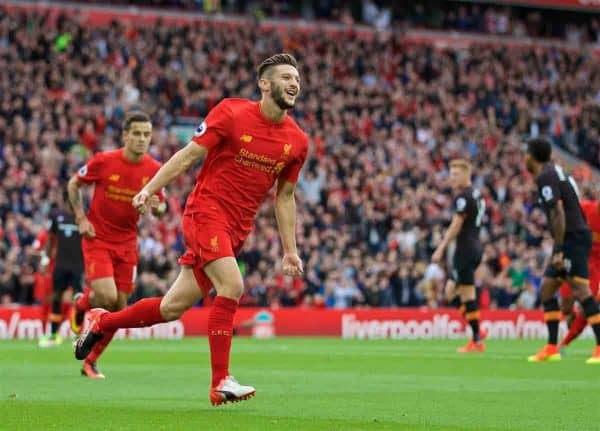 There was plenty of praise for individuals too, in particular the fantastic Adam Lallana and Milner:
https://twitter.com/Kloppholic/status/779704714044837889
James Milner has really stepped up his game.

— LFC Fans Corner (@LFCFansCorner) September 24, 2016
Lallana has a goal or assist every 81 minutes this season ?

— Andrew Beasley (@BassTunedToRed) September 24, 2016
Great performance today by Lallana, deserves that applause

— The Redmen TV (@TheRedmenTV) September 24, 2016
Celtic Dragon on the forum:
Great result. Could have been more. Hull were awful today. Great win though, fantastic performances from everyone, but Lallana and Milner especially.
Maria on the forum:
Well, thats what I call entertainement. 5-1. Well done lads. A crucial win against a bus parking team. Milner is a wonderful and resilient LB. Coutinho's response to that Hull goal was fantastic.
James Milner, brought to play in midfield, told to play at left back. No complaints. No excuses. Gets on with it. True professional.

— – (@AnfieldRd96) September 24, 2016
Despite some absolute brilliance in attack, Milner has been Man of the Match so far. Magnificent.

— Henry Jackson (@HenryJackson87) September 24, 2016
Lallana makes way. All 4 sides of Anfield on their feet to applaud him. Kop chanting his name. #LFC

— James Pearce (@JamesPearceLFC) September 24, 2016
https://twitter.com/_lfcjoel/status/779696461474852864