Jurgen Klopp mentioned the idea recently of merging Liverpool's first-team and academy training bases, something FSG have seen as one of their long-term goals.
When Klopp signed his new contract in the summer he spoke afterwards about the possibility of a merger of the club's two training facilities, the first team's current base at Melwood and the Academy's at Kirkby. This isn't the first time the idea has been mentioned by the Reds but, as Klopp might say, to say it is one thing, to show it is completely different.
Liverpool need to show it sooner rather than later.
The Reds went into the new Premier League season still looking for that elusive 19th league title – a quite frankly shocking 26 years after winning number 18 – and the queue of teams standing in their way seems longer than ever.
There's no harm in a bit of optimism about how the campaign will eventually turn out but this is a time when what the club needs most from its fans is patience. Glory isn't too far away, but maybe it's time we stopped scaring it off just as we've fought our way to within touching distance of it.
When Klopp predicted on his first day in the job that he'd bring a title to Liverpool within three years – it wasn't really clear if he meant "Premier League Title" or just "a cup" – in many ways he made a rod for his own back. He set himself a deadline and if he doesn't meet it you can guarantee there'll be questions from somewhere, whether it's Liverpool fans or the back pages. But his new deal removed any doubt about him being here for the long term.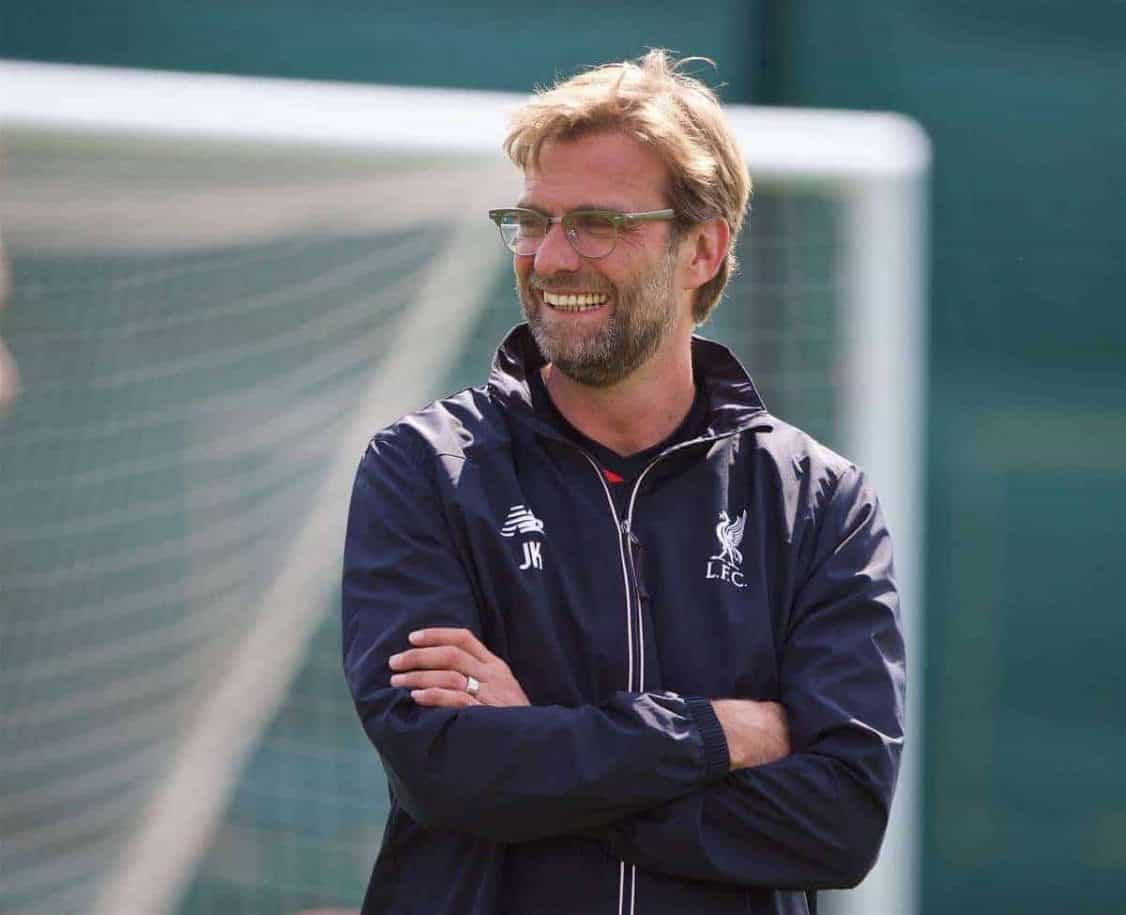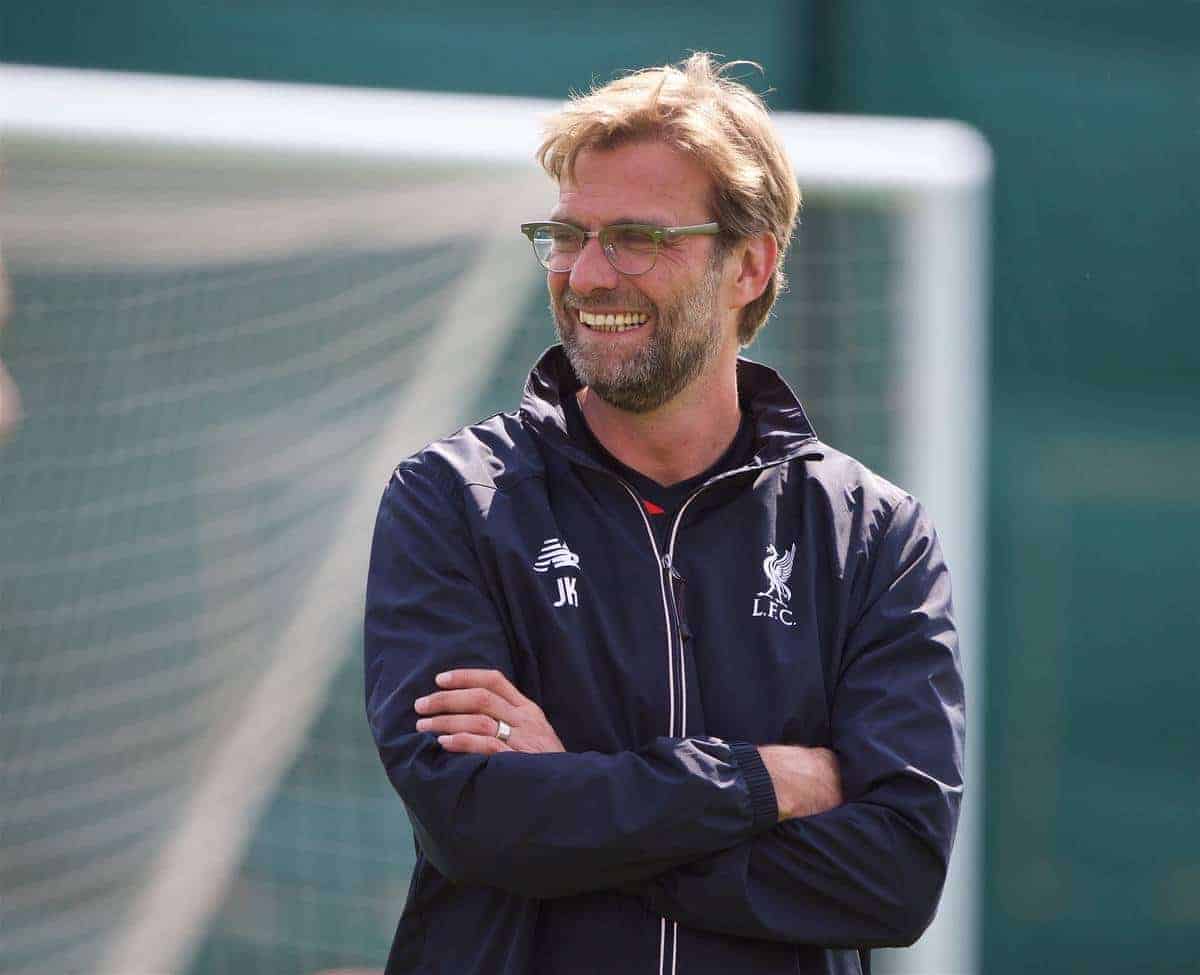 He's not here to apply a quick fix that won't sustain itself. Winning a title would be brilliant but when it finally happens it should not be a one-off.
The Reds are in a fairly good place financially right now, but are still nowhere near capable of keeping up with the spending of some of those other sides desperate to win the league, even if the manager wanted them to be.
Every top flight club has money to spend these days and the top end clubs can also attract the world's best managers to make the most of it. Liverpool have one of the world's best managers again but they need to do more than just make money for him to spend.
"We need to develop the club, we need to develop a lot of things," Klopp said after his new deal had been announced. "We're already building a new stand, we're thinking about bringing the Academy and Melwood together, things like this.
"We think about everything at the club and this is much longer-term than my contract.
"So it's really important that we do the right things so this wonderful club can be successful."
In a more recent interview Klopp was asked why, after making a number of changes to the first-team coaching staff since he arrived, he hadn't made any changes at the Academy.
"I only change things where I know about a situation. I'd never change just for change," he told the Liverpool Echo.
"I've had a lot of good talks with the guys at the Academy, there's a perfect relationship with the Academy, there is absolutely no reason to change things.
"It's not about changing people, it's sometimes about changing a situation. How can we build an even better situation for them?"
That "even better situation" should include the new purpose-built one-site complex Klopp hinted at previously.

Later in that same interview Klopp said: "To say it is one thing, to show it is completely different." He was actually talking about youngsters who looked like they were capable of playing for the first team but he might as well have been talking about the new training centre.
As a club Liverpool have become known for taking far too long to turn good ideas into reality.
Take the Main Stand, which finally opens to fans next weekend. It was all the way back at the turn of the millennium that former Reds CEO Rick Parry warned fans it was an "absolute necessity" for the club to play their games somewhere bigger than a 45,000 capacity Anfield, in a new stadium.
"If Liverpool are to continue to compete at the top level," he proclaimed, "then future expansion is an absolute necessity."
How right he turned out to be.
With Anfield stuck on 45,000 seats the Reds have won as many league titles in the 16 years since Parry's pronouncement as they picked up in the decade before it. Precisely none.
Merger
The idea of merging Liverpool's two training sites was actually being talked about seriously when Brendan Rodgers was manager back in 2013. In an interview with This Is Anfield, then-academy head Frank McParland spoke of a 'one club future'.
McParland explained that the owners, FSG, coaching staff and management all agreed that a single, unified training facility is the ideal and will strive to make it reality.

But, as with so much time spent waiting for a new ground, from the outside it looks to have turned into three years of just talking about something important.
The club cannot afford to let this idea drag on anywhere near as long as the increase in home capacity did.
Are FSG ready to put their hearts into a new training centre for the club?
It has been clear for some time that as good as the facilities are at the club's two training sites they are nowhere near the best and certainly aren't the most modern in the country. Investment is needed before Liverpool are left any further behind.
Investing in one facility rather than trying to upgrade two gives the club a blank canvas to work on and enables football people to provide input into planning what would be required. If the club are going to spend money on this – and they should – then it makes even more sense to do it all on one site.
Liverpool's U18s boss Neil Critchley spoke recently of the difference it makes to the Academy to see the youngsters getting any kind of involvement with the first team, something Klopp made happen last season and in pre-season. "It's been amazing, absolutely amazing," said Critchley. You think 'if he's getting a chance, then maybe he'll get a chance'.
"It just gives you that extra five or 10 per cent if you ever need it – which you shouldn't do – but if you ever needed that source of motivation, then he [Klopp] certainly gives it to you."
Having the Academy on the same site as the first team would make such opportunities easier to facilitate, certainly when the first team are one or two men short for training sessions, and it would show those youngster exactly what it is that they are aspiring to be.
Manchester City spent a reported £200m on their Etihad Campus, which they claim is "one of the best sporting facilities in the world". It not only houses the training facilities of their first team and development squads but also includes a smaller 7,000-seater stadium to host reserve and Ladies matches, something that would be far more preferable for Liverpool's next generation of players than their usual rotation around rugby league or lower league grounds.
Manchester City's facilities are understandably impressive but with the financial backing the club has certainly well within their reach.
City's neighbours Manchester United spent a reported £60m on their Carrington facility, an outlay they now find themselves getting back three times over thanks to a lucrative naming rights deal with AON. They even pulled off a multi-million-pound sponsorship deal with Toshiba that saw them provided with expensive medical equipment for the facility.
Everton, meanwhile – despite usually being billed as Liverpool's financially poor neighbours – have their own impressive facilities at Finch Farm in Halewood. They are also set to have a new 'mini-stadium' built for reserve matches.
So how can Everton afford this?
They moved into their new facility in 2007, their two former training sites being sold to developers. As of now they lease their training centre from Liverpool City Council, who bought it from the financially-troubled previous owners for £13m in 2013.
Three years on and it's Liverpool City Council – amidst much controversy – who are proposing to fund Everton's new 'mini-stadium' at the site, along with other improvements – in return for charging Everton higher rent.
However Liverpool choose to fund it there do seem to be a number of options open to FSG and no doubt they will be aware of many more options open to them for the financing of it. The sponsorship route would seem to be the most attractive funding option in the long term but it would require serious initial investment in the short term.
Whatever method is used, it is vital for FSG to ensure it becomes a real project rather than something the current manager is dreaming about.
Interestingly, around the same time Klopp signed his new contract, Liverpool removed a planning application for some changes at Melwood, while talk of investment from China recently could be part of these plans for a new training facility.

Ian Ayre spoke about FSG last season: "We see heading towards us now the arrival of this new main stand at Anfield and I think that lends itself very well to the future of the club and how long term these owners look at the club."
What would really prove FSG's long-term commitment to the club is for plans for that new training centre to be unveiled and, more importantly, for the proverbial spade to be in the ground before too much more time passes.
Liverpool need the best facilities they can get, not only to help today's stars win leagues now but to ensure the stars of tomorrow can pick league titles up too.