Jurgen Klopp has completed his first year in charge of Liverpool and the German has made many notable improvements to the Reds on and off the pitch during his maiden 12 months.
It's said that time flies when you're having fun, and it certainly has in the chaotic, but enjoyable, first year of Klopp's reign.
Much has changed since the German took to White Hart Lane's away technical area for his Liverpool debut against Tottenham Hotspur, and while transformation was expected, crucially, plenty of it has been for the better.
A whole host of improvements have materialised since Klopp took charge, inspiring some memorable moments along the way.
Though this is just the start, the loveable German can certainly feel proud of his work so far.
On-Pitch Progression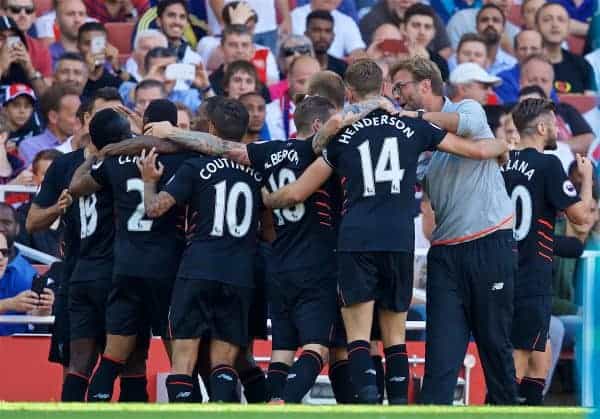 Despite having made clear he has "no time" to reflect on his first year or desire for celebratory cake, Klopp's impact cannot be understated.
Intensely focusing on building a powerful, unified collective, the German has overseen rapid progress in various aspects of on-pitch performance, and key to this is the winning mentality instilled.
Klopp inherited an underperforming squad, struggling to win games, lacking belief and continually crumbling when the going got tough.
But after an unrecognisable transformation, Liverpool now head into every game knowing victory can be claimed rather than merely hoped for, boasting a new-found desire and relentless determination to achieve it.
Missing out on silverware twice leaves Klopp without shiny proof, but it's shown by his team reaching those finals just months into his reign, and evidenced further by a new capability to grind out unfashionable wins like at Crystal Palace, Norwich City, and recently, Swansea City.
This hardened mentality and never-say-die spirit has improved Liverpool's battling qualities, helped further by the resilience Klopp has added.
And just as impressive as the Reds' mixed ability to blitz opponents and guts it out when required has been the upturn in big-game approach.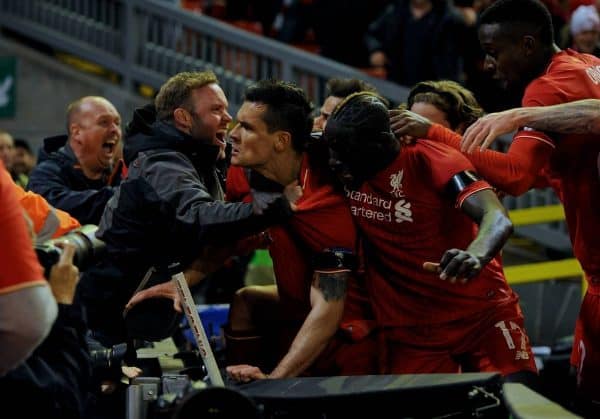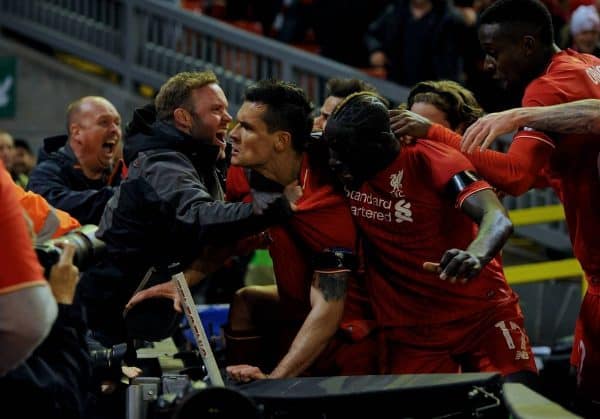 Struggles against domestic rivals became well-documented, but Klopp has provided a belief and fearlessness alongside his astute tactics to completely transform big-game fortunes.
The results have been magnificent, with wins at Man City, Arsenal and Chelsea—twice—and European successes over Man United, Villarreal and, incredibly, Borussia Dortmund.
And that second-leg fight-back against his former club showcased another improvement, Liverpool's ability to "strike back," which Klopp saw needed addressing as a hopeless Anfield emptied when trailing to Palace—and how it has.
Liverpool have earned victory from behind five times in the Premier League under Klopp, while also doing so on some big occasions—most spectacularly, against Dortmund.
Crucial to making this happen is the transformation Klopp has inspired in almost all of his players.
He stood by a group deemed triers but lacking quality, and though unsuited options have been upgraded, unwavering belief that he could improve those inherited has paid off.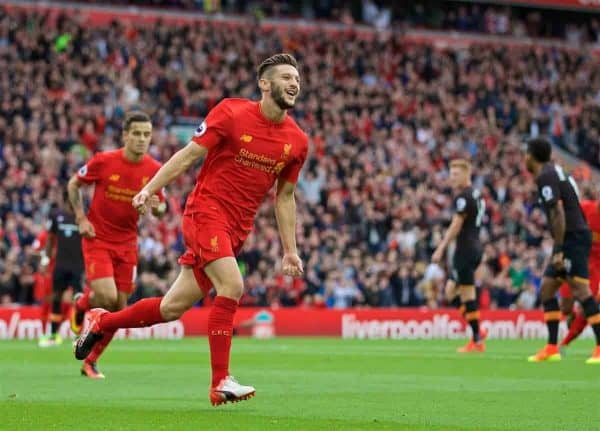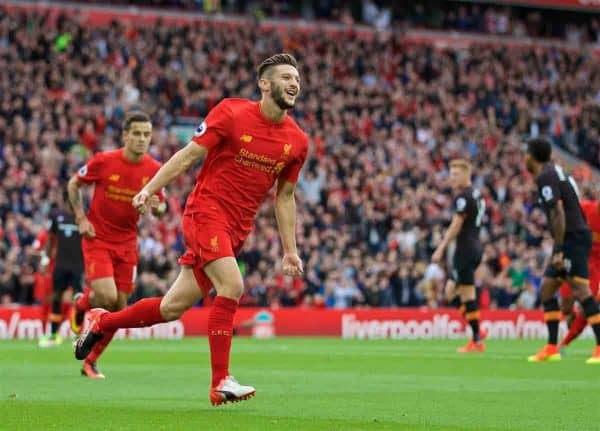 A once confidence-stricken squad has been rejuvenated by Klopp's man-management, epitomised by Dejan Lovren's stunning development and Adam Lallana's rise, while Roberto Firmino, Emre Can and Divock Origi have blossomed into huge talents.
Importantly, Klopp's individual touch has bedded new recruits in seamlessly, and also reinvented James Milner as an impressively functional left-back and turned Jordan Henderson into a classy deep-lying operator.
This man-management has provided the catalyst to improving the collective, with Liverpool now a cohesive, exciting unit capable of hurting opponents all over the pitch, demonstrated by seven different players scoring league goals this season so far.
The Reds have a fear factor back, and no team relishes the prospect of facing Klopp's increasingly impressive side—who are translating their manager's work into performances and results.
Off-Pitch Shrewdness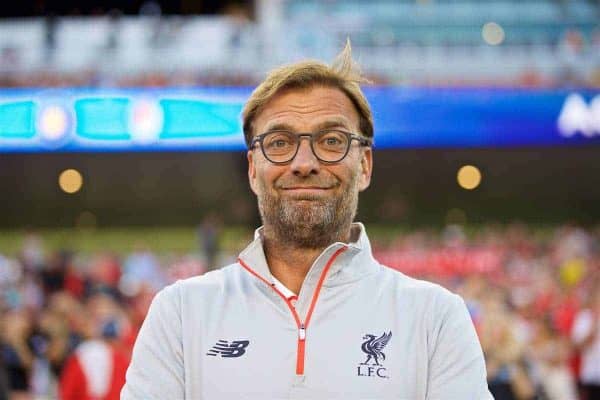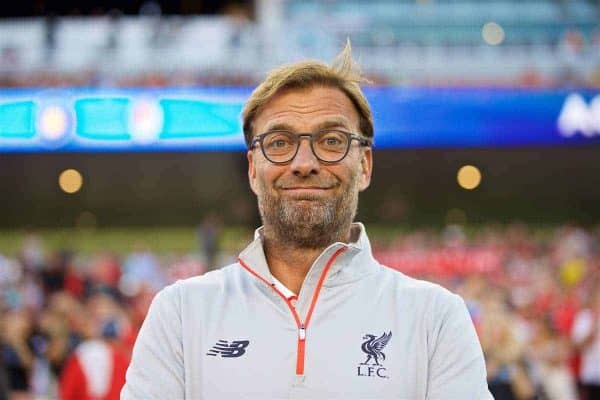 Though on the field of play is where the bulk of Klopp's work will shine, his efforts off the pitch must not be overlooked.
Though early days—having conducted one transfer window—Klopp's shrewdness in the transfer market offers real encouragement for future business.
Liverpool's transfer dealings left a lot to be desired in recent years: overpaying for under-performers, recouping inadequate fees for unwanted goods and generally making too many dud signings.
But Klopp has operated smartly, signing some gems for small outlays in Marko Grujic and Loris Karius—Joel Matip on a free transfer the best of the bunch—while also getting big-money additions—often an undoing of previous managers—like Sadio Mane, bang on.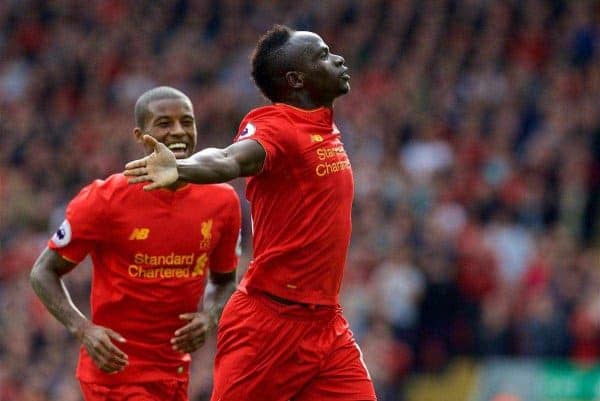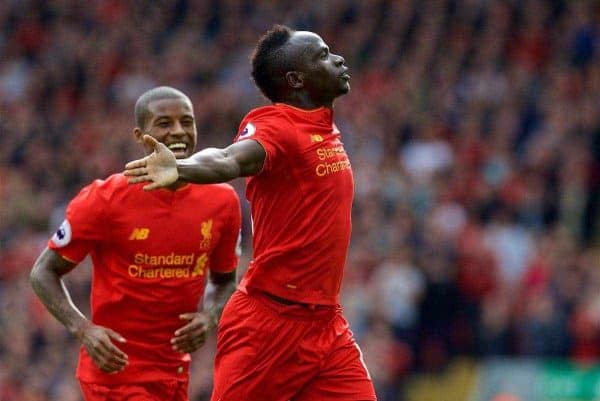 The German's hard-nosed approach has seen a welcome upturn in fees recouped, with Klopp's philosophy that Anfield's unwanted goods are another club's treasure earning impressive sums.
The Reds received £21 million from Bournemouth for Jordon Ibe and Brad Smith, and a near-full repayment of their £32.5 million outlay on Christian Benteke's move to Palace.
This transfer-market cleverness has directly assisted on-pitch progress—the squad is the strongest it has been for years—with the resulting electric displays reigniting Anfield's atmosphere.
Klopp instantly spoke of the role the home crowd has to play and Merseyside has responded, producing memorable atmospheres on the big occasions but more importantly, improving noise levels in routine clashes.
The impact of this at a redeveloped Anfield has been clear, with Leicester City and Hull City both demolished on their visits, and this must be maintained throughout the campaign.
Doubt to Belief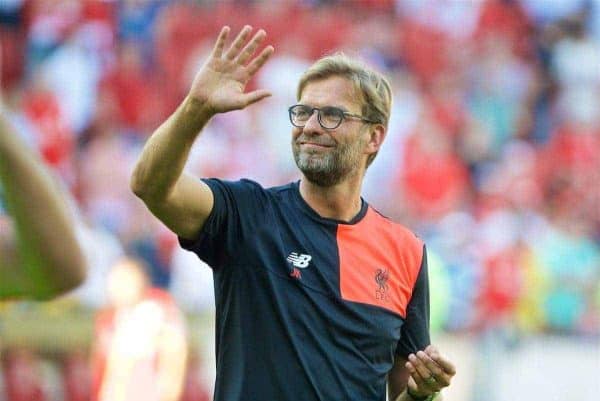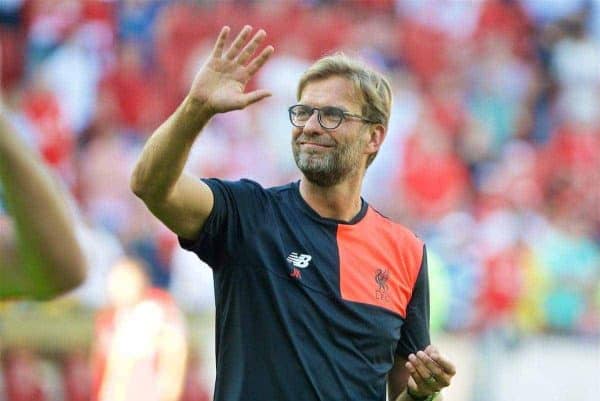 Upon his Anfield appointment, Klopp, now quite famously, stated: "We have to change from doubters to believers."
Just a year into his work he has certainly achieved that, inspiring not only hope, but genuine belief, that a new, successful era is on the horizon.
Unifying fans, management and players, Klopp has restored the power that Anfield once held, and the team are an unrecognisable force—and, excitingly, one still developing.
Progress made off the pitch, as outlined, is also undeniable and, under the perfect man for the job, Liverpool are undoubtedly heading in the right direction—though there is still work to do, Klopp himself admits.
It has unquestionably been a hugely positive first 12 months that bodes well for an exciting future, but Klopp has stressed that this is just the beginning of his Anfield journey.
Belief is the most certain it has been for a very long time that a successful ride awaits.