Jurgen Klopp will mark one year since his arrival at Liverpool on Saturday, but has stressed he is "not in the mood for reflection."
The German was appointed Brendan Rodgers' successor on October 8, 2015, and has presided over a year of marked improvement so far.
Liverpool look to be in a much stronger position under Klopp, and have been widely tipped to challenge for the Premier League title in 2016/17.
They also reached the Europa League final in May, their first major European final since 2006/07, but speaking ahead of his one-year anniversary on Merseyside, Klopp insisted he is only looking forward.
"I have no time, and I am not in the mood for reflection, to be honest," he said.
"It's a year, I'm a year older and all this shit, but everything else is good.
"Not perfect, but in a good way. That's what we hoped, that's what we said.
"After one year standing here, we can talk like this. There was doubt, there was a lot of rumour around me.
"People said: 'Obviously he was a good coach at Dortmund but a German managing here doesn't work'—things like this. That's better now."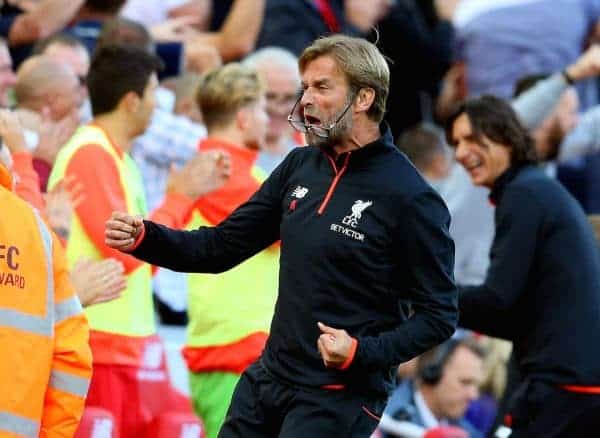 There is certainly no doubt over Klopp's credentials as a manager in the Premier League now, particularly with Liverpool sitting fourth after losing just once in seven games this season.
And encouragingly for supporters, Klopp continue to reiterate that he was in it for the long haul at Anfield.
"The thing is, I'm not here for a year, I'm here hopefully for the long term," he added.
"It means that we have to use all the information we have until now and learn from it.
"That's how life works, collecting experience, learning from it and being ready for the next challenge.
"My year is what, the 8th of October? We will not celebrate, I can tell you that – hopefully nobody brings me a cake!"
Klopp is clearly just getting started with his third club as a manager, and with signs suggesting Liverpool could enjoy a successful season in 2016/17, this is hugely positive.
Saturday provides the perfect moment to reflect on the improvements Klopp has made as Reds manager so far, but the 49-year-old is more likely to be focussed on his side's next league outing, at home to Manchester United nine days later.