Producing their best Premier League winning run under Jurgen Klopp before the international break, Liverpool are rapidly building momentum.
When the fixtures were announced and a difficult start for Liverpool revealed, few anticipated the Reds to be sat just two points off the Premier League summit come October.
After all, this is a side that had become impossible to trust having continuously struggled for consistency with performances and results, and one that has been unable to produce a steady winning run.
But Saturday's hard-fought comeback victory over Swansea City cemented what has been a hugely impressive opening, with the Reds finally demonstrating the consistency that has evaded them to earn a fourth successive league win for the first time under Klopp.
This represents a significant marker of Liverpool's progression under the German, and an excellent start has provided vital momentum and the perfect platform to build from after the untimely international break.
Winning Streak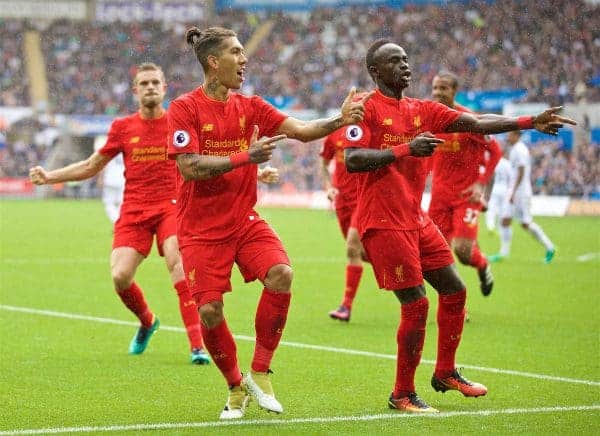 The Liberty Stadium has proven a tricky ground to visit for Liverpool in the past, but Klopp's men began improving their south Wales fortunes thanks to a second-half surge and goals from Roberto Firmino and James Milner.
This victory—arguably the most pleasing of the Premier League wins produced after September's international pause—ensured the winning sequence extended to five games in all competitions, and, as noted, a fourth straight league success.
The first time the Reds—who showed their improved steeliness—have achieved this in Klopp's tenure, it was also the first time in 18 months Liverpool had produced a victorious league run of more than three games.
Indeed, not since between February and March 2015, when Brendan Rodgers' side clawed their way back into Champions League qualification contention, have Liverpool produced such winning impetus.
That side beat Tottenham Hotspur, Southampton, Man City and Burnley, before then seeing off Swansea for a fifth win in a row.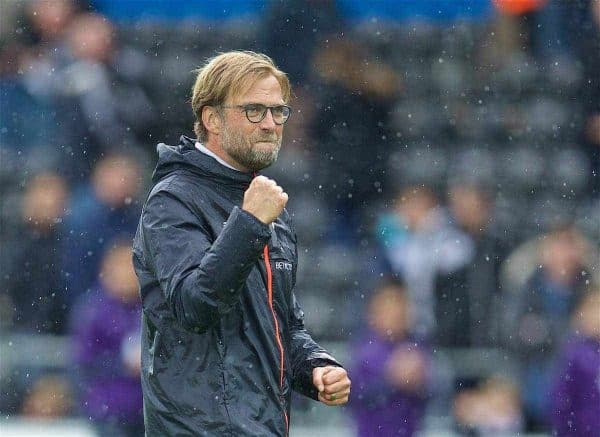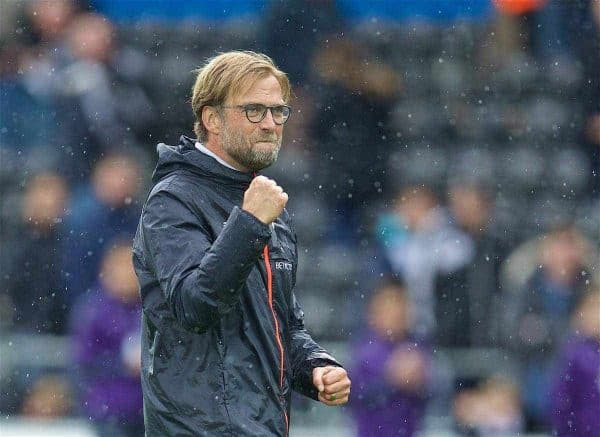 As strong a signal as you can get of Liverpool's improvement, such form provides huge encouragement, with the winning streak confirming a fine start for Klopp's side and increasing belief that a successful season awaits.
This growing feeling is added to by Liverpool's 16-point haul from seven matches, mirroring that from the first seven games of 2013/14—a start that took the Reds to top spot in the table and provided the springboard for an unforgettable title charge.
While it may be too early to declare Klopp's side genuine contenders, having seen how such a positive beginning struck up momentum back then, optimism can be taken—especially after grinding out victory in Wales in the fashion title challengers do.
The Swansea win provides real satisfaction for those reasons, and it couldn't have been better timed—not only to extend the winning streak, but to ensure momentum carries into the break.
Building Momentum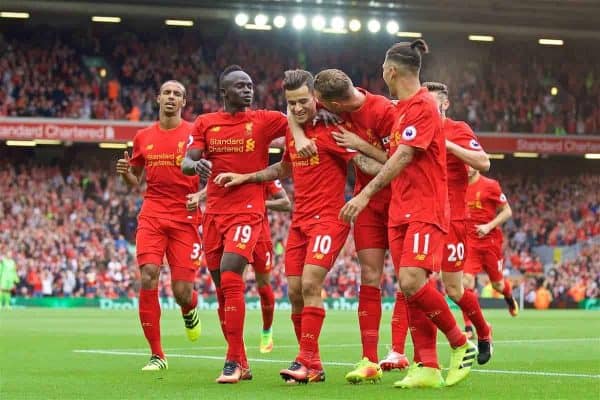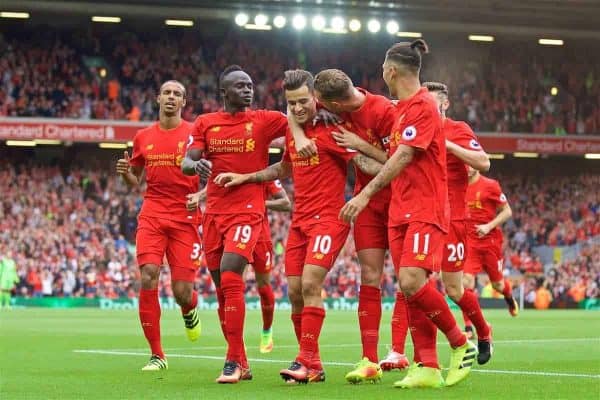 The last thing anyone at Anfield will have wanted at this positive time is to pause for two weeks; and with Klopp having admitted his frustration, it is no surprise that management, like fans, are frustrated just as rhythm is found.
But this excellent work certainly won't disappear simply because there is no imminent fixture to continue, and the drive Liverpool currently boast still positions them strongly over the break.
Klopp's men have begun striking a winning habit, also showing they can blitz the best and find a way to win trickier games, and this breeds confidence, which will provide huge impetus and belief to pick up from where they have left off.
In the meantime, Klopp can assess his team's progress ahead of another mammoth clash when Man United visit, and huge belief can be taken from performances and results against the likes of Arsenal and Chelsea, as well as the fightback at the Liberty.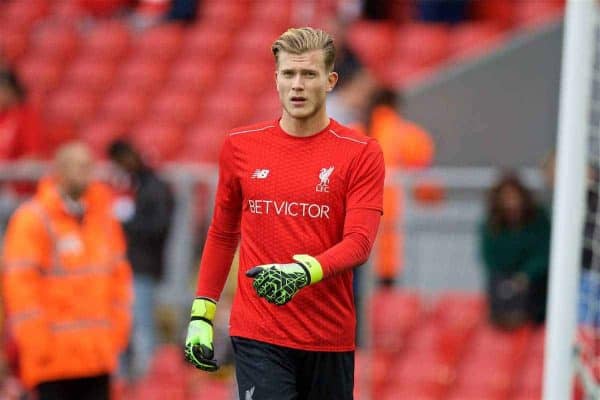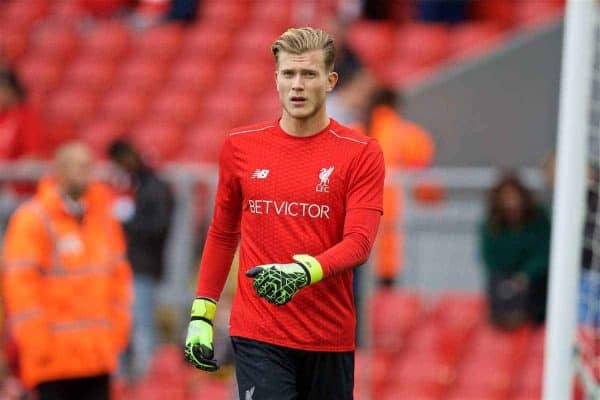 The training-ground time now available is also vital, with the chance to instil further confidence into the group as Klopp did in the first break of the season—which saw his side return to win all five games before another sojourn.
Klopp will be keen to ensure this happens again while working those not away on international duty, which includes Loris Karius and all of Liverpool's first-choice back four, giving the German invaluable time to tighten the improving, but still unconvincing, rearguard.
Though unable to make the instant progress wanted, this practice period allows Liverpool to ensure they are ready to use their momentum instantly in the first game back—something else that has improved under Klopp, with Liverpool unbeaten immediately after international breaks in the German's time in charge.
Such form and visible improvement places the Reds well to make further progress upon the recommencing league action, when United arrive at Anfield.
Man United Next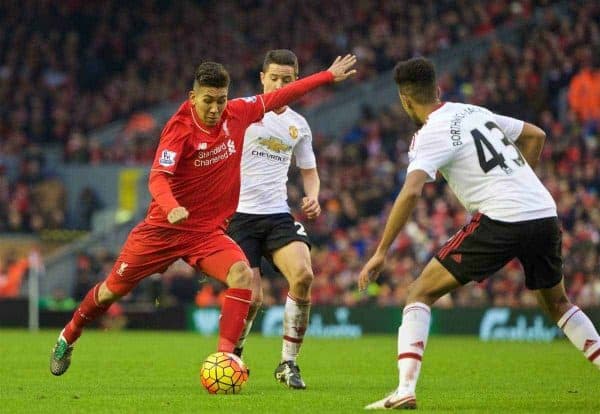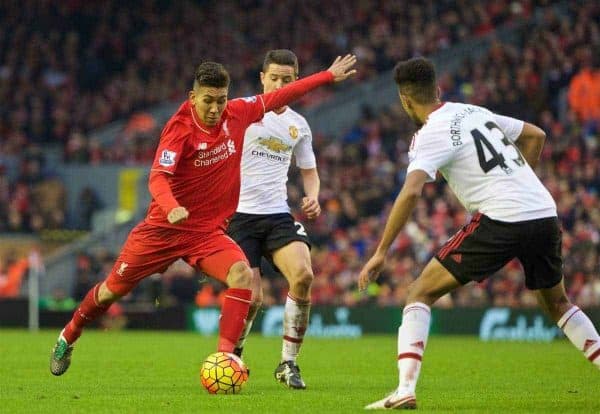 When boasting such confidence in performances and claiming some big results, there is no one you don't want to face—and for Klopp's in-form Reds, that includes Jose Mourinho's lethargic United.
With Liverpool having beaten some big opponents already this season, the looming trip to Anfield is one the Red Devils will not be relishing after limping to a draw with 19th-placed Stoke City, which they will look to move on from on Merseyside.
Liverpool proved simply too good for their rivals in a special European edition of this clash in last season's Europa League, and a similarly energetic performance filled with slick, passing football must be produced again.
If the Reds can, it will see this rapidly growing team match the aforementioned run of Rodgers' men with a fifth straight league victory—which Klopp will be desperate to see his side produce ahead of a potentially extremely winnable set of matches.
In their next 10 league games after United, Liverpool play West Bromwich Albion, Crystal Palace, Watford, Southampton, Sunderland, Bournemouth, West Ham United, Middlesbrough, Everton and Stoke.
Liverpool's last strong winning streak came to a crushing end in this very fixture, with a 2-1 loss to Louis van Gaal's side also ultimately ending the season, such was the impact of the loss thereafter.
Now with a stronger mentality and resilience, and crucially, real momentum, the Reds must ensure there's no repeat on what promises to be an electric first night match since Anfield's expansion in the summer.