When it comes to Liverpool debuts, few players have been faced with such a daunting first assignment as Rob Jones was 25 years ago at Old Trafford.
Jones, now a mentor at the Reds' academy, capped a whirlwind 48 hours with a man of the match display against Manchester United at Old Trafford in October 1991.
Jones had been a fourth division rookie at Crewe on Friday morning but shone for Liverpool in front of the TV cameras on the Sunday afternoon, marking United's superstar winger, Ryan Giggs, out of the game in a hard-fought 0-0 draw.
It propelled him into the spotlight and saw him represent England and win the FA Cup within seven months of that fateful period in his life.
The flying full back went on to make 243 appearances for the Reds but saw a hugely promising career cut short by injury. He hung up his boots at the age of 27 and thought his love affair with Liverpool was over.
Fast forward to the present and Jones is relishing a return to the club so close to his heart. He has been an 'Academy mentor' since late 2013, offering support to the Reds' Kirkby-based youngsters alongside former Reds stars, Robbie Fowler and Steve McManaman.
With a couple of landmarks to discuss and the latest chapter in the Liverpool v Manchester United rivalry looming on the horizon, This Is Anfield went along to the Academy for a catch-up.
Twenty-five years on from that debut v Manchester United… You played 242 more times for Liverpool after that game but it's the one most fans remember you for, isn't it?

You're right. Whenever I meet fans in the street they still talk about it now. I played in some finals for Liverpool and in a host of wonderful matches with an exciting team, but my debut is the one that stands out. It's hard to believe it's 25 years since I signed for Liverpool. I never envisaged that I would be back at the club when this anniversary came around!
It was something of a whirlwind couple of days back in 1991, wasn't it?
Just a bit! It just doesn't work out like that nowadays, especially when you consider the timescale of it all. I got the phone call on a Thursday night from Dario (Gradi, Crewe Alexandra manager at the time) to tell me Liverpool were interested.
On the Friday I signed on the dotted line at Anfield and in the blink of an eye I was training with the likes of Rushie and Stevie Nicol at Melwood. These were my heroes. It was surreal.
Next thing I know I'm being told I'm playing at Old Trafford on the Sunday, live on the TV. No-one had heard of me so it was a massive gamble for Graeme Souness, massive. I like to think it paid off for him. It was a dream come true for me.
People ask 'What do you remember about the game?' and I've even said to you, 'not that much!' That's not because it was 25 years ago, either. I was just so focused on doing my job and not letting anyone down. I'd blocked out the crowd and I was focused on Ryan Giggs.
Souness had said try to keep him out of the game. That was my aim and I like to think I did. You assume Alex Ferguson would have said to him to test out this young lad from Crewe, knock it past him and try him out. But that was one of my best attributes. I was sharp and had a bit of speed. Ryan was fast himself but the times he tried to go past me I was able to get in front of him or read his trick. He kept going back on himself and playing it to a teammate.
As a full back I feel that if I do that, I've done my job. That's what I tell the Academy lads now. No need to jump into rash challenges, if you get the right side of the attacker and stay with them, 90 per cent of your job is done.
It'd be fair to say there haven't been many debuts as tough as that, wouldn't it…
I think so. I've seen articles over the years listing 'baptisms of fire' and all that and I'm usually in there!
It's hard to pick out many as tough as Giggs at Old Trafford back then. Someone pointed out that Alvaro Arbeloa's full debut for Liverpool was marking Lionel Messi in the Nou Camp, so there are obviously similar ones in different eras.
With regards to mine, it's not just the game, venue or player I was up against though. You have to remember I was a fourth division player just a couple of days earlier.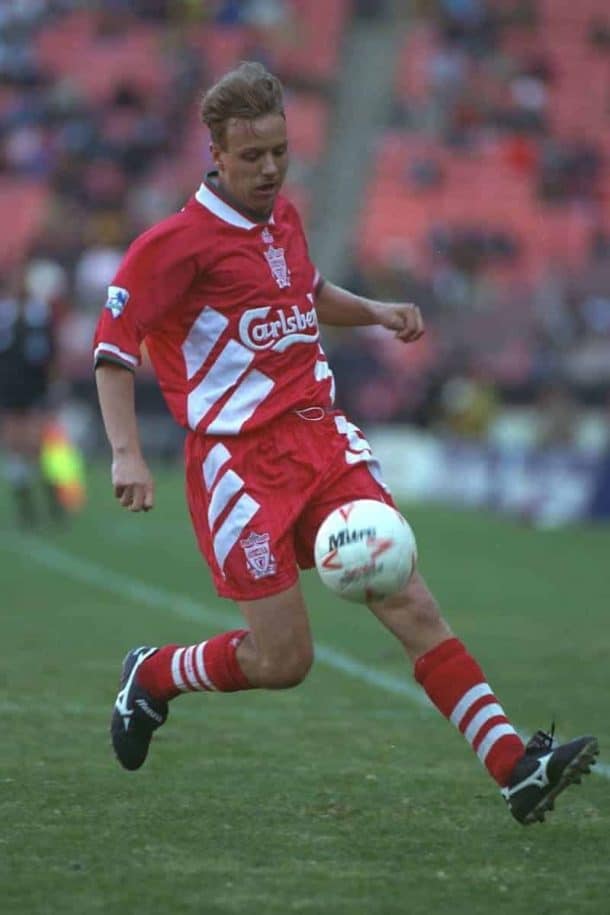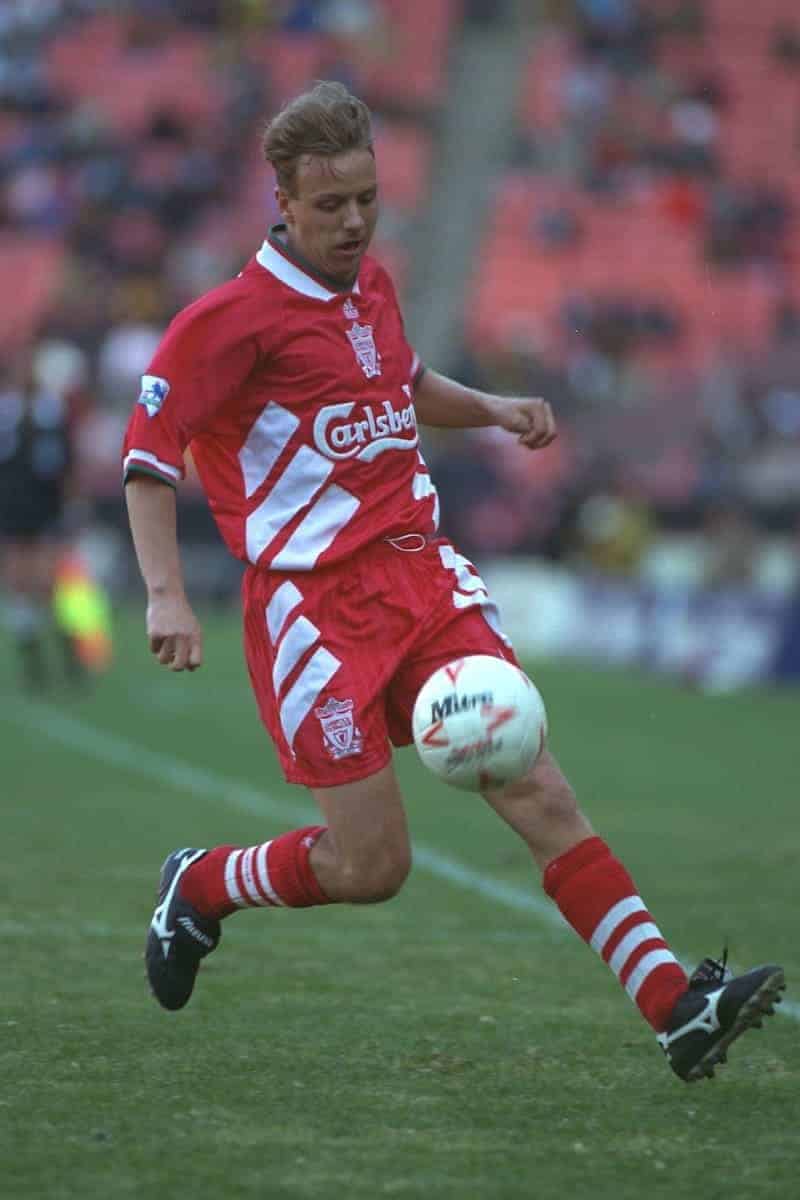 You often see youngsters slowly blooded into first-team life. It may be 10 minutes at the end of a home fixture against a side you are expected to beat. This was at the opposite end of the spectrum and it could have gone the other way too.
Graeme took a massive gamble and if I'd reacted in the wrong way it could have been a disaster. The atmosphere could have got to me and I might have shrivelled up. Luckily, I didn't let that happen.
That sort of mental toughness must be key to your role as an Academy mentor at LFC now. Your debut is almost unique which gives you an experience that can really resonate with these players as they try to come to terms with the step up and the intensity of the spotlight that follows…
We definitely try to help with that side of things; coping with the pressures that come with first-team status.
A good example was Brad Smith when he was here. He had talent and unbelievable pace, but he suffered with nerves before games. He was an anxious person. I'd pull him to one side ahead of a match and have a bit of a chat. I explained to him that I used to get nervous before games but there's a difference between a few butterflies and taking real nerves out onto that pitch.

If you do that, you are never really going to make it as a first-team player. You can't afford to let issues like that affect your game. He reminded me a bit of myself and I used to tell him to get on there and get your first touch sorted. From there you should forget about the nerves. Football should be enjoyed.
If you can't relish the game and the fact you are playing for one of the best clubs in the world, then you have to question if you have what it takes at the highest level. I know he's moved on to Bournemouth now but I think that eventually got through to him.
It's an interesting insight. Supporters may think you spend time working on defending while Robbie shows the young forwards how to finish and Macca covers mazy dribbles – it's not quite as simple as that, is it?
Well, we aren't here to coach. When I first came in I made it clear I had no intention of being a coach. The Academy has some brilliant youth coaches already. Not many have played for the club though and that was one of the reasons Brendan (Rodgers) brought myself, Macca and Robbie in.
If Critch (Neil Critchley) or Alex (Inglethorpe) are talking in the changing rooms they don't need me chipping in and getting in the way of their message. I might just pull the left back or right back to one side and offer some advice though.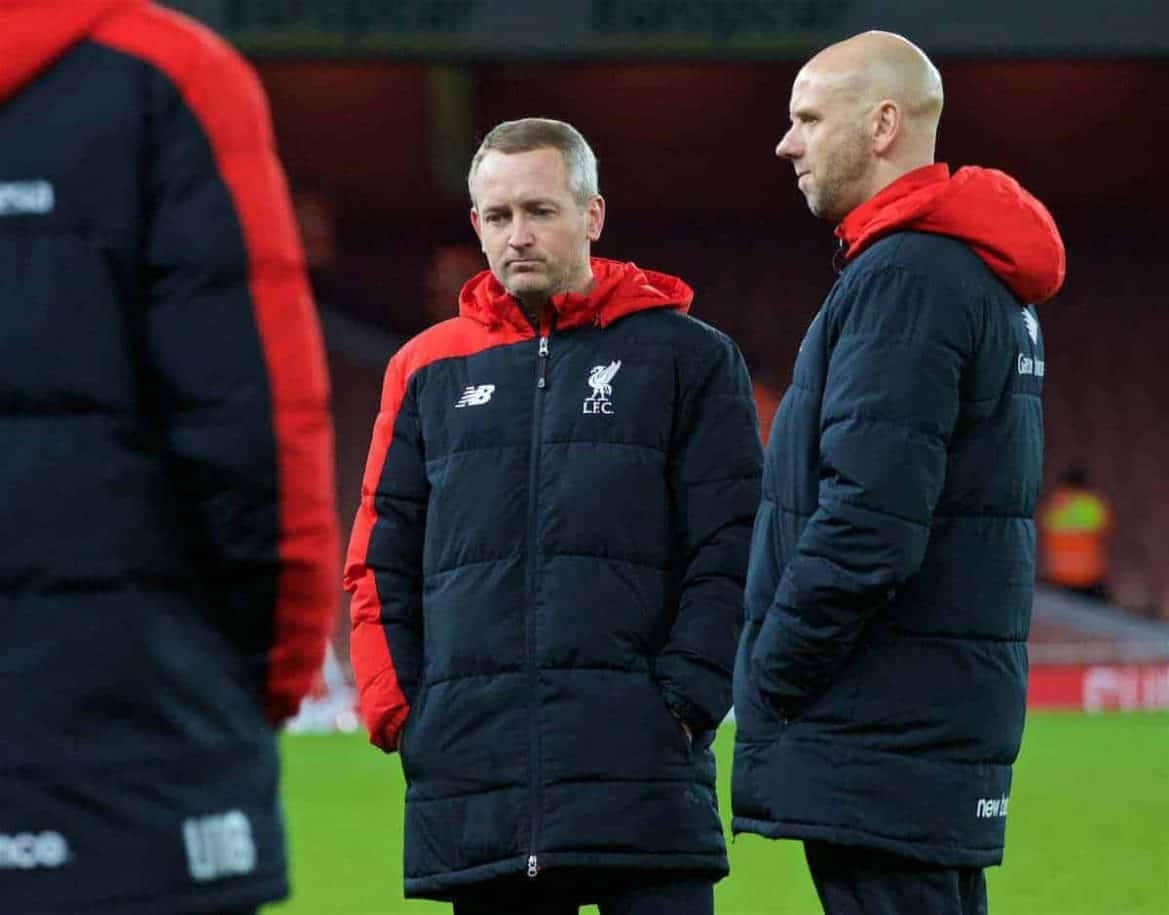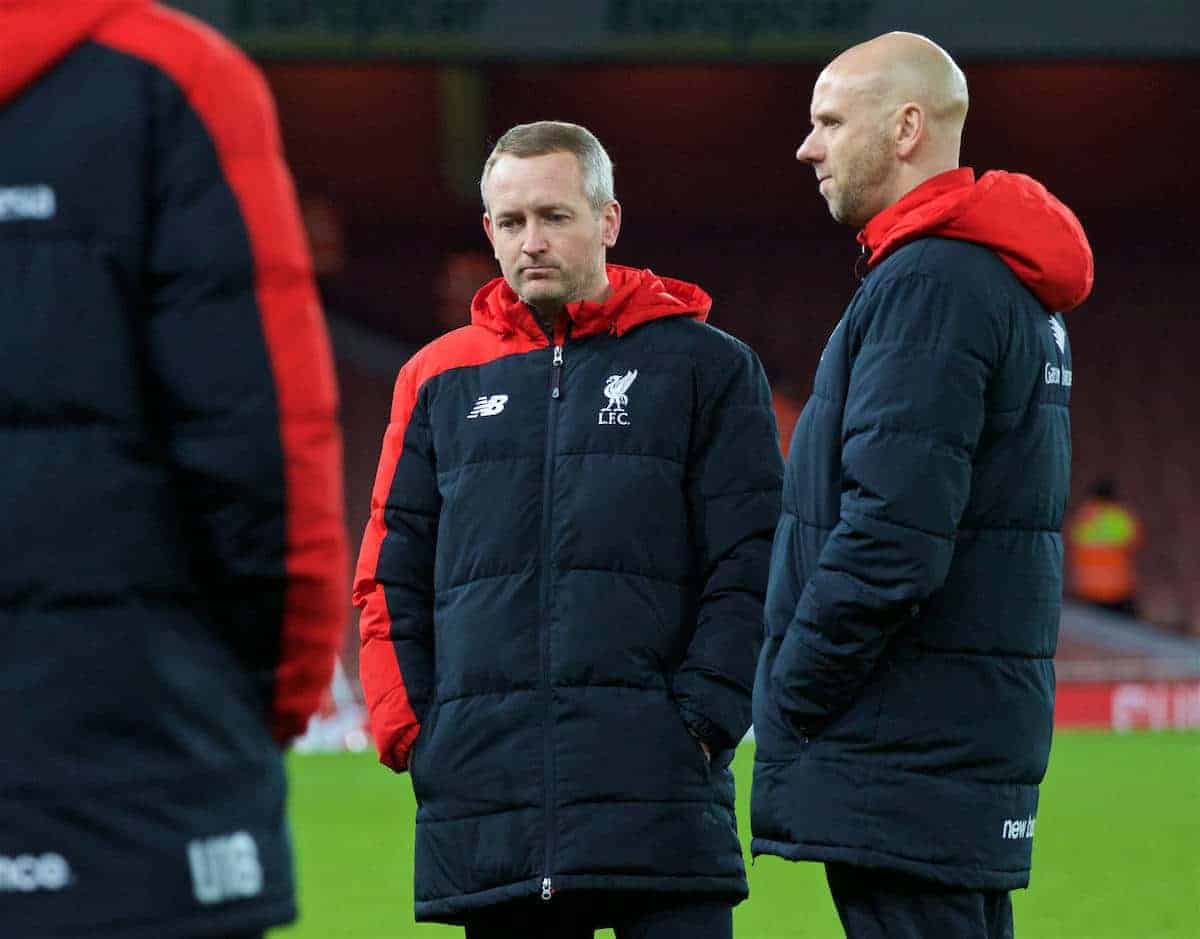 Essentially, our aim is to provide support and one-to-one sessions. We've been through it as players. We were all young when we made the breakthrough at Liverpool, so we can relate to them.
It's hard to define the role in specific terms but I focus mainly on the full backs and defenders from the U16s through to the U23s. If a scenario presents itself where Alex (Inglethorpe) believes I can help then I'll get involved. If, for example, a player is going through a tough time and isn't sure about signing a new contract, I can speak to them and try to soften the situation.
This month marks the third anniversary of your Academy arrival – it sounds like it's evolved into a full-time role now…
No, it's not. I'm heavily involved with our family business where I've taken a more hands-on role in recent years. We've changed the name of the business to Evolution Childcare and that takes up a lot of my time. I'd say I average out about two-three days per week in Kirkby. I love the role and still pinch myself being back involved. When you leave LFC you think that is it, so when Brendan (Rodgers) asked me to come back, I was made up.

It's well documented I found it tough when I was forced to retire at 27. After football what do you do? I know a lot of the lads I played with struggle with that, even now. Fortunately for me, I'm back involved. I'm in a really happy place at the moment with two major things to focus on. Liverpool is in my blood and I love this mentoring role. You really feel like you're contributing something too.
Were you concerned Jurgen Klopp may have had other ideas about the Academy when he replaced Rodgers?
I think you always wonder when there is a change of management. Robbie, Macca and I just kept our heads down and kept doing our jobs. I know Alex (Inglethorpe) spoke to Jurgen when he first arrived about our role as mentors and he was happy to keep it going.
We have developed a good understanding with all of the Academy coaches and fit in well, so it was great to hear that the first-team manager wanted us to continue. It's nice to get the training kit back on (Rob points to his LFC top which has his initials 'RJ' emblazoned across the front) and I'll even join in the odd training session if my knee will allow it!
At the end of the day, if I can help one or two players in any way it's all worth it. The overall objective is to get young lads to Melwood and into the first-team with Jurgen so that they can benefit Liverpool FC.
The likes of Pedro Chirivella, Cameron Brannagan, Sheyi Ojo, Ryan Kent, Connor Randall, Kevin Stewart and Ovie Ejaria have all had chances in the first-team over the past year – but fans crave that homegrown superstar that can make an impact similar to Steve McManaman, Robbie Fowler and Steven Gerrard. Is there anyone in the system of that ilk?
Well, I won't be mentioning any names. I think it puts too much pressure on them. You also get the other lads asking why you didn't talk about them!
What I will say is that in the U16s we've got a really big talent. In fact, I'd say there are two with potential to be a star.
Will that happen? If they keep progressing as footballers that is the aim. Our job is to help by mentoring them. There are other elements to being a footballer and I think the mentors can make a strong contribution there. It's important to keep people's feet on the ground too. Ronnie Moran never allowed our generation of players to get ahead of ourselves and Alex Inglethorpe does a great job keeping the lads grounded.

You've also got to remember how the game has changed. When Robbie and Macca broke through they were given opportunities. Squads were not as big.
Nowadays it's tougher to make an impact and stay in the first-team set up. The likes of Kev Stewart and Cameron Brannagan have done well over a few games and then come back out. Some will go out on loan and develop at other clubs. The aim is that they come back better players having grown from the experience.
You mentioned Steven Gerrard in the question, but we are talking about an elite player there. He's in the small pool of players you'd say could claim to be Liverpool's greatest ever. That's some statement.
We obviously hope that is the case but so many factors must come together for it to happen. We deal with potential at young ages and it doesn't always progress in the way everyone expects or wants. Like I've said, the U14s to U16s are very talented but you are applying unnecessary pressure to kids when you start drawing comparisons with homegrown legends like Gerrard before they've done anything at a senior level.
We feel really positive about how things are developing in Kirkby and I think you can already see that the first-team manager is ready to give players opportunities if they are good enough. It bodes well for the future.