Former Liverpool goalkeeper Bruce Grobbelaar says Loris Karius will become an excellent goalkeeper for the Reds in the coming years.
The young German arrived from Mainz in the summer, and it became clear early on that he would be Jurgen Klopp's first-choice between the sticks this season.
A broken hand in August saw his Liverpool debut delayed until September 20, however, when the Reds won 3-0 in the League Cup third round at Derby County.
Despite a few shaky moments early on, Karius is growing into his role at Anfield, as he gets accustomed to his new teammates.
Legendary ex-Red Grobbelaar is excited about the 23-year-old's potential, having kept a close eye on his development in recent times.
"I've been watching Karius since last season, when he was with Mainz," he said.
"For him to come second to Neuer in the Bundesliga was a great achievement. He is one for the future.
"When you watched his highlights, you could see that he did things that reminded me of me when I was that age.
"It was the use of the ball with his feet, but also how he read the game. I saw some games where they were in the opposition box with a corner, and left only one defender back, not two. The second defender was Karius.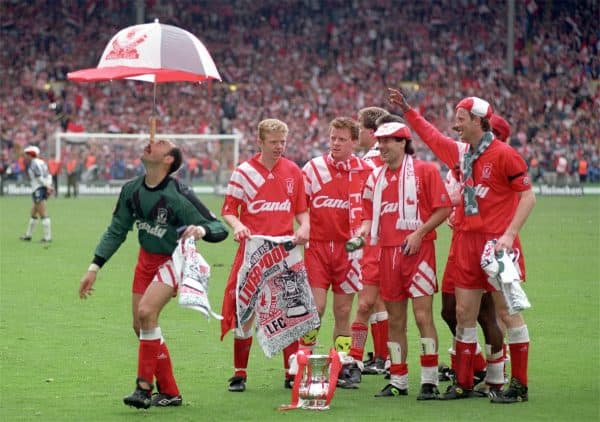 "While the defender was marking, Karius came over the top and headed the ball near the halfway line. That's extreme but something that I thought was very good.
"I hope he can go on to do what I did – and I'm sure he definitely can step up to the next level, which is keeping clean sheets and coming for more crosses."
Grobbelaar, who made 628 appearances for Liverpool and won 13 major trophies in as many years at the club, also spoke about the importance of Karius' ability with the ball at his feet.
"At Mainz he might not have had the short pass to get the ball out. But at Liverpool, they have got the quality," he added.
"Have a look at the back four. Matip is brilliant with his feet. Lucas, when he comes in, is good with his feet. Everybody can pass the ball at the back – Milner on the left, Clyne on the right and when Henderson or whoever drops into the midfield gap, he can play the short passes.
"You're always going to have a numerical advantage with a goalkeeper that can play with his feet. That's what Jurgen Klopp is looking at."
Grobbelaar himself made a nervy start to life on Merseyside back in the early 1980s, but he matured into one of the Reds' greatest 'keepers of all time.
Bob Paisley showed great patience in the Zimbabwean, and Karius must also be awarded that luxury. In time, he has every chance of becoming a key player.