After Liverpool's 0-0 draw with Southampton on Saturday, Jeff Goulding reflects on Merseyside's heightened expectations in defeat.
Winning a league title is tough. It's a marathon that leaves the soles of your feet blistered and burns your heart and soul as you complete each painful step along the way. There are times when the adrenaline surges and the endorphins kick in and you feel like you could run all day. Then there's the wall. You crash into and it when you least expect it and it seems like all your earlier progress was for nothing.
This is why Shankly referred to the league as the "bread and butter." It is the staple and all the rest is just garnish. Winning the championship is a true barometer of a team's greatness precisely because it involves endurance and consistency.
To lift that trophy you have to be prepared to get knocked to the ground and then, bloodied and bruised, get right back up again. All the teams who have gone the distance can claim to possess that quality. When faced with a setback, they shake off the disappointment and just keep plodding on.
We can see that Klopp lives and breathes that philosophy. It is after all what took Dortmund to glory in the Bundesliga and to the brink of heaven in the Champions League. His post-match comments were all about filling in that minor pothole his charges had stumbled upon at St Mary's and smoothing the track for the next game. "I'm not happy but I'm fine," he said. A honest and sober reflection, after a game Liverpool could and should have won.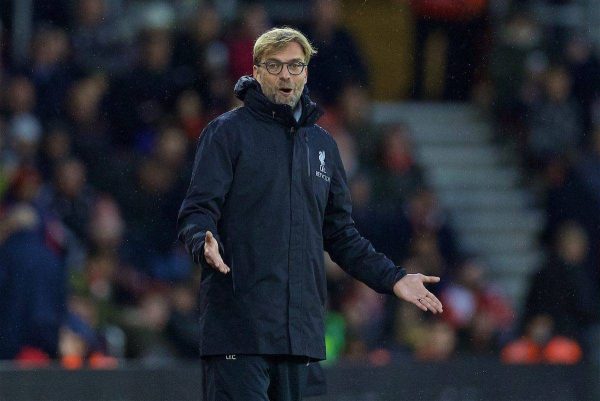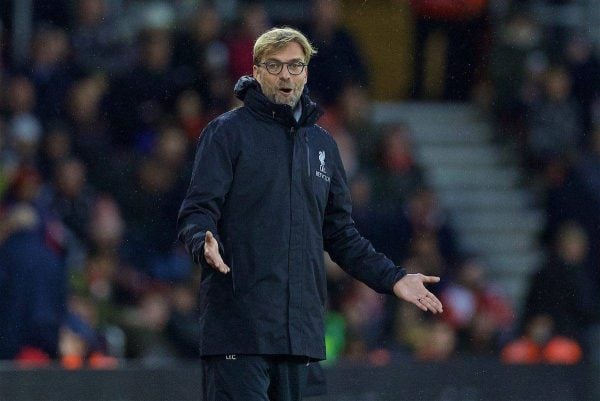 Of course us supporters find such sobriety harder to come by. We've drunk at the It's Our Year Arms for too long. The barman has told us we've had enough so many times we've stopped listening. Now we get pissed at the merest whiff of a title challenge; and some of us are angry drunks.
Since the final whistle blew on this frustrating game on the south coast, I've read so many fewms that it's tempting to call last orders and close up the bar for good. I'm actually yearning for the days when I followed such away days in the silence of Ceefax. For younger readers it was what passed for the internet for us old farts. Google it.
Liverpool have been magnificent at times this season. They have defied all expectations including our own. Think back to the start of August. How many of you would have said you were happy with our transfer business? We made a profit and some of you went into meltdown, yet in reality we can now see that Klopp has spent very wisely, bringing in the players who fit his plan, and moulding a team capable of challenging at the very top.
Before yesterday all the pre-match talk was of our strength in depth. But the pain of an away draw–yes a draw, not a defeat—has now rendered this squad weak and not fit for the job. Such is the fragile grip some of us have on optimism or, as some would put it, reality.
I doubt this Liverpool team is the finished article. Klopp, if he's given time, will strengthen further. But he is much further along the road than any of us dreamed possible in August.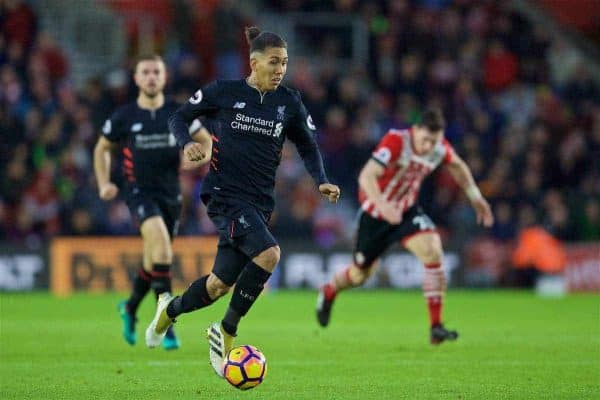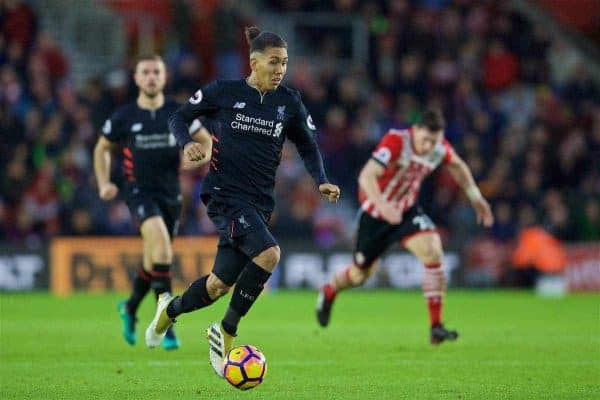 Back then we all just dreamt of tangible progress. I, with a belly full of the It's Our Year finest ale, predicted we'd win the title; but if I'm honest I thought fourth would be a huge step forward. As I sit here now it amazes me that my wildest dreams are still a distinct possibility, in November.
We all need to gaze down on half-full glasses as Klopp steers us to the end of the race. The half-empty brigade need to steer clear of the bar all together. For their own sanity if nothing else. As Jurgen said, there are two things that matter in football: the result and the performance. Yes, the result was far from perfect, but the performance was good.
This was a match Liverpool thoroughly dominated from start to finish. And before anyone tells me we should be battering teams like Southampton, if we want to win the league, remember what a tough ground to go to this is. Reflect on our preparation for this fixture and on the journeys some of our key players have been on before donning their boots and taking to the field.
This was in fact a perfectly good point away from home. The Saints struggled to cope with Liverpool for nearly the entirety of the game. A fact their manager was all too quick to admit in his post-match analysis. They beat us last year and have often made us sweat blood for every point down the years. In this game though they battened down the hatches and threw everything into defence.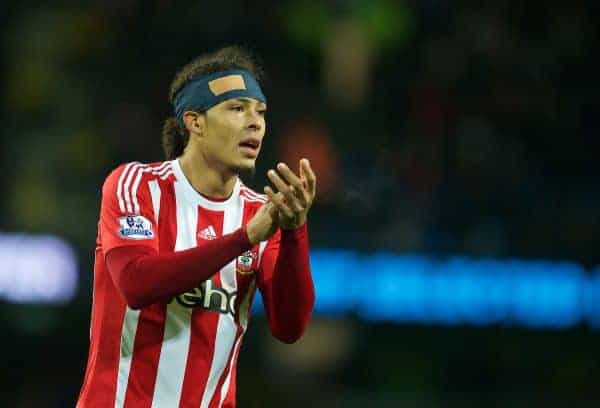 As if to evidence this fact, it was a toss-up between Fraser Forster and Virgil van Dijk for the Southampton man-of-the-match award. Van Dijk was a rock in the Saints' back line and denied the Reds on many occasions. He looks nailed on to be wearing a Liver Bird on his chest next season.
Liverpool dominated in all areas of the game apart from the one vital statistic, the scoreline. Sometimes that happens. A combination of an off-day and a brilliant defensive display from the opposition conspires to leave you feeling empty. But it's just that, an off-day. It's not a symptom of a wider malaise or a sign Klopp's men lack what it takes to go the distance.
I am going to allow myself one tiny moan, however. A little something for the doomsayers among you, if you like. With Liverpool fashioning chance after chance and the boys from Brazil struggling for sharpness, it would have been nice had Klopp turned to the one out-and-out goalscorer he had on the bench, a little earlier than he did. My one nagging tinge of regret is that feeling that Daniel Sturridge, if given more time to bed in, could have provided that clinical edge we were missing.
There, I've demonstrated my ability to be balance. I'm not happy but I'm fine. All is definitely not lost.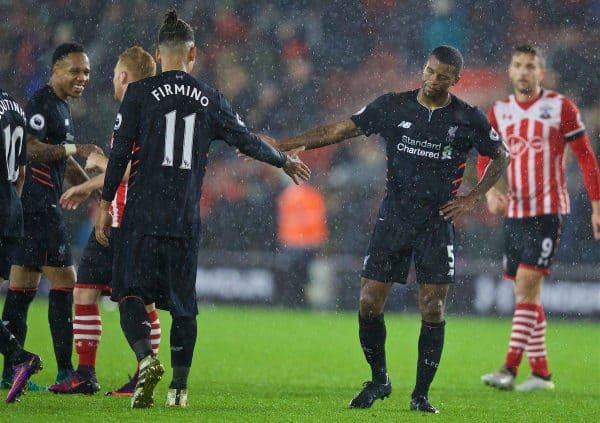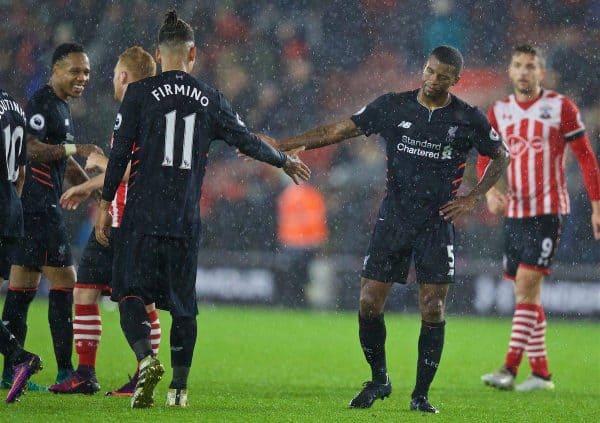 At the very worst Liverpool would end the weekend in second place, one point off the top spot. Who would have honestly predicted that at the start of the season? We've played most of our rivals away from home already and we have yet to peak in terms of performance. There's a lot to take from this game. Not least is the fact that even a Liverpool side running on fumes can pen back a home side for almost 90 minutes.
Jurgen Klopp's Reds have raised expectations to such a point that we greet a draw like it's a defeat. It is both a beautiful irony and a wonderful symmetry, given that last season he was heavily criticised for doing the opposite. The are many potholes ahead. Liverpool will stumble again and we'd all do well to follow Jurgen's lead.
Let's not look for problems where there are none. Yes we are not happy, but we're fine. So move along now. Sunderland next, bring it on.