Following Steven Gerrard's retirement from football, some illustrious names in the game have paid tribute to the Liverpool legend.
Gerrard confirmed on Thursday afternoon that he was ending a glittering playing career that spanned three decades.
The 36-year-old will go down as one of the best players of his generation, with his influence on Liverpool in the 2000s unrivalled.
His performances in Istanbul and Cardiff will forever be the stuff of legend, as well as endless other inspirational displays in a Reds shirt.
There has been a huge amount of praise for Gerrard following news of his retirement, with some big names taking the time to sing his praises.
Here's a look at some of the former teammates, legends and staff who have been paying tribute to the legendary midfielder.
It's been an honour to play with you / Ha sido un honor jugar a tu lado #YNWA pic.twitter.com/cAU3o365CR

— Fernando Torres (@Torres) November 24, 2016
The Legend Forever. pic.twitter.com/0spWLyP1JY

— Xabi Alonso (@XabiAlonso) November 24, 2016
It's been an honor to play alongside you amigo!! Always an example on and off the pitch!great moments together!THANKS FOR EVERYTHING LEGEND! pic.twitter.com/DjFNMKL38K

— Pepe Reina (@PReina25) November 24, 2016
Steven, brilliant player, World legend. Congratulations for what you did for football! #Gerrard ?? pic.twitter.com/zsskrCEnwN

— Javier Zanetti (@javierzanetti) November 24, 2016
Y.N.W.A pic.twitter.com/9GRZOgLjkD

— Daniel Agger (@DanielAgger) November 24, 2016
Thanks for all the years that we worked together.
I am sure you will be successful in whatever you do from now on.
YNWA captain !!! pic.twitter.com/4RG4GEg2gW

— Lucas Leiva (@LucasLeiva87) November 24, 2016
Steven Gerrard THANK YOU. YNWA

— Phil Thompson (@Phil_Thompson4) November 24, 2016
We started at Liverpool together at 11. He was brilliant then. He went on to be world class. Liverpool's greatest player. Congrats Stevie G.

— michael owen (@themichaelowen) November 24, 2016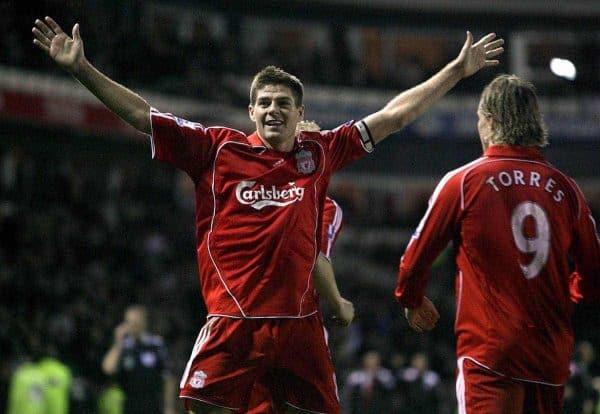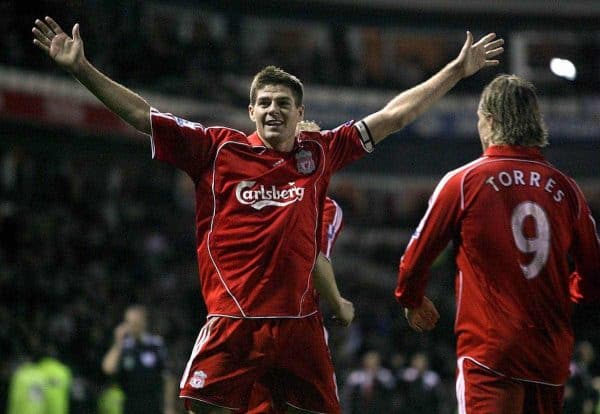 Congratulations Steven gerrard incredible career club and country,privilege to have played with and against you,enjoy some golf ?? now

— Chris Kirkland (@ChrisKirkland43) November 24, 2016
Good luck for the future. Will rightly be remembered as a great of the game. #StevenGerrard #LFC

— Alan Shearer (@alanshearer) November 24, 2016
The best player I have ever played with! Thanks for everything mate??Mr Captain Fantastic ??? pic.twitter.com/eycltUyZXi

— John Arne Riise (@JARiiseOfficial) November 24, 2016
Great memories from Stevie G Legend Leader Captain great to met you and worked with you ! YNWA #LFC #Reds pic.twitter.com/Ytod8zuJ9r

— John Achterberg (@1JohnAchterberg) November 24, 2016
best all round midfielder of my time, all the best with the next chapter what ever it may be skip! #SG8 #YNWA pic.twitter.com/aAJEGxulbr

— Danny Ward (@dan_ward52) November 24, 2016
Steven Gerrard Congratulations on an amazing career. A player I respect on and off the field. One of the best players I've played against ?? pic.twitter.com/Q5zFmMeVhs

— TIM CAHILL (@Tim_Cahill) November 24, 2016

https://twitter.com/DjibrilCisse/status/801760023919677440
Hoy anuncia que se retira una leyenda del fútbol! Un líder dentro y fuera del campo, enorme Steven Gerrard! pic.twitter.com/CjX3dn2bLB

— Iker Casillas (@IkerCasillas) November 24, 2016
Se retira un futbolista total y gran ejemplo para el fútbol.
It's good to be on your team. ?
You'll never walk alone.#StevenGerrard pic.twitter.com/u68rtZbgLk

— Sergio Ramos (@SergioRamos) November 24, 2016
I've always said I would have loved to play with this man Steven Gerrard. What a legend and what a career. #Respect #Leader pic.twitter.com/ZcKWLjpoE9

— Thierry Henry (@ThierryHenry) November 24, 2016
Steven Gerrard ???

— Grzegorz Krychowiak (@GrzegKrychowiak) November 24, 2016
Stevie G.. One of Liverpool's best ever players. Nothing he couldn't do on the pitch,Magnificent career. Great guy to go with it ??

— John Hartson (@JohnHartson10) November 24, 2016
Congratulations Stevie G on a fantastic career @LFC and at @England you are a great mentor for young players to follow #truelegend

— Ray Clemence (@RayClem1) November 24, 2016