A peripheral figure so far this season, Daniel Sturridge made the telling impact as Liverpool sealed a 1-0 win over Everton on Monday night.
The Reds continued their push for the Premier League title with a priceless victory in the Merseyside derby at Goodison Park, with Sadio Mane netting the winner in stoppage time.
In the 227th clash between Liverpool and their city rivals, and their 112th away from home, Jurgen Klopp's side continued a tradition of dominance over Everton; now unbeaten in their last 13 meetings.
The Toffees' last win in the derby came in 2010, and the career trajectory of one of their substitutes that night, Shkodran Mustafi, serves to highlight their plight ever since.
Since Everton last beat Liverpool, Mustafi has made 151 senior appearances for Sampdoria, Valencia and Arsenal, earned 15 caps for Germany, accumulated over £40 million in transfer fees and won the World Cup.
However, it hasn't always been easy for the Reds, as seven draws in that 13-game unbeaten run proves—and this was the case on Monday night, with Sturridge's intervention proving vital.
Domination, But No Cutting Edge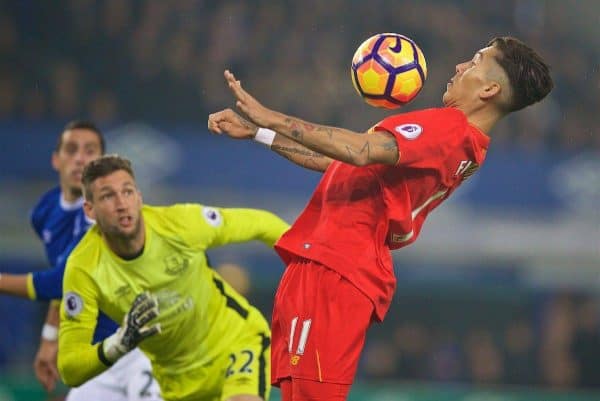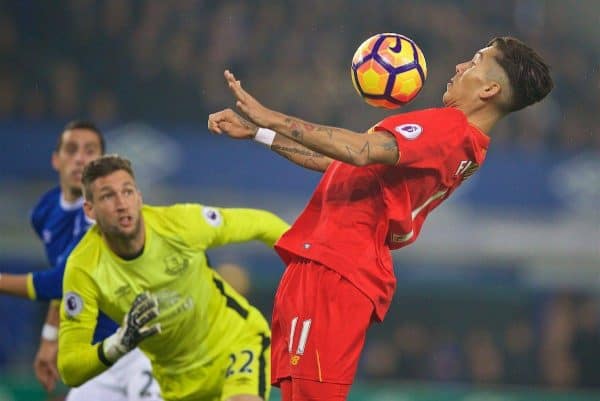 Liverpool's tactical approach has taken a positive shift under Jurgen Klopp this season, with the Reds adopting a heavier focus on possession, accentuating their pressing game.
At Goodison, they recorded their 11th game of the Premier League campaign with over 60 percent of possession, seeing 67.7 percent of the ball, while they completed 82 percent of their attempted passes.
However, while they were camped in the final third for much of the game, the Reds struggled to create clear-cut chances—a pitfall endured by Mustafi's new club, Arsenal, over the years.
Adam Lallana, Roberto Firmino and Divock Origi all struggled, with the latter pair in particular missing some promising openings as the contest looked set to fizzle out as a 0-0 draw.
With the clock ticking down in the second half, Liverpool looked to set to make it their sixth league game with less than 60 percent of the shots on goal.
As their last game before Christmas, failure to win at Goodison will have spread gloom over the red half of Merseyside, with headlines no doubt focussing on their dwindling title hopes.
That was until Sturridge's introduction, however, with the 27-year-old coming on to change the landscape of the game.
Sturridge's Impact at Goodison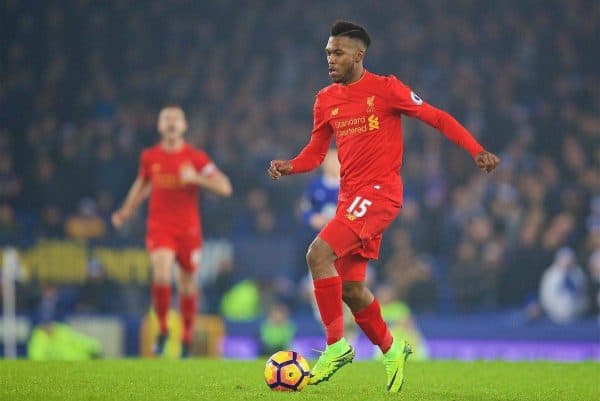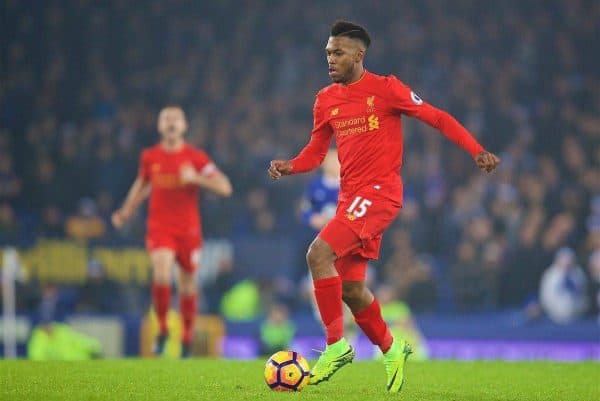 That Sturridge was named in Klopp's matchday squad came as something of a surprise in itself, with the striker missing since November 26 with a calf injury, and only returning to light training shortly before the trip across Stanley Park.
Unlike Emre Can, also recovering from injury, Sturridge wasn't pictured with the squad arriving at the team hotel on Hope Street on Monday afternoon, sparking ire from a despondent support.
Nevertheless, Sturridge made the cut, and replacing Origi on 82 minutes, he was there to make an impact.
Taking up Origi's central role in Klopp's 4-3-3, Sturridge was tasked with aiding his side's push for an unlikely winner, and it took just 12 minutes for him to turn the tide.
His shot, rebounding off Joel Robles' far post for Mane to tap in, was far from unstoppable, but it was certainly game-defining; and it served to represent his performance on the whole: muted, but effective.
Sturridge has made the fifth-most shots on target of any Liverpool player in the Premier League this season (9), despite playing the third-fewest minutes (387) of any regular, with this will to test the goalkeeper a crucial quality.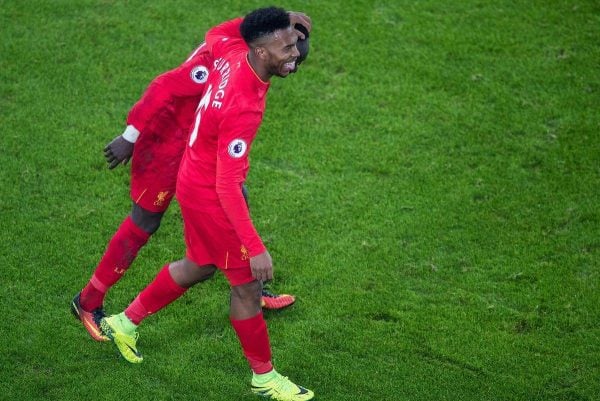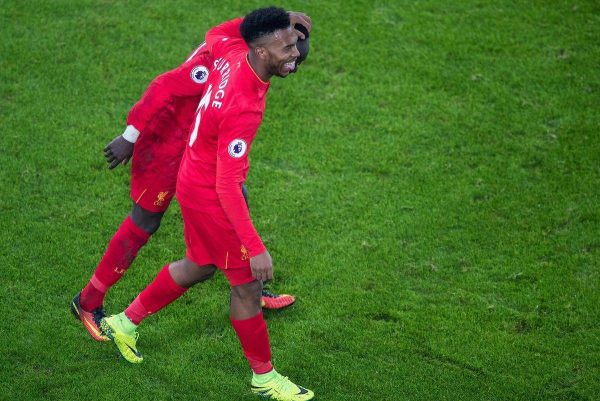 In the 82 minutes before Sturridge came on, the Reds had seven shots on goal, and in the 17 after that, they had four.
This saw their average of 11.7 minutes per shot before Sturridge came on rise to 4.3 minutes per shot, with Klopp finally witnessing a change in emphasis in the final third.
With Sturridge, Liverpool's possession also increased slightly, from 67.3 percent to 69.5 percent, but it was their improvement in front of goal that highlighted his impact on the game.
In short, Liverpool needed someone to counter their static possession game and have a go at the goal—and since joining club in 2013, that has been Sturridge.
Vital to the Title Race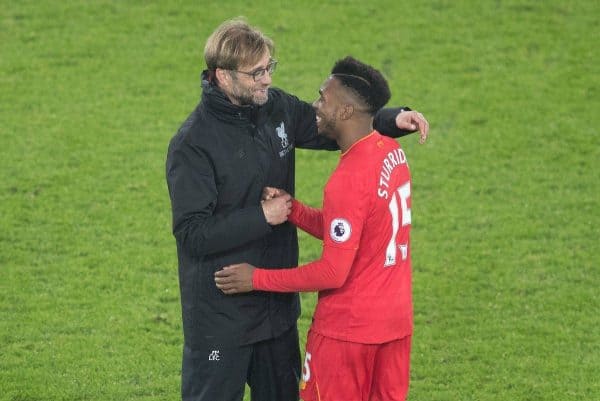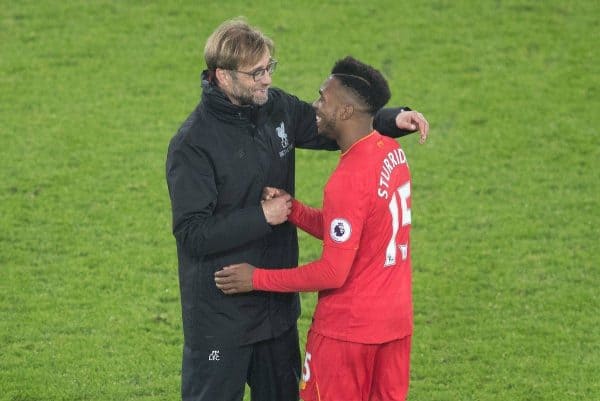 "When you have Daniel Sturridge on the bench you always think about when can we bring him in? Is he ready for this?" Klopp told reporters after the game.
"Because it's not usual that after two sessions a player can really help you, but he helped us a lot tonight.
"In a very difficult game, he could make the difference in this moment."
The German was clearly enthusiastic about the prospect of bringing Sturridge back into the fold, and with the No. 15 responding with an influential display, this served to once again undermine accusations of a lack of commitment during his injury problems.
Sturridge made the impact, and ultimately helped reduce the gulf between the Reds and his old club, Chelsea, at the top of the Premier League table.
Liverpool can celebrate Christmas safe in the knowledge they are now just six points behind the league leaders, and with their attacking options increasing, this title tussle is set to continue.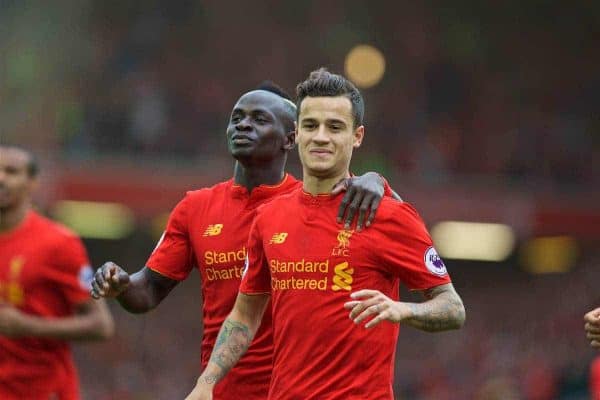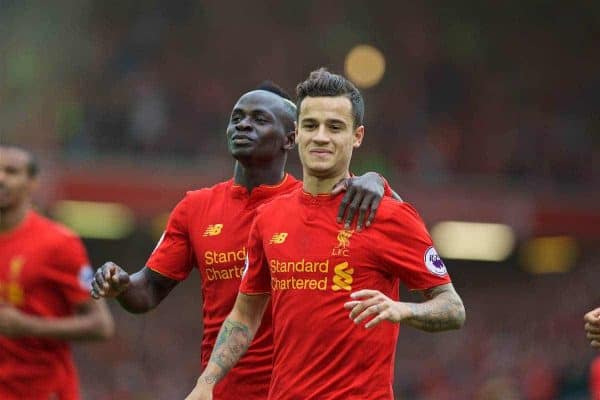 Not only is Sturridge back in action, but Philippe Coutinho returned to light training at Melwood on Monday—the Brazilian has made the second-most shots on target for Liverpool this season (17).
Neither Sturridge or Coutinho are shy in front of goal, and this will be a major boost to the Reds in the second half of the season.
With Mane set to depart for the Africa Cup of Nations in January, suggestions that Liverpool should sell Sturridge become increasingly bizarre, as he will certainly be needed.
He may not be Klopp's first-choice centre-forward—that, evidently, is Firmino—but he remains an invaluable player on Merseyside, and if Liverpool are to challenge for the title, his input will be key.