Liverpool manager Jurgen Klopp is remaining calm as his side experience their first wobble of the season.
The Reds have taken just five points from their last four matches with a defeat to Bournemouth and a home draw against West Ham their last two outings.
That has seen them slip from top of Premier League in early November to six points off the pace set by Chelsea and it has impacted on confidence, certainly from a defensive point of view.
Klopp accepts there is little he can do in the way of major changes with their next match coming on Wednesday at Middlesbrough.
"A lot of things to analyse but it's only two days until the next game, so we cannot make the biggest analysis," he said.
"We have to adjust, do a few things, and make little changes and then we are in the next game, that's how it is.
"So, a lot of work to do but not a lot to say because we are still on a good way.
"We had two games which we should have won but we didn't, that cost us five points but it's our mistake, let's carry on, take the good things and sort the not-so-good things."
---
Fifth-placed Tottenham are only four points behind but Klopp is paying no attention to the table just yet.
"Around the last 10 games you need to be in a position to fight for something," he added.
"I think we have showed we need to be in a position in the table at the very top because we are good enough to be there.
"Only the teams who are there can fight for the very special things in these moments.
"If the gap is getting bigger because of our results, it's our fault, but we don't think about the distance between us and other teams—we only think about the next game.
"And hopefully in a few weeks everything can change in both directions.
"Why should I think about only one direction? It's all good in the moment."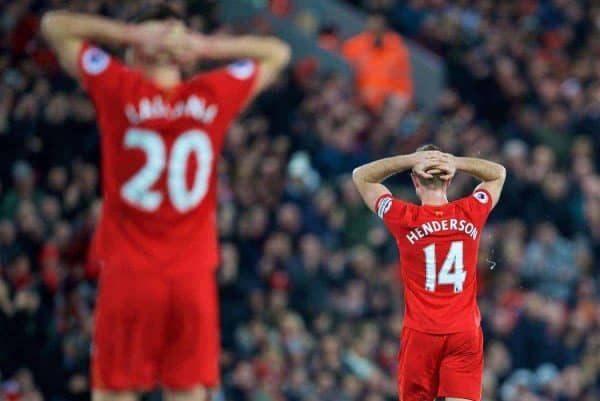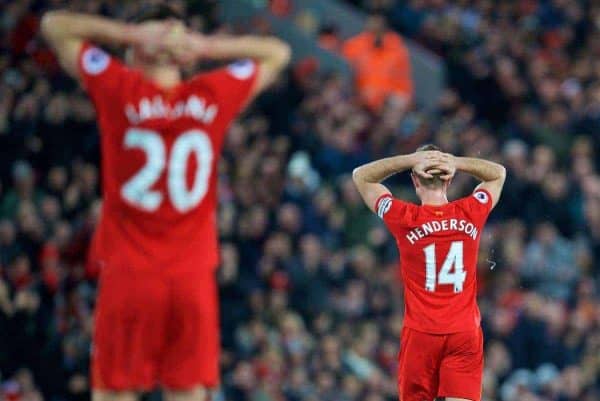 Klopp admits his side have been guilty of overloading the attacking emphasis at the expense of the defensive side.
It is something he wants to address but expects his players to recognise when the right time is to rein in their offensive intent.
"It looks like we feel we are only good when we can make high pressure but it is not true," he said.
"It is a question of rhythm and balance; the rhythm is good but the balance was not too good in the last two games in different moments.
"We are a real good football-playing side but it is always about the balance of risk and protection.
"We did well but balance-wise not well enough, that is what we took from the last two games.
"We need to be protecting, especially when you are in the lead there is absolutely no reason for taking the highest risk.
"You still want to play with a clear direction but not with seven players in one role, that makes no sense.
"We have too many players in the first line so while we still create many chances like this it is a little bit risky.
"That is what we have to adapt now. We know what we have to work on but that does not mean it works immediately in the first second."