Liverpool forward Roberto Firmino is now settled and happy at the club, and is looking to become a long-term fixture at Anfield.
Firmino has come a long way from his first months at Liverpool, where he was fielded as a wing-back by Brendan Rodgers following his £29 million move from Hoffenheim in 2015.
The Brazilian is now a star turn in Jurgen Klopp's title-challenging side, establishing himself as the Reds' first-choice centre-forward.
There may be fears that Firmino could eventually leave Merseyside, as there are with his compatriot Philippe Coutinho, who is regularly linked with a move to Barcelona.
But speaking to Liverpool FC magazine, the 24-year-old has insisted this is not the case, saying "I love it here and plan to stay for many years."
"I think I have had to change the way I play. I was adapted to European football after playing in Germany for three years but English football is very different to the Bundesliga," he said.
"You really notice that the Premier League is much, much faster.
"The pace is very high and you do need to adjust, but this is a type of football that I enjoy.
"Being really honest, I love it here and plan to stay for many years in the future as the Premier League is really competitive and tests you all the time."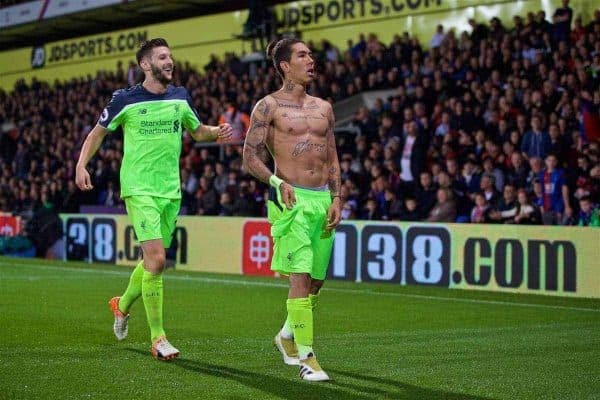 Underlining his commitment further, Firmino stressed that, after a career spent shifting through positions from defence and attack, he is willing to play any role for Klopp's Liverpool.
He is currently serving as a left winger in Coutinho's absence, but he looks most at home as a No. 9—and as he explained, this is his preferred position.
"When I was younger I played as a right-back. I also played as a central defender but I realised that I could dominate the ball quite calmly," Firmino continued.
"So I started playing further forward in front of the back four
"After a while I thought that I was quite offensive so when I was 17 or 18, I started playing a more forward-thinking midfielder.
"That's how I eventually ended up playing in the areas like I am today.
"If it depended on me, I would play in every corner of the ground because that's the type of player I am! But obviously it alters depending on the needs of the team.
"At the moment, I am playing up front but I can play anywhere the manager asks me to.
"My preference is to be inside the area, near where the goals are scored—that's my preference!
"But my main aim is to be helpful to the team in achieving what we need to achieve."
Firmino will be central to Liverpool's efforts win the Premier League title, and both the FA Cup and the League Cup, this season, and this is likely to continue up front.
Klopp has a phenomenal talent on his hands in Firmino, and supporters can be relieved to hear he's here to stay.