The watching media felt Liverpool made a welcome return to impressive form and praised Adam Lallana's performance in their 3-0 win at Middlesbrough.
Jurgen Klopp's side got their Premier League title charge back on track in clinical fashion with a dominant display at the Riverside Stadium.
A brace from the excellent Lallana and a composed finish from Divock Origi sealed an important three points for Liverpool, who leapfrogged Arsenal to move into second place in the Premier League.
After a patchy period of some frustrating results, it was important Klopp's side rediscovered winning form ahead of a tough Christmas period, and they did just that with an impressively accomplished team performance.
Klopp can certainly be pleased with the efforts of his depleted side, and here is what the watching reporters made of a successful night for the Reds.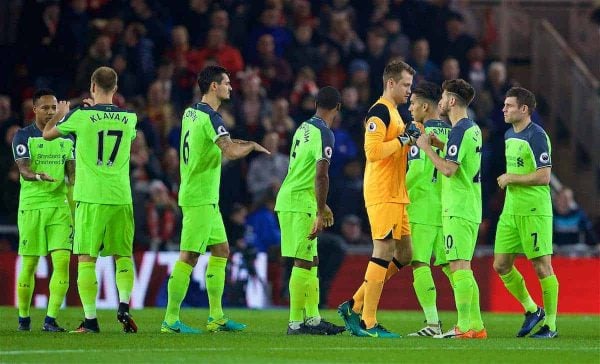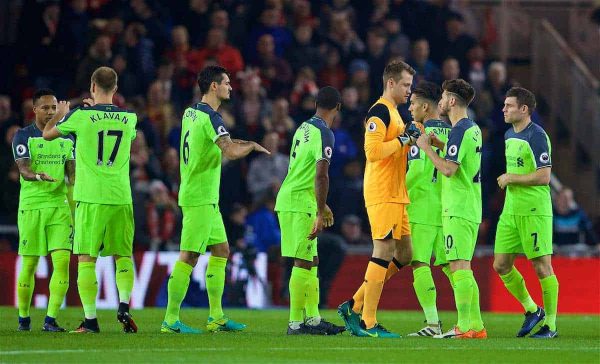 Reporters were impressed by the dominance of Liverpool's performance, and felt the Reds made a welcome return to the form that inspired their early season success.
The Liverpool Echo's James Pearce assessed a return to the "swashbuckling Liverpool":
"This was the swashbuckling Liverpool who demolished opponents before the international break and the cruel loss of Philippe Coutinho to injury wrecked their momentum. Welcome back."
The Mail's Dominic King praised the control and ruthlessness of the Reds' display:
"So dominant were the outfield players, so totally in control and ruthless when the chances came, it made no difference who was standing between the posts at Middlesbrough."
Melissa Reddy, writing for Goal, was impressed with the Reds' attacking play, noting how Liverpool "had their dazzle back":
"Klopp complained of systematic issues and the balance being off, but that was not the case here.

[…]

"With Sadio Mane the creator supreme, Roberto Firmino going again and again, Divock Origi menacing and Adam Lallana absolutely luminary, they had their dazzle back with those behind ensuring the artists had the platform for a masterclass."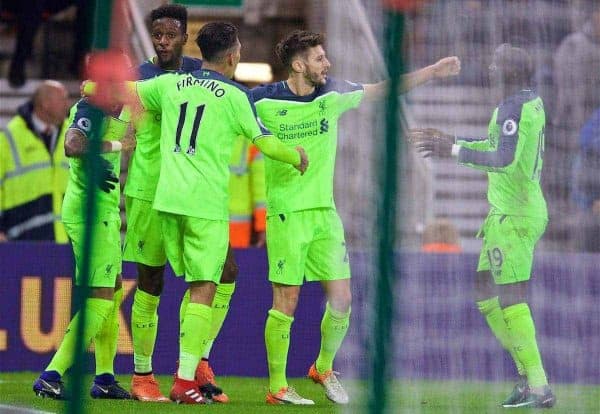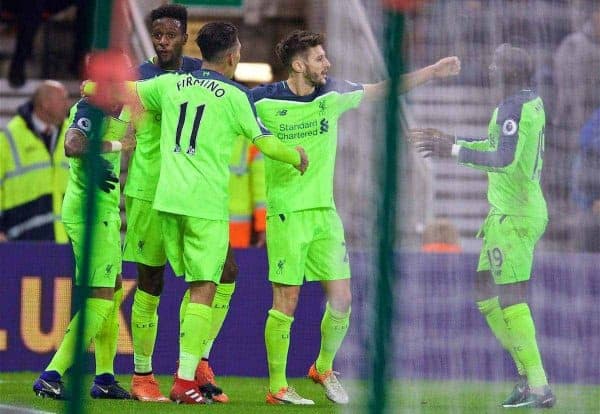 The Telegraph's Luke Edwards labelled Liverpool's football "a joy to watch":
"Middlesbrough held their own in the first half, but some of Liverpool's pass-and-move football was a joy to watch and the way they moved through the gears in the second half was like a sports car pulling away from a family saloon."
For ESPN, David Usher credited Klopp's half-time tactical switch to move to a more direct approach, which paid dividends in the second period:
"That decision paid off, as did the tactical adjustment he made at half-time that saw his side play much more direct at times. That approach worked a treat as the pace of Sadio Mane and Divock Origi wreaked havoc and allowed the Reds to carve out numerous chances."
The Independent's Michael Walker thought the win was the "ideal" preparation for the Merseyside derby showdown:
"The points and the goals lifted Liverpool above Arsenal into second place. It was an ideal way for Liverpool to prepare for next Monday's Merseyside derby."
However, Usher felt one negative of the performance came with Liverpool's lax finishing:
"Some of the finishing left a lot to be desired as realistically this should have been at least five or six, but when you do your job defensively you can afford a miss or two at the other end."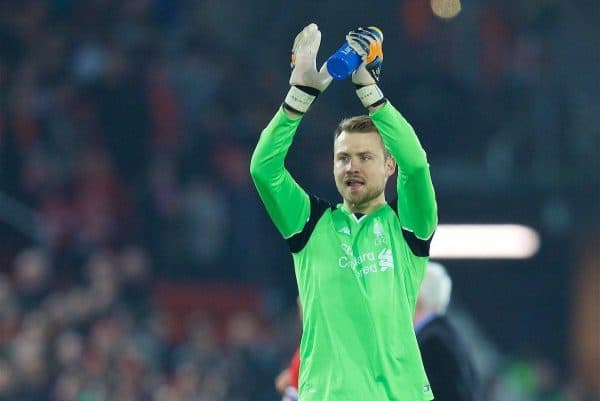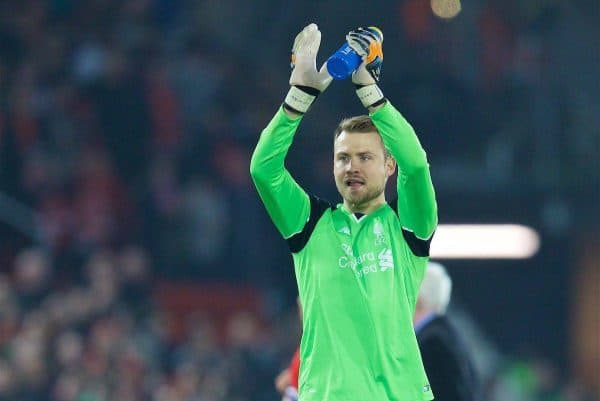 After Klopp made a big call to drop Loris Karius and reinstate Simon Mignolet, reporters discussed the implications of the boss' decision and the Belgian's display at the Riverside Stadium.
The Mirror's David Anderson felt the decision proved Klopp is not fazed by having to make big calls:
"Klopp did not shy away from dropping Loris Karius, despite his faith in the young German goalkeeper. He knew the smart thing was to take him out of the firing line following his recent blunders against Bournemouth and West Ham.

"Karius's poor form was beginning to effect the rest of the Reds' defence and Klopp has shown he is decisive by acting."
King felt Klopp had to act, with Karius' displays contributing directly to Liverpool losing momentum in the title race:
"Karius came under fire because his performances were not of the required standard and he had cost a team with ambitions joining the title race priceless points.

"Given that Chelsea are setting a relentless pace and showing no signs of stopping, Klopp had to act."
Usher believed Klopp made the right call:
"Jurgen Klopp could have been stubborn and persisted with Loris Karius just to spite the young goalkeeper's critics, but common sense prevailed and Klopp did the right thing by recalling Simon Mignolet."
Pearce praised Mignolet for a "calm and assured" display under big pressure:
"One of the big complaints about Mignolet over the past three years has been a failure to command his penalty box but not even his fiercest critic could complain on that front here.

"The keeper was calm and assured throughout—spreading confidence rather than panic."
Echo colleague Kristian Walsh felt Mignolet's performance laid down a marker for the battle of the Anfield 'keepers:
"In an assured, confident performance, Mignolet has thrown down the gauntlet to Karius. The young German will have some job to displace him on this form."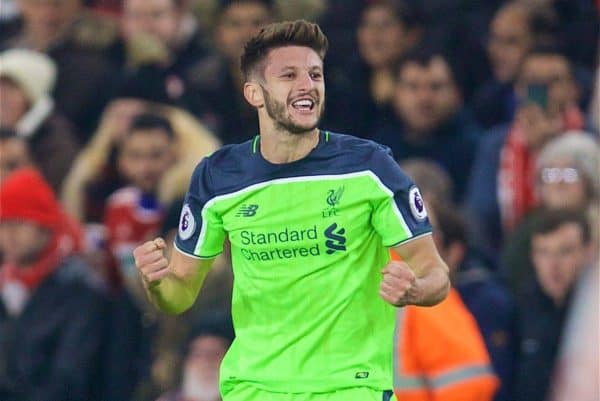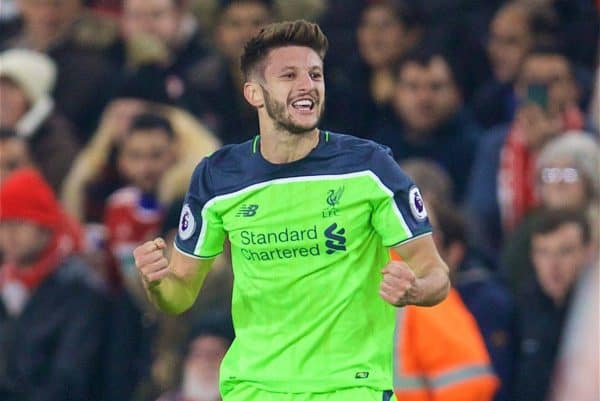 After leading the Reds to victory with a dazzling display with two goals and an assist, Lallana earned plaudits in post-match reports for a fantastic performance.
Usher labelled Lallana's display "outstanding" and feels he has been Liverpool's best player this season:
"Scored two goals and created another, but that doesn't tell the whole story. He was outstanding, popping up all over the pitch and rarely wasting a pass. He even got back to make a key block to deny Adam Forshaw when the game was finely poised at 1-0, and all in all this was a brilliant performance from a man who has probably been Liverpool's best player this season."
Walsh focussed on the transformation in Lallana's end product:
"He grafts, he sprints, he pirouettes—but there is a genuine, tangible result at the end of it.

[…]

"And he is doing it now, at a time when the Reds need all three of those to continue their title challenge."
On a night of numerous impressive individual performances from the Reds, reporters offered their thoughts on the performances produced throughout the team.
ESPN's Nick Ames was impressed by Origi, who he feels is developing well:
"Origi, whose scoring streak began last month when he prised open Sunderland's defence late on, has had a career of fits and starts at Liverpool but is still just 21 and there are encouraging signs that his game is developing significantly."
Pearce feels Origi's form should see him lead the line at Goodison Park:
"After a difficult start to the campaign, the young Belgian striker has gone from strength to strength.

"In the absence of Coutinho and Daniel Sturridge, Origi has stepped up and has earned the right to lead the charge in the derby at Goodison."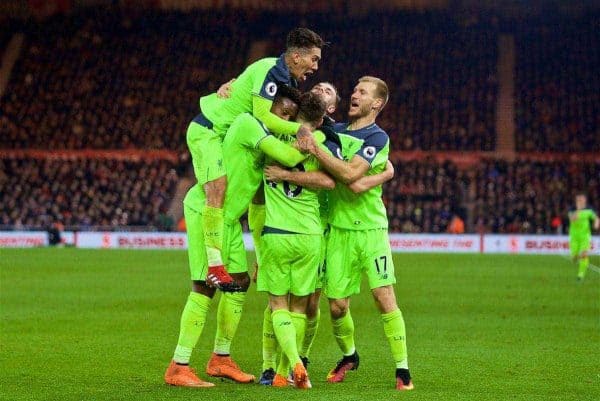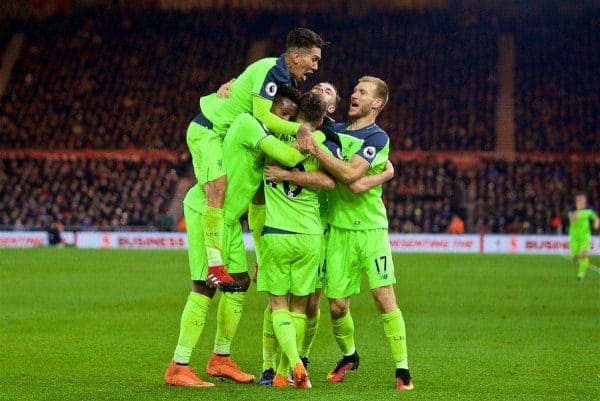 Pearce also heaped praise on "defensive leader" Lovren:
"At Bournemouth recently Lovren floundered without the calming influence of Matip alongside him, but at the Riverside the Croatian was the defensive leader Klopp required."
Meanwhile, Walsh feels Sadio Mane's needs to offer greater consistency in performances:
"In the absence of Philippe Coutinho, there is pressure on those still available to shine.

[…]

"But Mane hasn't done enough to fill that gap on a consistent basis. Maybe it is because of no Coutinho he is receiving less space.

[…]

"With Everton and Manchester City coming up, he'll need to show more consistency than tonight."