With 2016 now over, and a new year just begun, it's worth reflecting Jurgen Klopp's impact on Liverpool over the last 12 months.
It's easy to be frustrated with Monday's 2-2 draw with Sunderland, but let's remember that we've played 20 league games this season, winning 13, drawing five and losing just two—both which we should have won. We've scored an incredible 48 goals, and conceded an admittedly not so great 23. We're clear in second place in the league.
Compare that to where we were at exactly the same stage of last season.
Played 20, won eight, drew six and lost six. We had conceded one more goal (24) but had scored a miserable 22. We were eighth, with 30 points, a massive 14 points fewer than we have right now. A goal difference of -2, 12 months ago, is +25 today. We were a point behind Crystal Palace and two behind West Ham back then.
At home we had won four, drawn three and lost two. Scored 11, conceded 11; 15 points from nine games; goal difference, zero. In contrast, our home form this season is: played nine, won seven drawn two, lost none, scored 26, conceded seven. Twenty-three points from nine games and a goal difference of +19.
Fortress Anfield is back. We are unbeaten in 24 home games with the last defeat coming against Stoke City in the League Cup on January 26—a tie we won on penalties anyway.
In the last 22 games in all competitions we have lost just one. It has been our second-best ever 20-game start to a Premier League season, just a point fewer than 2008/09. Our current points total of 44 would have seen us two points clear at the top of the tree at this exact stage last season.
Times are good; very, very good. We've played every one of the top six, winning three and drawing two. Chelsea, Man City and Arsenal have lost only nine of their combined 58 games. We are responsible for three of them.
There is undoubtedly one major factor behind this quite remarkable turnaround. And that is Jurgen Klopp.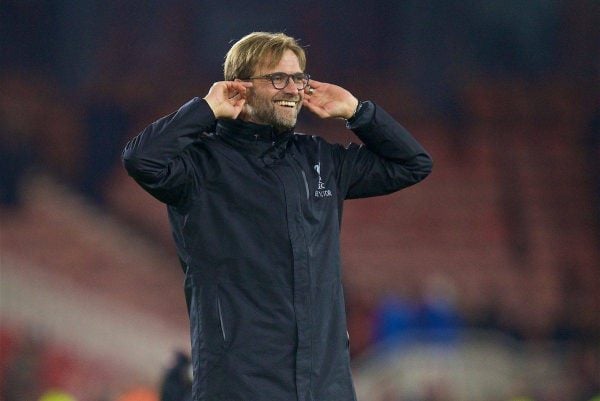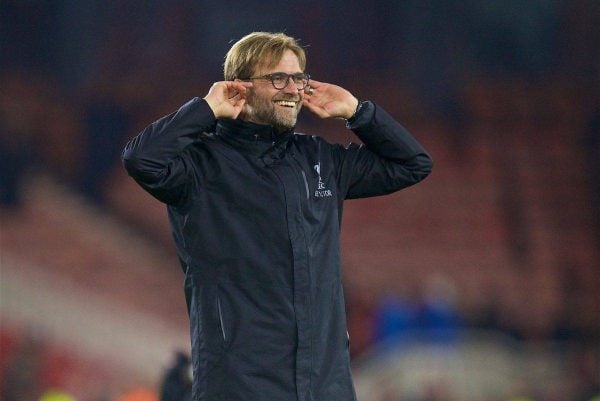 This is a man who was born to manage Liverpool. Everything about him 'fits' what makes our great club different and better than the rest. He's charismatic, diplomatic, enigmatic. He's fair, tough, manic, slightly nuts and impossible to dislike. Even our arch rivals begrudgingly respect him. And he hates losing.
He has transformed the club from top to bottom with an approach quite revolutionary in the modern era. Normally when a new manager arrives, predictability follows, i.e. ship out a host of "someone else's" players and bring in a host of nice new expensive shiny ones.
Spend a fortune to show just how much you're upgrading the team. Even us fans are programmed to believe that is the way it'd done now.
He did ship out some players. The likes of Christian Benteke, Mario Balotelli and Jordon Ibe didn't fit the mould. Martin Skrtel and Kolo Toure were past their sell-by date. Joe Allen was perhaps good enough, but not quite high enough in the pecking order. Mamadou Sakho was the engineer of his own downfall with his antics.
Klopp's actions were decisive and ruthless. It became clear very quickly this was a manager not to be messed with.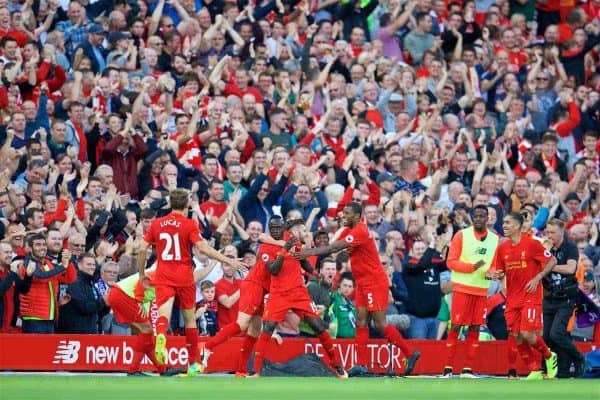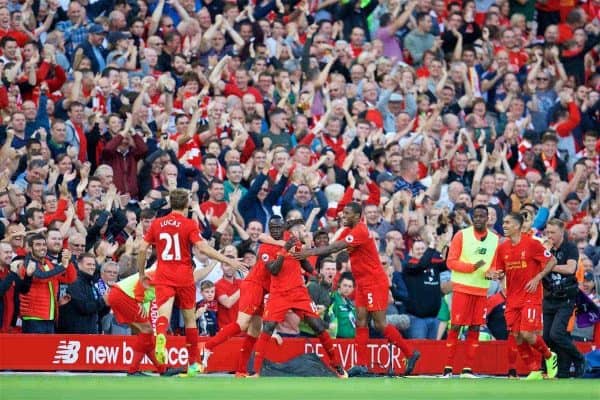 He has also been exceptional so far in the transfer market. His eye for the 'right' type of player has been demonstrated on the field. Joel Matip, Gini Wijnaldum and Sadio Mane have all been integrated seamlessly into the first team and each are essential first-choice cogs in the relentless, high energy, Klopp machine.
Mane has been a key provider of goals, assists and highly effective in his all-round play as part of the forward triumvirate. He will be missed in January.
Of all his signings only Loris Karius has thus far disappointed, but it's far too early in his development to write him off. Klopp has achieved all of this while making an incredible £6 million profit in his summer dealings.
But equally as impressive has been his effect on the players he inherited, and it's worth looking at three in particular.
In-House Improvements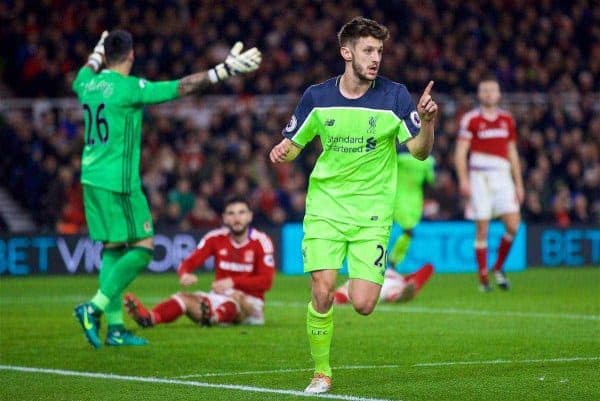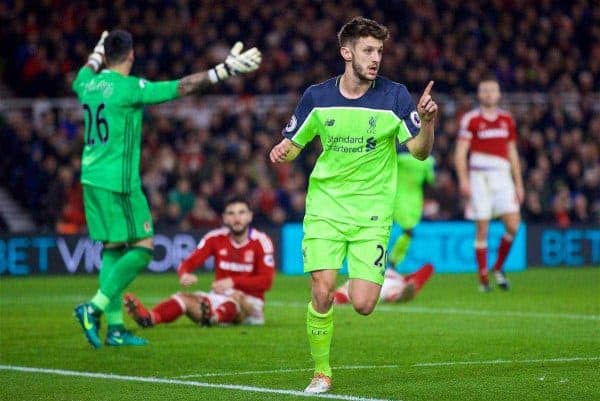 A player I was genuinely excited about when we bought him had completely lost his way under Brendan Rodgers.
His displays could be categorised as consistently timid, lightweight and ineffective. A player of great technical excellence was Cruyff-turning many fans against him.
His transformation under Klopp has been nothing less than astonishing. Klopp figured out the perfect role for his particular skill set in next to no time.
Lallana is currently my choice for Player of the Season: he's a delight to watch, and he's added goals and assists to a work rate and an influence apparent all over the pitch.
It's hard to remember a player with Lallana's balance, grace and skill since the days of Steve Heighway, John Barnes and Kenny alglish, and that is praise indeed.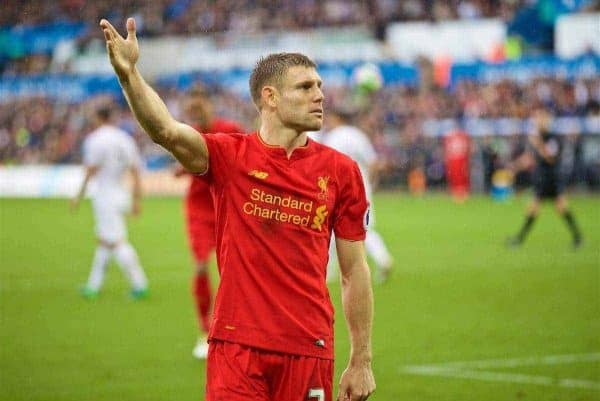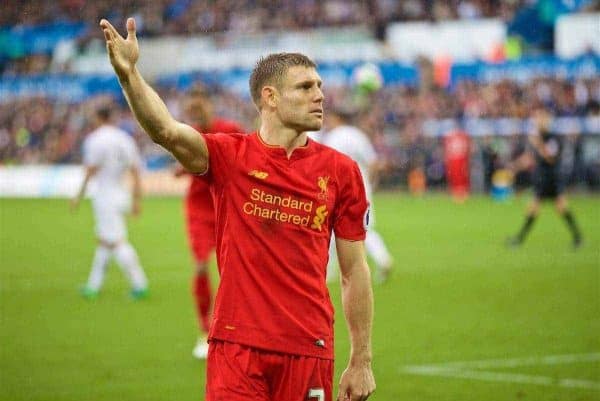 As much as Milner has the well-earned reputation of a grafter and an 'honest pro' he doesn't really offer the goalscoring and creative threat required in a quick, interchanging, fluid Klopp team.
But Jurgen knows a gem when he sees one, and Milner's transformation to one of the best—if not the best—left backs in the division has been another Klopp masterstroke.
With every passing week, he's improving in the role, adding an attacking threat that surprisingly eclipses that of his previous, more advanced position.
He's one of the first names on the teamsheet, and our penalty taker extraordinaire.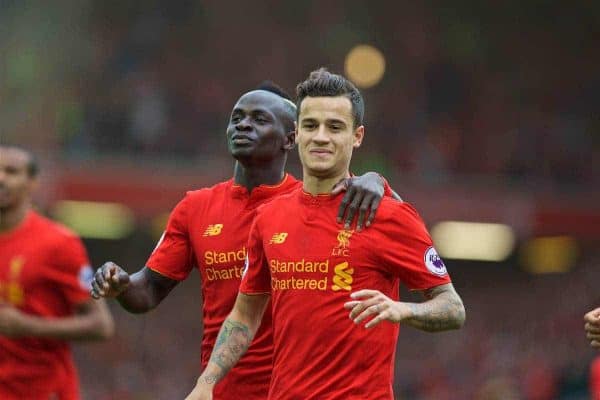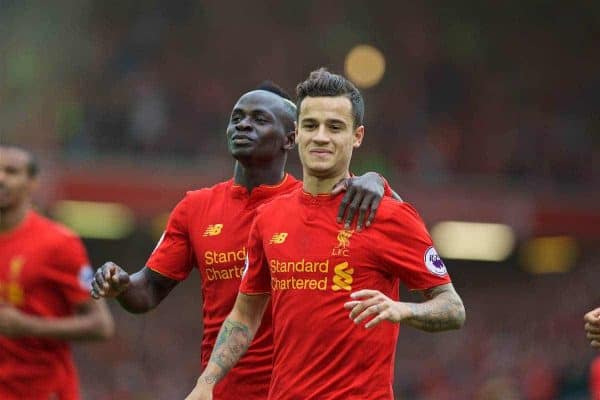 Our little magician has been Player of the Year for two seasons running, yet he's managed to elevate his performance even further.
Up until the arrival of Klopp, Phil was a one-goal-in-seven player (10 goals in 68 league games from 2013 to 2015). He's now scoring a goal every three games (13 in his last 38).
His partnership with fellow countryman Roberto Firmino continues to blossom, and is a double act of great attacking potential. He's very much missed at the moment, but will hopefully be back fresher and stronger for the vital run-in.
From a precocious talent, he's developed into a fully fledged superstar.
Addressing Weaknesses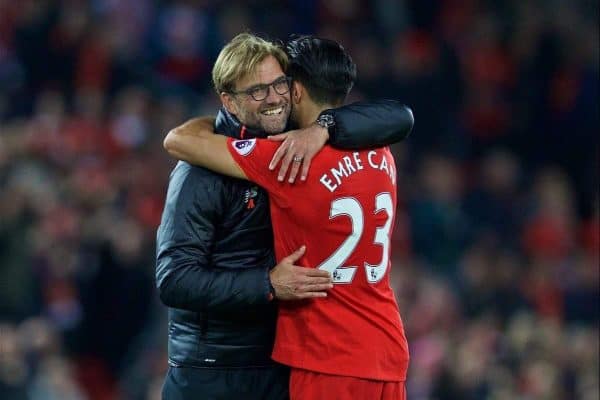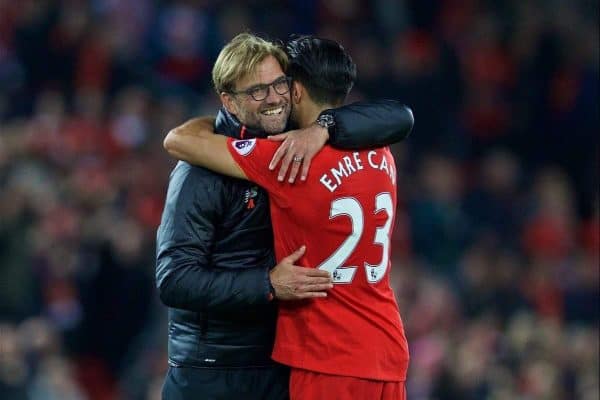 One of Klopp's other major talents is his ability to spot a weakness and have the guile and man-management to deal with it.
There are multiple examples of this. Sakho we've already mentioned, but he's also had to make numerous other big calls regarding the likes of Karius, Simon Mignolet, Alberto Moreno and Daniel Sturridge.
Sturridge is under no illusions that to be first choice you have to earn it. He knows Klopp requires both mental and physical toughness. He knows that unless you're a team player with the right work ethic you won't play for this team. Sturridge's recent performances suggest the penny has dropped.
Moreno's tactical and positional indiscipline in the role was immediately identified by Klopp and dealt with after several high-profile mistakes. He's not been first choice since. His cameos now are just as likely to be in midfield than defence. I think it's clear that unless there is significant improvement in his performance level, his days as a Liverpool player are numbered.
Mignolet is another whose performances were substandard over a very long period of time, yet he continued to retain his place irrespective of performance level. A top goalkeeper can be the difference between success and failure and Mignolet's performances weren't to the required standard.
Klopp moved to address this by immediately and ruthlessly installing Karius as first choice as soon as he was fit. This time, his bold decision didn't work as Karius made a host of high-profile and costly errors.
While many managers would be too stubborn to re-address it, not so with Klopp. Mignolet was reinstated. The wake-up call seems to have worked though, with Mignolet's recent performances arguably his most consistent displays over the last few seasons.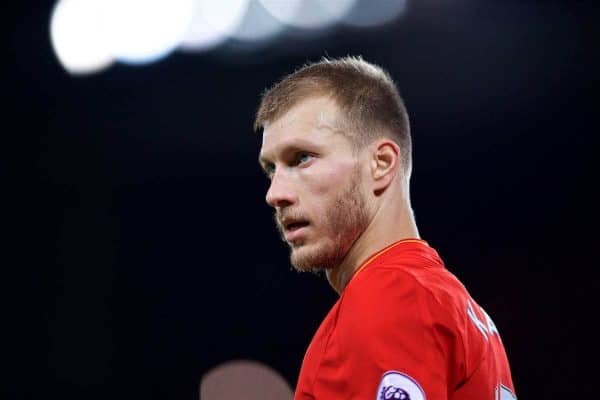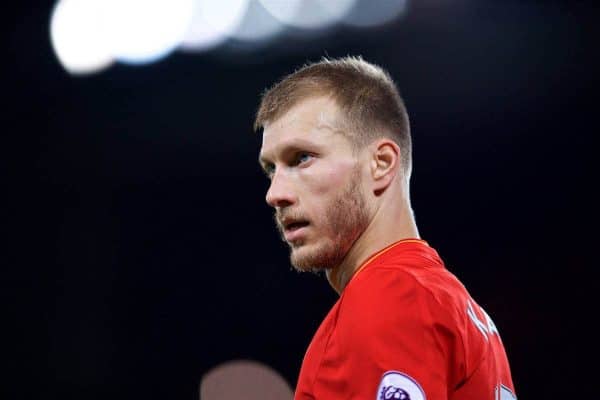 There was one other interesting player-management decision Jurgen made recently. Against Bournemouth, with Joel Matip injured, he surprisingly chose Lucas Leiva to partner Dejan Lovren in central defence rather than Ragnar Klavan as he had done OK there in some prior cameos and had gained the manager's trust.
But Lucas, for all his attributes, is not a central defender. When the heat was turned up against Bournemouth, the defence melted, and while I'm in no way going to single out Lucas for the capitulation, it was glaringly obvious that when a solid, composed, street-wise centre half was needed to deal with an onslaught, he was not that player.
It's not a surprise that Lucas hasn't played there since, and Klavan has consistently been chosen ahead of him in the centre-back pecking order.
All managers make mistakes—it's Klopp's ability to admit and address them that sets him apart. And yet, not once has he publicly criticised any of these players. In fact, he's openly supported them.
In The Stands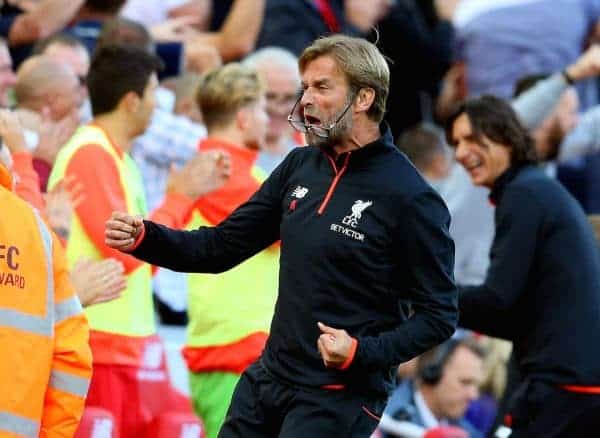 Another Klopp effect that can't be understated or underestimated has been his effect on the Anfield crowd. From letting the 'beat the traffic' crowd know his feelings about them, to the arm waving, fist-pumping 'support the players, you miserable buggers' reaction to the crowd's howls of derision after an errant Jordan Henderson pass, he's been a revelation.
As someone who has been around since the Shankly days, I can safely say that no manager since the great man himself has galvanised the entire club like this.
Klopp's approach to the game is so refreshing given the miserable buggers we get to endure in most post-match interviews. Compare Klopp's interviews—win or lose—compared to the downbeat misery and pessimism we routinely see from the likes of Jose Mourinho, Mark Hughes, Alan Pardew, Tony Pulis, David Moyes etc.
His press conferences are a joy to behold, from his "boom" and "normal one" comments of the early days to recently joking that Christian Benteke had to be sold for breaking his glasses, and Pep Guardiola had visited Anfield so he could "watch good football."
One of the moments of 2016 for me was his hysterical reaction to Lucas' hopelessly mishit shot against Everton in April.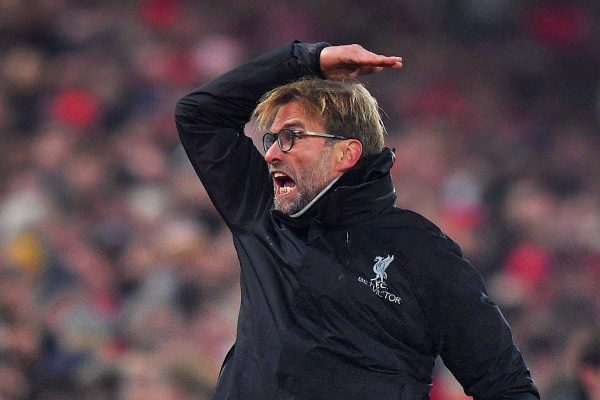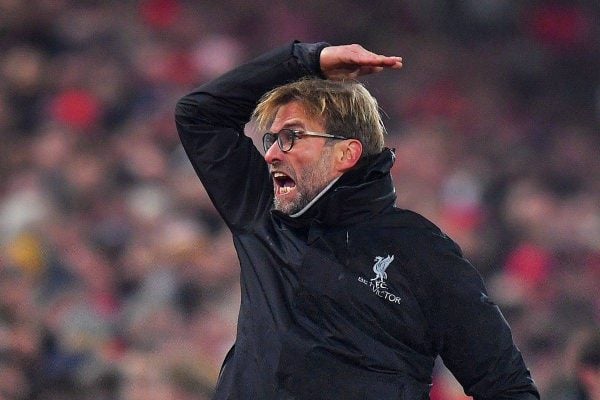 Finally, I had to end this article with what I believe has been Klopp's most essential moment so far. It goes back to one of his very first comments about turning 'doubters to believers.'
What seemed a rather innocent comment at the time has turned out to be a club-defining, self-fulfilling prophecy.
We now believe where too often we've doubted. We now expect the best rather than fear the worst.
Gone is the deflation and negativity witnessed too often after conceding a goal; gone are the howls of derision from the crowd whenever things don't go our way; gone is the unrelenting pessimism after a defeat; and gone is that football-fan habit of getting on the back of a player who is having a hard time or poor run of form and damaging his confidence further.
The wave of positivity and optimism from Klopp has translated to positive, optimistic displays and subsequent results. Players are expressing themselves, playing with a swagger and self-belief that has been instilled in them by their manager.
His man-hugs and back-slapping congratulatory approach has been criticised as cringe-worthy by some pundits, but it's a fact that recognition and appreciation from your manager works wonders in terms of morale, whatever your job.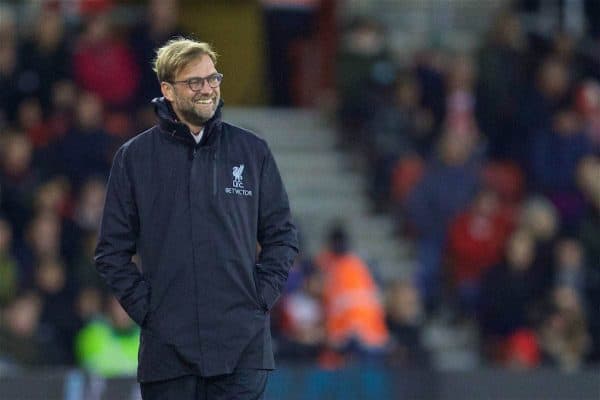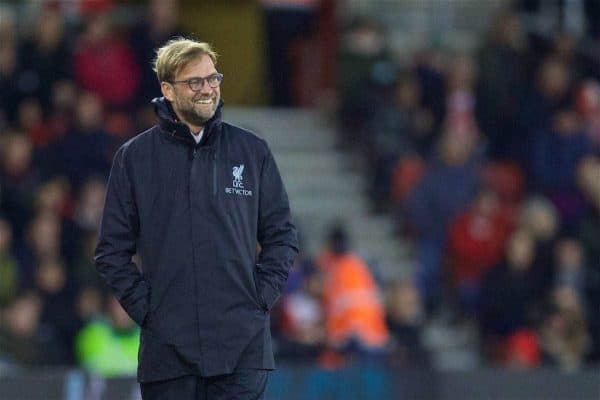 We head into 2017 in a position we couldn't have imagined 12 months ago. We may or may not challenge for the title this season; time will tell.
But let's remember it is a multi-year project Klopp has undertaken. He's merely a year into it, a year in which we have seen remarkable progress. There is no reason to doubt that given more time, we'll witness even greater results.
We're currently the second-best team in the land. With this fella in charge, it's easy to believe that we might one day go one better. Happy New Year to all Reds, everywhere.