With Sadio Mane set to miss up to eight more games for Liverpool on Africa Cup of Nations duty, Jurgen Klopp has a big decision to make.
The 24-year-old has joined the Senegal squad for the tournament in Gabon, and if his country progress all the way to the final, he will miss a significant portion of the season.
Mane is set to be absent for both legs of the Reds' League Cup semi-final against Southampton, the FA Cup third-round replay against Plymouth Argyle and a possible fourth-round tie with Wolves, as well as four Premier League games.
[quote_box_right]Liverpool's Games Without Mane
Southampton (A) – League Cup
Man United (A) – Premier League
Plymouth (A) – FA Cup
Swansea City (H) – Premier League
Southampton (H) – League Cup
Wolves (H) – FA Cup (TBC)
Chelsea (H) – Premier League
Hull City (A) – Premier League[/quote_box_right]
These come against Manchester United, Swansea City, Chelsea and Hull City, with the visit of Antonio Conte's Blues particular important as Liverpool push for the title this term.
Mane is top goalscorer and assist-maker for Jurgen Klopp's side this season, and the ex-Saints winger's pace and movement in the final third have given the Reds an unpredictability moving forward.
He will be a big loss moving from January into February, so how does Klopp build his side without Mane?
We asked a host of This is Anfield writers for their plan for Liverpool to continue their strong 2016/17 form in the absence of their £30 million star.
HENRY JACKSON: Coutinho – Firmino – Sturridge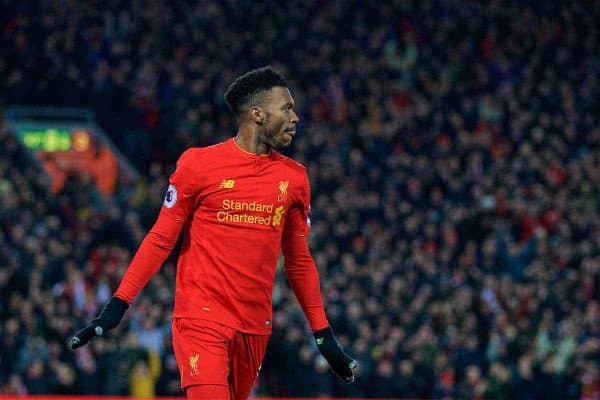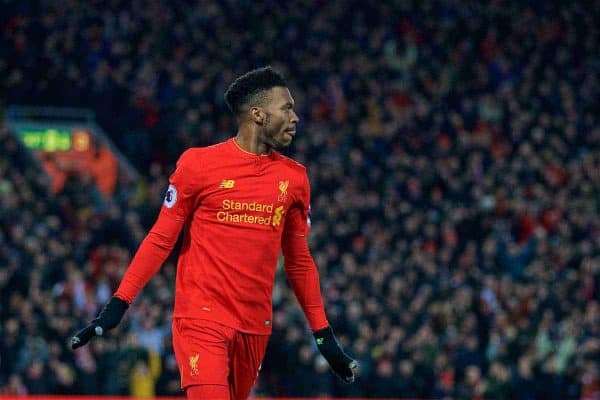 Finding a balance is not easy there—both Roberto Firmino and Daniel Sturridge are at their best centrally, but their footballing intelligence and ability to interchange would solve that issue.
I would arguably start Sturridge slightly right, with his ability to cut inside a potent weapon. It's not ideal, though.
Divock Origi has frustrated me hugely in recent weeks, and while his goalscoring efforts have been impressive, they have masked some fairly insipid all-round performances. Liverpool look far less fluent with him in the team.
Forget the whole "Origi is better suited to Klopp's style than Sturridge" argument—there's only one player opposition defences would rather face, and only one player who is more likely to produce some match-winning magic for the Reds.
Without Coutinho available: Lallana on the right
JAMES NALTON: Coutinho – Sturridge/Origi – Firmino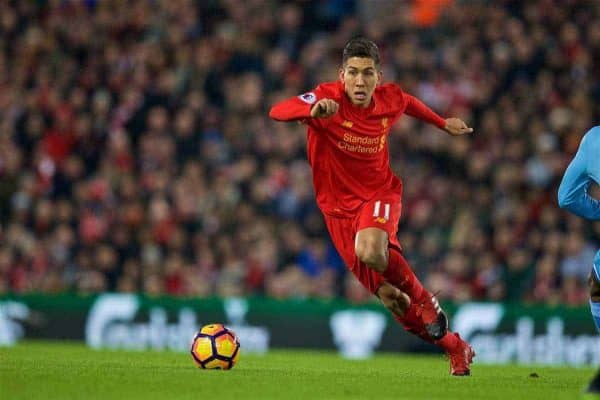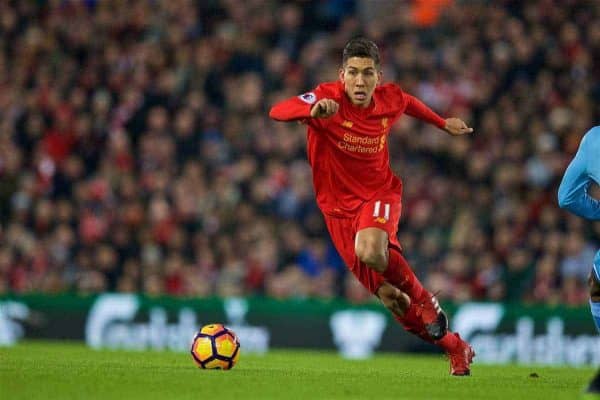 If Liverpool need a job doing then Firmino is the go-to player. He'll probably be criticised if he doesn't score or assist while out on the right, but he'll do a job for the team and create space for others.
It's also about time Harry Wilson got a look-in at first-team level, and could work well as an inverted winger cutting in from the right onto his left foot. Rotating Wilson with Sheyi Ojo on the bench for these games could be a good way for both players to get first-team minutes.
Philippe Coutinho could then come back in on the left, with Sturridge or Origi playing the central role.
Without Coutinho available: Firmino and Sturridge up front
NEIL POOLE: Coutinho – Firmino – Sturridge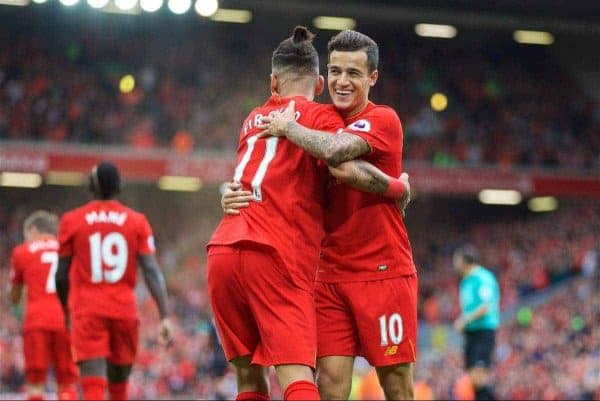 In the absence of Mane I'd opt for a front three of Firmino, Coutinho and Sturridge, with Adam Lallana playing just behind, in midfield, as he has most of the season.
The difficulty with this selection is that whilst Coutinho fits in as expected on the left of the three, either Firmino or Sturridge need to sacrifice playing in their best position and start on the right to fill the Mane-shaped hole.
The hope would be that these starting positions aren't rigid. One of the things the three have in common is they are all intelligent footballers. Therefore, I'm putting faith in Firmino and Sturridge to be trusted to respond to the needs of each game, be fluid and make this work.
I'd always put my money on Sturridge to score from anywhere, so he can begin on the right.
This allows Firmino to stay central, stick close to Coutinho and rekindle some of that early season mojo. This front three admittedly didn't work against Burnley back in August but that performance has proven to be an exception rather than a rule this season.
Without Coutinho available: Lallana on the right, Wijnaldum in midfield
JACK LUSBY: Coutinho – Sturridge – Firmino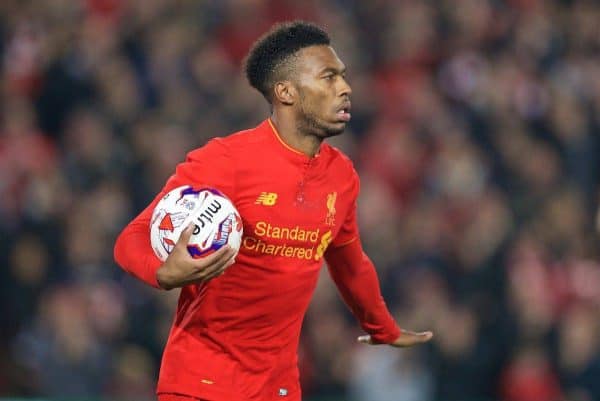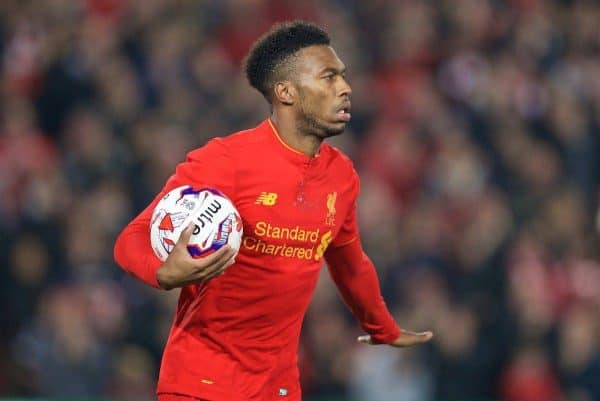 Losing Mane is a bitter blow for Liverpool considering the momentum he'd been building throughout the first half of the season, but Klopp signed him knowing he'd be without him for the AFCON, and will hopefully have provided for that.
With Coutinho back from injury, the burden of Mane's absence is lifted to an extent, but the Brazilian can't supply the same qualities in the final third as the No. 19 can.
But reinstating Coutinho to the left flank as quickly as possible, and shifting Firmino out to the right in the 4-3-3, should lend Liverpool the same unpredictability and fluidity of movement enjoyed over the past five months.
All the system needs, following on from that, is a focal point in attack, and that could be either Origi or Sturridge—but I'm opting for the latter, as I feel he should play whenever possible.
As backup options, Origi, Ojo and, as James mentioned, Wilson can be utilised when the opportunity calls, while at a push both Lallana and Georginio Wijnaldum are decent options for me.
Without Coutinho available: Diamond, with Firmino behind Sturridge and Origi
EMMA SANDERS: Coutinho – Sturridge – Firmino
Origi has done well in Coutinho's absence and has the ability to play as a wide attacker so could be a great back-up option but Sturridge has looked quite sharp since returning from injury and he remains one of the most talented players. To have him in the team as your centre forward is very helpful!
I'd go with him ahead of Origi through the middle while Firmino has played out wide for the majority of Coutinho's absence so we know he can perform there too. Coutinho would come in to replace Mane out wide as well.
Without Coutinho available: Origi – Sturridge – Firmino
BEN TWELVES: Coutinho – Sturridge – Firmino
Assuming Klopp sticks with his three-man attack in Mane's absence, Firmino on the right, Coutinho the left and Sturridge centrally would be my preferred lineup.

This trio may lack the raw pace to break opposition lines and stretch opponents that the Senegalese provides, and having Firmino on the left isn't ideal, but it brings together our most gifted and prolific attacking options.
The link-up of such quality – all intelligent, interchangeable and skillful players – could compensate for the dimension lost without Mane, and the individual brilliance each boast could prove crucial to guiding us through a potentially season-defining period positively.
Deploying Coutinho, Firmino and Sturridge together also means Adam Lallana can stay in his influential attacking-midfield role in which he has shone this season, with this vital to retaining the energy, supply and goal-threat from midfield to assist our attack.
Without Coutinho available: Firmino behind Origi and Sturridge in a 4-4-2 diamond formation.