Whatever happens this season, there is no question in my mind that Liverpool are on the cusp of a new era, writes Jeff Goulding.
Nowhere near their best, frustrated for large sections of the game and under pressure in the latter half of it, Liverpool delivered arguably their weakest performance at Anfield this season; yet they won without Simon Mignolet having a serious effort to save. He could even afford to outwit Sergio Aguero with his feet early in the first half, rekindling memories of a certain Brucie Grobbelaar in our goal.
In many ways, for all they lacked the free flowing zeal of previous home games, this was the most consummate and professional home performance of the season so far. Defensively Liverpool were sound. Much has been said of the growing partnership between Lovren and Klavan, of the tireless work ethic of Milner and the the almost understated efficiency of Clyne; but this was a masterclass all over the park, with heroes everywhere.
In midfield Henderson, Wijnaldum and Lallana were terrier-like, biting into tackles, hustling and harrying the opposition the moment they got the ball. City set out to stifle Liverpool's movement from the off and use their quality to hit us on the counter. They succeeded with the former but came up spectacularly short with the latter.

Klopp must take tremendous credit for this. This was a tactical tour de force from the boss and once again he got the better of Pep. Guardiola is a genius, a tremendous manager and undoubtedly he will turn it around at the Etihad. But, to hear him refer to Jurgen as "Maybe the best manager in the world" says it all.
There was so much nervousness in the air before the game. The crowds packed into the pubs around the ground occupied themselves, once again, by keeping tabs on how their opponents were getting on. Cheers followed by groans accompanied Chelsea being pegged back and then going in front. There were more muted responses to United's late rally. Reds are looking up these days, not down.
So many times this season Liverpool have found themselves playing catch up. The TV scheduling Gods have not been kind in this respect. So as we walked to the ground, we did so knowing that we faced yet another must win game, if we were to maintain a title push. Chelsea look relentless and all we can do is remain on their coat-tails and be ready to pounce when they slip.
The festive spirit was still evident inside Anfield for the start of the game and the pre-match anthem seems to get loud ever with each game. It is also sung slower and more hauntingly than in previous seasons, a factor that makes it more powerful and reminiscent of its earlier incarnations.
YNWA pic.twitter.com/BFHM4RJegS

— This Is Anfield (@thisisanfield) December 31, 2016
Now for a word or two on the atmosphere. There has been much written about what seems like a historic, seemingly irreversible, decline in the magic of Anfield. Yesterday rendered all such debate redundant and set a new benchmark for league fixtures. Yes it's true that the Kop still flickers into life for a floodlit game in Europe, but for a Premier League fixture it often reverts back to its brooding malcontent self.
Against City, Liverpool needed the crowd more than they have in any home fixture this season; and at long last the supporters delivered. At one point, in the second half, I turned to the lad next to me and remarked on the noise. He looked at me in wonder. "It's like the 70s" he remarked. Well maybe, maybe not, but as the Reds were weathering a storm at the opposite end of the pitch, Kopites were mustering a hurricane at the other.
So often I have had to write about how the nervousness of the crowd gets inside the players heads and causes mistakes. Not so against Guardiola's men. Instead of moaning and groaning the crowd turned up its support, as if conscious that this was a moment in the game were the players needed us most.

In all my years of attending Anfield I have been blessed to witness some incredible nights and days. Since 1990 they have most come in cup competitions. far too often the league matches have been dour, silent affairs in which you hear the away fans moronic chants more than you hear the famous Kop. The latter half of the Benitez and Rodgers near-misses were notable exceptions, but Liverpool were in the home stretch of a title hunt back then; not at the half way mark.
Against Manchester City on 31st December 2016 the crowd, the manager and the players on the pitch were like one immovable force. No matter how much the opposition huffed and puffed, you could see they were never going to sack fortress Anfield. As Guardiola himself said, it was beautiful.
I'd liken it to the semi-final defeat of Chelsea en route to Istanbul. An early goal for the Reds is were the parallels end though. That was a much nervier encounter and there were many moments were Mourinho's boys could have broken our hearts. Liverpool were punching above their weight back then. Not any more.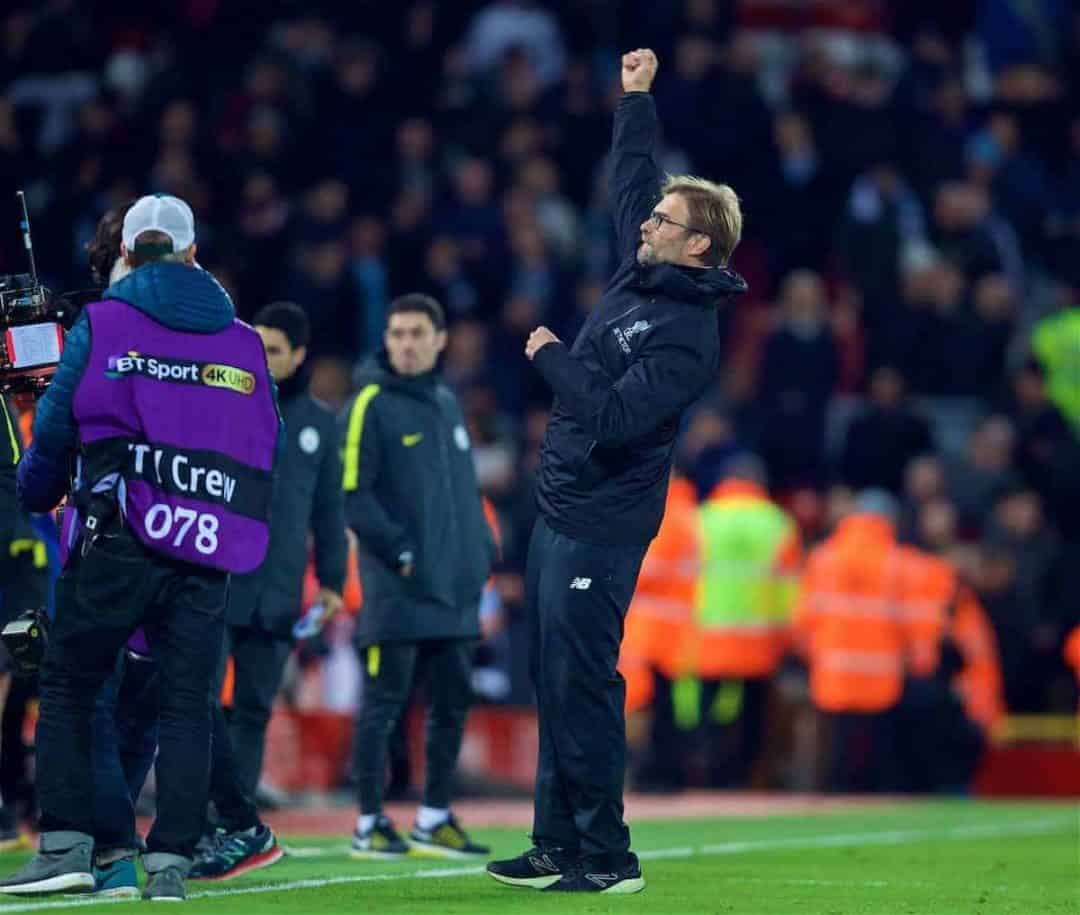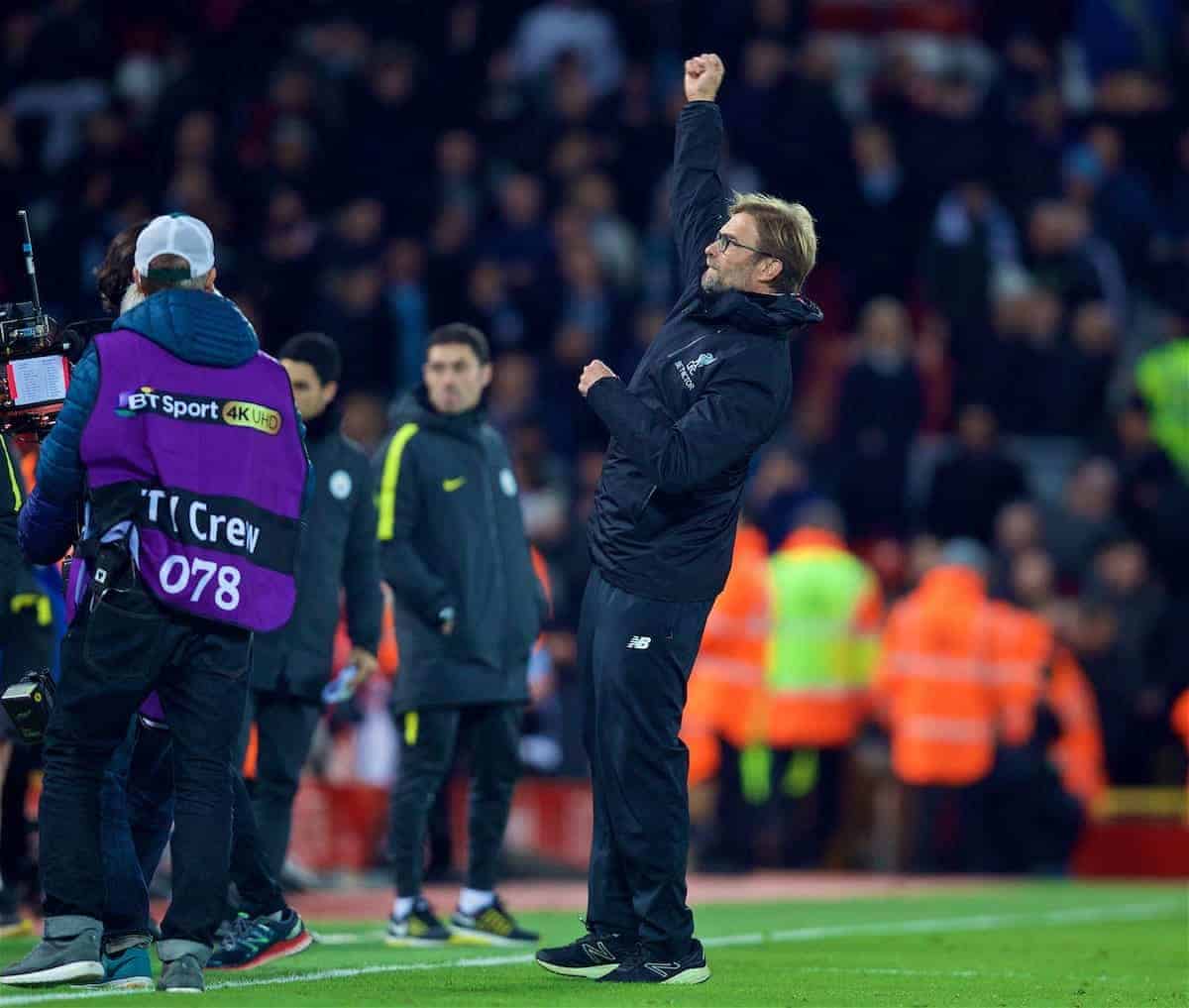 This team and the momentum they have generated is becoming a magical alliance of managerial brilliance, footballing skill and work ethic and, on last nights evidence, the kind of fanatical zeal in the stands that make all in the trinity believe that anything is possible. Long may it continue. Surely if all three partners in this adventure, players, manager and supporters, can maintain this level of commitment there is no telling where it may lead.
Whatever happens this season, there is no question in my mind that Liverpool are on the cusp of a new era. We have one of, if not the, best managers in the world. He has turned average players into good ones and good players into greats. Our opponents now know who they are up against. Klopp has also reminded all of us who we are and what our job is. We are the Kop of Liverpool FC, unstoppable, immovable and unrivalled; transformed from doubters to believers.
Come on you mighty Red men.