Philippe Coutinho has praised Liverpool supporters and Jurgen Klopp, as he strives to improve after signing a new long-term deal with the club.
Coutinho will become the Reds' highest-earning player when his new contract comes into effect on July 1, with his improved terms keeping him on Merseyside until 2022.
Though the Brazilian was not expected to push for a move away from Liverpool any time soon, the looming threat of Barcelona served to unsettle supporters, with his new contract allaying their fears.
This was something Coutinho acknowledged when discussing his extension, describing the supporters' backing as an "important factor" behind his decision.
"Ever since my arrival here, I was welcomed with open arms by the supporters—and everyone at this football club," he explained.
"This is an important factor that carries weight when you decide to remain here for a longer period—and this did have a lot of weight when I thought about the renewal of my contract.
"I can only thank every supporter for their faith in me. I really hope to repay them.
"I will do my very best on the pitch to create assists for my team-mates and score goals for us to try and win trophies and titles.
"It's not just me—since me and my family arrived here we have been welcomed with open arms by everyone. We feel at home in this city, we feel a part of this city.
"It is a very important day for me, my wife and my daughter. I am happy—and everyone is happy at home!"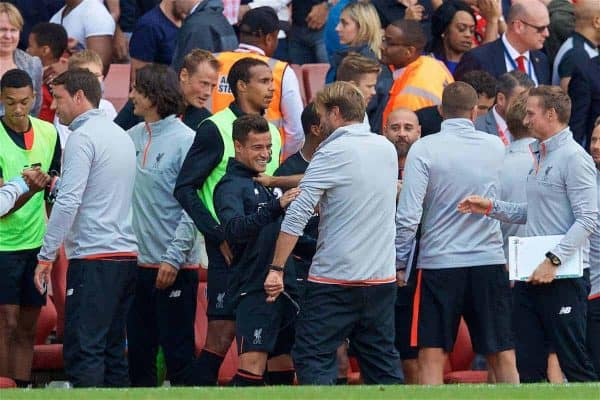 Coutinho arrived at Liverpool during Brendan Rodgers' reign, and went close to helping the Ulsterman to the Premier League title in 2013/14, but now he is working with a different manager.
Klopp's influence on the Reds has been clear since his arrival in October of 2015, and Coutinho praised the German, with his presence key to his commitment.
"Jurgen is a great manager. We all can see how much he has changed here since he arrived—and how much he will change in future. He is a winner," he added.
"It's not only me, but every other player feels honoured to play at this great club for this great manager. This feeling has a very positive influence on us as players."
Since Klopp's arrival, Coutinho has scored 17 goals and assisted a further 12 in 51 games, and is currently working his way back from an ankle injury and towards top form.
Despite his ascension to key status in the Reds' No. 10 shirt, the midfielder is still striving to improve.
"I am the kind of person that works very hard in trying to get better every day. I am always trying to learn, so this will be no different from what it was before my injury," he continued.
"Of course, with my injury things got a bit more difficult and I wasn't playing for quite a while.
"When you come back, of course it is too difficult to be at the same level, but I have been working very hard each day in order to carry on producing good performances on the pitch to help the team achieve victories.
"The last few games were not so good but we are ready to stand up again and carry on fighting."
Coutinho is expected to start in Wednesday night's League Cup semi-final second leg at home to Southampton, providing him with a fitting moment to celebrate his new contract.