Steven Gerrard has admitted to nerves as he prepares to begin work as a youth coach with Liverpool.
The Champions League-winning former Reds captain, who retired in November after a spell in the United States, is due to take up his new role next week.
The 36-year-old was recently linked with a move into frontline management at League One MK Dons but has opted to begin his coaching career back where he started as a player, at Liverpool's academy.
Asked how he felt about the new job, Gerrard told BBC Sport: "Very excited but at the same time a little bit nervous, a little bit anxious because it's obviously a brand new role.
"It's one I am really looking forward to getting my teeth into and learning a lot, and trying to develop over the coming months.
"There is an excitement there but also a bit of nerves and anxiety to see how it's going to turn out. It's a completely brand new role and completely different from being a player."
Gerrard intends to take his time learning the job before deciding whether he is cut out for management.
He said: "There's no rush, no timescale. The silly thing for me would be to rush and go in when I'm not ready.
"I've got incredible people around me and hopefully in the future there'll be some exciting opportunities.
"I've a lot of dreams and aspirations to be the best I can be in terms of coaching and management—but we'll have to wait and see if I'm going to be good enough."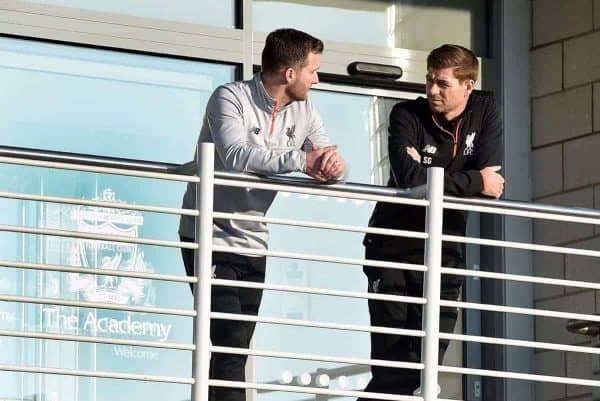 Gerrard is one of Liverpool's greatest players having made 710 appearances, scored 186 goals and won 10 trophies over a 17-year career at Anfield.
The club's gratitude was evident in their willingness to offer him a position while Gerrard admits the pull of his hometown club was strong.
He said: "I think [with] me and Liverpool [there] is always going to be an emotional pull, and with emotions involved.
"But the actual decision to go back in as a coach and the role and what it all entails—I couldn't really make that decision on sentiment and emotion because I would have been doing it for the wrong reasons.
"I think the key to it is Liverpool are prepared to help me an awful lot, they want to help me become a better coach or a better manager.
"They welcomed me with open arms but at the same time I have got to commit to it and put all the hard work in to try to improve as well."
Gerrard was also asked about Liverpool's current form. Jurgen Klopp's men have won just one of seven games in 2017 and were beaten in the EFL Cup semi-finals by Southampton on Wednesday. Gerrard is convinced Klopp can turn the situation around.
He said: "I hope it's just a blip. I've experienced it myself and blips are difficult to play your way out of, but I believe we've got the talent and personnel to do it.
"There's a bit of a sticky patch the past three or four weeks—but I'm absolutely delighted he's our manager."