After a miserable start to 2017, Liverpool's 2-0 victory at home to Tottenham Hotspur lifted spirits among the Anfield support, including Jeff Goulding.
January is a two-faced month. Apparently it was named after a Roman god, Janus, who had two faces; one looking forward to new beginnings and the other says farewell to the past. Most of us are glad to see the back of the month that saw the Reds win just one game out of nine, falling out of two cup competitions and surrendering a genuine championship challenge in the process. Apparently February originates from the Latin, meaning 'month of purification'. Well that's all well and good, but there was nothing pure about the 2-0 reverse to Hull City.
In Liverpool, assuming you believe the commentary dished out to tourists on the Mersey ferry, our mythology is a little less poetic and much more rooted in the here and now. Ours relates to the iron birds that sit atop our waterfront and have come to symbolise our city. Apparently one bird looks out to sea, eyeing whether the sailors are coming home, the other inland, to see if the pubs are open.
Of course they're always open and as they once more welcomed customers from far and wide for the visit of Spurs, they would have found those decked in Red looking back fondly on 2016 and asking themselves what the hell happened to us. To say the mood was sombre was putting it mildly and as pints were downed, not many of us were all that keen on looking forward either.
Tottenham are a good side and have players capable of doing damage to any team, let alone one like ours, locked in a seemingly inescapable personality crisis. Their ascent of the table has been impressive.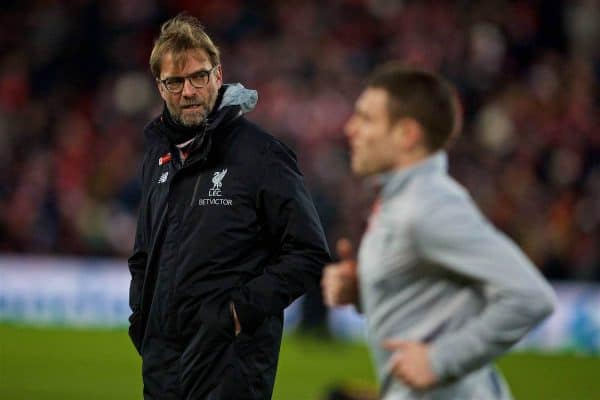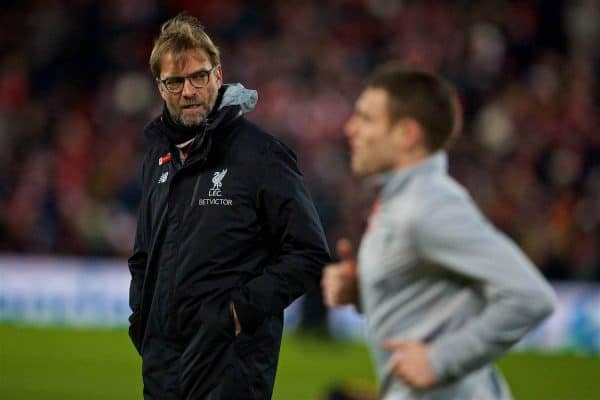 It's now so tight around those top-four places that failure could have seen Liverpool fall out of the race completely and allowed United in, who had already leap-frogged us earlier. All of this leads us to debate what went wrong and soon attention turns to the club's owners. There's little time for anyone questioning Klopp. After all, in footballing terms he's only been here five minutes.
While it's true that FSG came riding in on their white horses to buy the club, just as Hicks and Gillett were about to flush one of the "most storied franchises" (their words) down the drain, many Reds remain deeply skeptical of them.
There's no doubt that 2017 version of Liverpool FC is a more financially stable operation than the 2010 incarnation. The club is very much a going concern these days and happily climbing the world's financial rankings. The problem is most Liverpool supporters care less about Forbes' top 10 and more about league titles.
In the crowded bar, where we underwent our pre-match anaesthesia the conversation was once more consumed with talk of owners and ambition. It wasn't supposed to be like this was it? Remember the glory days when all the talk was of managers and players and of course trophies? To my mind the very fact we are even debating the ownership is a symptom that something isn't quite right.
I'm not in the 'FSG out' crowd. I just don't see the point, unless you have an alternative in mind. That doesn't mean I'm a devotee either. Life is rarely as black or white as that. As we debated the cause of our slump, one inescapable reality kept coming to the fore. heading into the New Year, Liverpool were desperately in need of reinforcements. They never arrived.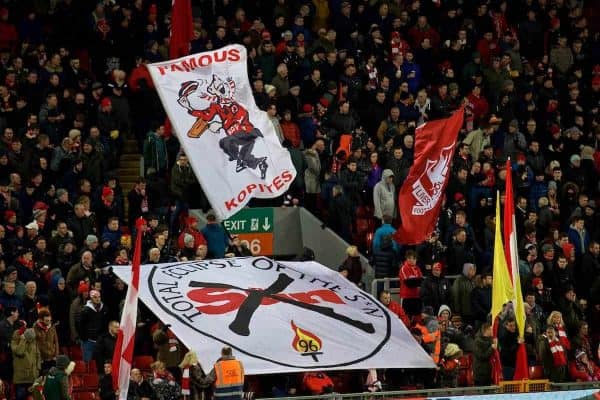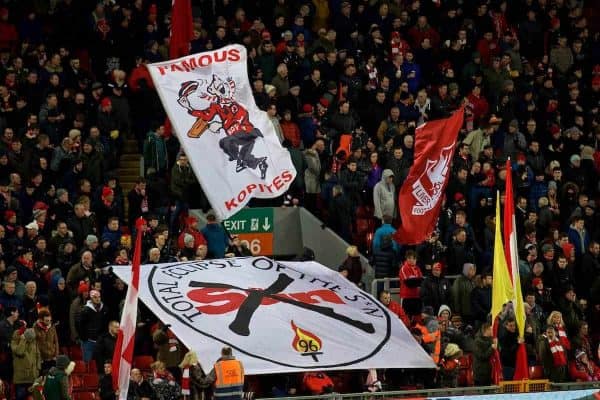 Dress it up any way you like, but with Matip, Henderson, Milner, Coutinho, Clyne, Lovren and Mane all missing a significant number of games, the squad was always going to struggle. A hectic festive period, followed by nine games in 31 days would surely come as a hammer blow to a team already out on its feet. We could all see it, Klopp could see it, but the club somehow failed to do the right thing.
Yes, January is a terrible month to buy players. All the best ones are in the Champions League, and why would their clubs sell at such a crucial period, unless the buying club was prepared to stump up a hefty premium? Liverpool have been stung by this in the past and you can almost forgive them for being a little gun-shy in the market.
However they have a manager they clearly trust. They just gave him a huge contract extension after all. Yet when he has clearly identified that he needed reinforcements, we somehow draw a blank. The debate rages and although I have sympathies on all sides, I simply can't get one thing out of my mind; at Liverpool Football Club in 2017, all the major decisions are taken on the basis of finance and footballing priorities are a distant second.
That may be the modern world. It may be the root to economic stability, but in a sport that thrives on romance and mystique and on heroes and villains, surely there's a place for a few calculated gambles. True, the club may have pushed the boat out, but the demands of the selling club or the player may have been too rich for even Jurgen's blood. We may never know, but the suspicion lingers that Liverpool continue to be a day late and a dollar short in the transfer market.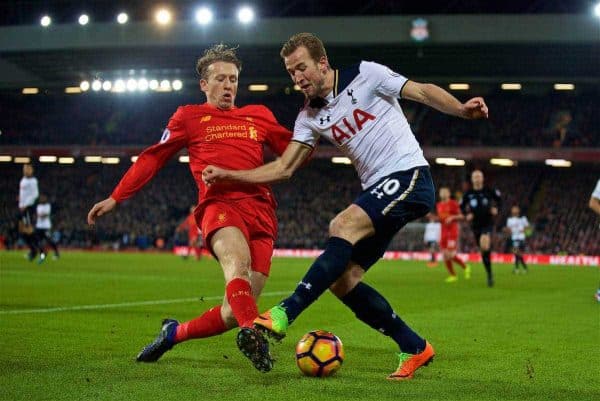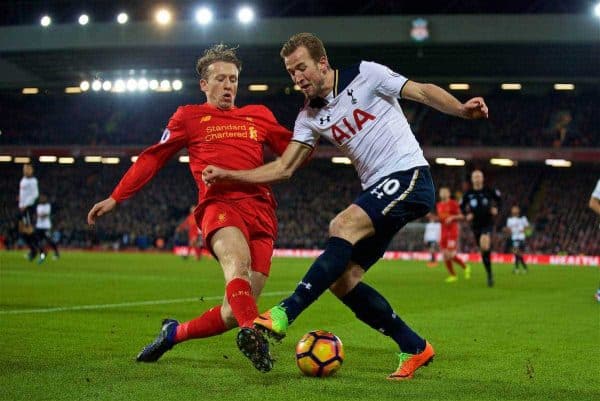 As the team sheet arrived there were signs that our squad troubles were beginning to ease. Only in defence was there cause for a little nervousness. I'm a big fan of Lucas, but he's not a centre-back and the thought of him up against Kane and Alli didn't inspire confidence. However the sight of the midfield trio of Lallana, Henderson and Wijnaldum behind the restored triumvirate of Coutinho, Firmino and Mane gave cause for hope.
So as ever, with bellies filled with grog and hope in our hearts, we left for the ground. The Kop was in defiant mood, resplendent in colourful banners and flags. By way of contrast the sizeable Spurs following were depressingly monochrome. Henderson won the toss and as the last flames of You'll Never Walk Alone flickered, Liverpool prepared to attack the Anfield Road end. That meant a second half running into the Kop and the feeling we were about to witness a rebirth was palpable.
Of course the Reds wouldn't need us after half-time. They did all their damage in that blistering first half under the very noses of the travelling Tottenham contingent, leaving the away end to once again sing about the plight of the unemployed and search for famous atmospheres. There may have been little joy their end, but in the rest of the ground a party was starting.
Liverpool's attacking play in the opening 45 minutes was devastating, reminiscent of happier times. I was actually reminded of the days of Sterling, Sturridge and Suarez ripping Arsenal and Everton apart for fun in that magnificent spell under Rodgers. All over the park Liverpool were first to everything and broke with unrelenting pace.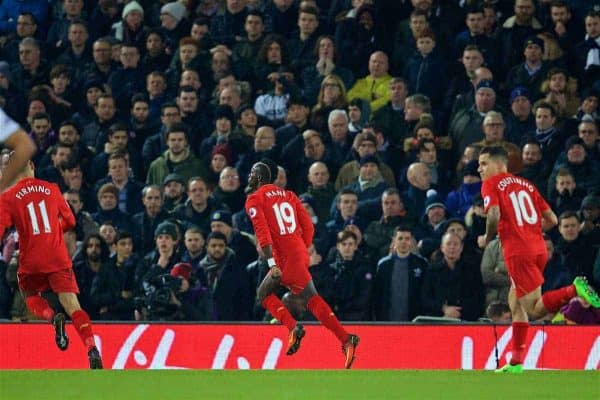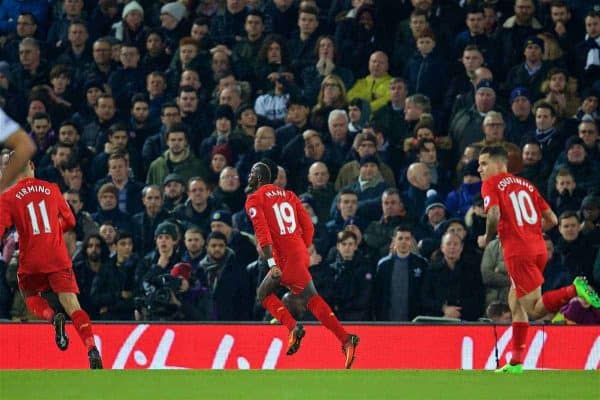 The difference is of course Sadio Mane, but to say so ignores some great performances from Henderson, Wijnaldum and Firmino among many more. Coutinho looked to have rediscovered some of his sharpness, before tiring late on and for his part Lucas put in an assured performance.
Quite how the Brazilian won a header in the middle of the pitch against Kane, who towered above him, is beyond me, but it would lead to the attack that saw Liverpool take the lead in the 16th minute. Wijnaldum sent Mane through, who seemed to create pandemonium every time he went near the Spurs defence. He left them all in his wake and rounded the move off with a glorious finish. How we have missed him.
Just two minutes later he would end the game as a contest. First he set Lallana up for what looked like a certain goal, but the 'keeper saved. The ball fell to Firmino, who again drew a great stop. Sadly for Spurs and Lloris the rebound fell to the Senegalese hitman. Sadio made no mistake and gave the 'keeper no chance as he thumped the ball into the roof of the net.
Jubilation and celebration broke out everywhere. Liverpool were back. Was a rout possible? Maybe the Reds played within themselves after that. Perhaps Spurs are too good a side to allow themselves to be thoroughly humiliated. Whatever the reason Jurgen's men opted to shut the game down after that. It was a familiar and comfortable and it was a joy to see the Reds' swagger return.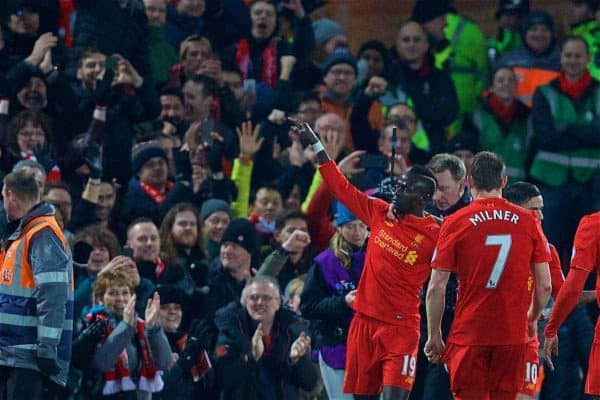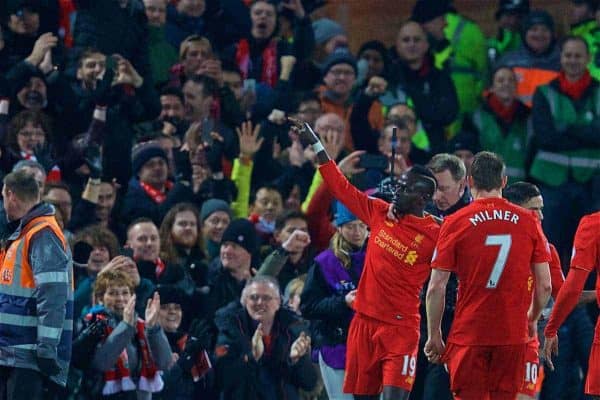 Forget the autopsy that followed the January from hell. Let's end all talk of what might have been, for now at least. Yes, Liverpool might be over-reliant on a player who seems to bring all those around him back to life. They may be two or three players away from a title tilt, but they showed against Spurs that they have the quality to stay in that top four. Whether they have the temperament to do it remains to be seen.
Against their north London rivals they certainly set the benchmark. So, as we tentatively turn our back on the past and dare to once again dream of a brighter future, all we can really do is give it everything we've got; both on and off the pitch.