Liverpool's goalkeeping woes have continued into 2016/17, with plenty of rumours already circulating that the Reds will be set to delve into the market once more this summer. Joe Hart is the most oft-repeated name…but not one the Reds should be considering moving for.
In 2005, just a few short weeks after Jerzy Dudek's Istanbul heroics helped Liverpool land the UEFA Champions League, Pepe Reina walked through the doors at Melwood as the new No. 1—a soon-to-be-established goalkeeper who could be the last line of defence for years to come. It was a good decision from then-boss Rafa Benitez, all told.
A dozen years have passed since then and it has been a case of unlucky 13, to one extent or another, and the list of stoppers the Reds have signed is as long as it is hideous.
David Martin, Daniele Padelli, Dean Bouzanis, Nikolay Mihaylov, Charles Itandje, Peter Gulacsi, Diego Cavalieri, Brad Jones, Alexander Doni, Danny Ward, Simon Mignolet, Adam Bogdan and Loris Karius. Add in Alex Manninger if you want, the average ability doesn't come down any further.
Less than a year after the latest joined, Karius is already sidelined and derided by some sections of the fanbase, and while the uncertainty of a goalkeeper's form is detrimental in the short-term, Karius—a 23-year-old, established in of Europe's best leagues, certainly in terms of options in his position—has been signed for similar reasons to Reina: a long-term project, capable and proven immediately, but with many seasons ahead for further growth.

Unlike with Reina, it hasn't gone to plan so far, and talk of a new (new) No. 1 is never far away.
Joe Hart is the name of choice for 2016/17.
Media rumours and supporter exclamations looking for attention and quick fixes have both repeatedly pointed to the England No. 1, a Manchester City player but on loan at Torino this season. It's a strange phenomenon, but often seen in football: nothing can make a player's stock rise quite like their absence.
In the case of Hart, he's not really absent of course, merely out of sight to those whose eyes rarely stray beyond compass points Swansea, Bournemouth, Hull and Sunderland. Hart's place at the Etihad was taken by Claudio Bravo, another goalkeeper new to the Premier League who has struggled in his debut campaign.
Bravo—twice a Liga winner with Barcelona—was signed due to his stylistic fit with his manager's tactics, but has come unstuck with basic goalkeeping errors, and has recently lost his place, in the same way that both Mignolet and Karius have in turn at Anfield.

Whether Bravo was the right call, the right signing, the right option for Manchester City is (from a Liverpool perspective) irrelevant; the point instead is that Hart was not.
Not for Pep Guardiola, a manager of near-unparalleled success around Europe. Not for his coaching staff, who it's safe to assume know a thing or two about what skill set they need. And if not for Manchester City, why for Liverpool?
Hart's distribution was a sticking point, and the issue which the media pounced upon to continually berate the English stopper with…until Bravo or Willy Caballero started misplacing passes, then it was used as a failing to beat Guardiola with, instead.
But distribution was not, and is not, Hart's only flaw. England viewers will recall Euro 2016 with the usual trepidation and sunken-pit feelings, with the last meaningful action being the low shot, to Hart's left side, escaping his clutches and trickling over the line.
England out, Iceland through, but more importantly, a repeat prescription that Hart fails to self-administer, and has continued to do so since.
Hart has always been fallible to that side, for England and City alike. It has been mentioned before. At Torino this season? From 38 conceded, a remarkable 34 percent have been struck low to Hart's left side (not including penalties).
It's almost as though he's still the same goalkeeper he was last season, and that Bravo's stuttering form hasn't magically made Hart better than he was. Imagine that?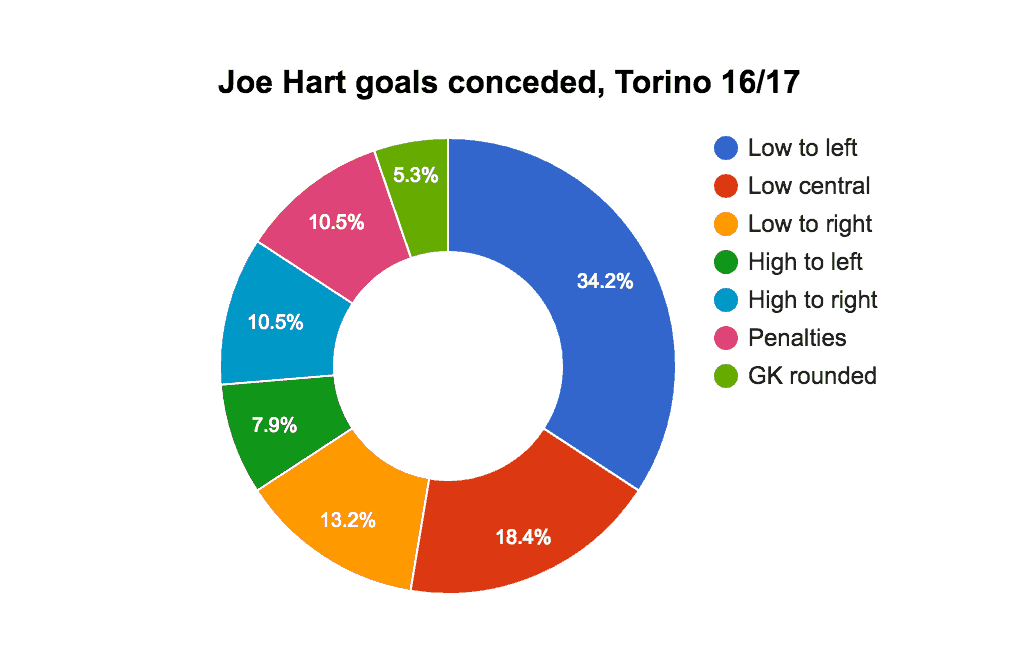 As with any goalkeeper, not every goal conceded is Hart's fault, by any stretch of the imagination. Similarly, not every error or misjudgement he did make ended in the ball being finished low to his left.
But such a discrepancy, such a variance in the numbers, is highly suggestive, either of the stopper himself not being able to rectify his weak spots or of the opposition specifically targeting him.
In Torino's last game, AS Roma netted all four of their goals low to Hart's left: two from outside the box, two from just inside, three beating Hart on that side when it was his near post. It's not simply numbers which indicate a strength or weakness of a player, it's a pattern of events, repeated over time.
Hart's last City game? A friendly against Arsenal, with Alex Iwobi scoring low to the left.
Last one conceded for England? The Kolbeinn Sigthorsson effort at Euro 2016. And plenty more besides, last year and previously.
It's an apparent weakness, and at fast approaching 30 years of age, it's not an area of his game Hart is likely to adjust positively at any point—much like his distribution. Positioning, decisions, maturing as a goalkeeper can go on well into a player's 30s, but technique is well-entrenched by now, as is an individual's style.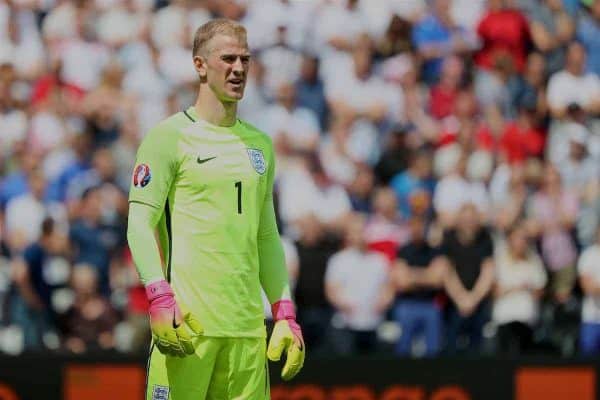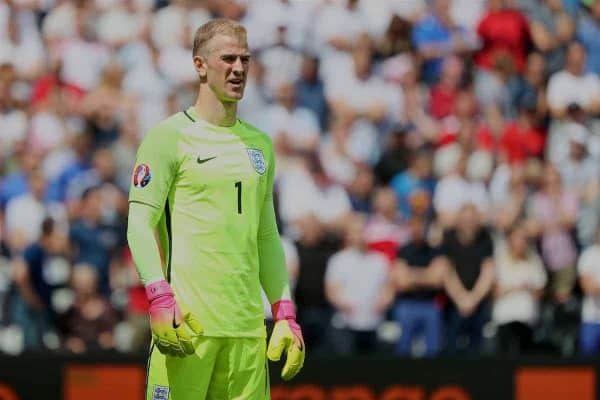 None of this is to say Hart is a poor goalkeeper. Clearly he isn't, and—while Jack Butland continues to struggle with injury, at least—he's still arguably the best option for the national team.
But for Liverpool? For 2017/18 and the four, five, maybe even 10 years beyond? Clearly not.
City are, it's fair to say, a wealthy club. They aren't going to offload a national treasure, a homegrown product and a fan favourite (again, at least partly in accordance with simply not being around) for a nominal fee.
Hart would be costly, his wages large, and there's no room for manoeuvre if he fails to star as a result. Age and two failures to remain No. 1 at a top club means the willing buyers would dwindle to an ever-smaller number.

In the case of Karius, at least, even if he doesn't go on to be the undisputed long-term first choice for the Reds, his fee is easily recuperable and his age and reputation are big factors in his favour, too, when it comes to finding a new employer.
For Liverpool, Jurgen Klopp has already made more than one case to stick with a player, to trust in their development and allow them time to recover form and consistency.
There's every chance Karius will be next in line for that approach, but even if he's not and the Reds look elsewhere for a successor to Mignolet, the choice of signing has to be made with the head, not the Hart.