Philippe Coutinho has reflected on the highs and lows of Liverpool's 2016, including the fortifying effects of their two major cup final defeats.
The Brazilian reached a new plateau last year, emerging as one of the most important players for both club and country, continuing to fulfil his significant potential as a young talent.
His performances were recognised with the Samba Gold award, beating the likes of Neymar and Casemiro, presented to him at Melwood on Wednesday afternoon.
With his international form mirroring his club output, Coutinho was one of the standout stars in world football in 2016.
But he is keen to keep building, and as he looked back, he highlighted defeat in both the Europa League final and the League Cup final as examples of there being room for improvement.
"I'm very happy to know that this past year I have been recognised by many people," he said.
"It was an important year for me and I'm very happy to win this award,
"It was a good year. As a team, we played very well and we managed to get to two finals. Unfortunately, we did not win the finals win, we lost.
"That was a very difficult time for us to deal with the defeat [to Sevilla in the Europa League] but this certainly made the group stronger."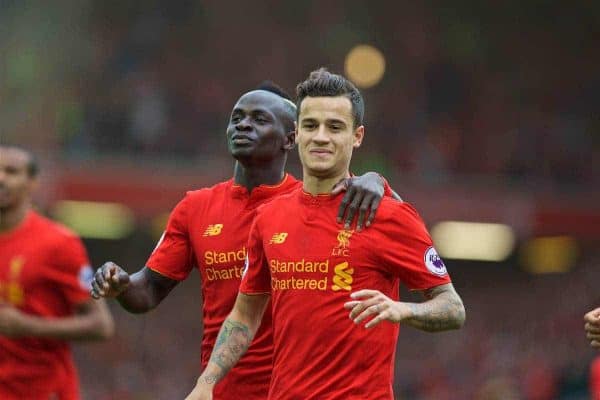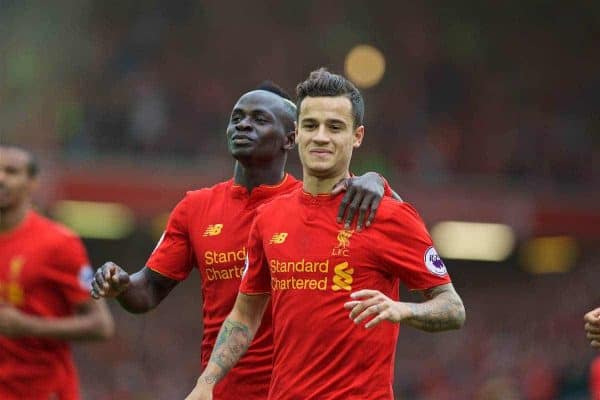 As Coutinho continued, he stressed that this strength and camaraderie was instilled in Jurgen Klopp's ethos on the pitch, something that will hopefully ensure they are successful in their next final.
"The coach demands a lot from the group. We work hard as a group and of course Liverpool has great players," he explained.
"Everyone has been playing well this season and has done what the coach has asked for.
"And in relation to that, the coach lets us do what we want on the field.
"Of course, everyone has their responsibility, when they do not have the ball, they should mark, be in their position, defend. But he lets us do what we want.
"No one feels pressure to determine who will make decisions and who will defend. Everyone works together, as a group."
While the team spirit is growing on Merseyside, Coutinho is clearly one of the stars of the show under Klopp—and this was reinforced by his new five-year, £150,000-a-week contract.
Still just 24, Coutinho will be hoping to achieve much more at Liverpool, with silverware high on the agenda.