As Liverpool enter the final sprint of 2016/17 looking to secure a Champions League return, we assess how the Reds could fare in their last nine games.
Entrenched in an increasingly tight battle for a top-four finish, a tense but exciting finish to the Premier League campaign awaits the Reds.
Occupying fourth place, Jurgen Klopp's men are on course for Champions League qualification.
But with most remaining games coming against the sort of teams to have caused problems, it won't be straightforward.
Can Liverpool do it? Here, we take a look at their chances between now and May.
Final Nine Predictions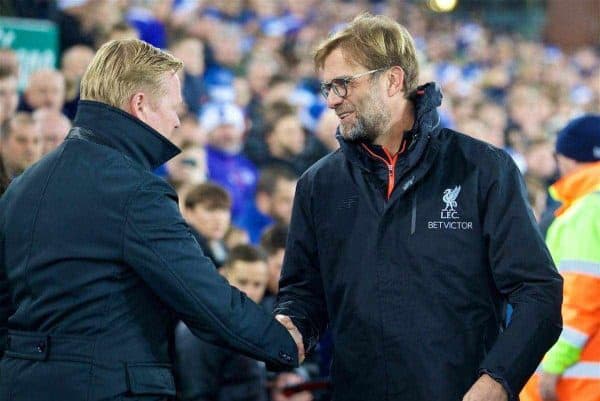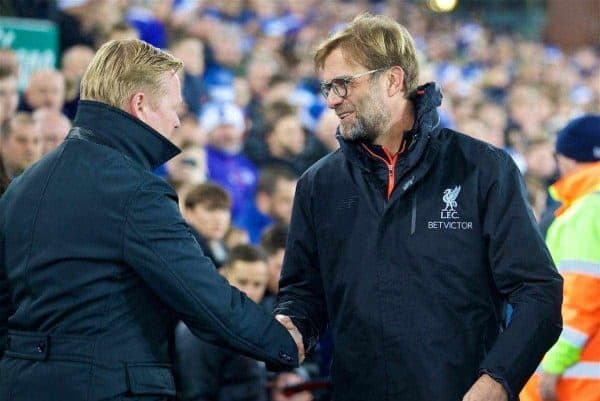 Everton (H), April 1 – DRAW
The second all-Merseyside clash of the season is unquestionably the toughest fixture left.
The Reds have long dominated the Toffees at Anfield—unbeaten on home soil since 1999—and Liverpool's big-game form will provide confidence.
But Ronald Koeman's rapidly improving Blues will have growing belief too that they can end their Anfield struggles through the goal power of the league's top scorer, Romelu Lukaku.
Liverpool are capable of ensuring it proves another miserable Anfield visit for the Toffees, but Everton's current positivity makes this one of the toughest derbies in recent years.
A point wouldn't be the end of the world.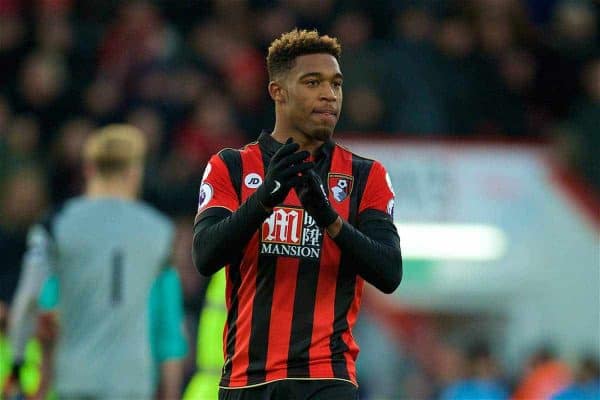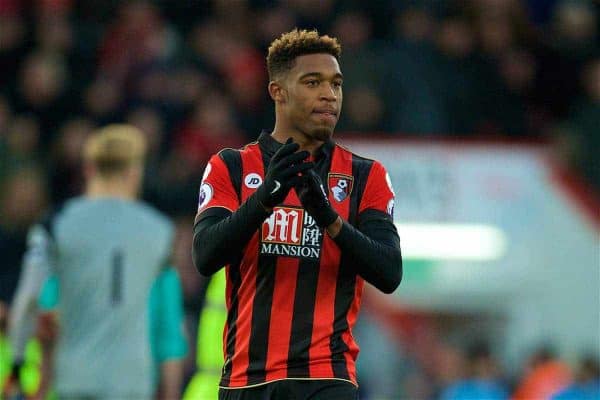 Bournemouth (H), April 5 – WIN
This midweek fixture has banana skin written all over it, especially as it follows closely after an intense Merseyside derby.
Liverpool know better than anyone the threat that the Cherries pose, and Eddie Howe's side will look to make life similarly difficult as Bournemouth search for an historic, first-ever win at Anfield.
Playing at Anfield though, this is a game that simply must see three points won.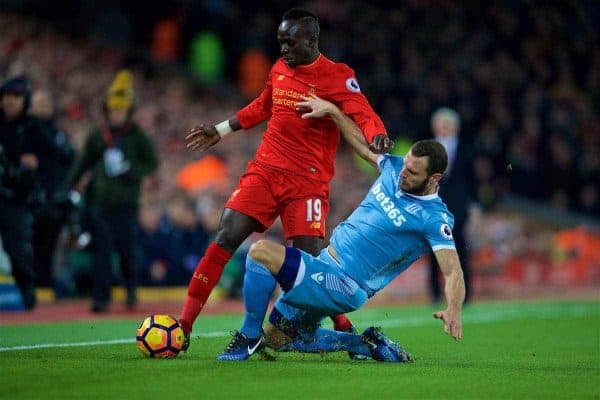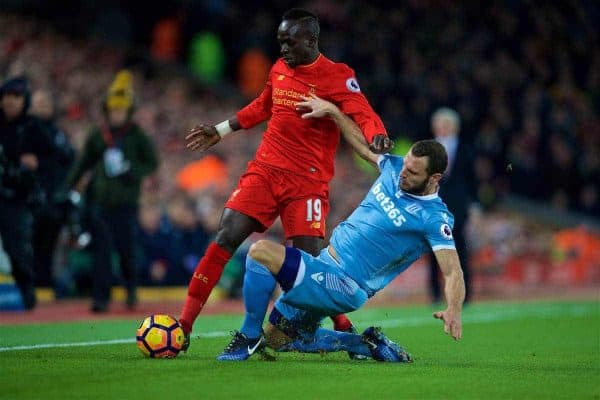 Stoke City (A), April 8 – WIN
This game may be Klopp's first league trip to the Britannia Stadium, but the boss will be under no illusions as to the challenge his side face.
Stoke has always been a difficult venue for the Reds, even if Mark Hughes has transformed the Potters from the pub football team that regularly denied us.
Liverpool have won four of five meetings since that humiliation on the final day of 2014/15 however, and there's no reason why another can't follow against the footballing Potters.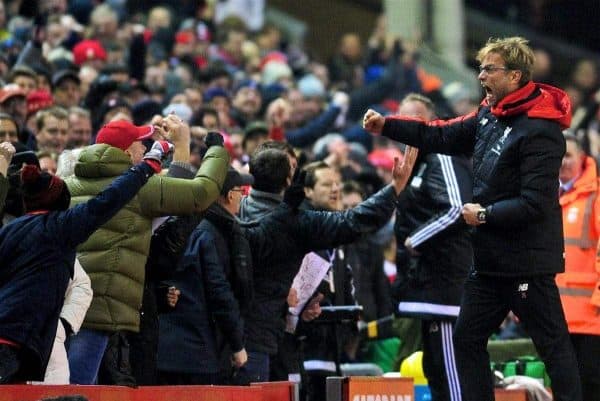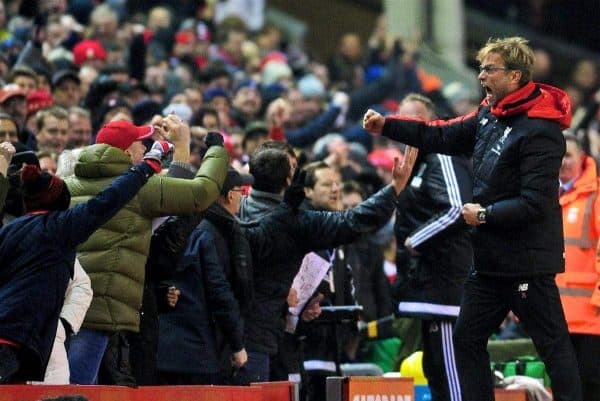 West Brom (A), April 16 – LOSS
Facing Tony Pulis teams are never enjoyable occasions, and this trip to the Hawthorns will be no different.
The Baggies have enjoyed an extremely productive season, and Pulis, so often a thorn in Liverpool's side, will want to be again—especially with his bubbling touchline rivalry with Klopp.
The Hawthorns has been an unrewarding place for Liverpool recently—with no wins from the last four visits—and you can already envisage an afternoon where the Reds come unstuck by familiar failings.
The thought of it is unbearable, but a loss has to come somewhere.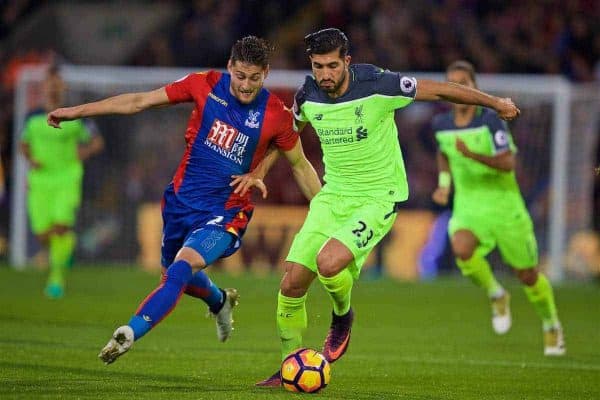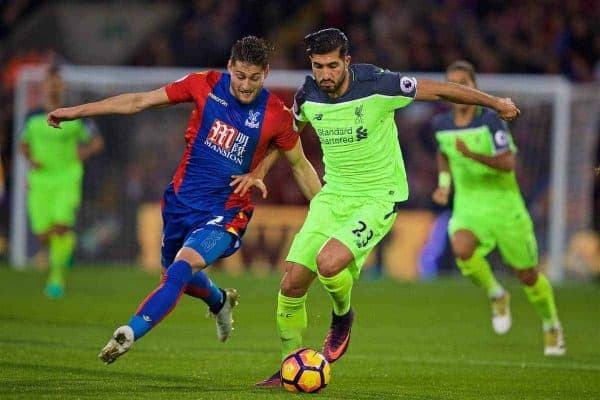 Crystal Palace (H), April 23 – WIN
The Eagles have enjoyed success at Anfield recently—winning on both of their last visits—and this will be another tricky contest against Sam Allardyce's relegation battlers.
But Palace will be without Mamadou Sakho, who has almost single-handedly earned them a solid chance of avoiding the drop, and this will certainly benefit Klopp's men.
This is another game Liverpool have to win if we're serious about a top-four finish, and win it we will.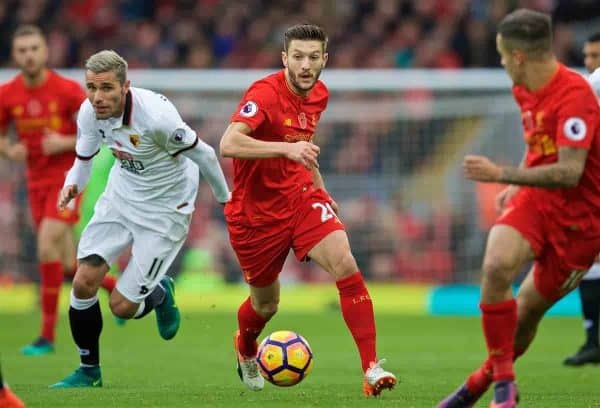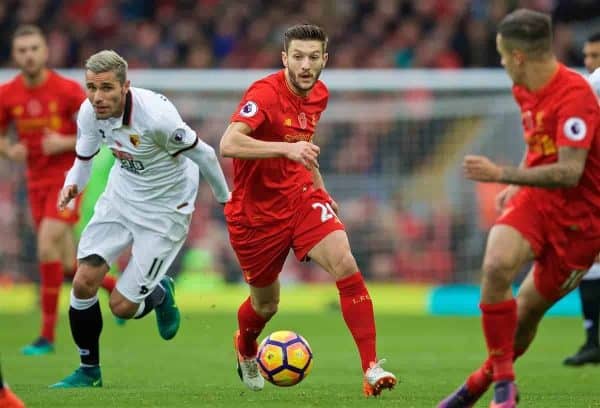 Watford (A), May 1 – WIN
This trip to Vicarage Road can't go as badly as last season's, surely?
Watford, if they continue their steady form, will have safety secured and already be on the beach by the time the Reds arrive for the first of the last four fixtures.
This could work in Liverpool's favour and should allow us to pick up a relatively straightforward victory.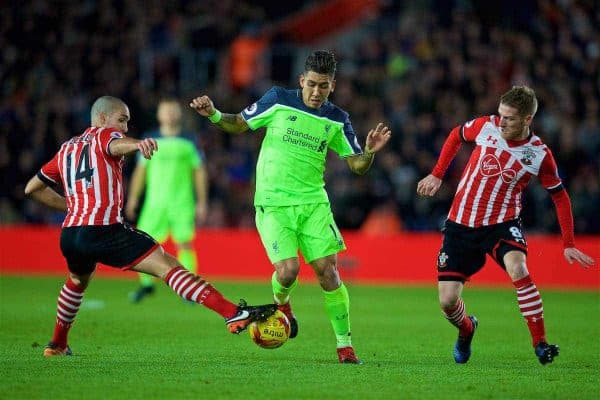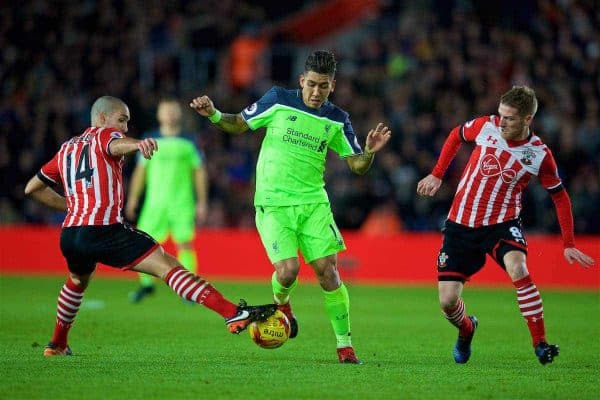 Southampton (H), May 6 – DRAW
The Saints have been a bogey side this season, with Liverpool failing to beat them or even score against them in three attempts.
Claude Puel's side seem to have the formula for how to frustrate the Reds nailed currently, and the French coach will look for the same again.
Liverpool will be better prepared this time, but the Saints are capable of holding out for a successive league draw, which would be frustrating but not the worst result ever.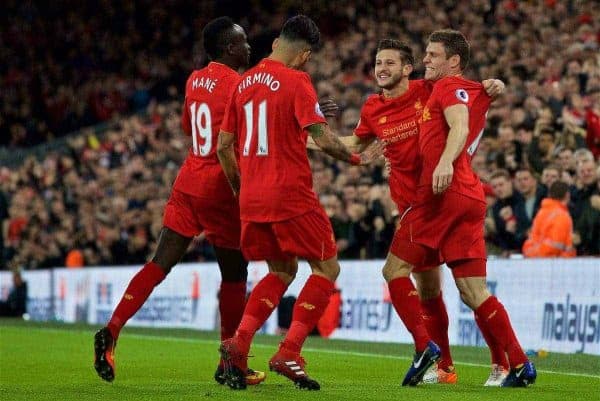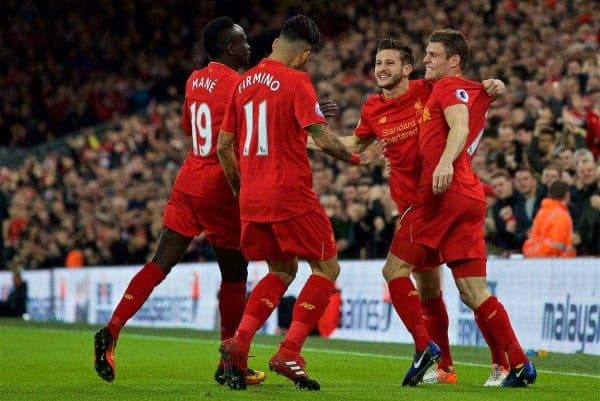 West Ham (A), May 13 – WIN
Having lost on each of the last three visits to Upton Park, the Reds will hope the change of venue to the London Stadium will bring a change for the better in results.
Slaven Bilic's team are another that seem to know how to unsettle the Reds, with Klopp yet to beat West Ham during his time in charge.
The Hammers will have nothing to play for, which should benefit Liverpool, who could be in a position to confirm their Champions League return in the penultimate game.
Victory at this stage is a must.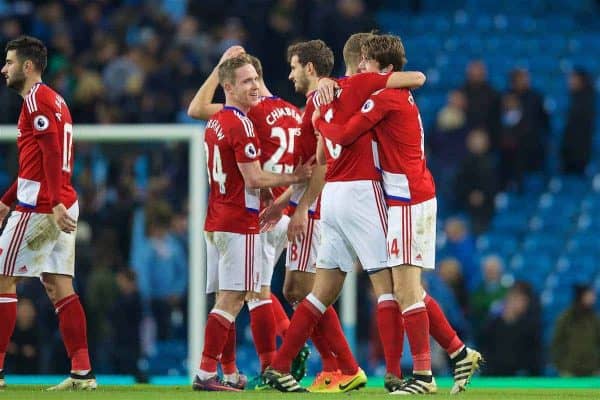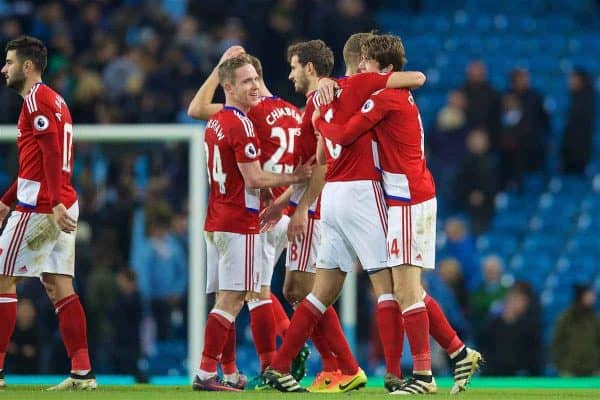 Middlesbrough (H), May 21 – WIN
This could be a less straightforward contest than it seems and a huge game to end the season on.
Boro could arrive in L4 needing some kind of result to keep them in the top flight, while the Reds could also need something to secure Champions League football. Hopefully it's all wrapped up by then.
If it isn't, this could be one of our biggest league games since 2014's title run-in, but one you have to expect the Reds to win—especially if a result is required for Champions League qualification.
Total points from final nine games – 20
2016/17 Final Points Total – 76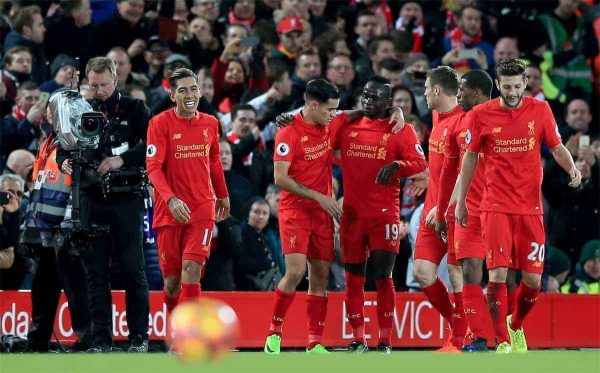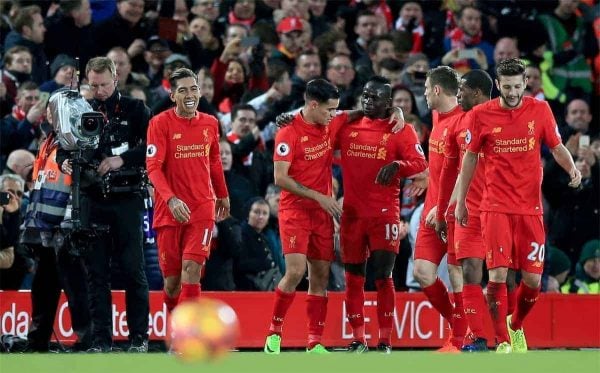 Winning 20 points from the remaining 27 available would see Liverpool finish with an extremely respectable 76 points.
It may be viewed as hopeful given our struggles with lesser teams, but it's a realistic sum for an in-form Reds side to claim—even legislating for seven points to be dropped in the remaining games.
This projected 20 points also mirrors the exact number claimed from the corresponding games this season, further keeping in line with Liverpool's fortunes.
If Klopp's side are to secure a return to Europe's elite competition, 20 points is a minimum return they should strive for, with this historically almost a guarantee for Champions League qualification.
Top-Four Finish?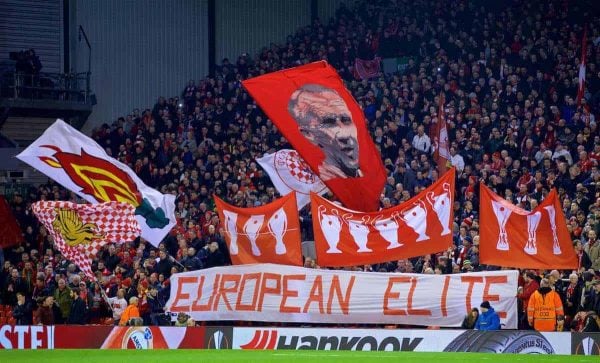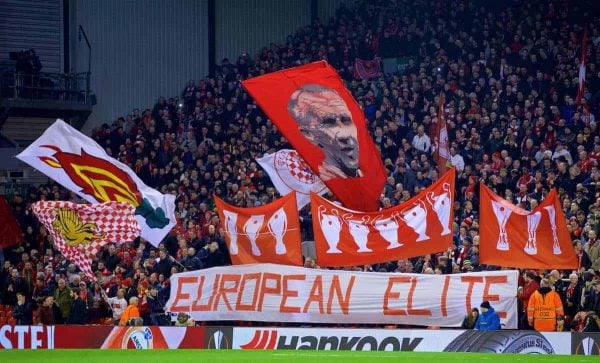 Indeed, 76 points would practically guarantee a Champions League return and ensure of a successful league campaign.
Only once in the last 15 seasons in which the Premier League has had four qualifying spots has 76 points failed to secure a place, with Arsenal finishing fourth with 79 points in 2013/14.
Historically, 71 points has been the average for a top-four finish, meaning the Reds would need only 15 points from the last nine games should the average be required.
With all Liverpool's competitors still to lock horns with at least two rivals, it's difficult to predict how many points will be enough.
All top-six rivals have games in hand—with Arsenal and United boasting two—but it would take a near-faultless run-in from them, and a collapse from us, for United or the Gunners to overtake—which seems unlikely, if not impossible, given their fixtures.
The best thing for Klopp's side is to win as many games as possible while working towards the 76 points which would almost certainly ensure this season's aim of a top-four finish is achieved.